5 Ways to Wear Your Tunic Tops
---
Show off your style with a tunic top for women. Joe Browns unique collection of stand-out tunics adds something a little special to your capsule wardrobe. But how can you style your tunic your way? We've got just the inspiration you need…
What Is A Tunic?
---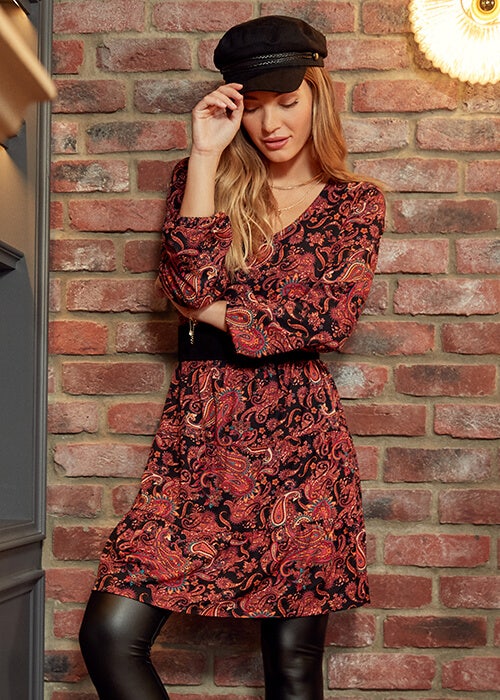 ---
The perfect blend between a top and a dress, a ladies' tunic is a garment that typically sits somewhere between your hip and mid-thigh. A tunic is longer than a shirt or blouse, and is often more loose-fitting than a t-shirt.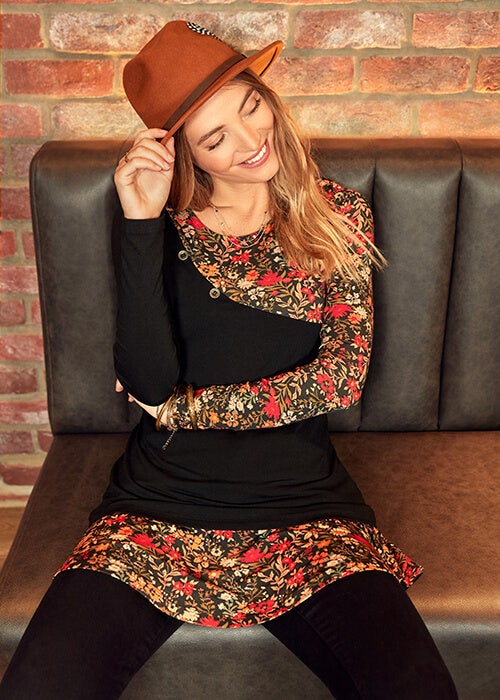 ---
There are loads of different types of tunic tops out there, from sleeveless tunics to longer tunic tops that almost reach your knees. The versatility of tunics makes them really good fun to style as there's no right or wrong way to wear them. Tunic tops will flatter any woman's figure thanks to their long silhouette and flowing fabrics.
For your Evening Out
---
---
The classic tunic is an undoubted style icon, worn way back in ancient times by both men and women. It was a simple garment to craft - two pieces of fabric sewn together with holes for the head and arms - and was typically worn with a belt. The fashionistas of the ancient world added a bit of extra detailing to their get-up too, such as gathering the shoulders or adding dainty embellishments for a bit of pizzazz. Tunics were also dyed with bright colours, meaning they've been a characterful addition to wardrobes for literally thousands of years.
These days tunics are less of a necessity and a definite wardrobe staple. They're functional, sure, but they also provide the perfect canvas for detailing, colour and patterns.
How To Wear A Tunic
---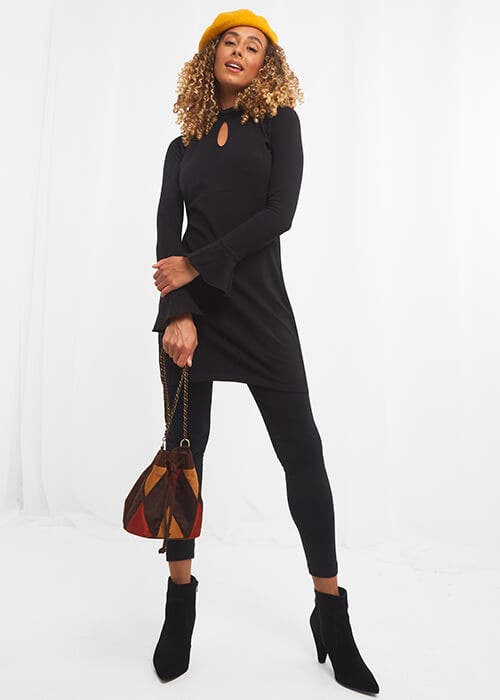 ---
1. Accentuate Your Legs With A Lovely Pair Of Leggings
For those gorgeous tunics that are just a little too short to become a dress, adding a pair of leggings is a great way to keep your look bright and breezy whilst adding an extra layer. Perfect for cooler evenings and autumnal strolls, tunics and leggings are an effortlessly elegant combo.
Exude smart casual by bringing tights into the mix too. Show off your lovely legs in a pair of patterned tights, a great option for warmer months or a more cosy 'night out' outfit.
We stock a range of tunic tops for leggings here at Joe Browns so you can get all your wardrobe essentials in one place. Our funky colourful tights shouldn't be overlooked, either. Create a striking look by pairing your tunic with tights in a complementing shade and you'll be turning heads wherever you go.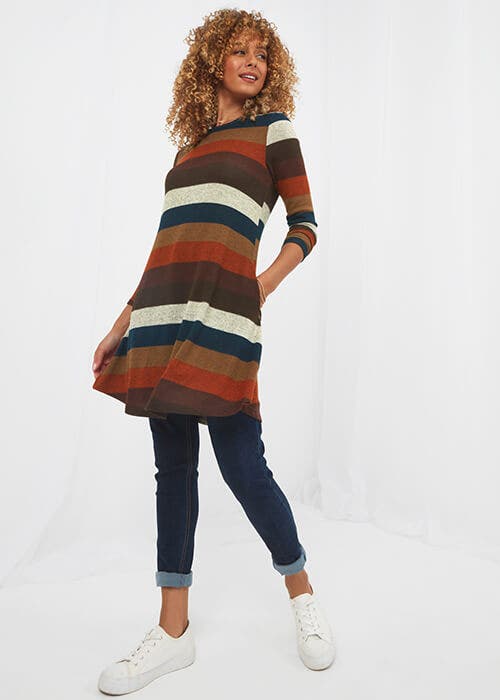 ---
2. Jeans Are A Jean-ius Idea
If you have a shorter tunic, it'll look great popped over a pair of your fave skinny jeans. Perfect for a day in the office when a tee and jeans just feels too plain. Our top tip is to choose a tunic with some eye-catching detailing, such as pretty buttons or embroidery, to elevate your outfit one step further.
There's always the option to pair a longer tunic with slim fit jeans using the half-tuck technique too. This one's simple to pull off and super effective - just tuck the front of your tunic into your jeans to create a dipped hem look for a trendy vibe.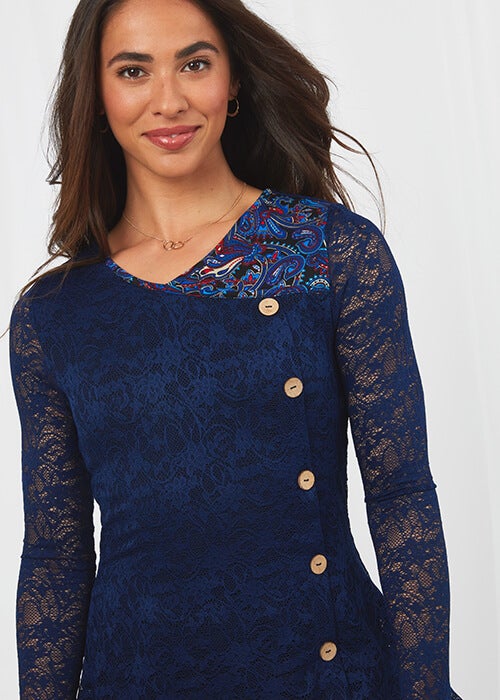 ---
3. Rest A-Short, Your Look Will Make A Big Impact
One of our favourite looks for warmer days. But how can you wear a tunic with shorts? It's simple. Cotton or denim shorts look fab with the tunic tucked in at the waistline, giving you even more ways to wear your favourite tunic top!
Add a pair of comfy pumps or trainers to complete the laid-back look which is as perfect for a BBQ as it is a stroll along the shores.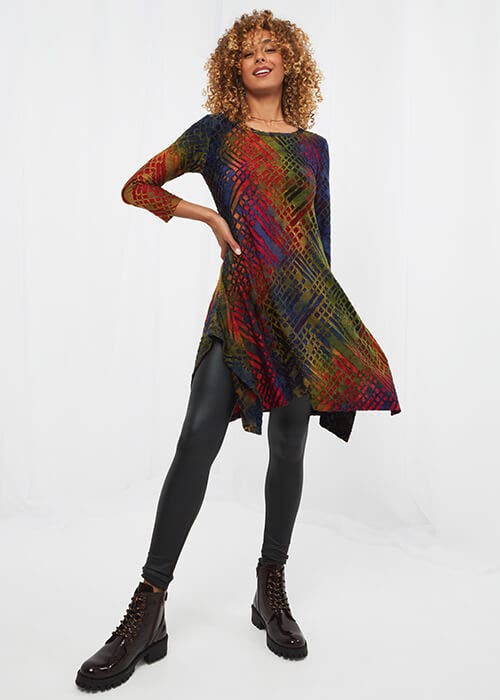 ---
4. Dress It Up
Can you wear a tunic as a dress? Of course you can! If your tunic is slightly on the shorter side, a pair of funky tights can help you to feel even more confident and comfortable when you step out. But your pretty tunic top will look great on its own too, possibly with a chunky belt around the waist to cinch you in and accentuate your figure. Pop on a pair of ankle boots or snazzy heels and you'll be good to go for any special occasion.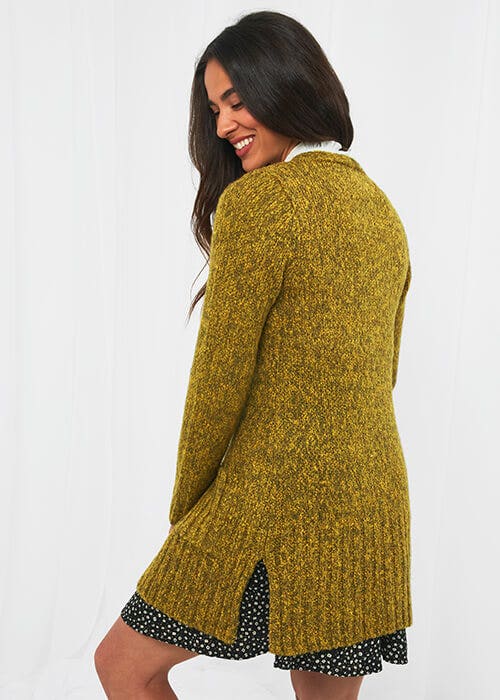 ---
5. Add Layers Of Style With Your Tunic
Your tunic top can be styled as a remarkable layering piece. Slip a short sleeve tunic on over a plain t-shirt or long sleeve top and trousers ensemble to add cosy warmth and a pop of colour.
Layering works both ways, too. If you're wearing a tunic and you're starting to feel the chill, you can add a chunky knitted cardigan or jumper to bulk up your outfit and keep you warm throughout the evening.

Wild Card Style: Wearing Your Tunic With A Skirt
---
We often hear people ask if you can wear tunics with a skirt. Tunics with a shorter hemline teamed with a midi or maxi skirt can be a great look. Just make sure the layering seems intentional - the skirt's hemline should fall below your tunic.
Joe's Favourite Tunic Styles
There are so many gorgeous tunic styles out there, it's hard to know which pieces to pick! Your pal Joe has a range of tunic tops to suit any woman's wardrobe, so get stuck in and have a browse.
---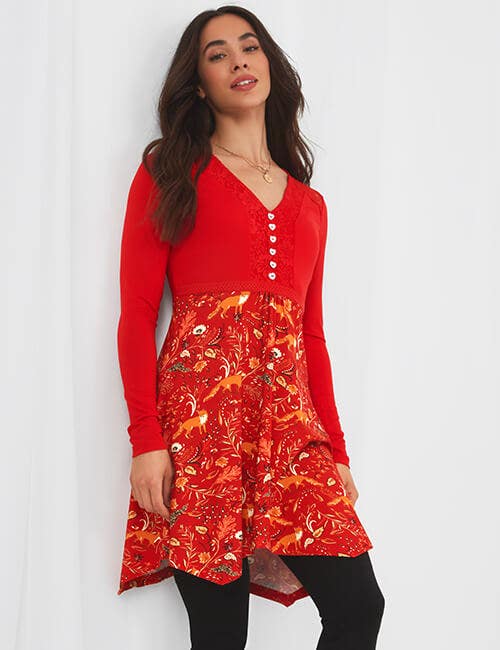 ---
Characterful and Colourful
From the ravishing red found in our Foxy Lady Tunic to the rich, autumnal shades in our Perfect Peacock Tunic, you can bring any outfit to life with a bold and beautiful tunic top.
Our top tip is to use your colourful tunic's base shade as the foundation to your look, layering accessories that complement the colour palette.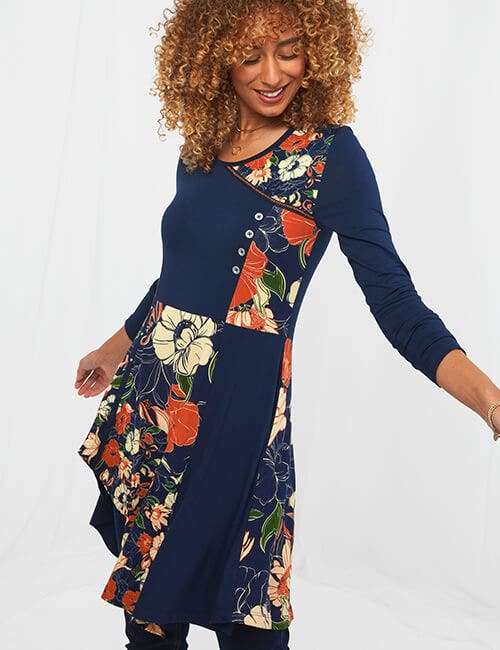 ---
Floral Print Tunics
Floral print is a real favourite of ours, and it looks smashing on a tunic! You can wear floral print styles all year round, too. Choose bold floral bursts for the Spring Summer months or a more subtle floral print on a darker base, such as our Fabulous Florals Tunic, for the leafy Autumn season.
---
Enchanting Embroidered Tunics
Add texture to any outfit with an embroidered tunic top. Our In The Rose Garden Tunic is a real favourite of ours, with its floral embroidery giving it a unique edge that can be dressed up for a night out or dressed down for an evening in with the girls.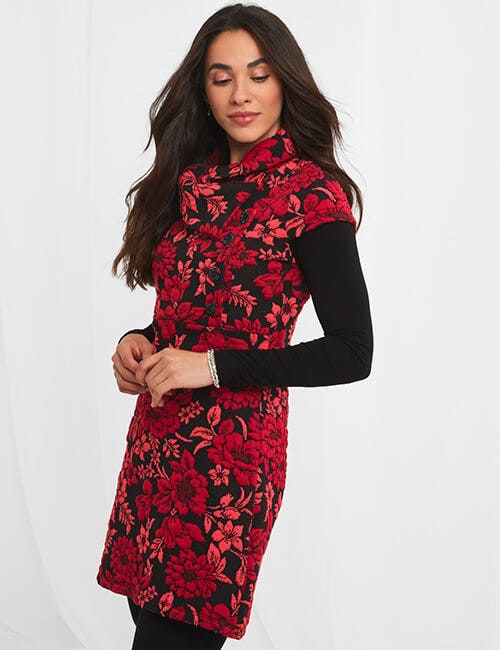 ---
Tunics with Elegant Embellishments
Joe Browns tunics have a unique twist, which always makes them a great option for ladies who love to stand out. Is there anything better than discovering new little details in your outfit every time you wear it? Our Romantic Roses Tunic is packed full of embellishments, from its ribbon detailing across the front to its lace-stud neckline. Romantic, feminine and sultry all rolled into one - we love it!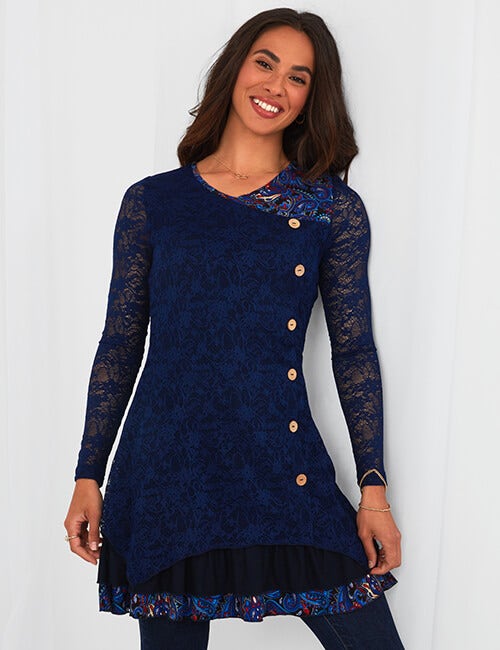 ---
Tunics Featuring Beautiful Buttons
A stylish smattering of buttons can take a tunic to the next level. You'll find a pattern of delicate buttoning to the front of our Lovely Lace Details Tunic or, for even more subtle detailing, spot the button detailing across the neckline of our Bright And Bold Bird Tunic. You'll feel a million dollars knowing your tunic top has real character.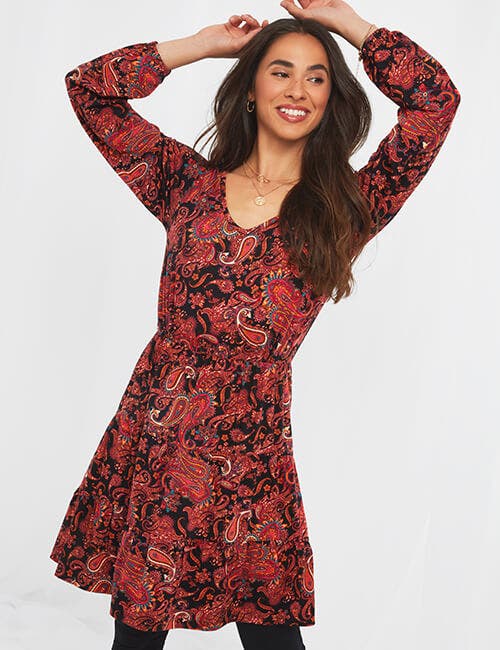 ---
Pretty Patterned Tunic Tops
There's a time and a place for block colours, but a pop of pattern is where the fun is really at. We're known for our paisley prints, so look no further than Our Favourite Paisley Tunic if you want to add a swirl of style to your wardrobe. There's also striking animal print, stripes, checks and so much more for you to choose from! Show off your personality by picking a pattern that suits your vibes.
---
Are you ready to tune in to tunic tops and pick a match for your wardrobe? We'd love to know which tunics you've picked and how you wear them! Share your styles with us on Facebook and Instagram, or bookmark our Inspiration page for even more advice.
---
Scroll to top