Come Behind the Scenes of Our AW23 Photoshoot!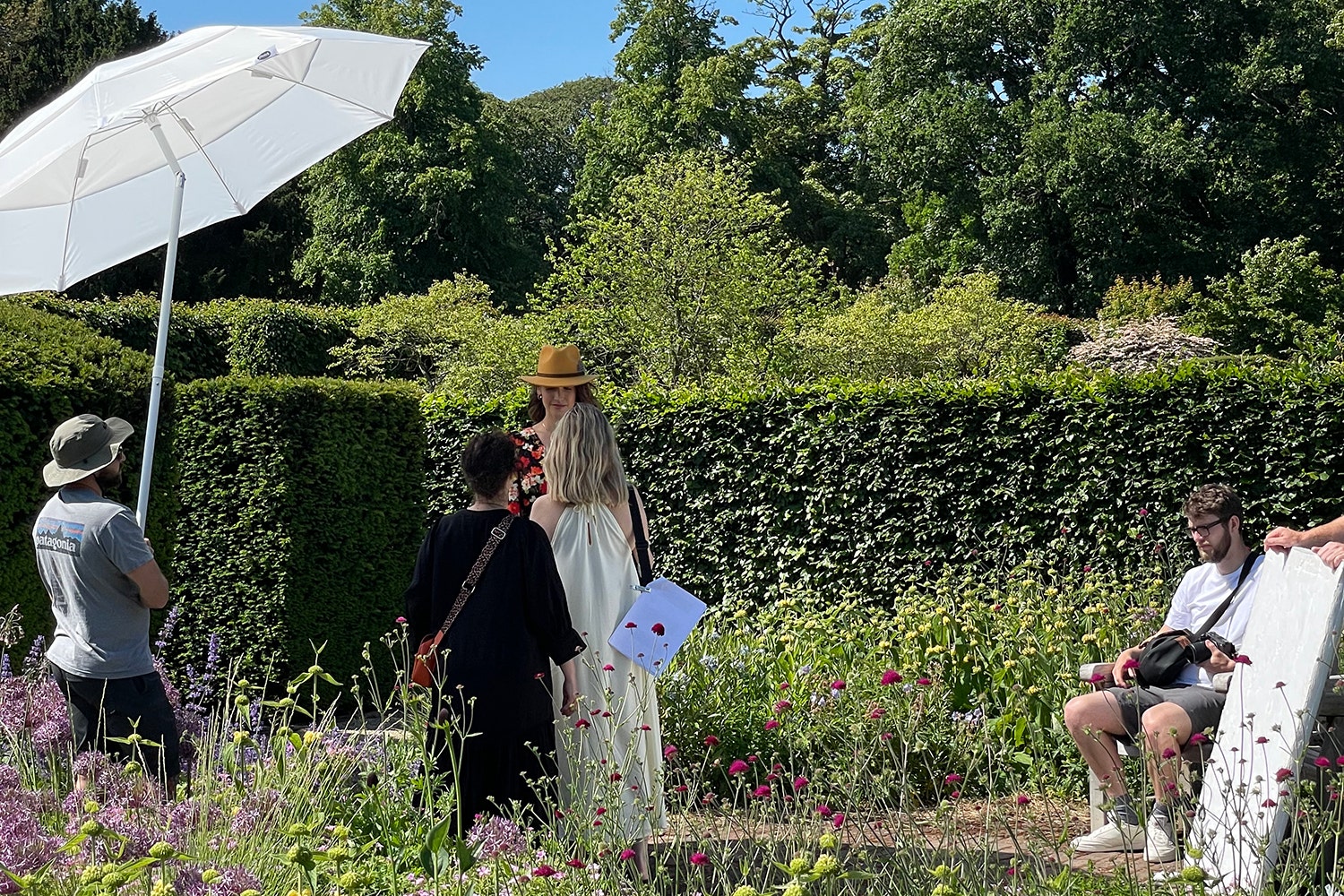 It's that time again! With another season comes another new Behind the Scenes blog from our photoshoots – and wow, we really pulled all the stops out for this one. Let's dive right in.
Our campaign photoshoots are always a massive task to organize and plan, but this season we were faced with a slightly new structure. Our Autumn/Winter collection is broken down into smaller stories or collections that have their own distinct feel and conjure up imagery and settings depending on their theme. When the buyers and designers were creating these garments, they were imagining the products for each mini collection sitting in their own appropriate setting – like our floral dresses and coats from the Secret Garden collection in a botanical landscape.
So, when our creative and marketing teams were conceptualizing this shoot, that begged a question; could we shoot each collection in a different setting that felt like it's own stand-alone scene? At Joe Browns we never like to shy away from a challenge, so that's exactly what we did! We shot 12 stories at eight locations, with seven models, and 15 crew members – no easy feat!
Come with us as we explain how we undertook the biggest campaign shoot we've ever done and let the magic unfold...
Day 1 AM – Scampston Hall Gardens – The Secret Garden
To kick off this mammoth shoot we started in the picturesque gardens of Scampston Hall in Malton, Yorkshire. In the morning of the first day, we were shooting the Secret Garden Collection. With a mini collection full of dark florals and rich earth tones, we couldn't have found a better setting than the gorgeous gardens of Scampston Hall which had perfectly tended flowers and shrubbery, amazing water features and even lakes. Annamaria – our social media executive's personal highlight of the day was watching the newly hatched ducklings climbing out of the pond with the custom stairs that the gardening staff had built them!
We also welcomed two new models, Anna and Emma, to the Joe Browns team. Anna had travelled over from Amsterdam, and Emma, who had travelled 24 hours from Australia, brought the crew packets of Tim Tams – a sure fire way to win us over!
DAY 1 PM – Country House, Malton – Poetic Heritage
The afternoon of day one was all about the Poetic Heritage Collection, a collection of romantic botanical clothing inspired by the wonderful works of rediscovered tapestries. Think Pride and Prejudice romanticism meets Joe Browns.
For this collection we were shooting in country home that actually belongs to Rich – Our Head of Creative's Father-in-Law. A huge thank you to them for having us and letting us use their gorgeous garden for some glorious golden shots! Although it was only a 10-minute drive from Scampston Hall, 8 members of crew somehow managed to get lost along the way (not sure how we managed that one!), but after a small blip and a lot of Google Maps'ing, we were ready to continue shooting. A long, winding driveway meant our models could strut their stuff for some gorgeous walking shots. We have to give a huge hats off to all of our models who were doing their best poses in winter coats and knitwear - we were shooting in June in 23 degree heat!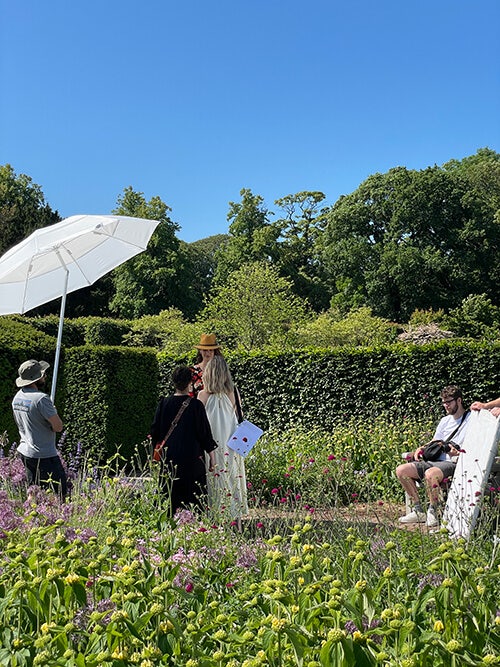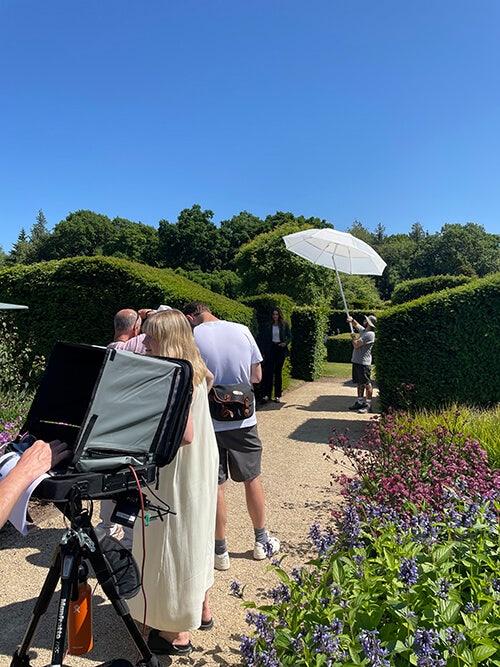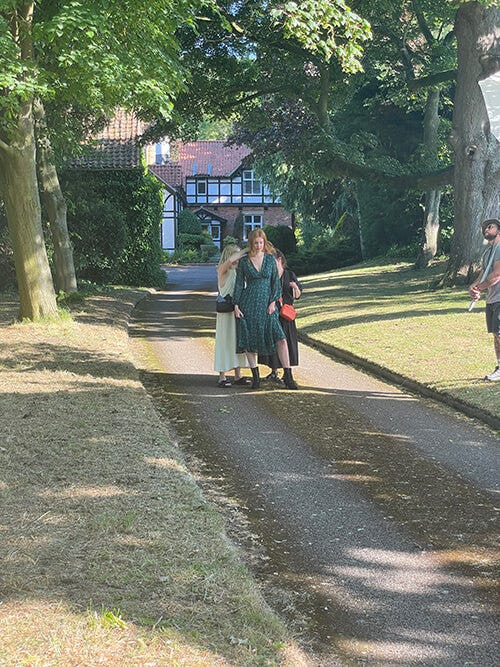 DAY 2 AM - Georgian Street, York City Centre – Autumn Elegance
Day two was a scorcher! The main takeaway from this day was that it was very hot! But our crew and models powered through, to get some amazing shots!
The morning was all about Autumn Elegance – a collection that has big bursts of ginger and amber on a rich backdrop of navy blue. When thinking of where to shoot this collection the team wanted big white buildings reminiscent of Sloane Square to make the colours pop and capture that timeless feel. We were able to find a street in York, St Leonard's Place that gave us the same look and feel. It was an early call time for this location; we wanted to be able to get some shooting done in the street before the chaos of rush hour, so our crew where on location and ready to start shooting by 6:30am.
Our base for the day was the lovely Dean Court Hotel which put us in the centre of York, with a great view of the York Minster Cathedral.
DAY 2 PM – York City Centre - Under The Himalayan Sunset
After a quick but lovely lunch at the Dean's Court Hotel, we were back to it! In the afternoon we were shooting the Under The Himalayan Sunset Collection, a gorgeous collection of reds, purples and blues. For this collection we were shooting in York City Centre, we started off with some shots by our hotel and near the Minster, and then headed into The Shambles for the final shots of the day.
Getting two models, 13 crew and a lot of photography equipment down the winding streets of The Shambles was a bit of a tight squeeze at times, but somehow, we managed, and the shots were so worth the effort. As you can imagine, shooting in the centre of York can create a bit of an audience when shooting, but it was so nice to hear positive feedback as passersby got a sneak peek of the upcoming collection.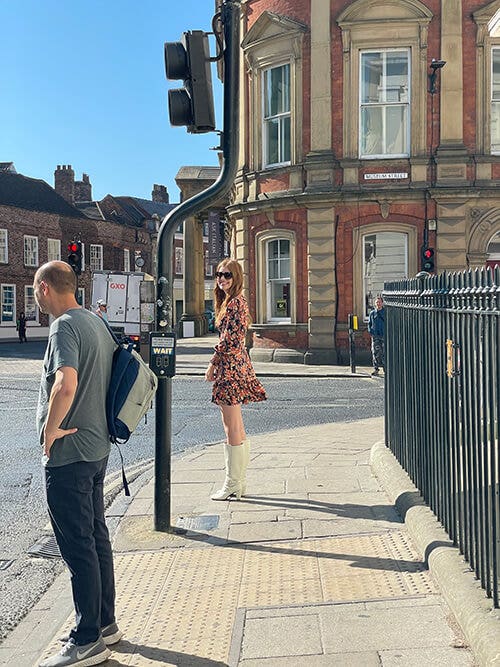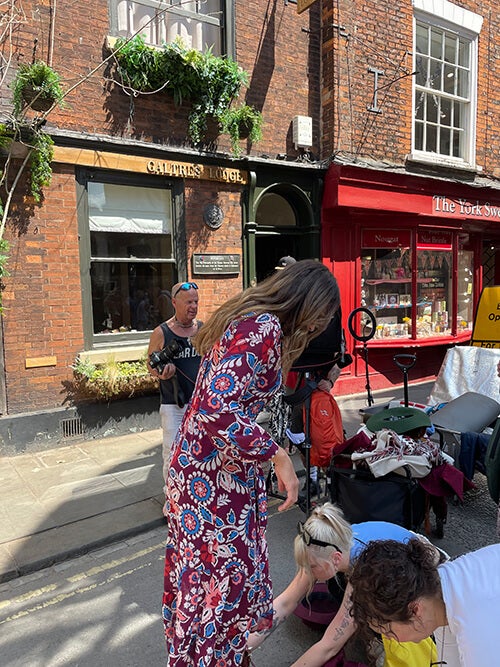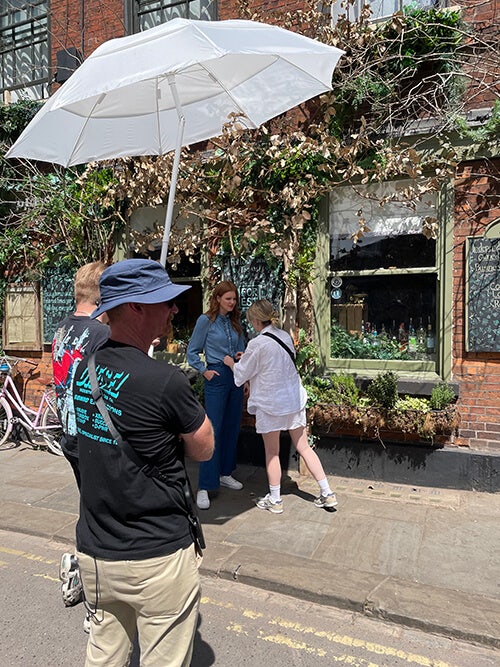 DAY 3 – Classic & Sports Car Centre, Corner Farm in West Knapton –
Well, we jinxed it! After 2 days in the scorching sun our luck had to run out soon – and run out it did! On day three it rained, and not just a little drizzle, we're talking downpours with thunder and lightning. Though rain does make it next to impossible to shoot in, we managed to power through as today was all about menswear. Luckily at the location we had chosen, we were able to shoot outside and indoors (which was very handy when the heavens opened at 10 am).
Our location for today was Classic & Sports Car Centre, Corner Farm in West Knapton. After a few shots in a vintage land rover in a field at the back of the property, we hurried inside the car garage when it started to rain to shoot in an amazing garage full of vintage cars. Cue a lot of geeking out from Rich and the photography crew. Even our model Rashid was impressed and was dreaming of buying a nice red Cadillac he had spotted whilst shooting.
In the afternoon it stopped raining enough for us to rush out in 10-minute intervals and get some shots in the nearby forest. This did lead to us getting caught in a downpour and all having to huddle together under umbrellas for 40 minutes – but hey we'll call it a bonding exercise! After drying off and inhaling some Kit Kat Chunky's as a pick me up (this seemed to become a recurring theme for this shoot!). The clouds broke enough for us to finish our afternoon off with some more shots in the fields.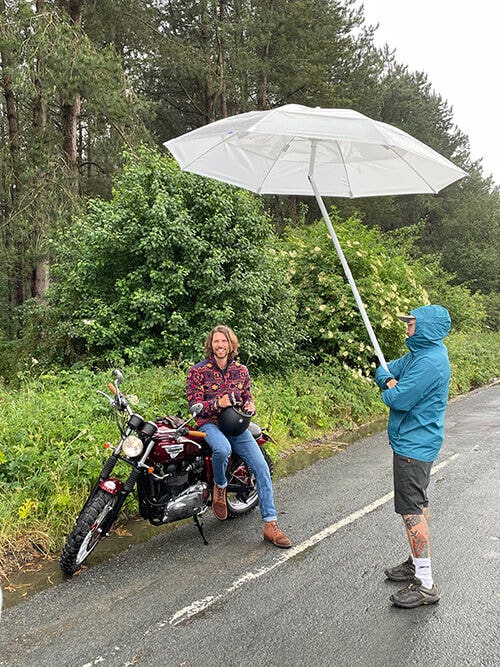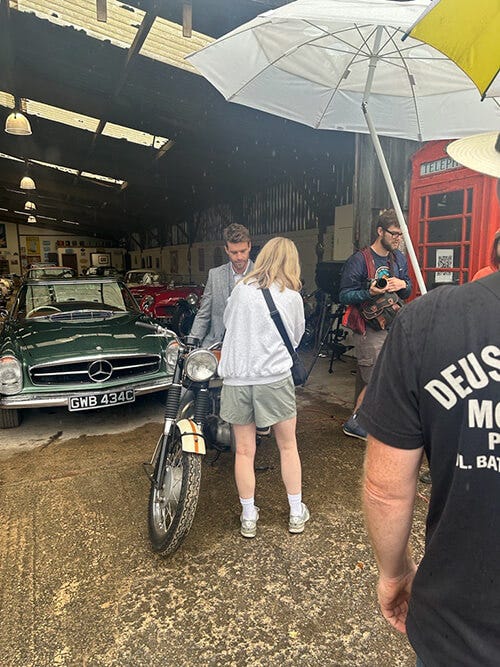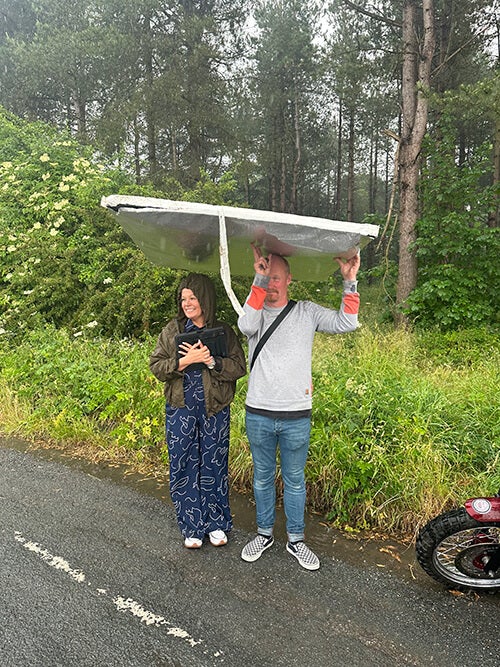 DAY 4 – Corner Farm, Knapton – Day Dreamer
We were back at Classic & Sports Car Centre in Corner Farm, West Knapton, and as typical British weather would have it, today was scorching hot without a cloud in sight! Perfect for a day of outdoor shooting. Today we were spending the whole day shooting the Day Dreamer Collection. This collection, as you can guess from the title, is a psychedelic, boho, 70s-inspired collection full of flowing dresses and skirts. Bohemian was the key theme for this day of shooting as we wanted the shots to look like our models were camping out at a festival.
To bring this idea to life, we erected a Teepee in the fields at Corner Farm and hired a gorgeous cream 80s camper van for our models to use. It was such a dreamy day that we even found our model Karen napping in the long grass at one point! A lot of Haribo Tangfastics, diet cokes and SPF later – with the crew all gaining some rather questionable tan lines – we created some dreamy shots!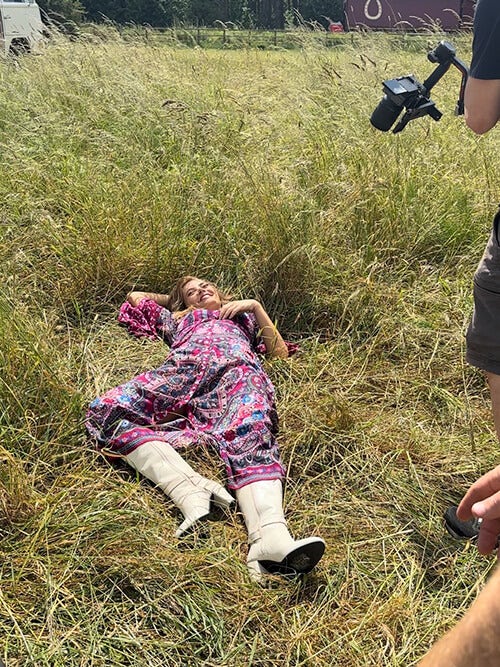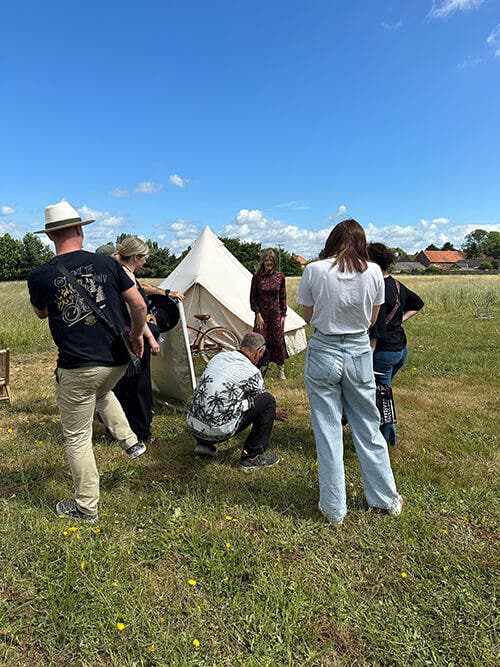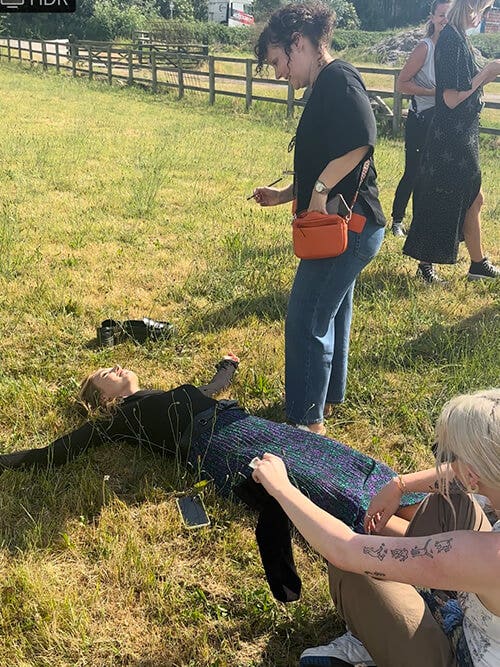 DAY 5 AM – York River – Charmed Life
For day five we were back in York City Centre. We used Dean Court Hotel as our base once again, but for the morning we bundled up all our kit, as many outfit changes as our trolley could carry and headed down to York River, our location for this morning. With the backdrop of the York River, we were shooting our Charmed Life Collection. The Charmed Life Collection is full of primary colours, bold geometrics, dainty florals, modern cuts, and cosy knits. The riverbank was the perfect place to shoot this collection and helped capture the romantic street-style inspiration for the collection.
Our models were absolute troopers and did a lot of quick changes in our changing tent on the side of the river as we had a lot of shots to get through this morning. Also, our amazing Assistant Stylist Ona had her birthday so of course we had to celebrate with birthday cake when we were back at our hotel for lunch! A huge thank you to Ona for running around like a madwoman between the hotel and the river carrying a million and one accessories - even on her birthday!
DAY 5 PM – Parisian Café in York – Reflections of Yesteryear
After lunch it became evident that this was the hottest day of the shoot, it was another scorcher! We were shooting in 25-degree heat and after the 15-minute walk to our second location of the day, we were all melting.
Luckily our location was a gorgeous café where we could cool off and lust after their amazing pastries. In the afternoon, we shot our Reflections of Yesteryear collection which has neutral colours, nods to vintage styles, and a very Parisian feel. It was hard to imagine this collection being shot anywhere but a Parisian café - and although Paris was a little bit beyond our budget - we found the amazing Partisan Café in Micklegate that transported us to Parisian streets. It even got the approval of our Paris native model Karen - trés bon!
Shooting in 25-degree heat is tiring work but we extended a huge thank you to our Marketing Director Tracey who nipped off to secretly buy us all ice lollies, and - like the kids at heart we all are - that sugar rush was all we needed to power through and get some amazing shots done!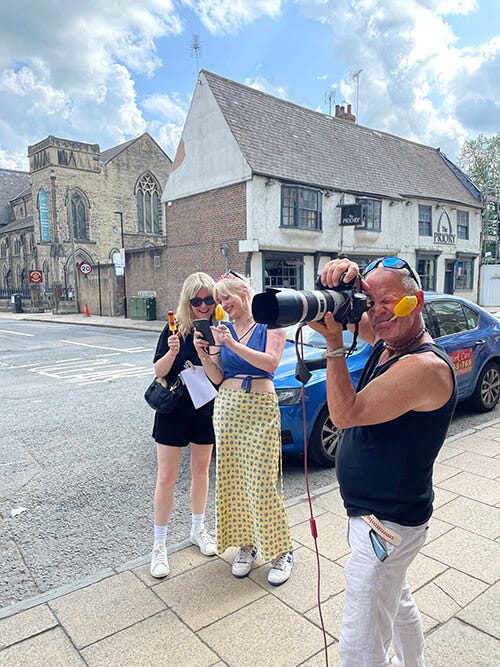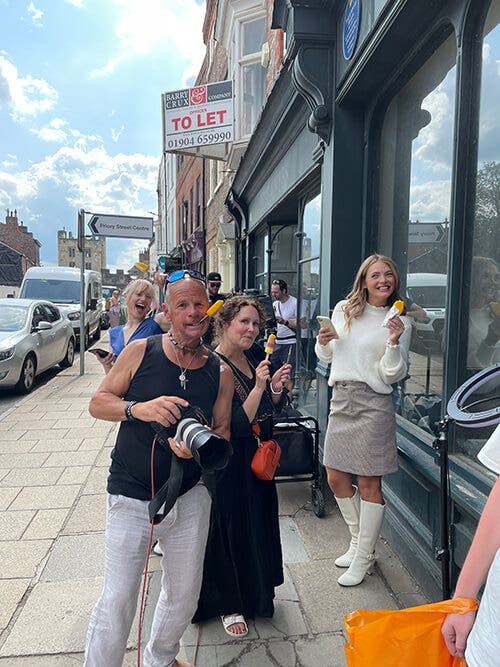 DAY 6 AM – Jollyday's Glamping Café, Nunnington, York – Forever Twilight
For our sixth and final day, we were retreating to nature (literally, there was not a bar of service in sight!) to Jollyday's Campsite in Nunnington where we used their fairy-themed café for the morning. Yes, you read that right, fairy-themed! There was even a fairy museum which we all took turns looking around when we got to the location. In this magical setting, we were shooting our Forever Twilight collection. The dark forest tones of the location matched perfectly with the rich jewel tones and the floral prints of the garments. We were all agog at the beautiful bar with dark green metro tiling and bottles of homemade moonshine atop it. Our final lunch together was enjoyed on the outdoor picnic tables as we tried to tally up how many Kit Kat Chunkys we had eaten over the six-day shoot.
DAY 6 PM – Jollyday's Forest, Nunnington, The Endless Escape
After lunch, it was time to shoot our final collection, The Endless Escape. The fiery oranges and reds of this collection contrasted perfectly with the forest backdrop of Jollyday's campsite. We were going deep into the woodland for these final shots, as we started a new tally: how many mosquito bites each of us had! After six long days of shooting, by this point, we were all a bit delirious and were finding every little thing hilarious! Despite this we got some beautiful shots and were all thrilled to hear photographer Kev call 'that's a wrap' on the final outfit.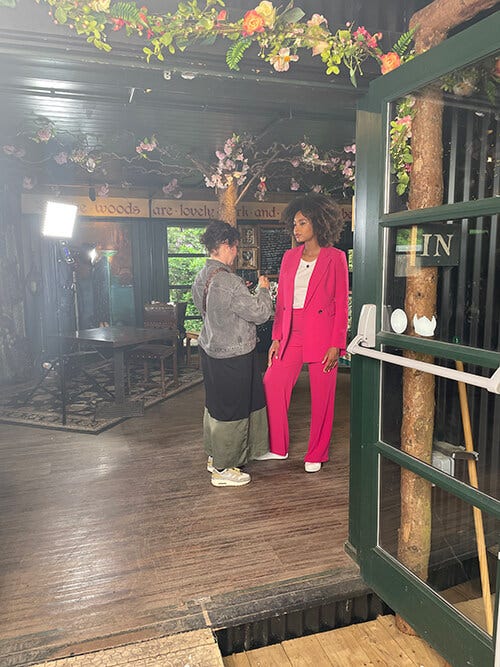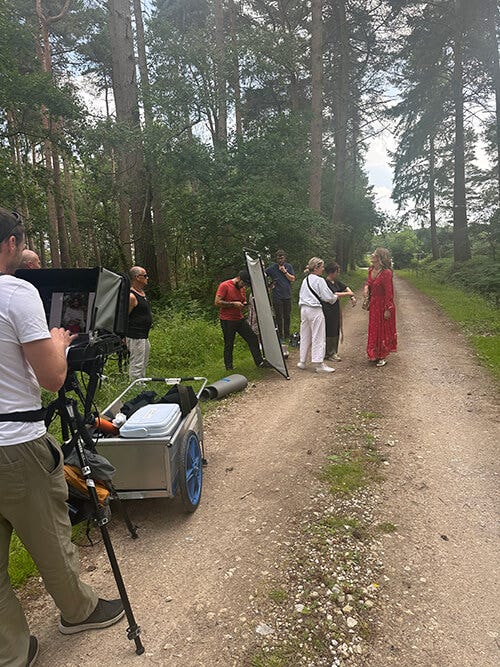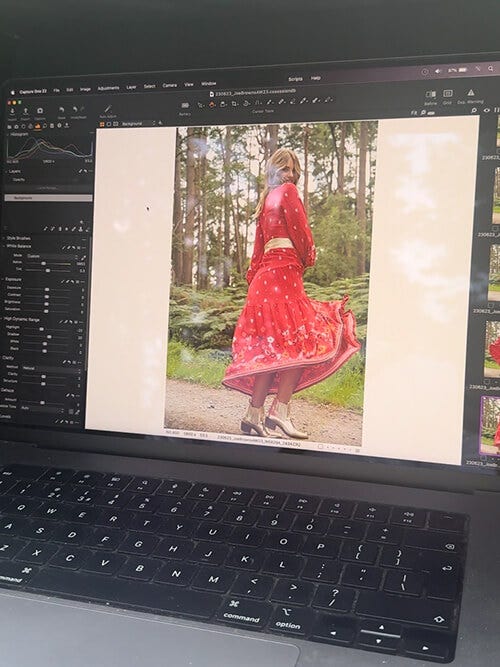 We did it! Our longest campaign shoot ever! Although at times it can be stressful (and hot… and rainy!), we had an amazing six days and got some incredible shots. A big thank you to our amazing models: Anna, Emma, Rudi, James, Rashid, Karen, and Aline. The amazing photography crew Kev, Karl, Scott and Nathan. Amazing styling by Gemma and Ona and finally Leanne for being our hair and makeup guru. All of whom we wouldn't be able to do it without!
Days shooting: 6, Outfits shot: 125, Kit Kat Chunky's consumed: 96.
Scroll to top