From Sea to Sky: Ben's Bike Blog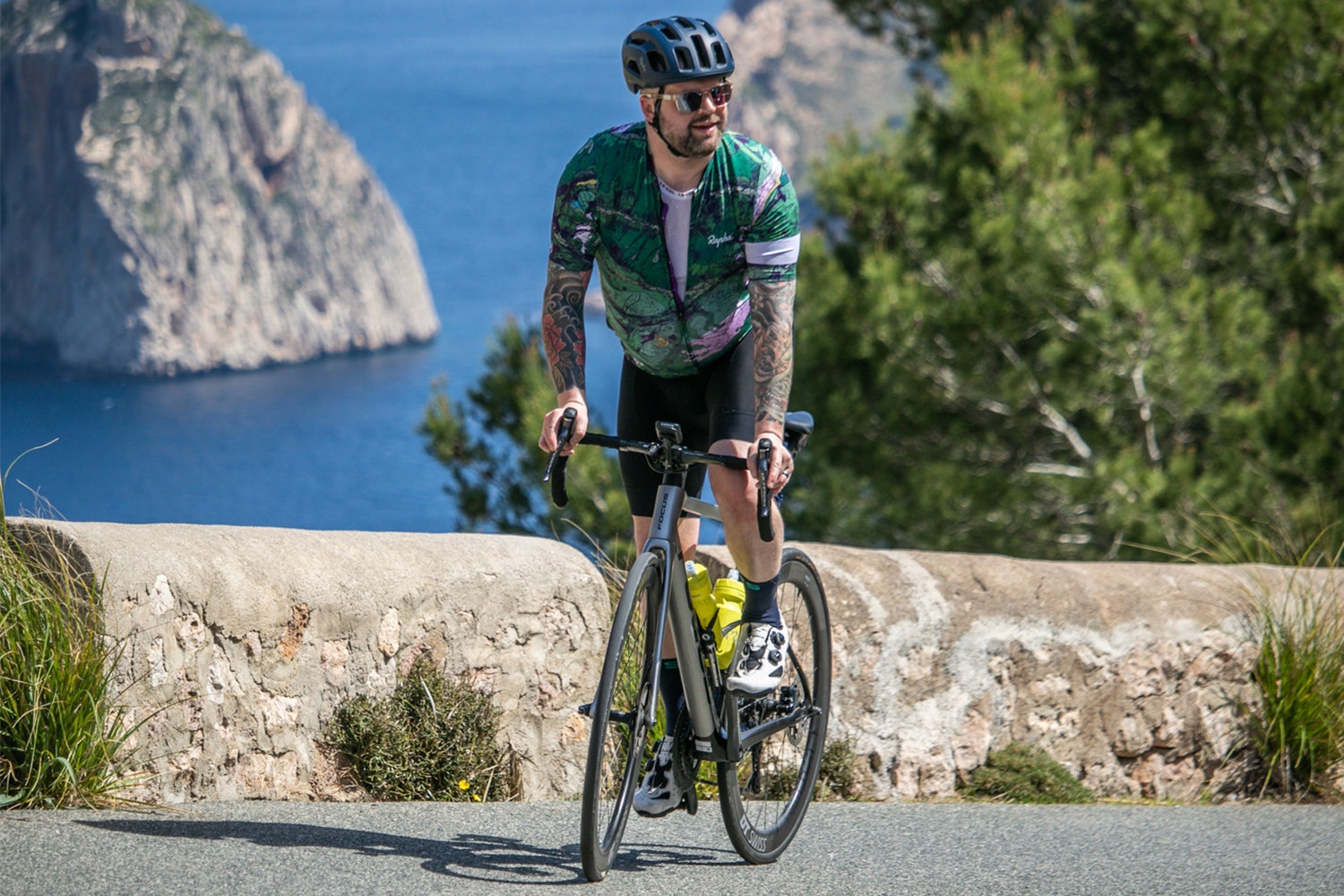 Ey up guys it's Ben, I've only gone and managed to get on the blog again, and this time I was riding a bike instead of building one.
It's been 3 years in the making and 2 cancelled trips due to the dreaded Covid, but finally, me and 3 mates finally got to cycle in Mallorca.
An early rise, one epic queue at Leeds Bradford Airport, and a random flight encounter with Bryony, our blog socialite, before we touched down in a sunny Palma (Be it a couple of beers in).
If you knew my mate Lee, you would have guessed he hadn't booked our bikes for day 1, so our first day consisted of a walk to the beach, a dip in the pool, lots of food and an early night.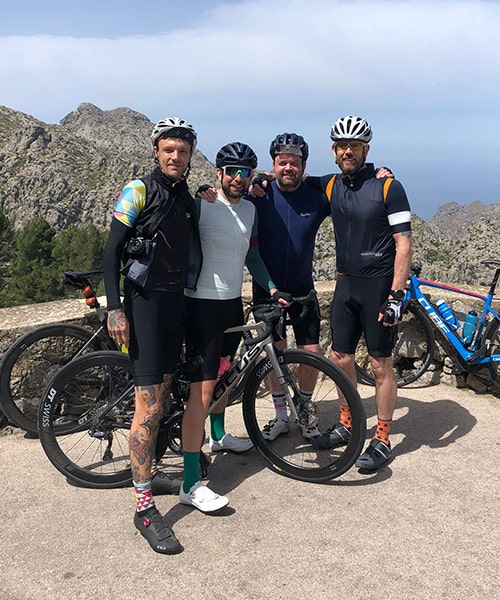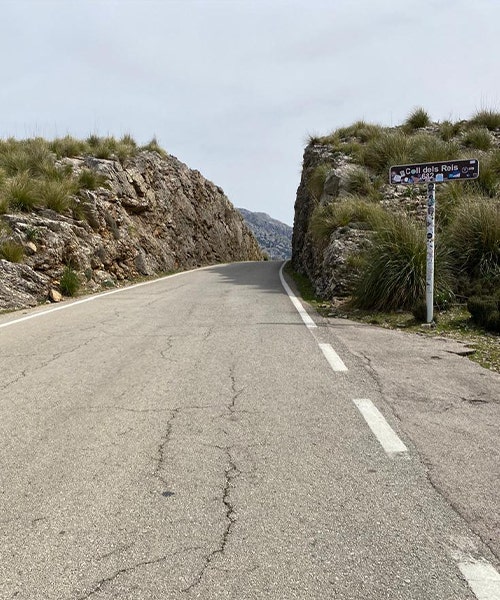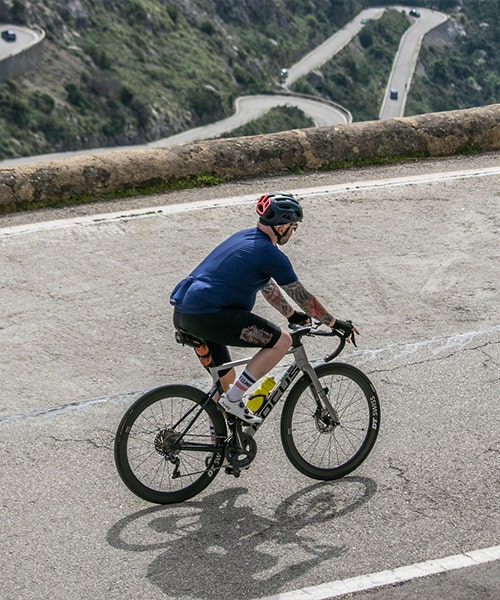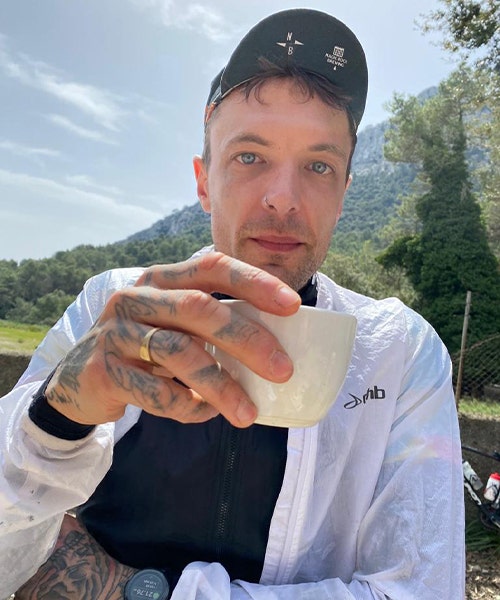 DAY 1 – Pollensa to Sa Calobra Loop
Starting with a 7am early rise, we had some breakfast before heading across to the shop to collect our bikes. Any disappointment faded away quickly; the bikes were amazing. Focus full carbon Di2 ultegra (excuse the geek talk, but if you know, you know).
Being in Port De Pollensa, we were right on the doorstep of the mountains, so to put it bluntly, there was no easing ourselves in.
We loaded up with gels, food and water and then headed out for a day of pure sunshine and climbs, and climbing is exactly what the day had in store for us.
A few lovely countryside roads quickly turned into the first 7 miles of uphill, followed by… yes, more uphill. These were actual mountains. All the way to the summit of Coll Dels Reis.
Then, it got fun. A 10km descent of hairpin switchbacks all the way to Sa Calobra at the bottom, where we treated ourselves to can of coke and a sarnie overlooking the amazing beach.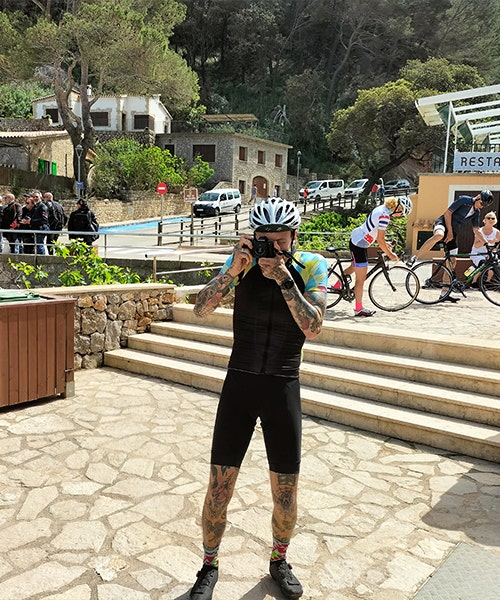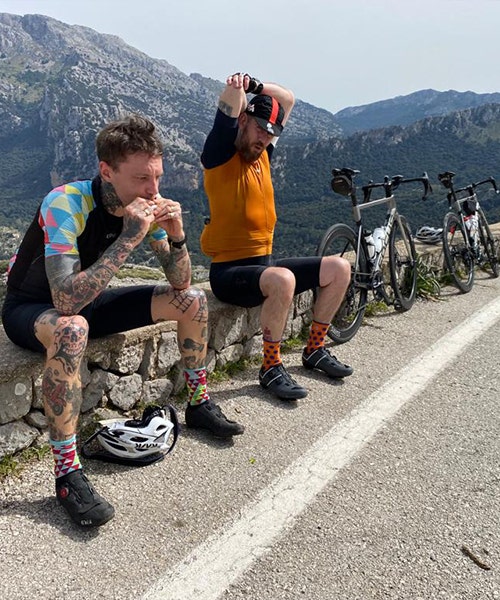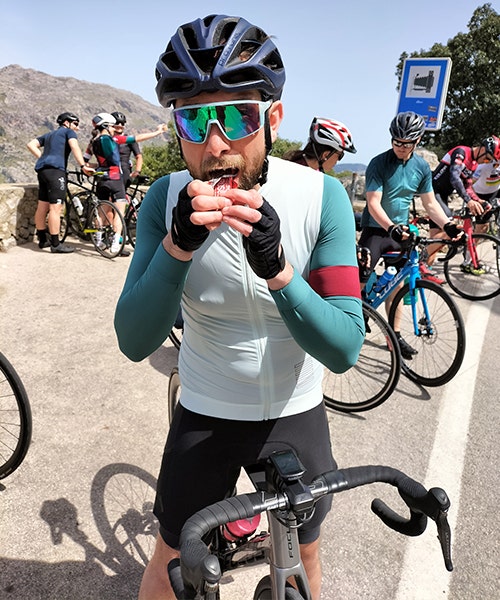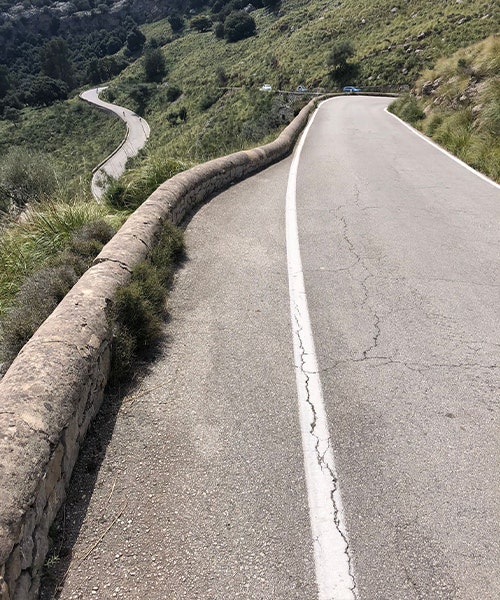 The only problem was you then had to turn around and climb 10km up yet another mountain. I joked about getting one of the little speed boats to take me back around (an actual thing) the guys laughed… I laughed through gritted teeth haha.
So, I set off and forgot my gloves. I stopped, put them on and settled in for the climb. Now I'm pretty good on the bike but you can tell from the pics… I'm not made for climbing, unlike my mates.
I definitely wasn't catching them and deffo not keeping up, but by some act of god I did.
It was by far one of the hardest things I've done on a bike, just due to the sheer distance of the climb in the beating down sun. Did I mention we did it in the hottest part of the day? A true Brit move.
But I made it, descending, more climbs, exhaustion and a second wind of sprinting back to the hotel shortly followed.
70 miles, 6k of elevation and 5500 calories burned, I'll take that for a successful day on the bike.
That night the only thing on my mind was the hotel, pool, shower, lots of food, lots of banter and tucking in for an early night again.
Bearing in mind, this is a complete opposite to the lads holidays I was taking a few years back.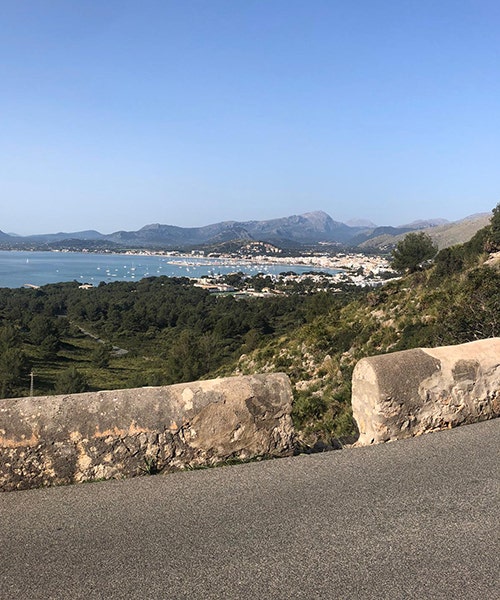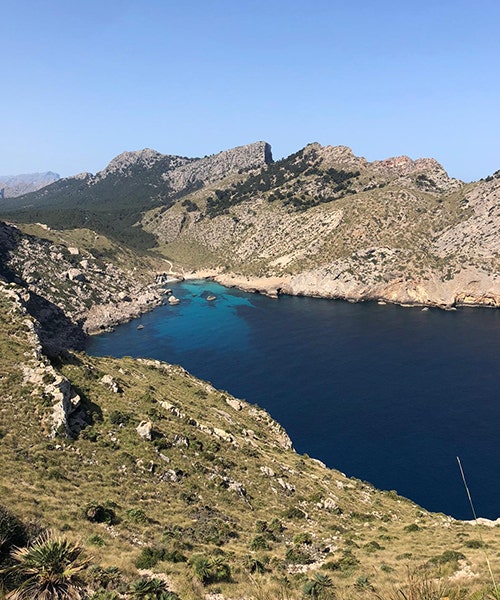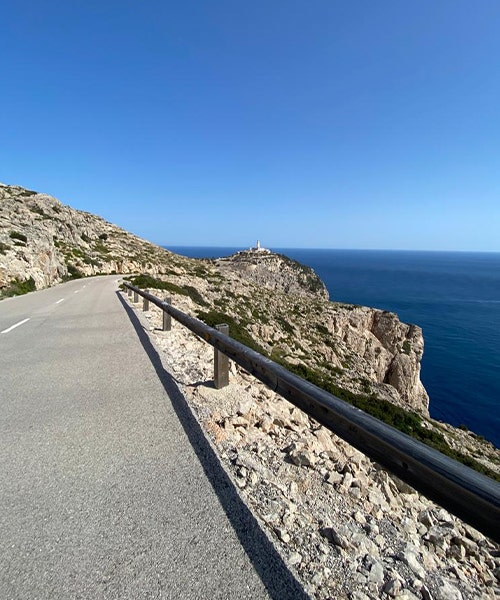 Day 2 – Cap De Formentor Lighthouse
Now after yesterday's mind-blowing experience, I was almost 100% sure it couldn't be matched, man I was wrong.
Early rise, breakfast and back on the bikes.
The flat stretch down towards the beach branched off to the left, and suddenly turned the landscape unfolded into a mountain climb. I could see the switchbacks that were approaching so settled in and shouted, "Wait at the top for me guys!".
A long climb to the first summit quickly descended through alpine switchbacks. After cycling through the woods for some time we were greeted to more hills, these then turned into a beautiful mountain path that hugged the sea all the way to the lighthouse.
It was hilly, but I actually kept up for a change.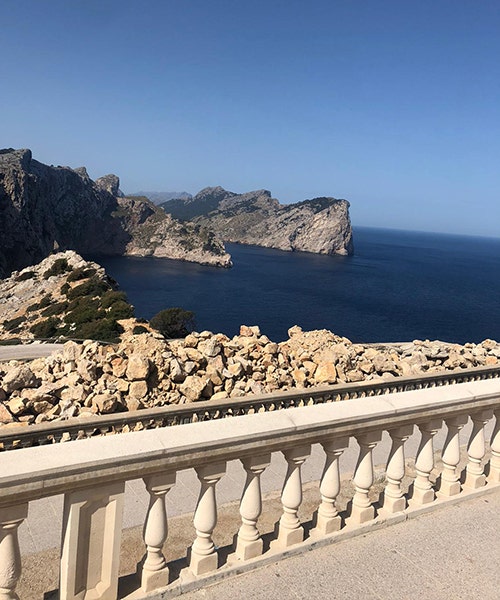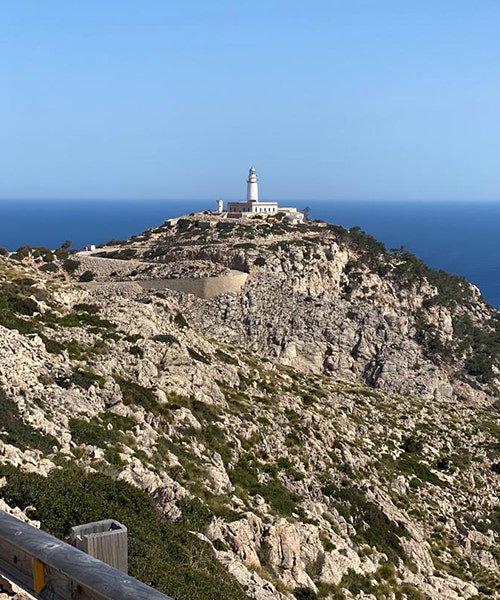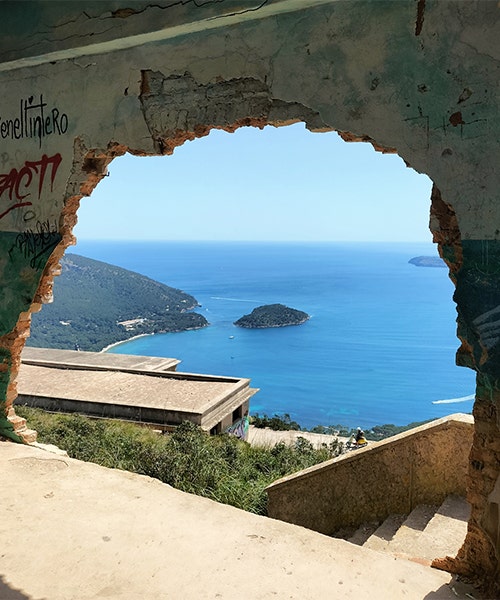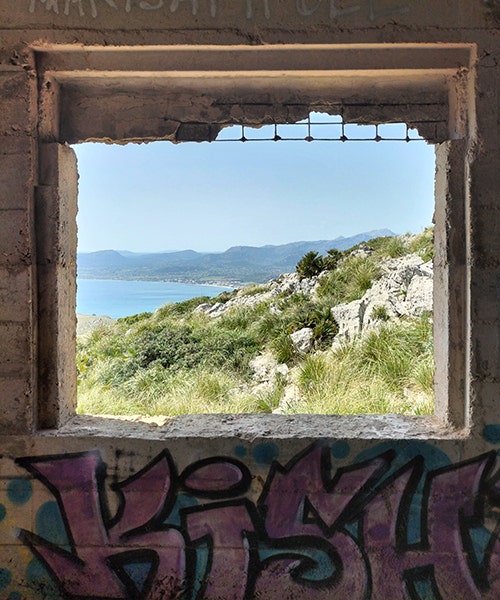 At the top we got the obligatory snaps and raced the undulating route back down. Now it was time for another monster climb.
The guys left me behind but I fought my way up, at one point I thought I could make up some time when I get on the back wheel of an E-Bike to draft them. But, once they realised, they left me standing hahahahahaha.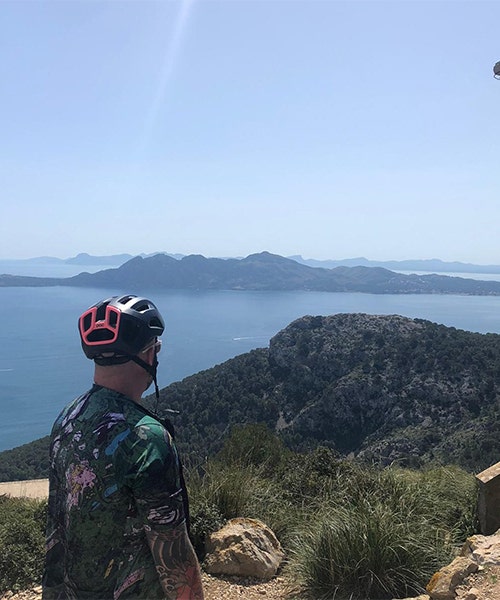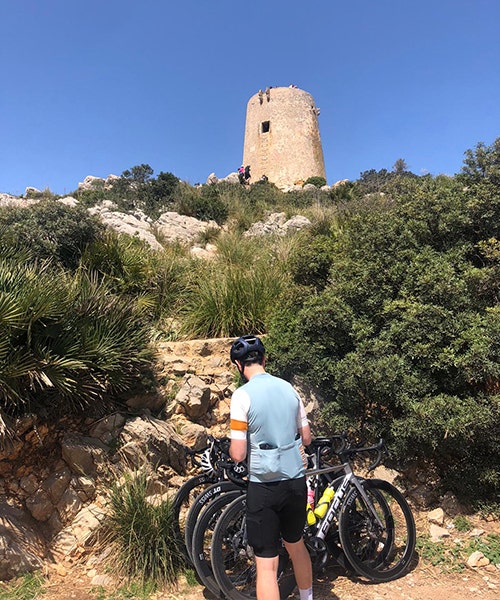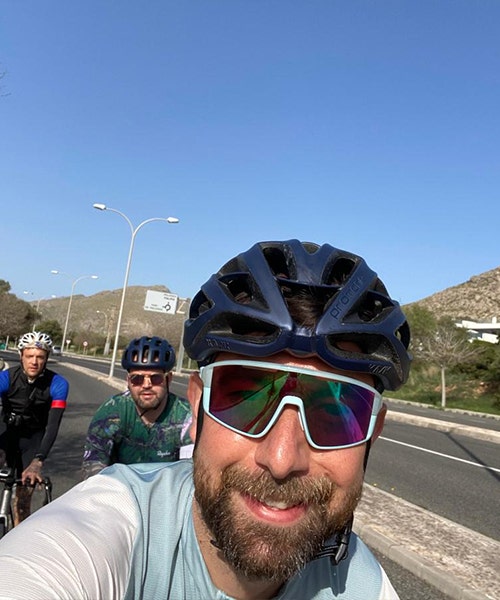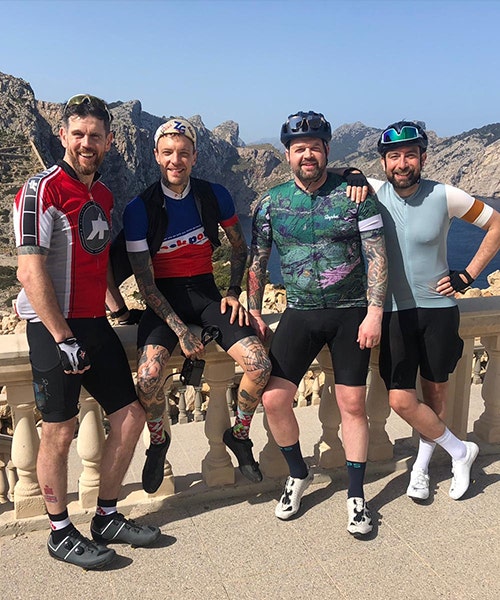 At the top you could see another climb to the left, leading to some old ruins. So yes, of course the guys made us cycle up there, too. It was loose gravel and steep but worth it for the photos and sense of achievement.
A race back down towards the hotel followed, but this time we headed straight to the beach for some well-deserved food and beer.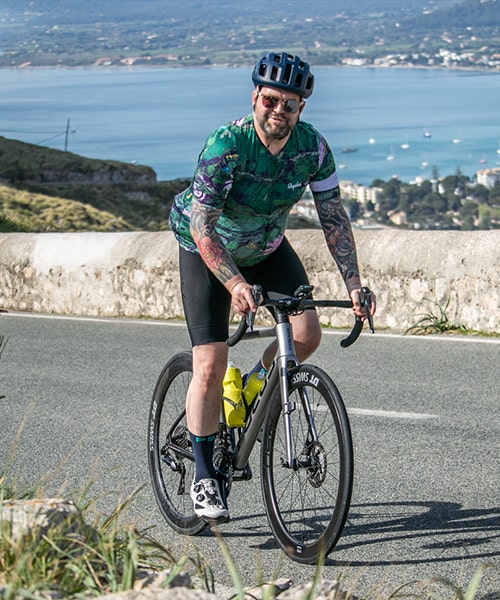 Quite a few beers were drank before heading back to the hotel for dinner followed by a super random darts doubles tournament whilst drunk.
As you can imagine we had far too much to drink and suffered the next morning. But a coffee on the beach, ice cream and Paella helped ease the pain whilst we killed time before our flight home.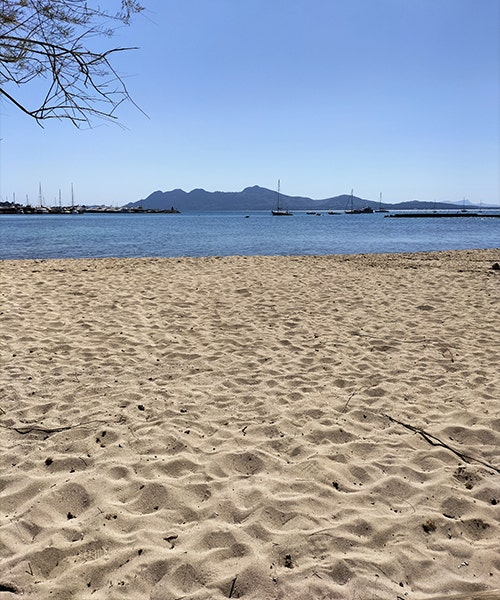 A late pick up, rush through the airport and a delayed plane was a bit of a pain, but it would have taken a cancelled flight to have ruined that trip.
If you haven't cycled in Mallorca but love the idea, you have to do it!
Pros
Smooth roads
Safer roads
More bikes than cars
Views & routes out of this world
Sunshine, if you're lucky like us
Cons
Only one; I'd be lighter next time! Ha!
Scroll to top