How to Host a Garden Party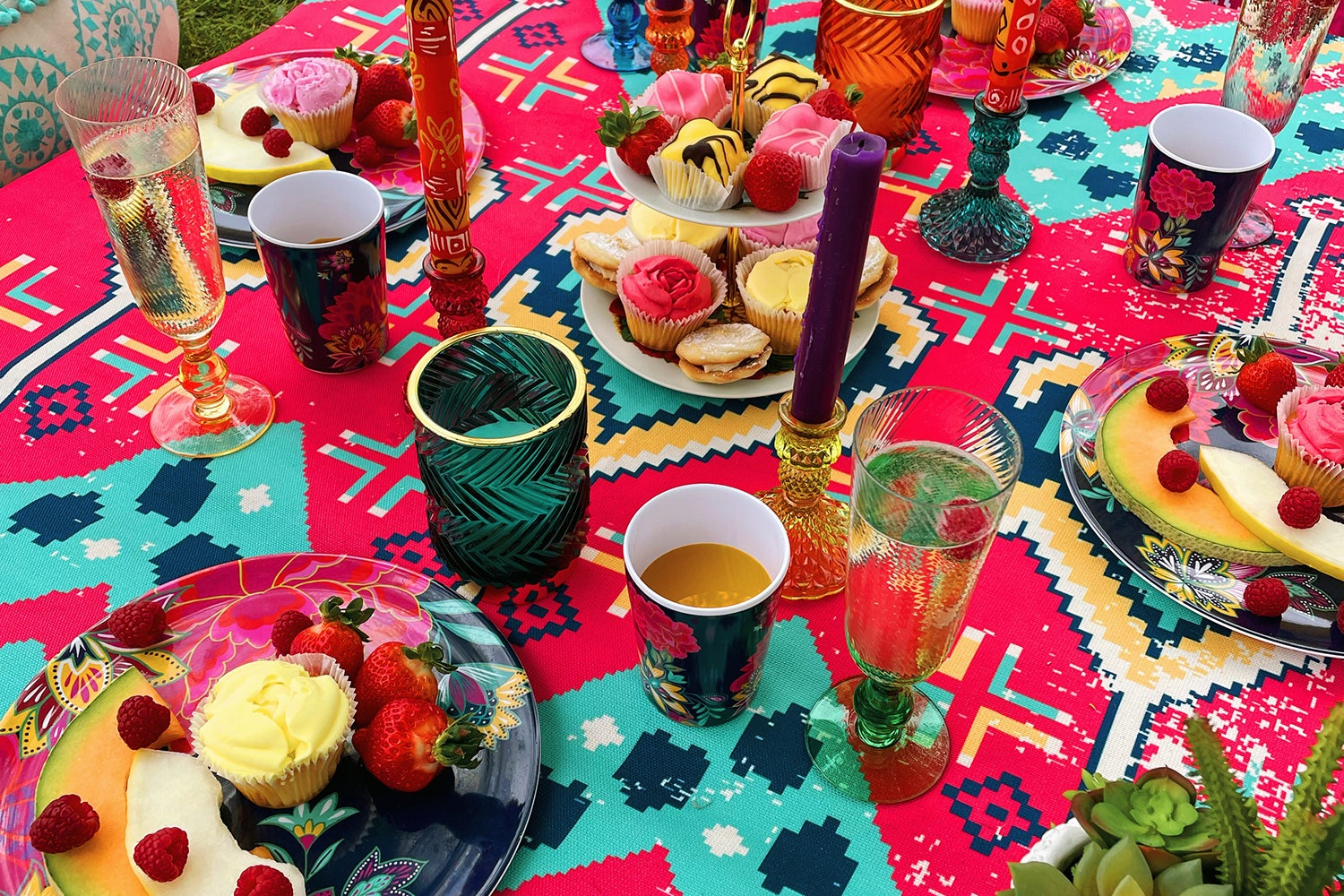 With your usual summer antics such as BBQs, engagement parties and other special occasions, we also have the Platinum Jubilee and extra bank holidays coming up! Summer 2022 is set to be a great one, so garden parties are definitely on the horizon.
If you're thinking about throwing a garden party of your own, read our basics on hosting a garden party so you can be the hostess with the mostest!
If you want some extra inspo, check out our Balearic Vibes Gardenware or our Garden Party Hack Guide on our Inspiration page!
Assess the area
If this is your first garden party, it's important to envision how the party will be set so people can move with ease. The first port of call is to set the table as the 'centrepiece' of your garden. Think about how people will naturally move around your garden and bring your other elements in such as seating, rugs, condiments and drinks tables.
All you need to do now is adjust it slightly until you have it perfect, and you're ready to party!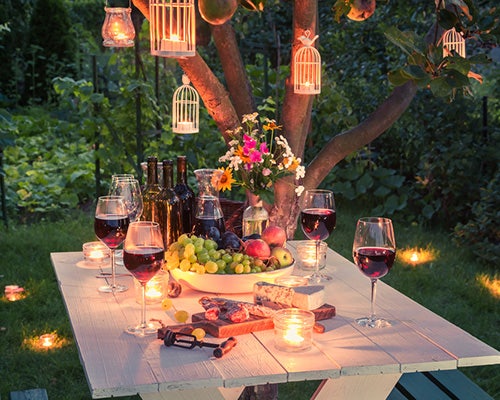 Prepare more food than you think you'll need
Less is usually more, but not on this occasion! When it's warm, appetites tend to decrease, with people favouring more 'picky' things to eat. After the main event, be that a barbecue, buffet, potluck (or fuddle, if you come from Yorkshire), simply collect the food and present the leftovers later on so your hungry attendees can graze at their leisure.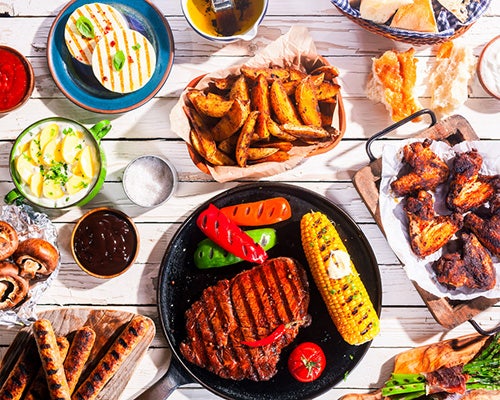 Have a wet weather backup in place before the day of the garden party.
Whether it's a marquee or a quick-fire way to move the party indoors, a wet weather backup is essential – especially in Britain! If you want to go the extra mile, set up your wet weather backup prior to the party and add some seating. If the weather beams down on us, it can provide some much-needed shade for some of your attendees.
Joe's top tip: Practice the wet-weather backup or how you'd execute the backup in advance of the party, so there are no nasty surprises!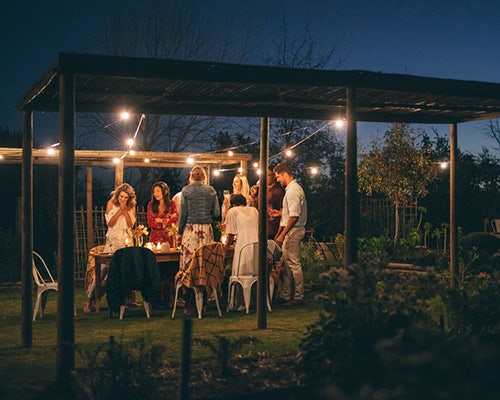 Have a couple of playlists ready in advance
Make your own playlist yourself with tunes everyone will enjoy. It's also handy to have a couple of different playlists for different times of the day. Why not have some feel-good summer music on in the background by day, and by evening bring in some of those classic songs people will want to have a dance or sing along to? Then, by night, have some gentle wind-down music as people start to leave.
If you're stuck for music choice, your music streaming provider might also have playlists already created, so pick one with some great tracks.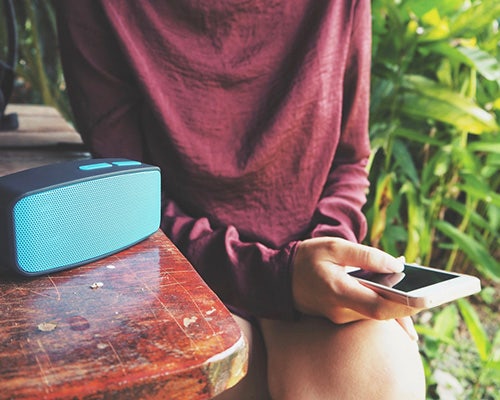 Soft furnishings are a must!
Especially as the evening breeze makes its appearance, it's an extra thoughtful touch to have plenty of cushions and blankets for guests to grab and cosy up in. Either set up your soft furnishings in a big basket or have them already dotted around your party area for an extra cosy, boho vibe.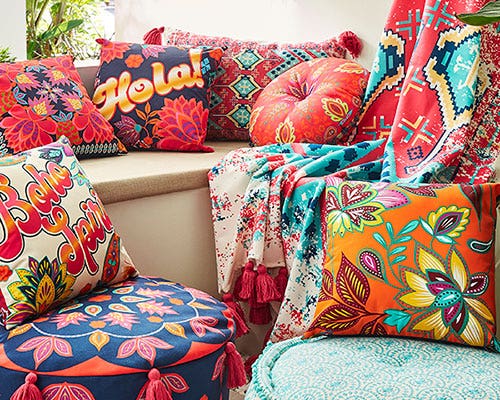 Set up break-away areas
If you're lucky enough to have a bunch of seating, set up some breakaway areas for people to talk. As the drinks get flowing, these breakaway areas will provide a mini sanctuary for catch-ups between friends, for the men to talk football and – let's be honest – the hottest gossip! These breakaway areas can be created with deck chairs, floor cushions, a rug or picnic blanket with pillows – the choice is yours! Just make sure to make it as snug as the rest of your seating.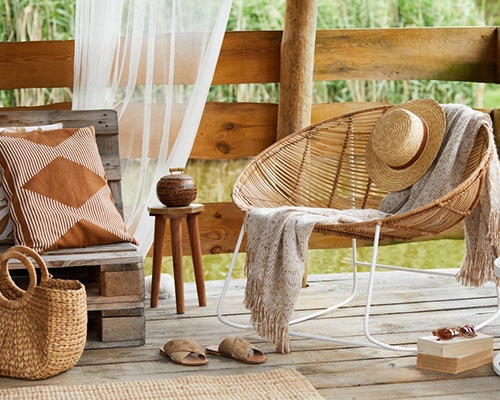 Provide the entertainment
It's not a garden party without a lawn game or two! You can find affordable garden sets easily, so take your pick. A few great ideas are badminton, twister, croquet or even giant Jenga. Why not grab some hula hoops and host a mini competition? You could even host a drinking competition if you dare!
If there are children in attendance, these games will keep them occupied for hours while the adults get their grown-up time.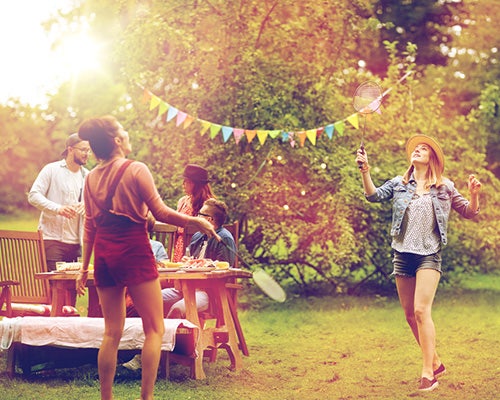 Set the scene
Prior to your party, decorate your garden and turn it into the perfect mini Shangri-La with bunting, balloons or maybe a floral arrangement or two to bring an extra touch of class to a garden party. Decoration is so much more than looking pretty – it keeps the eye moving throughout the garden to reveal each little detail you put into your garden party.
Joe's top tip: Set the lighting up in advance. Outdoor lighting such as mini lanterns or even tea lights in mason jars provide a whimsical touch to your garden party. There's nothing like a bit of gentle lighting to set the mood!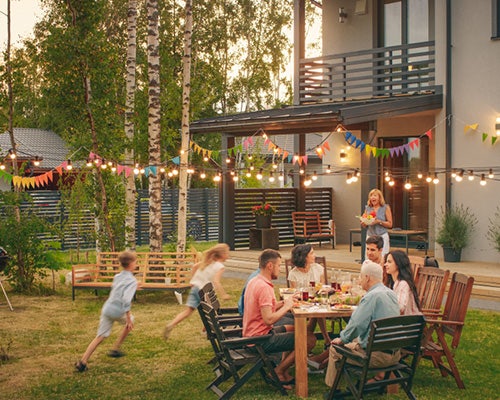 We hope you've learned a lot from our garden party basics – as there's bound to be a lot this year! We all know that one person who sets up an enviable garden party – and anyone can do it with the right space and technique!
With these basic tips and a little ingenuity, host the garden party of the century this year – if we can do it, you can, too!
Scroll to top