Ready, Set... Bake! - 4 Tasty Recipes From Our Fabulous Followers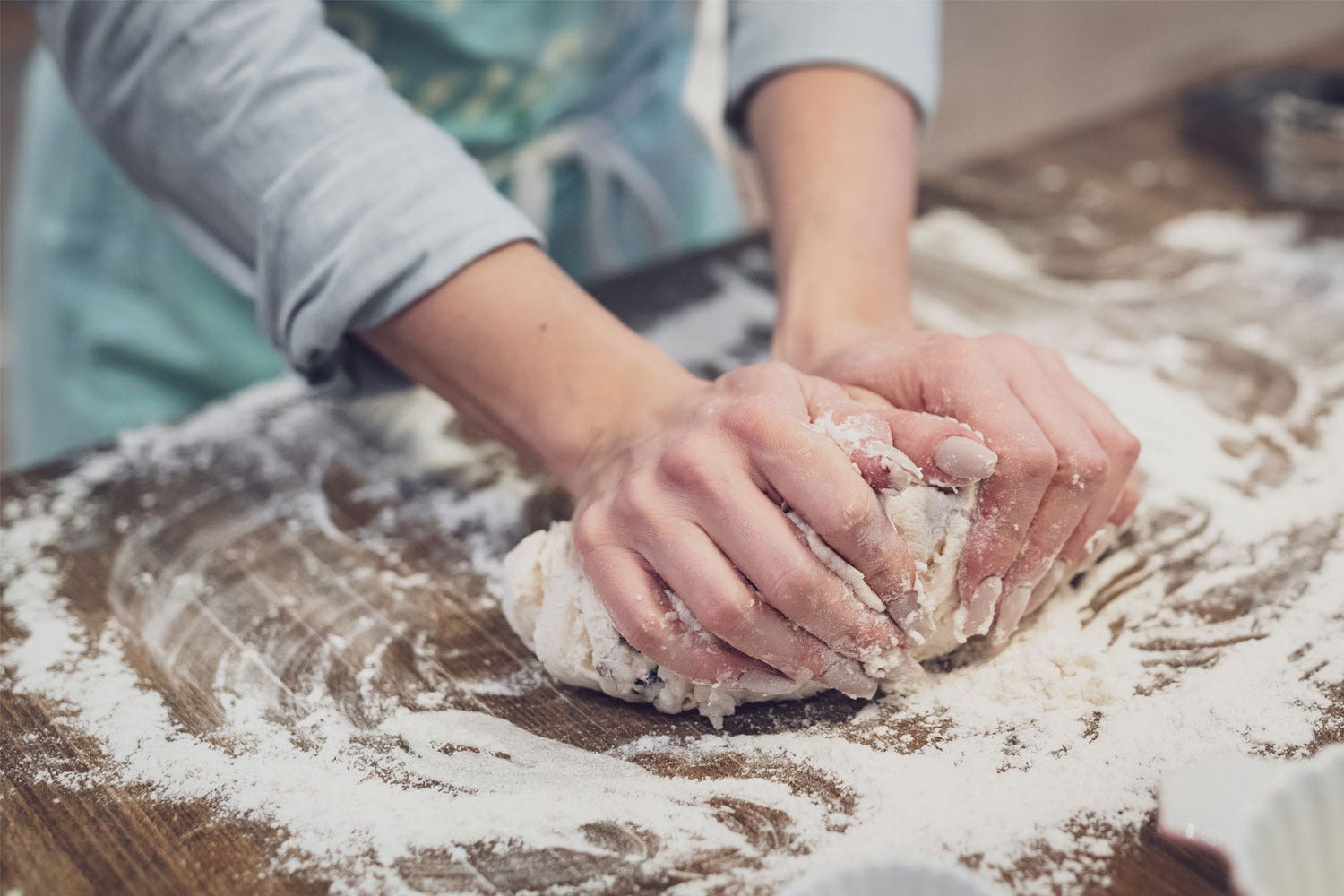 'Procrasti-baking': the art of baking instead of doing what you should be doing…'
If you're a budding baker, chef, foodie, or you're simply looking for a little baking inspiration to get creative in the kitchen, then this blog piece is for you!
This week, we asked our fabulous Facebook and Twitter followers to provide us with some of their best-loved recipes. Not surprisingly, we received some rather delicious ideas…
So, without further ado, sit back, relax and check out some of the tasty recipes that come highly recommended by you fabulous lot!
Nisha's Vegan Peanut Butter Cookies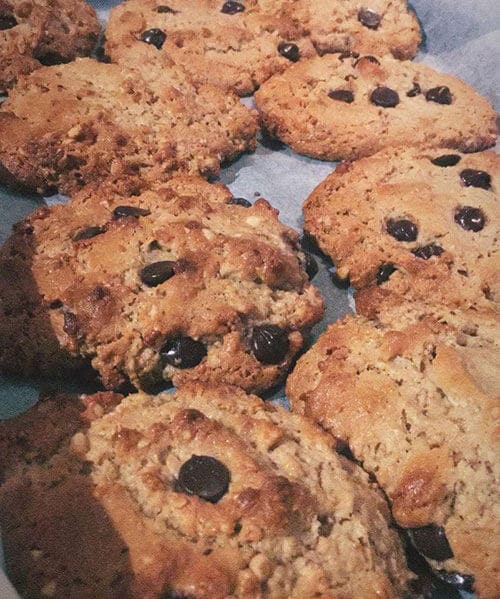 Ingredients:
1 cup oats (blended to make oat flour)
1 cup peanut butter
1 cup light brown sugar
1/4 cup almond milk
2 teaspoons vanilla extract
1/4 teaspoon baking powder
1/4 teaspoon salt
Chocolate chips (as many as you want)
Method:
Blend the oats to make oat flour.

Preheat oven to 180 degrees.

Mix the peanut butter, sugar, vanilla extract and almond milk in a blender.

Add the oats and continue to blend.

Add the salt and baking powder and mix.

Pop in a mixing bowl to add the chocolate chips.

Scoop tablespoons of mixture into cookie shapes on a tray lined with baking paper.

Pop in the oven for 10-12 mins.
Finito!
George McCully's Dairy And Egg Free Oreo Cake!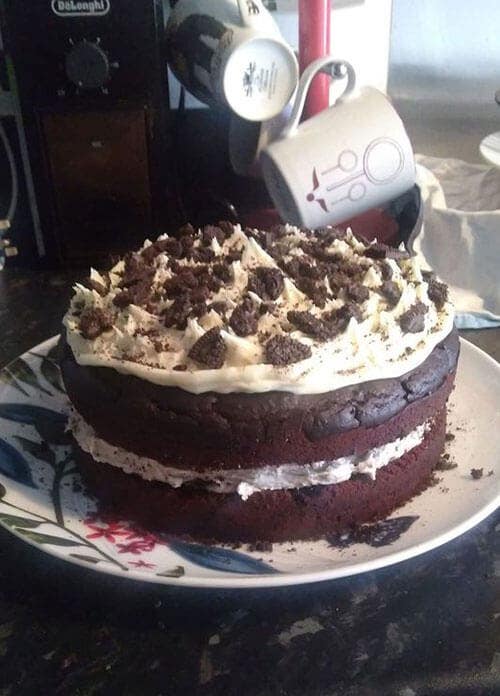 Dry ingredients:
1/2 tsp baking powder
180g plain flour
1tsp bicarbonate soda
120g cocoa powder
Wet ingredients:
90ml vegetable oil
180g demerara sugar
180ml beetroot puree (made by blending 3-4 plain, cooked beetroots)
240ml almond milk
60ml espresso
Icing:
1 packet Oreos
75g dairy-free margarine
75g vegetable shortening
1tbsp vanilla extract
750g icing sugar
50ml soy milk
Method:
Cake:
Mix together all the dry ingredients.

In a separate bowl, cream oil and sugar. Then add puree, espresso, milk and mix well.

Fold the dry ingredients into the wet ingredients and lightly mix until just combined (over mixing will stop it rising). Tap the bowl on the counter to burst the bubbles (also helps with rising).

Put all the mixture into one cake tin (this will ensure the cake is moist). Bake for 65-75 minutes at 175 degrees C. An inserted knife or skewer should be mostly clean when pulled out of the cake at the end of the cooking time – if it still has cake mixture on it this indicates that you should cook for a little longer
Icing:
Whip together the margarine, shortening, vanilla. Add half the icing sugar and 40ml of soy milk and combine. Once fully mixed, add the rest of the icing sugar and use the rest of the milk to adjust the texture.

Scrape out the white cream of the Oreos and mix into the icing.

Split icing batch into two. For the icing in the middle of the cake, crumble some of the Oreo biscuits (3-6) very finely and stir through the icing. Ice the cake with the plain icing on the top, and the icing with Oreo biscuit in the middle.

Crumble the remaining Oreos (3-6) into larger pieces and use the white icing to decorate the top of the cake.
Abigail Farenden's Oiled Chocolate Cake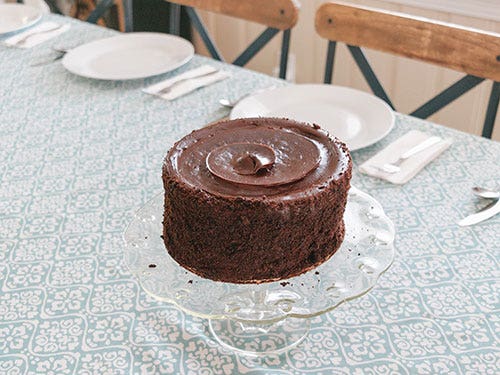 You will need 2 1-lb loaf tins or sandwich tins.
Ingredients:
Wet Ingredients:
5oz milk
5oz oil
2 eggs
2 tbsp golden syrup
1 tsp vanilla extract
Dry Ingredients:
6 oz self-raising flour
5 oz caster sugar
2 tbsp cocoa
1 tsp bicarbonate of soda
Gas Mark 4/180°C/Fan 160°C.
Line your tins with tin liners/greaseproof paper or use grease and cocoa powder.
Method:
If you're using a food processor or stand mixer:
Beat together all the wet ingredients in one large jug if possible.

Add all the dry ingredients to the bowl and mix until an even brown colour.

Add all the wet ingredients slowly until completely combined.

Split the batter between the tins and bake for around 40 minutes, if using a loaf tin, and 30 minutes if using a sandwich tin - test for doneness.
If you're using a hand mixer or ordinary whisk:
Sift dry ingredients together and set aside.

In the main mixing bowl, blend/whisk wet ingredients together, adding spoonfuls of dry ingredients until completely incorporated.

Split the batter between tins and bake for around 40 minutes if you're using loaf tins and 30 minutes if you're using sandwich tins. Test for doneness.
Add frosting if using sandwich tins, mocha recommended, but an orange cream cheese recipe meant for carrot cake also goes really well!
@Purrdy_Kat's Chocolate And Vanilla Sandwich Cookies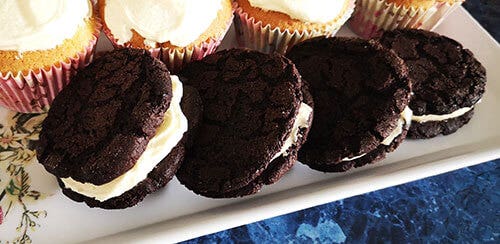 Ingredients:
170 g plain flour
90 g of cocoa powder
1 tsp bicarbonate of soda
1/4 tsp baking powder
1/4 tsp salt
140 g unsalted butter softened
320 g caster sugar (plus 3 tbsp extra)
1 large egg
Vanilla filling:
225 g unsalted butter softened
435 g of icing sugar
1 tbsp vanilla extract
Method:
Pre-heat the oven to 190'C (375'F). Line 3 baking trays with baking parchment. Cream butter and sugar until light and fluffy. Add the eggs until just mixed then sift in the remaining dry ingredients mixing together as you go. Scoop 15ml of dough (about a teaspoon) and pop on a baking tray about 5cm apart.

Dip a flat bottom glass into the remaining sugar and use to press the dough, bake for 10 minutes and transfer to a wire rack to fully cool.

For the icing, beat butter until light and fluffy, add the icing sugar until fully incorporated and then add the vanilla until all is light and fluffy.

Finally, pipe the vanilla filling between the two cookies to sandwich together! Store in a cool dry place. Note: They're slightly easier to eat when they're about 24 hours old as they've softened a little.
Enjoy!
To keep up with all the latest updates, check us out on Facebook here, Instagram here and Twitter here.
Scroll to top