Outlet store bank holiday bargains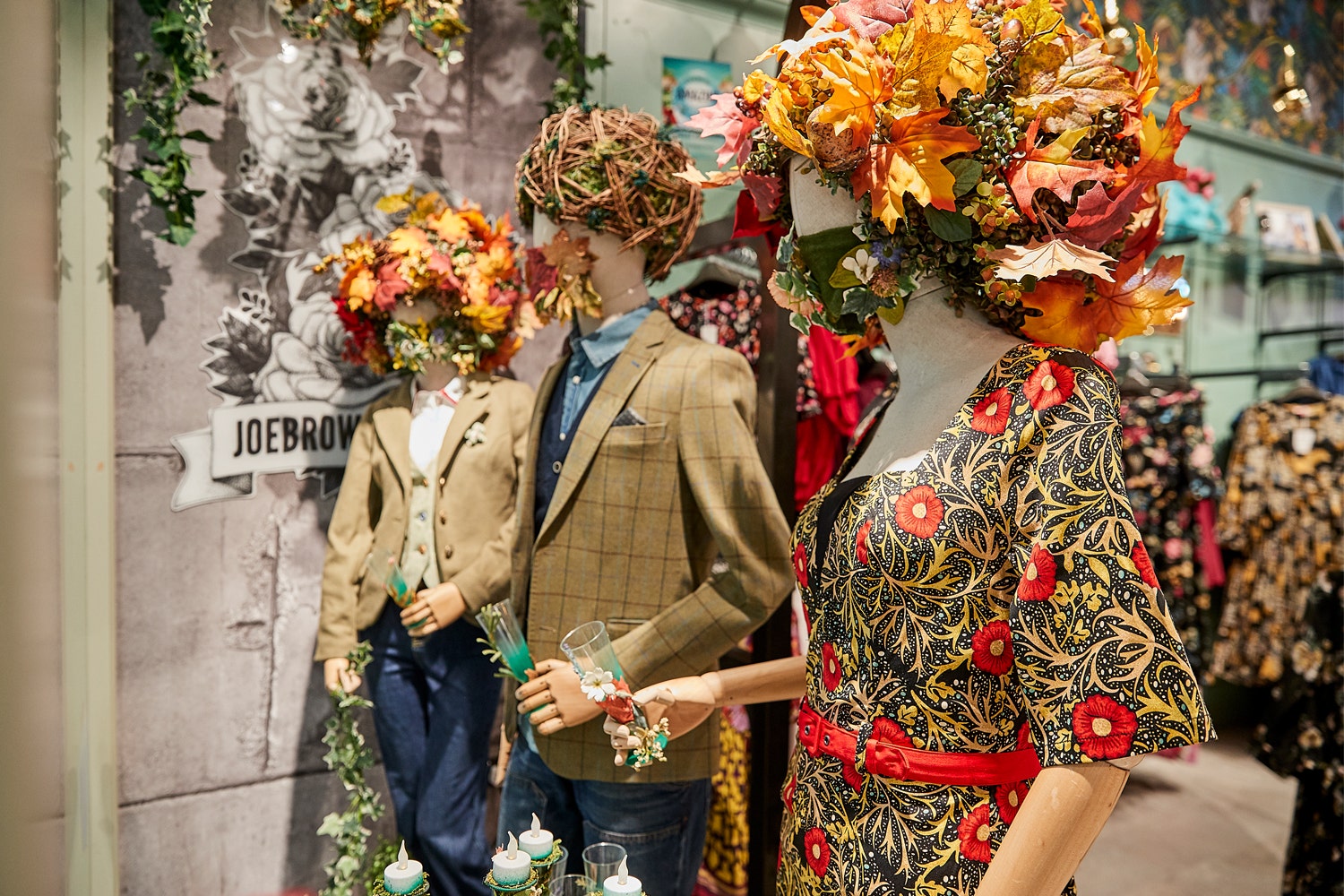 The bank holiday weekend is fast approaching, so why not treat yourself to something new from our outlet store? ​Whatever your adventure, we've got everything you need to get kitted out in-style, all at up to 50% off. ​
You'll find lots of remarkable styles that are really easy to layer, so you can look fantastic come rain or shine - we all know how unpredictable the British weather can be! ​
​
Take a look at some of our favourites…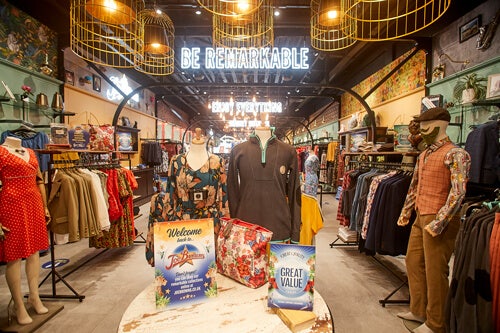 Ladieswear favourites…​
Wild At Heart Dress RRP £50, OUTLET PRICE £30. ​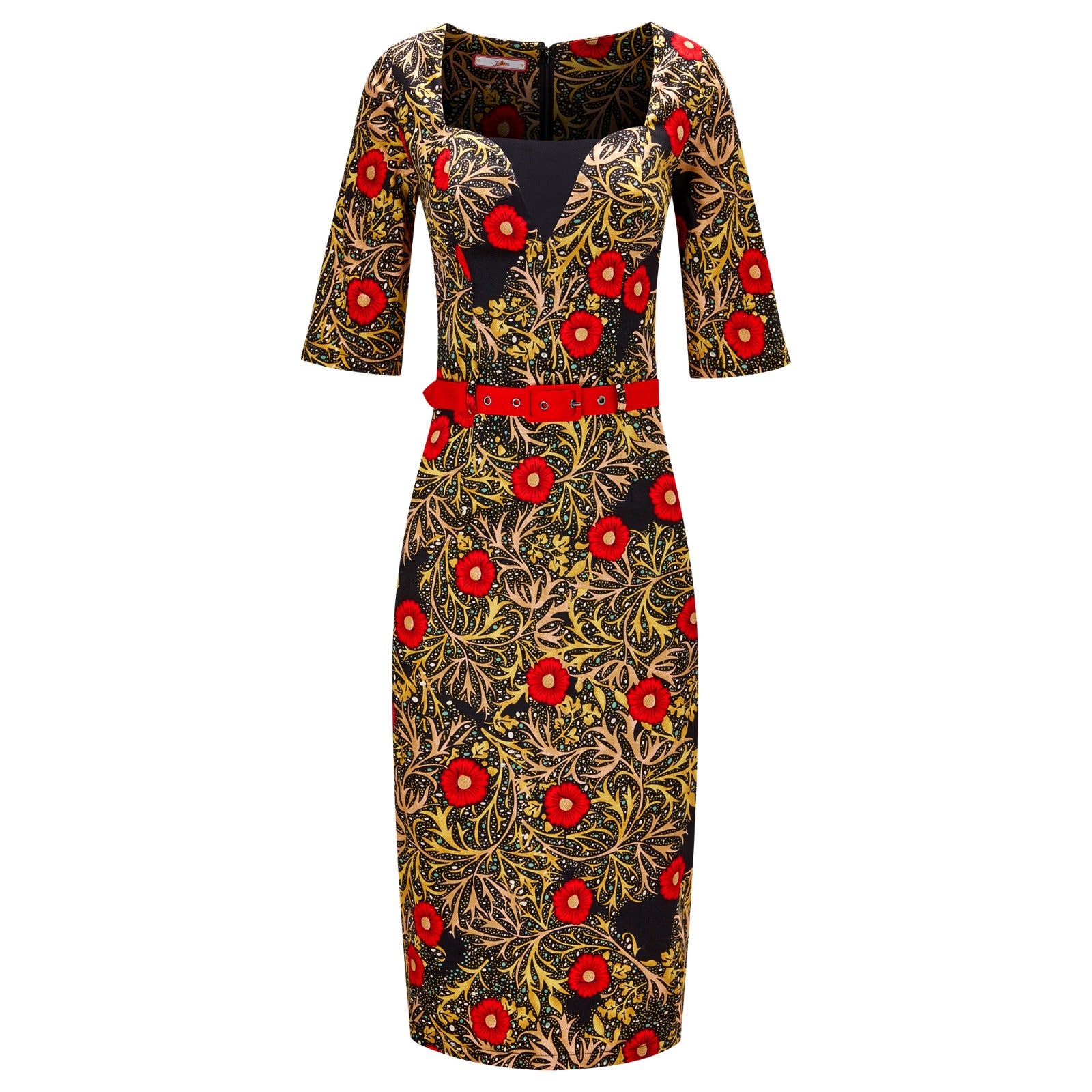 If you're going out for a nice meal this weekend, why not treat yourself for less and grab this stunning dress. Its unique ​print and vintage style, complete with matching waist belt, will help you look and feel incredible. Cheers to the long weekend!
Collarless Suede Jacket RRP £170, OUTLET PRICE £100. ​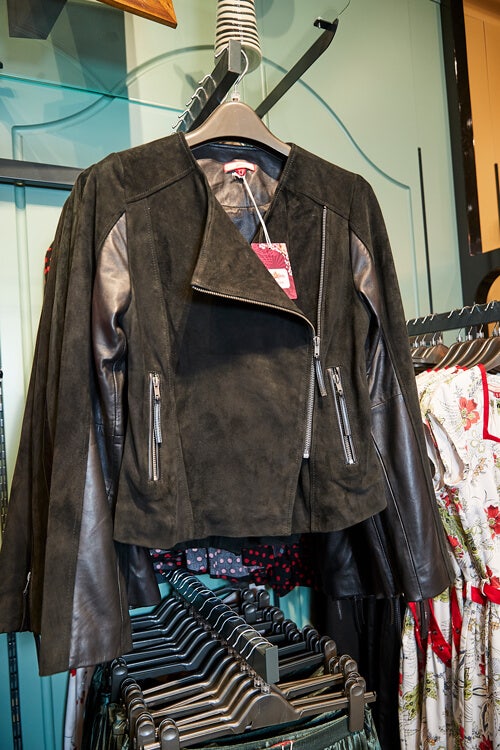 Wherever you're heading, don't forget to take this remarkable suede jacket with you. It comes in a mix of soft suede and leather and will make the perfect layering staple for your wardrobe. It's a timeless piece that you can wear again and again, adding a little edge to any outfit.
Mix and match…​
You'll find lots of incredible styles in-store that you can easily mix together to create unique looks, ​depending on the weather or the occasion. Try mixing different prints and textures or go for a style you wouldn't normally pick. ​You can easily shop different looks in-store and our Style Advisors​ will be on hand if you need any tips.
Prairie Jersey Top RRP £25, OUTLET PRICE £15 -​ Devilish Polka Dot Skirt RRP £45, OUTLET PRICE £29 - Gorgeous Floral Top RRP £35, OUTLET PRICE £17 - Stripe Wide Leg Trousers RRP £50, OUTLET PRICE £15.
Funky Fur Hood Cardigan RRP £45, OUTLET PRICE £25. ​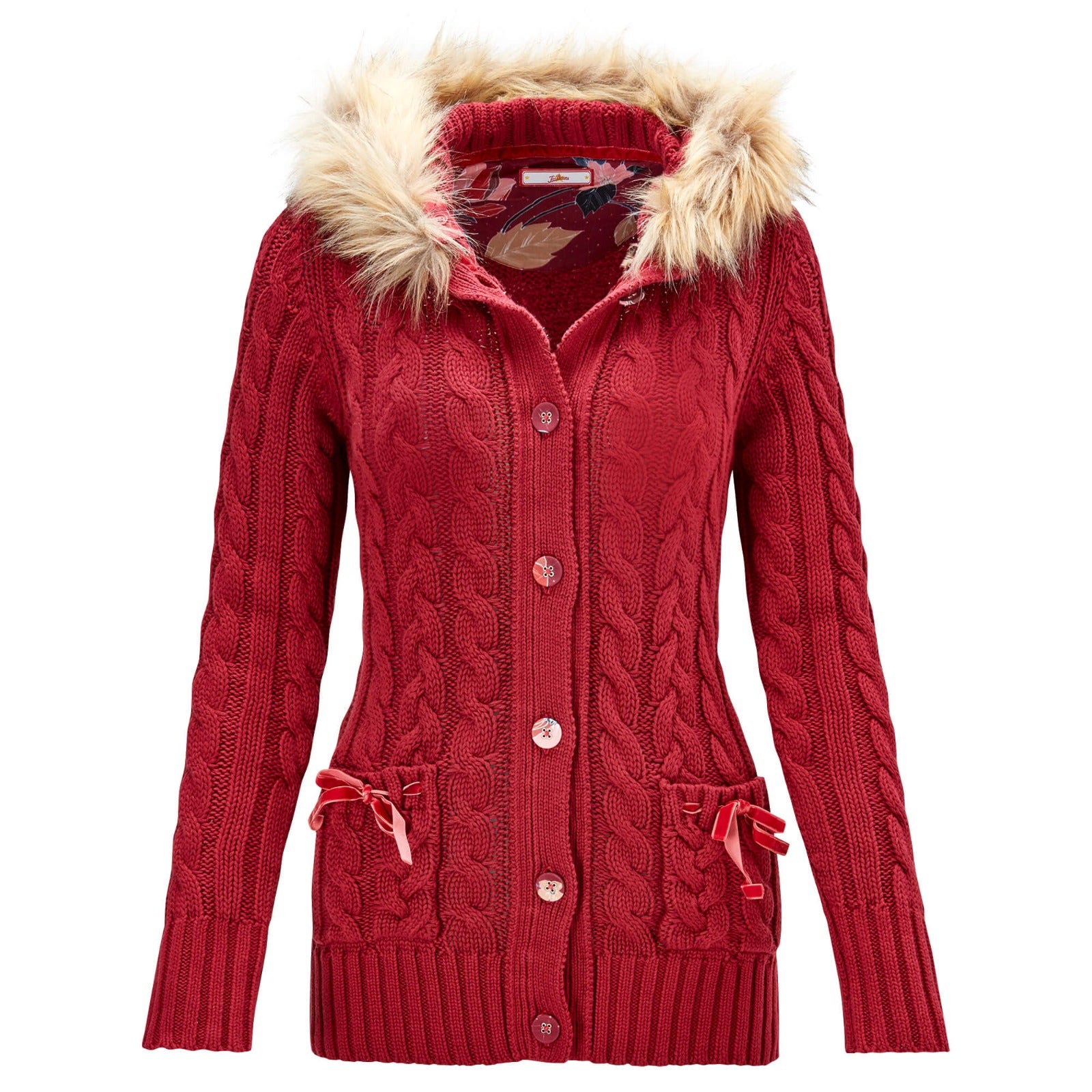 Our berry-toned cardigan is the perfect layering option in case the weather's not too good this weekend. It comes with a detachable faux fur hood trim too, so you can wear it into the winter. We pride ourselves on adding unique detail to our garments and this knit is no exception – it's finished off with pretty velvet bows and floral buttons to give a unique look.
Remarkable Vintage Style Top RRP £40, OUTLET PRICE £20.​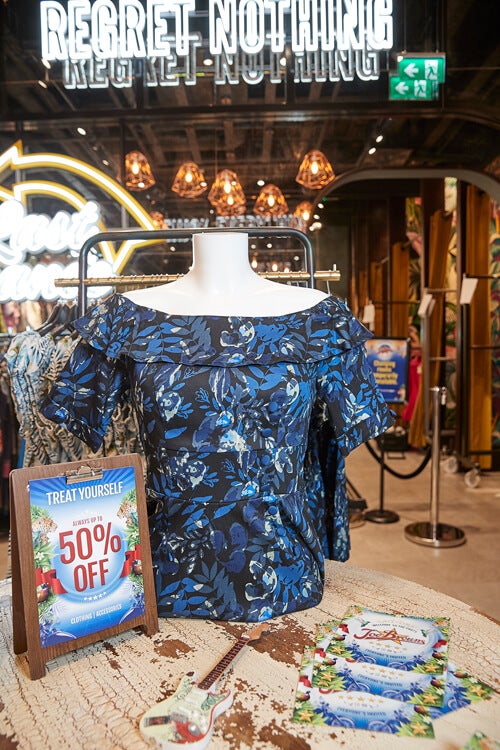 Treat yourself to our retro style, off the shoulder top​ this bank holiday – save 50% and get it for only £20! It's a gorgeous option if the sun is shining and if not, you can easily team it with one of our amazing jackets.
Capsule Collection Printed Dress RRP £70, OUTLET PRICE £21.​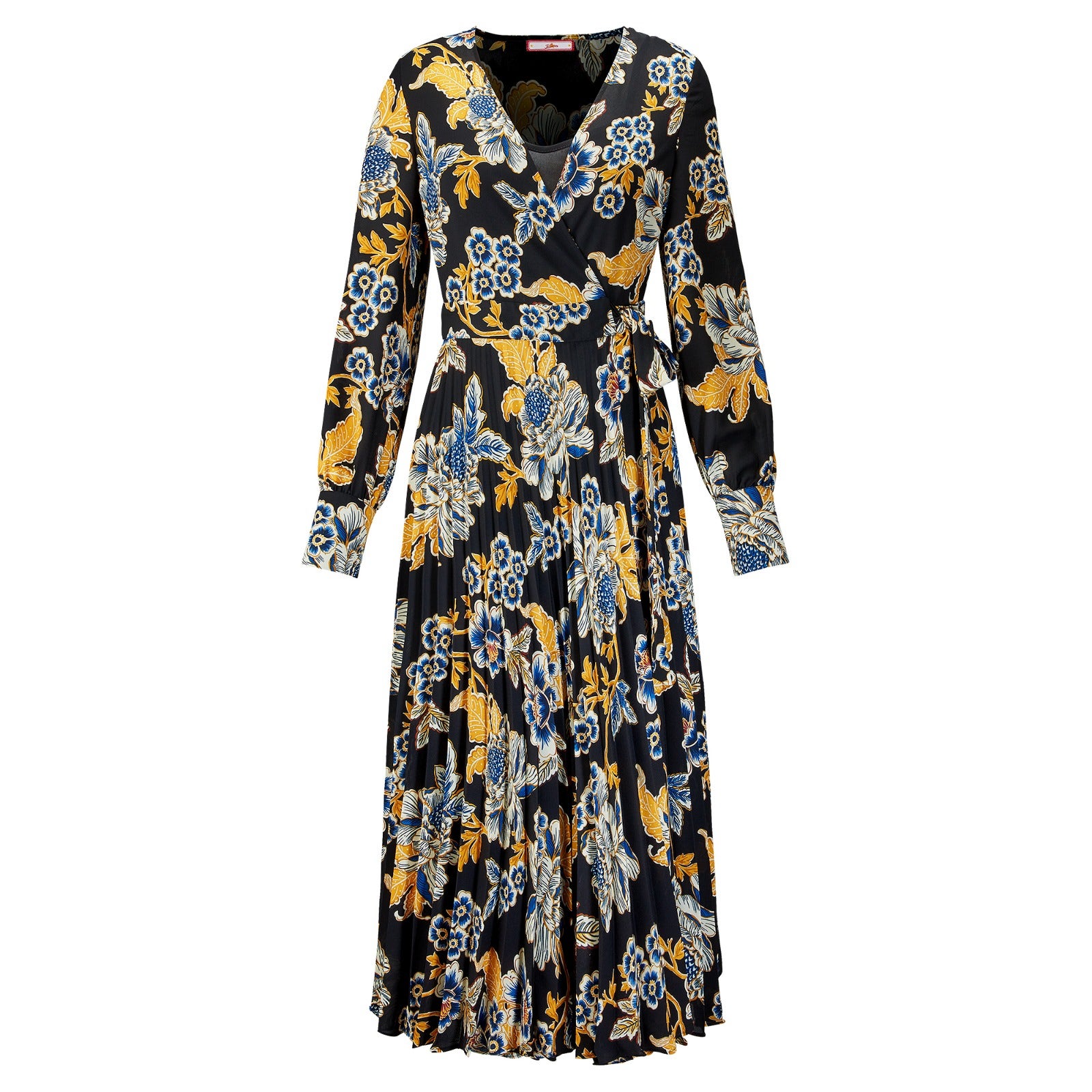 This remarkable floral dress is one of our new favourite styles and at only £21 it's an absolute steal! The long sleeves and length make it a really flattering style that's easy to wear. But be quick, this dress is selling fast – grab yours for the bank holiday before it's too late.
Retro Collar Dress RRP £55, OUTLET PRICE £35.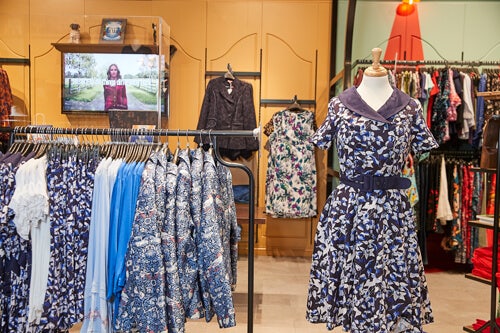 Grab this vintage-style beauty for only £35 and get ready to take your​ outfit up a notch! The retro shape is super flattering to give you that extra boost of confidence. It also comes with a fab waist belt!​ Wear with a great pair of heels and statement bag and get ready​ for whatever the bank holiday brings.
Elegant Jacquard Jacket RRP £80, OUTLET PRICE £40.​
Get our blue jacquard jacket for half price when you visit us in-store!​ The stunning style is a real statement piece and will instantly transform any outfit. The luxurious fabric and beautiful bird print make this elegant jacket one of our favourites.​ Team with jeans and a light knit for a day out this weekend or if you're heading somewhere special it looks great with one of our dresses too.
Menswear favourites…​
Country Check Blazer RRP £120, OUTLET PRICE £70.​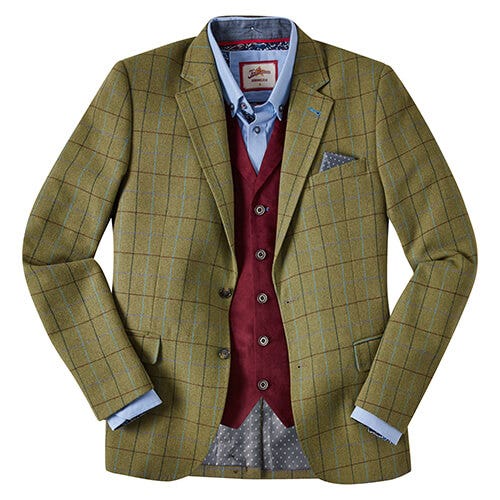 Get ready​ to look dapper wearing our sophisticated country style blazer. The unique bold check and perfect fit make this jacket an absolute must-have at only £70.​ Team with jeans for the weekend and trousers for a special occasion –​ it'll be your go-to jacket for seasons to come.
Sensational Summer Shirt RRP £40, OUTLET PRICE £20.​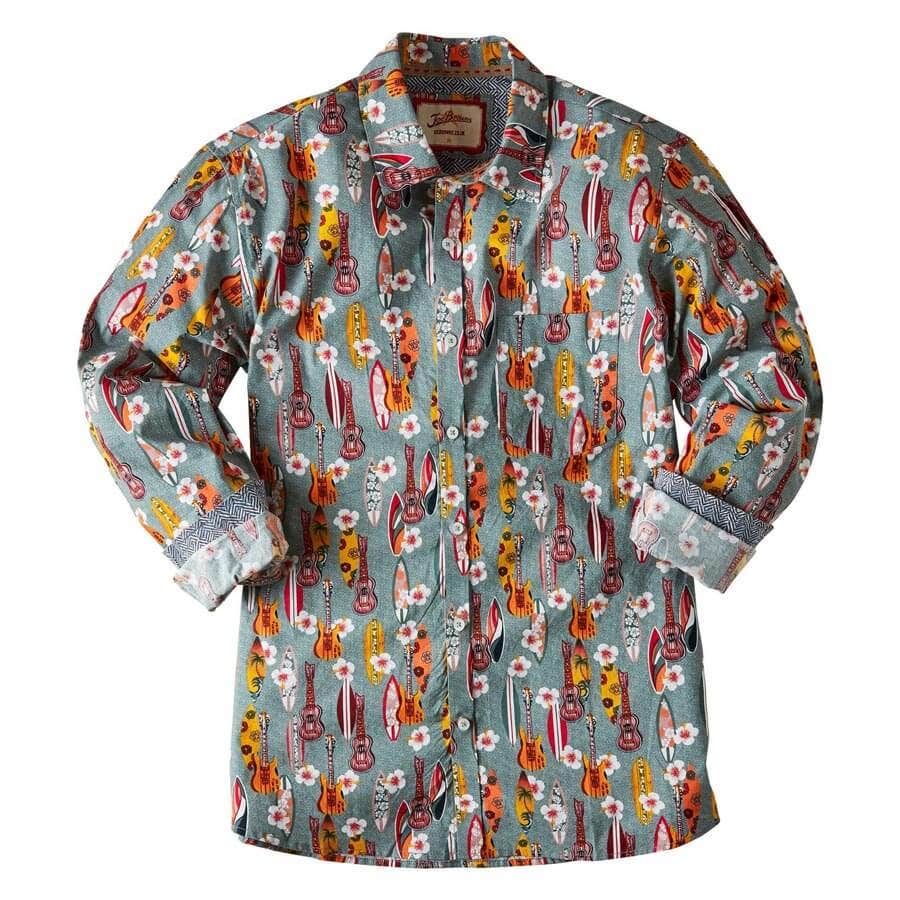 This distinctive guitar print shirt is one of our favourite styles new to the store, and for only £20 there's no reason not to treat yourself. ​The shirt is really easy to wear meaning you can style in many different ways depending on your plans - don't forget to turn back the cuffs to create an effortless laid back look.
Awesome essentials…​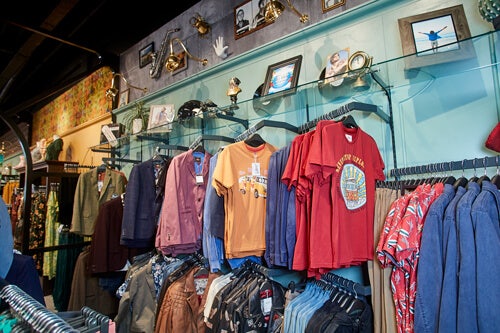 Red T-Shirt RRP £19.95, OUTLET PRICE £7.​
When you visit, don't forget to grab some essentials while you're here. You'll find lots of unique graphic tee's, plus shirts, knitwear and​ jackets to add to your wardrobe. New styles are added weekly, so​ you'll always find different bargains when you visit.
Remarkable Rib Knit RRP £30, OUTLET PRICE £20.​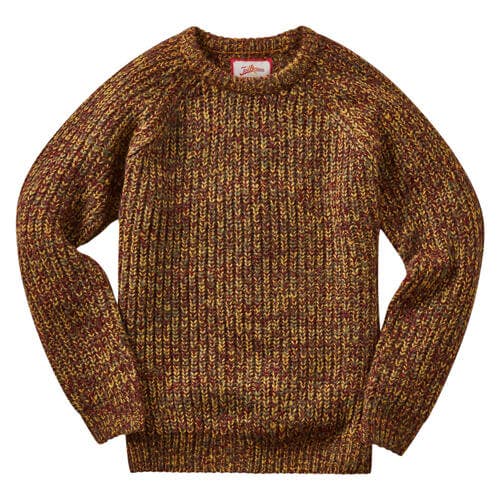 Our chunky knit is the ultimate layering piece that you can grab in-store now for only £20! The rustic colour is a great option and will go with pretty much anything in your wardrobe – winner!
Badged Up Biker Leather RRP £250, OUTLET PRICE £150.​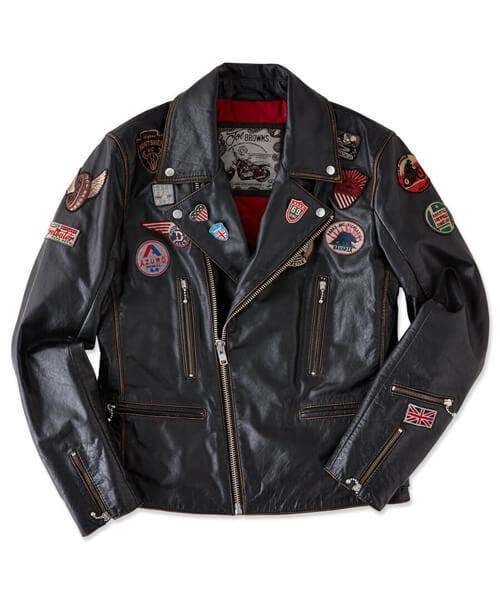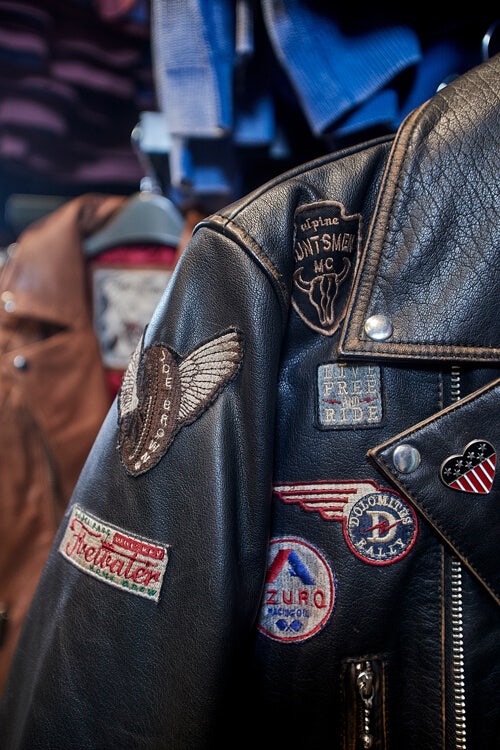 Rock up any look in a flash wearing our leather biker jacket. It's full of ​character and packed with plenty of unique details. Check out the awesome badges, amazing stitching and zip detail. It's the ultimate leather that's got it all and a real investment piece.
Last chance area…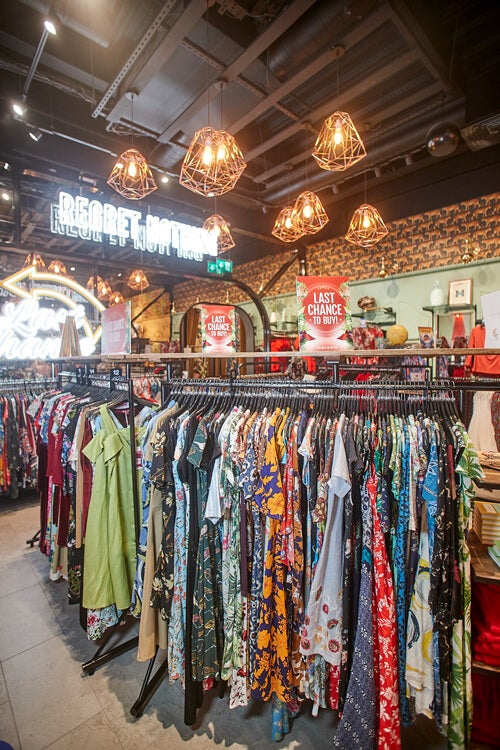 Did you know we have a last chance area at the back of the store?​ Grab a bargain or two when you next visit but make sure you get in there quick, once it's gone, it's gone!
We hope you've enjoyed taking a look at our favourite bargains for the bank holiday.​ You can find all these and so much more in our outlet store now and don't forget​ new styles are added weekly, so make sure you keep popping in. ​
​Don't forget to follow us on Facebook to see more offers, competitions and lots of fun stuff.