The Boutique Collection: Made for Your #Mojoe
---
Joe's Boutique clothing collection is back and better than ever! With a bigger range of NEW styles and offerings all designed in-house, these items won't be around for long! Think fabulous, unforgettable designs that are simply made for your #Mojoe.
Let's take a closer look at our boutique collection and find that little piece of Joe that's truly exceptional – before they're gone!
One dress to rule them all
---
This Enchanted Forest Embroidered Dress is a captivating piece and a season favourite. Its statement design with delicate embroidery, coupled with its stylish, long sheer sleeves is effortlessly elegant. If you want a sure-fire head-turner, this is the dress you want. And the bonus: It's pink – to make the boys wink #Mojoe
Crafted from a beautiful mesh fabric with elegant lace at the neck, this dress is full of delicate details that make a dramatic impact. The quality is impeccable, from the intricate detailing to the lining throughout. Pair with your best heels and accessories, and you have the perfect recipe to be the best-dressed guest.
Boutique blouses and carefully crafted knits
---
Joe's Statement Blouse does exactly what it says on the tin. We've given this gorgeous poplin blouse the full Joe Browns treatment to put a sumptuous spin on office wear. Expect statement cutwork detail to the front with stylish, long puff sleeves, complemented by a deep cuff with button fastening. Made from beautiful cotton poplin fabric, this number oozes charm and quality.
Feel regal and romantic in our Blushing Boutique Knitted Jumper. This super-chic jumper is packed with Joe Browns style details to make a real signature piece. Pretty embroidery through to the scalloped neckline gives off classic charming vibes, while the balloon sleeve and oversized shape gives an astonishing silhouette that's both timeless and bang on-trend and begging to be worn.
Wow-factor waistcoats and jackets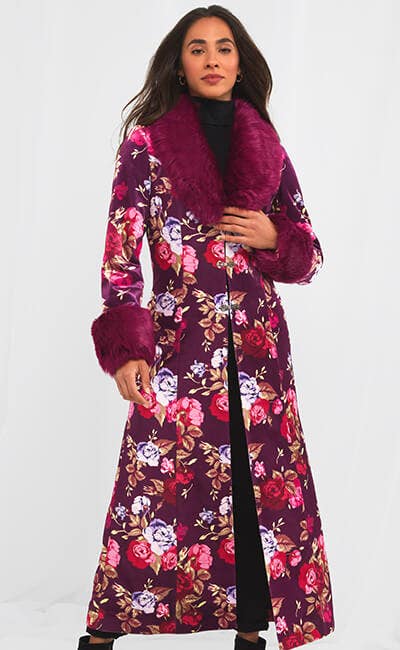 ---
Jane's Boutique Coat is back and better than ever in a fabulous new colourway! Its velour fabric in a rich shade of plum looks magnificent when matched with its lavish rose print and captivating faux fur to the sleeves and cuffs. There's fine craftsmanship and detail throughout, right down to the contrast lining and classic hook fastening.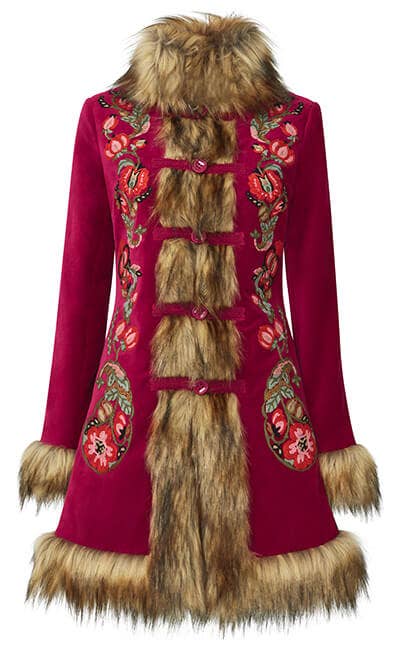 ---
For a truly unique style and silhouette, Joe's Favourite Boutique Coat has you covered. It's never been easier to feel more sensational, thanks to its delicate embroidery and statement faux fur trims from the hemline to the cuffs. Aside from being cosy, warm and seriously stylish, it'll quickly become your new favourite winter jacket. What's not to love?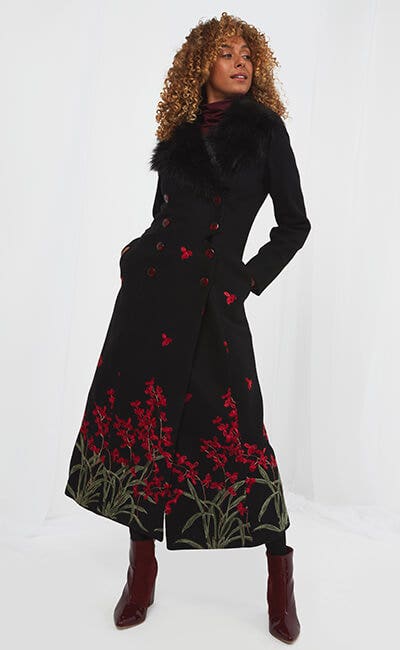 ---
Rich, opulent and oh-so-remarkable, the Red Roses Boutique Coat will have you praying for cold weather. Its rose embroidery is impossibly delicate and detailed, especially when matched with a faux fur collar to create something both bold and majestic. You're guaranteed to step out feeling incredibly classy and sophisticated in this coat. Joe promises.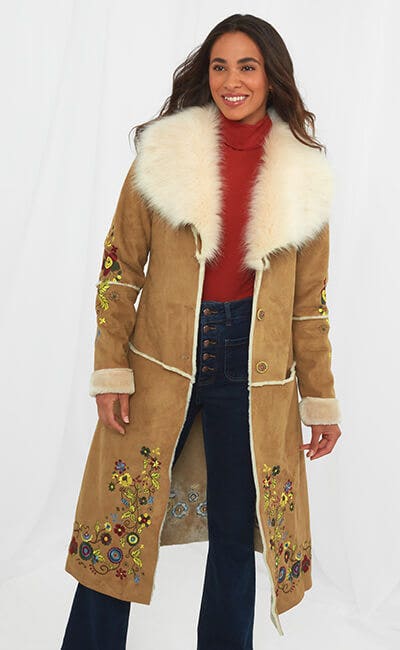 ---
Joe's Enchanting Embroidered Faux Fur Coat is for those who want nothing but luxe. Its lavish design makes a real statement thanks to gorgeous embroidered patches, adding effortless elegance to an everyday outfit. Finished full-length style, you'll feel impossibly cosy wrapping up in its soft, fluffy fabric. What more could you want from a coat?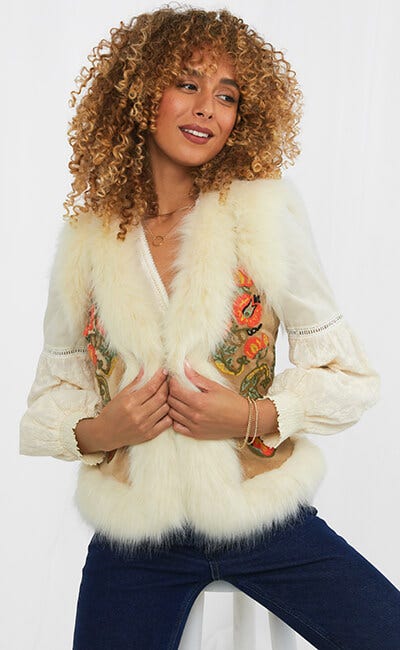 ---
Bring boho into your winter wardrobe with Joe's Faux Fur Boutique Waistcoat. With delicate embroidery and faux fur throughout, this fully-lined piece perfectly pairs with a paisley dress for an instant #Mojoe boost. Its tan colour allows easy outfit pairing with just the right amount of detail to turn heads left, right and centre, making it practical and stylish.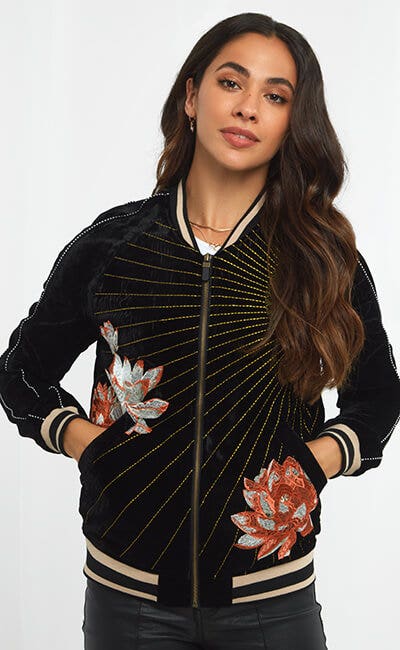 ---
Last and certainly not least, a classic bomber jacket with a Joe Browns twist. The Enchanting Boutique Bomber Jacket contains the traditional bomber jacket shape all the way down to the ribbed hem. We've crafted it from soft, velour fabric and added our own embroidery detail to make it truly unique. 100% stunning, 100% comfy, 100% drop-dead-gorgeous.
A perfect match
---
We love a monochrome moment – especially when it's boutique! Joe's Extraordinary Boutique Jacket is a head-turning item featuring stunning silver embroidery on a luxe velour fabric with a fabulous shaped hem. Creating a timeless, flattering silhouette, this jacket will make an amazing addition to your wardrobe – however, if you want to take it up a notch...
Check out the matching skirt! The Oh So Stunning Beaded Skirt is a mock-wrap shape with a classic concealed zip-fastening. Mimicking the floral embroidery throughout, we've also added beads to the hemline. If you really want to stand out from the crowd, simply pair this with the matching jacket and a sophisticated white blouse for a classic look that's packed with luxe detail.
We're ecstatic to release our biggest boutique clothing collection to date – and it's only getting better! Joe Browns Boutique is all about the details. Embroidery, fabrics, beading and so much more. These carefully-crafted collections are fully designed in-house, meaning you won't find these anywhere else, so get yours while you can!
Stay in the loop with the latest trends and styling guides on our Inspiration Page and tag us in your Joe Browns outfits on Facebook and Instagram!
Scroll to top