How to Break Out of a Style Rut for Good
Are you stuck in a style rut? Is your wardrobe overflowing? And do you struggle to assemble an outfit?
If you've fallen out of love with fashion, feel sick of wearing the same pieces or dread getting dressed in the morning, then we're here to help.
You deserve a wardrobe that's filled with fun and flair, so it's time to shake up your style and break out of your rut! Get ready to say goodbye to boring basics and hello to outfits that express your sense of individuality!
Here's how to identify a style rut, dress well and feel fabulous…
The Symptoms of a Style Rut
---
A style rut is often years in the making; it's a gradual process that slowly creeps into your wardrobe. It may have started when you bought a few professional pieces for work, discovered your new favourite colour or bought numerous pairs of the same jeans. Suddenly, you wake up to find that your carefully curated collection of clothes more closely resembles a uniform!
These are the hallmark symptoms of a style rut:
You own many pieces of clothing that still have the tags attached

You have a safe, go-to colour that dominates your wardrobe

You're in an endless buying cycle and quickly fall out of love with your purchases

You pick up the same designs and cuts when you go shopping

You have a huge wardrobe but wear less than 25% of your clothing

You've kept lots of 'just incase' pieces that you haven't worn for years
If you read each of those and thought "that's me!" then it's safe to say you're in a style rut, but that doesn't mean you're stuck. So, here's how to forget those failsafe options and focus on creating a wardrobe that inspires confidence!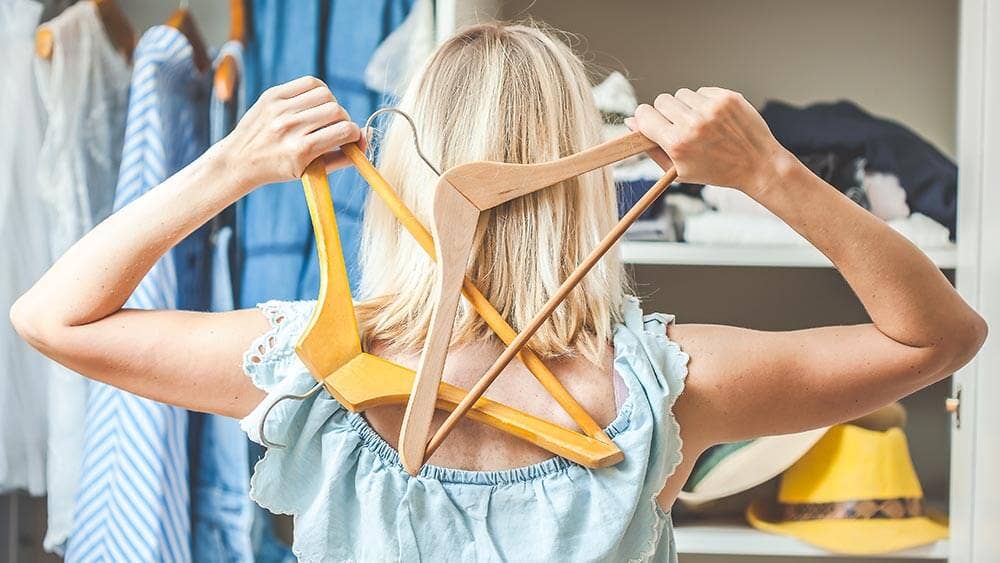 Pick Out Your Favourite Pieces
---
Before you can break away, you need to create your building blocks. To do this, go through your clothing and pick out your absolute favourites. This could be a floral dress that you adore, a tailored blazer that makes you feel great, or any piece that sparks joy!
Don't worry about following trends. These items will form the foundation of your wardrobe and help you leave your style rut behind, so each piece should represent you!
Create a Mood Board
---
After choosing your favourite clothes, you're ready to create a mood board. To do this, we recommend using Pinterest. Here you can collect colours and prints that capture your imagination, experiment with different styles of jeans or skirt lengths, and pin outfits that catch your eye — don't forget to browse our Joe Browns' boards!
This mood board will serve as your inspiration and help you to visualise your style. It can also provide a reminder and prevent you from slipping back into a rut further down the line!
Mix Up Your Colour Palette
---
We're all about embracing your individuality and wearing clothes that reflect your true self. What better way to do that than by adding a little pop of colour to your wardrobe?
If the idea of wearing bold tones makes you feel uneasy, then take it one step at a time with our clever colour-hacking ideas:
Combine Dressy with Casual
---
Have you got those pieces of clothing that you're saving for that special occasion? Sadly, our most beautiful clothes often sit at the back of our wardrobes, where they remain unloved and unworn. We say you should feel fabulous any day, so wear that 'just in case dress' or 'date night shirt'!

The easiest way to do this is by combining your dressy item with something a little more casual. Throw on that gorgeous dress with a pair of comfy trainers or wear that statement shirt with some laidback shorts. The possibilities here are endless and guaranteed to take you out of your style rut!
Add Lots of Layers
---
If you'd love to create a new look from your existing wardrobe, layering is the way to go! This styling technique is a firm favourite with fashion gurus, as it transforms any outfit in seconds!
The Strappy Dress
Wondering how to restyle a dress? Simply wear your strappy dress over a top or t-shirt or layer up with a piece of cosy knitwear. Not only will you look and feel amazing, but you'll also be prepared for Britain's ever-changing weather!
The Button Up Shirt
If you usually button up your shirt, consider adding a layer to create an entirely different outfit. Wear over a Henley t-shirt for the perfect smart-casual office attire or add an element of fun with a bold printed tee.
Utilise Your Accessories
---
Making the most of your accessories is key, yet many of us continually reach for the same watch, bag or pair of shoes. Simply selecting other items could alter your ensemble and lift you out of your style rut. That's why we love these little tricks!
Ladies
Make a statement with your accessories by belting your jacket, wearing an oversized necklace or top off your look with a printed headband. Alternatively, let your feet do the talking with a cute pair of pumps or colourful heels.
Gents
Celebrate surfer vibes with a woven bracelet, dress up your jacket with a vintage-inspired lapel pin or refresh your belt with a cool new buckle. Whatever your style, you can get quirky with our men's accessories!
Looking for more ways to revamp your wardrobe and wear clothing that reflects your true sense of style? Bookmark our inspiration section for the latest outfit ideas and fashion fun!
Scroll to top