Friends of Joe Summer Selections...
Brighter days are coming and we're 100% ready for them!

This summer is likely to be filled with garden parties, long awaited catch ups and a heap load of fun. Here's how some of our friends are making sure their wardrobe is ready for it…
Looking to make maximum impact in a statement dress this summer? You'll struggle to beat our Vivacious Maxi Dress! Floral print meets sunset tones in this beautifully soft number with a flattering ruched detail. It's super easy to style up or down and packs a real feel-good punch, but don't just take our word for it…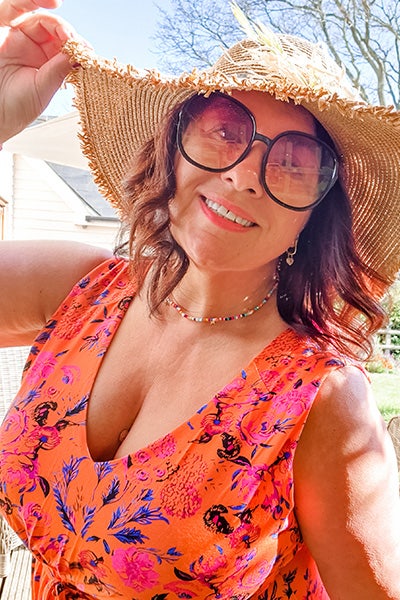 "I love that this dress is a soft, flowy jersey. Perfect in hot weather and the vibrant colour makes me happy! Wherever we are this summer I'll get some wear from this lovely dress."
Maxine @dressedtothemax
Picnic, pub or park – this soft green blazer can do it all! Here Ash has chosen to style the jacket in a more casual manner, matching his sweatshirt to the pink of the built-in pocket square (optional) and adding a cap....
"The colour and texture combination of this blazer is just something else! The colour stands out so much and it's perfect for dressing up or dressing down.
The pocket square is the pocket pulled inside out! Now there is a trick if you don't have any squares lying around! Comfort and style are on point with this outfit."
- Ash @ashmeet94
A lightweight floral dress is what summers are made for, if we close our eyes we can almost smell the distant BBQ in the air! The sweet Ditsy Floral Dress is ideal for layering during spring or rocking solo during the balmy summer days. Bethany teams hers with our Funky Platform Sliders…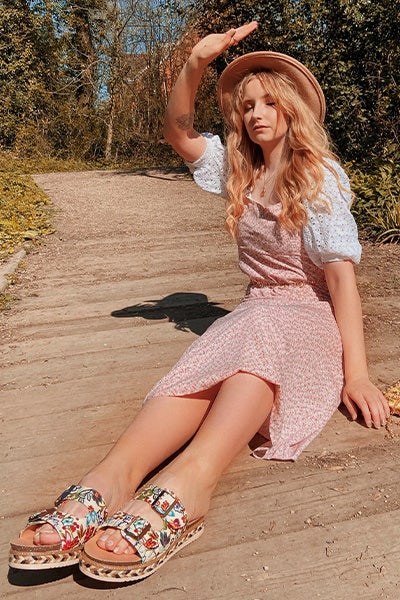 "Wearing the most gorgeous ditsy dress from Joe Browns, perfect for spring/summer, or great as a layering piece, as I've worn it here for the slightly chillier days!"
Bethany @_bethanyheath
If there are two trends that sit perfectly together it's paisley and patchwork, and we've combined both in this Brilliant Boho Dress. The bright colours and stunning design make this dress a real showstopper, and Nuria has put the cherry on the top with our Riverside Fedora.
"I love the boho vibes of this colourful dress! The patchwork floral and paisley prints are simply stunning." - Nuria @nuriatravels
Whether you're looking to turn heads in the office or on the street, our Fabulous Fresh Shirt will make sure all eyes are on you. Its unique, vibrant print acts as the perfect ice breaker with old and new friends. For a more informal look turn up the sleeves to reveal the contrast cuffs. One person putting this shirt to good use is Kelvin…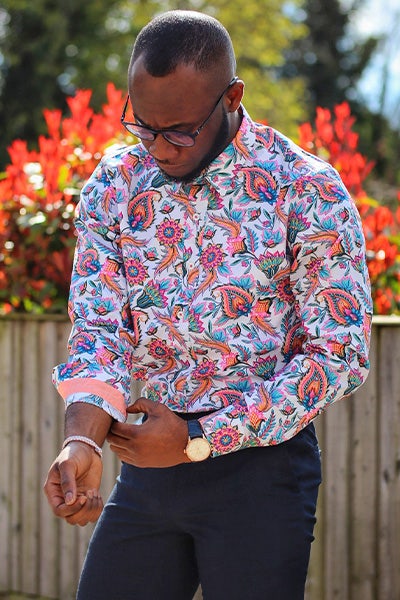 "Let's kick start the day by adding sunshine into our wardrobe with this bold printed shirt. Spring is definitely the season to make these statement pieces and printed shirts shine in all their glory."
Kelvin @kelvins.world
If there's one T-shirt to take for a spin this summer it's our Soul Search Tee! Everyone needs an easy wearing, grab-and-go t-shirt that always delivers. This red slogan tee with contrasting tipping on the collar and cuffs has a real retro feel and pairs perfectly with a pair of jeans, especially our vintage flares as Talli demonstrates...
"I love the retro vibes of this T-shirt, and it looks great paired with my favourite flared jeans. Plus, it's super soft too." - Talli @talliwall
Keep up-to-date on the latest Joe Browns news and styling tips over on our Instagram!
Scroll to top