Joe's Menswear Winter Sale Top Picks!
Joe's Winter Sale has returned!
---
As we're approaching the end of a season, you may think we have to say goodbye to all our winter faves and give our wardrobes a refreshing sense of renewal. However, many Joe Browns pieces are incredibly versatile, meaning you can keep things looking fresh without pulling on the purse strings. Take a look at our top picks for the sale season and how you can stay stylish, no matter what the weather has to throw at you… Don't miss out!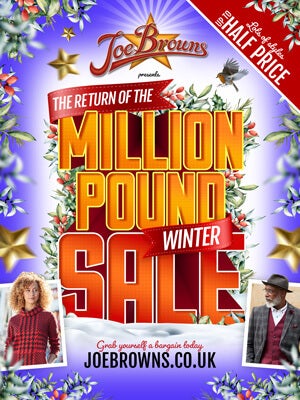 Bright Days Coat
A staple for any wardrobe is a trusty, padded coat, and in the longstanding tradition of unpredictable UK weather, it's especially necessary! The Bright Days Coat will brighten up more than just your day, with a bold punch of orange guaranteed to make you stand out from the crowd! Throw on over any everyday outfit to crank your style up a notch!
Cut About Check Shirt
If it's a weekend adventure you're after, you're gonna need the shirt to match! Our Cut About Check Shirt puts a modern spin on a timeless classic. This patchwork piece is the perfect addition to your favourite pair of jeans and some chunky boots. Throw on a matching beanie and you're ready to face the day!
Heritage Stag Cufflinks
It's the little things in life that count. So why not give your style a touch of magic, with our Heritage Stag Cufflinks? Perfect when paired with jackets, shirts or blazers, this adaptable set will give your outfit the elegance you've been looking for…After all, the devil is in the detail.
Into The Wild Cardigan
Try this truly unique cardigan if you're ready to take a walk on the wild side – the clue is in the name. The bold Aztec design and military style buttons on our Into the Wild Cardigan, add a rugged edge to a classic woolly style. Complete your rough and ready look, by layering with a hint of denim and a classic Henley.
Paisley Western Shirt
If you're a casual shirt kind of guy, then the Paisley Western Shirt is the one for you! This vibrant design is packed full of personality, making it the showstopping addition to any outfit. Choose to dress it up with formal pants and a waistcoat or simply have it peeking out under a timeless leather jacket. Either way, we know you'll rock this Joe Brown's classic!
We hope you've found all the inspiration you need to get shopping the sale and finding yourself a stylish piece at an amazing price! You won't want to miss this one…head on over and grab yourself a steal today!
Scroll to top