Shop the Style! Top Spring Menswear Looks
Shop the Style!
---
Thought about updating your spring wardrobe, gents? You're in the right place to find the funkiest threads this side of the year, just in time for the warmer seasons' arrival.

If you've spotted any looks on our website that you want to try out, you're just in luck! Take a read below to shop the best styles for spring!
---
Sunset Suits
---
One of our top styles this year is the sunset blazer. In a subtle burnt orange colour, it's the perfect blazer to dress up or down. We love pairing this with this super smart floral shirt. Its delicate ditsy floral pattern and palette complements the tones in the blazer perfectly.
Finish the look with smart blue jeans and some dapper brown shoes to be ready for any spring or summer occasion.
---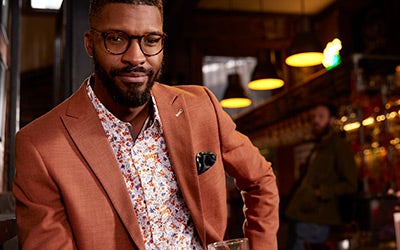 ---
Layered Looks for Day Drinks
---
A top spring layering look for this season always starts with a plain white tee. This spring, why not layer over a denim shirt and our favourite spring knit cardigan? This look perfectly pairs with our full of action combats in camel to let the layers be the focus of the outfit.
Perfect for a day out or day drinks; simply take the layers off as you warm up, and let them keep you warm if (and probably when) day drinks turn into a night out!
---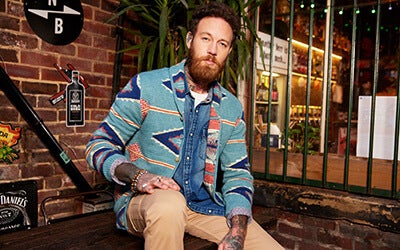 ---
A Cheeky Peaky Blinder Style
---
---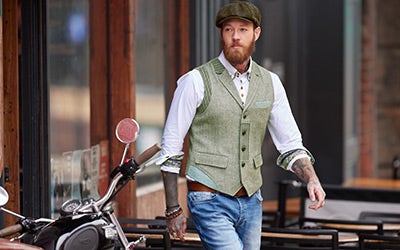 ---
Post-Surf Beach Boys
---
For that super-cool surfer style, you can't go wrong with our chilled days hoodie. All you need is your choice of jeans or shorts. We love the cool carpenter jeans to add some extra detail to the outfit.
Simply style with your favourite pumps and you'll look like you've just stepped off a beach after hitting some waves. This simple, everyday style is packed full of cool while staying comfy and casual.
---
---
Wicked Workwear
---
Inject some edge and style into your workwear with our work hard play hard waistcoat. To amp up the cool, add a grandad collar shirt for a dynamic edge, such as our step ahead shirt - the mixed buttons on the waistcoat pop against the tones of the shirt while the contrast trims match the overall palette.
Add this suede jacket to top it all off and pair the entire ensemble with some neutral-toned trousers like these on track jeans. All together, this outfit guarantees workwear envy.
---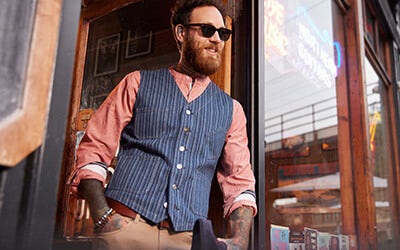 ---
Staple Spring Style
---
Looking for an everyday practical style you can put on any day of the week? The search is over. Simple, stylish and packed full of detail, enjoy casual style with a Joe Browns twist. Start with a simple plain Henley and your favourite jeans, add some tan leather boots, and finally, the best spring jacket this side of the hemisphere.
Each item is full of its own little details, adding points of interest to your outfit and overall style, however the jacket, with its embroidery and cargo-style flap pockets is the real talking piece of the ensemble, making it a practical and stylish staple to any mamn's wardrobe.
---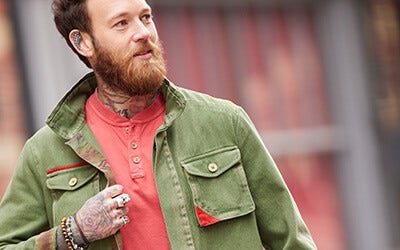 If you were unsure how to update your wardrobe for the new season ahead, you have plenty of options to choose from now! Whether you're a biker boy or a boot-and-suit man, there are loads of options in our spring collection to breathe some fresh spring air into your wardrobe this year.
Discover More Articles Like This...
---
Scroll to top