---
Top 6 Outfits for the Mother of the Bride
---
In need of some inspiration for (what's probably) the second-biggest day of your life? You've come to the right place. We love a Joe Browns mum, so whether you're new here or you've been friends with us for a while now, take a peek at our advice for what outfit options the mother of the bride or groom can opt for on this unforgettable day.
From walking down the aisle feeling full of confidence, greeting guests and partying the night away, there are endless moments where you'll no doubt be brimming with pride – so let's make wearing your outfit one of them, shall we?
---
---
3 Tips for Choosing an Outfit as the Mother of the Bride or Groom
---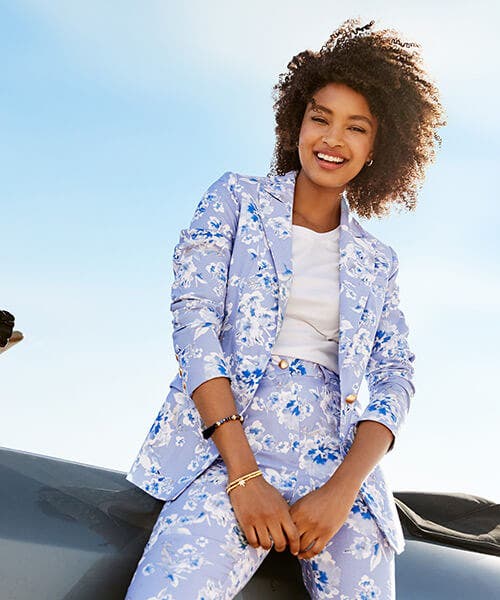 ---
1. What's the difference in outfits for the Mothers of the Bride and the Groom?
---
There's no real traditional difference between outfits for the mothers of the bride and groom, however, wedding day etiquette does come into play. When waiting for the colour scheme and the dress code, it may be beneficial for the mother of the bride to select her outfit first. If you have 5 months before the big day, consider reaching out to the mother of the bride to see if they've made their decision. They may give you some extra tips that will come in handy. Typically, the mother of the groom will select an outfit that complements the mother of the bride. You could even make a day of it and go on a shopping spree together - not forgetting to stop for coffee and cake, of course!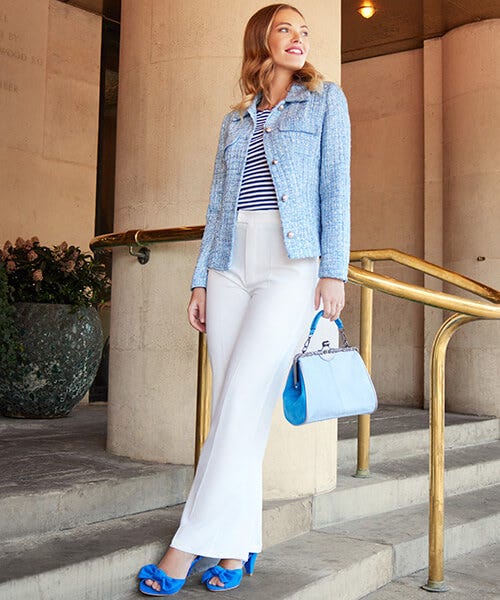 ---
2. When should I start shopping for my new outfit?
---
As the mother of the bride or groom, you'll be privy to a lot of the details about the wedding, as well as knowledge of their preferences and what they expect of your outfit. Typically, you should start shopping after the bride has selected her wedding dress. But, if you have about 6 months or less until the day, check in with the bride on her timeline, or ask if you're able to start shopping.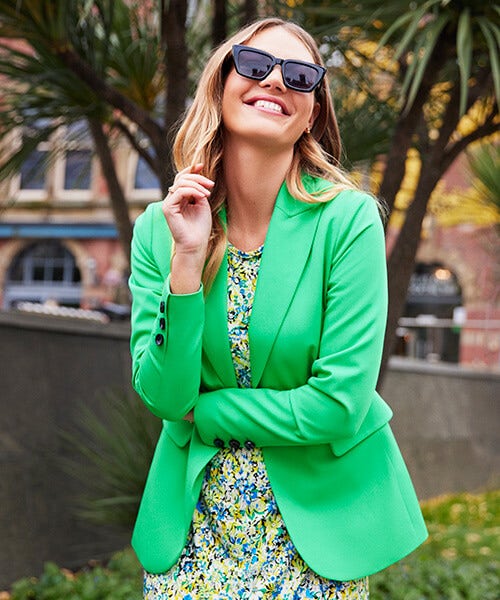 ---
3. How do I successfully co-ordinate my outfit with the rest of the party?
---
If you're unsure – ask! The bride may have an idea of complementary colours in mind on her big day, and even if not – she will most likely have a preference for what she wants the wedding party to look like. She may offer a colour scheme or a certain style or length of dress – so you should try to get an understanding that'll match her overall vision, resulting in some incredibly chic photographs to treasure. While it may seem restrictive, it'll also help you feel great knowing you've followed the dress code to a tee. There's nothing like turning up in a fuchsia dress when everyone else is wearing neutral tones!
---
Our Top 6 Outfits for Mother of the Bride or Groom
---
---
From skirt suits to dresses and accessories, there's nothing like stepping out in an outfit that's expertly curated when you're at the centre of an event. Prepare for the compliments to flow faster than the reception drinks with these top 6 mother of the bride (or groom) outfits.
---
---
1. Pretty in Pastel
---
This timeless piece is equal parts elegant and formal, with plenty of room to show your unique sense of style. Making up this gorgeous set is our Favourite Summer Jacket and our Chloe's Favourite Skirt. Chic styling really doesn't get any better than this – it's pretty, preppy and a fabulous colour palette for a wedding!
This co-ord blazer and skirt can be styled to just how you like it. Add a crisp white shirt or a cream satin blouse with frills for an elegant look. However, if you want a more modern take, add a bardot top for that super-chic 'less-is-more' look. All you need to do is add your favourite shoes and a matching bag and you're good to go!
---
---
---
2. Perfect in Pink
---
Pink is a great way to go for happy celebrations, making it a popular colour amongst bridal parties. We love the Lucy Mix and Match Midi Dress for a summer look that exudes elegance. It treads the line between distinctive style and grace, thanks to its mixed floral prints and pretty bows on the sleeve. Together these details create a silhouette that embraces your unique sense of timeless, feminine style.
Simply pair a chic blazer or cardigan with your dress for that transition to the cooler evening temperatures with ease. Add your favourite statement jewellery with a pair of stylish heels and a standout bag. We love pairing a matching shoe and bag with a timeless dress like this, so we recommend wearing the Sensational T-Bar Shoes and matching bag for an extra pop of bold pink.
---
---
---
3. Gorgeous in Green
---
If dresses and skirts aren't your thing, why not step out in style in our fabulous Sally's Statement Blazer and matching suit trousers instead? In a classic, modern colour and a flattering, tailored fit, this showstopping suit will complement any shape and go down wonderfully with a bold colour scheme for a wedding.
The best thing about suits is your ability to add those extra pieces that make you feel confident, bringing an entire look together that's truly yours. Think about the look you're going for and decide what top or blouse will look as good under the blazer as well as a stand-alone piece. We love a broderie style of top to bring a more feminine edge to this look. Why not try your hand at colour matching by pairing our metallic shoes and matching bag for a standout look?
---
---
---
4. Floral Glory
---
If you're drawn more to a classic suit shape but want to keep the colour a little more muted, our Rebecca Suit Jacket and matching trousers will bring a unique pop of personality to a premium women's suit set. We've also added a modern touch to this suit with a bootcut fit on the trousers and a tailored silhouette on the jacket that hugs in all the right places.
Add your favourite chic blouse and a fascinator for a simple suit set that exudes effortless style. We also love this suit when dressed down, so why not slip into some flats and extend those dancing hours as the night carries on?
---
---
---
5. Timeless and Traditional
---
If you're a classic lady who loves a truly timeless look; this outfit is for you. Our Holly Fern Print Dress is a Joe Browns best-selling shape with a fresh new fern print. Finished with a classic collar and waist tie, this feminine shape effortlessly flatters any figure.
Pair this dreamy dress with our Retro Blazer for a classic tweed look that's reminiscent of Chanel. This type of styling is as renowned as it is premium, giving a luxe, refined approach to styling a wedding ensemble. Carry that vintage look through to your shoes with our Vintage Vibes Strappy Shoes and green Suede Cross Body Bag to mirror those deeper green tones from the blazer; bringing together an iconic look quicker than you can say "I do!"
---
---
---
6. The Jumpsuit
---
Lastly, a stylish jumpsuit is an outfit choice that we've seen rising in popularity across many occasions, and a magical wedding day is certainly no exception! With a choice of block colours or patterns, you're free to experiment with different styles from boho and retro to classic or vintage. Don't forget to add your favourite accessories to feel full of confidence as you step out in style.
Just as with suit styling, you can also dress a jumpsuit up or down. Don't be afraid to slip into some ballet pumps or standout sandals to keep celebrating throughout the day and into the night!
---
---
---
Hopefully, you'll have found some inspiration for your upcoming occasion to feel remarkable on a magical day. While a mother of the bride outfit might be for one day, how you feel while you make those memories will last a lifetime.

Don't forget to check out our Bridesmaid and Beyond article for suggestions on how to shop for bridal party dresses that bridesmaids can actually wear again, our Suited and Booted article for cost-effective groomsmen solutions and male occasion styling and our definitive summer occasion styling guide for all of those upcoming summer occasions! All can be found on our Inspiration page.
---
Scroll to top