How To Dress Like A Peaky Blinder
How To Dress Like A Peaky Blinder
---
Post-war Britain was an exciting and fashionable time. With celebrations in full swing, rules relaxed and purses loosened, men's fashion really stepped up a gear. We can't deny that the Peaky Blinders series has had an influence on today's fashion, with many men showcasing modern takes on the exquisite outfits worn throughout the show.
But how can you dress like a Peaky Blinder? The team at Joe Browns shares how you can easily get the sophisticated Peaky Blinders look and take to the streets in style with the Thomas Shelby touch.
The Style in the 1920s
A time of elegance with an element of fun, the style in the 1920s was particularly special because it represented an important moment in men's fashion history. Colours in the Roaring Twenties were mostly neutral with patterns and accessories often adding a pop of vibrant colour. Suits normally featured two sets of flap pockets and came in light and dark brown, blues, dark green and greys, with even the occasional pastel pink.
Plaid, checks, windowpane, thick stripes and thin pinstripes - patterns in the 1920s were distinctive and trend setting. From three piece suits, narrow striped shirts and long overcoats to cap toe shoes, flat caps and pocket watches, the 1920s fashion trend was stylish and sleek. Even though 100 years have passed, almost every element of men's fashion in the 1920s is still enjoyed today.
---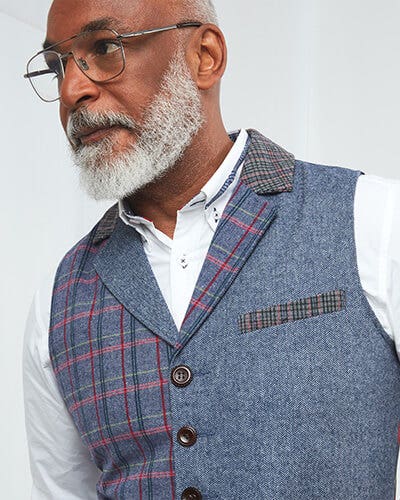 ---
Peaky Blinders Fashion Staples
---
In the TV series, the Peaky Blinders dress with classic 1920s style. But their iconic look is inspired by the real Peaky Blinders gang who wore flat caps, neckties, cap toe shoes and often used brass buttons on their jackets.
Peaky Blinders fashion incorporates a timeless look with an understated monochrome palette, leading to boots becoming increasingly popular and flat caps making a comeback. Layering up a three piece suit with a long overcoat, accessories and more, the Peaky Blinders and 1920s fashion is not only a modern day layering sensation, it's a practical and long lasting style.
---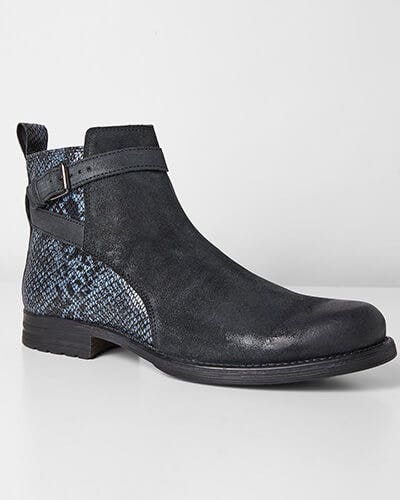 ---
How to Dress Like Thomas Shelby
---
Tommy Shelby, played by Cillian Murphy, has an established style that allows him to always look sharp and sophisticated. The key to mastering Thomas Shelby's look is to find a suit that is perfectly tailored to you. Opt for a three piece suit, such as our sensational stripe blazer, trousers and waistcoat combo and you will be sure to ooze the Peaky Blinders charm.
The colours worn by Thomas Shelby include white, grey, black and blue which echo the main colour palette of the 1920s era. They truly are colours that will never go out of style and are perfect for wearing on a multitude of occasions. In winter, style your three piece suits with a tweed overcoat, a baker boy hat, leather boots and a crisp collared white shirt.
For an extra touch of charm, add accessories such as a classic pocket chain and watch, along with a pocket square for an added pop of colour.
---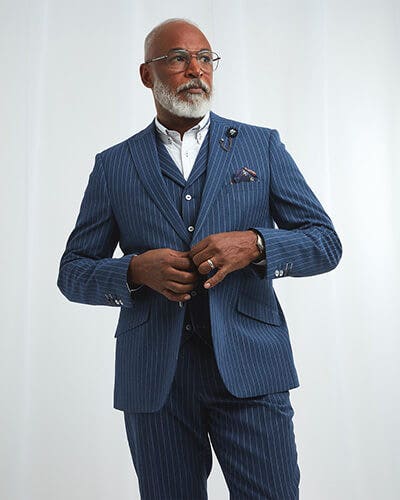 ---
How to Dress Like The Peaky Blinders
To create a unique Peaky Blinders look, select a classic flat cap, tailor your suit to perfection and wrap up in winter with an oversized coat. The Peaky Blinders 1920s-inspired style will take you through the seasons, whilst allowing you to feel totally on trend when the new season of the show launches.
The Flat Cap
---
Since 2013, Peaky Blinders has been on our screens and viewers have become obsessed with the 1920s era, the characters' haircuts and the show's stylish outfits - including the infamous flat cap. After the 2019 season, there was a 300% increase in searches for baker hats on eBay and they still remain on trend today.
The cast of the Peaky Blinders predominantly wear two types of headwear that were popular in the 1920s: the flat cap and the baker boy hat. When it comes to flat caps you should keep the style timeless so your cap will last a lifetime. You should avoid patchwork, multiple patterns or stand out colour, as these trends tend to fall in and out of style.
---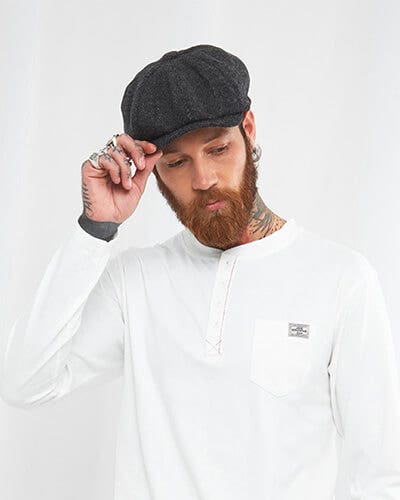 ---
The Three Piece Suit
---
A must-have piece for any man's wardrobe is an iconic suit. Within the Peaky Blinders series you see each character has their own individual suit style, mainly in tweed or corduroy and sometimes even the touch of a wool waistcoat. Suits are a classic statement piece for anyone wanting to dress like the Shelby brothers.
This classic ensemble may look tricky to perfect but each piece, from the tailored blazer to snazzy suit trousers, are designed to complement each other. Originally designed to keep a man warm, a three piece suit can leave you looking sharp and stylish - perfect for any formal occasion.
---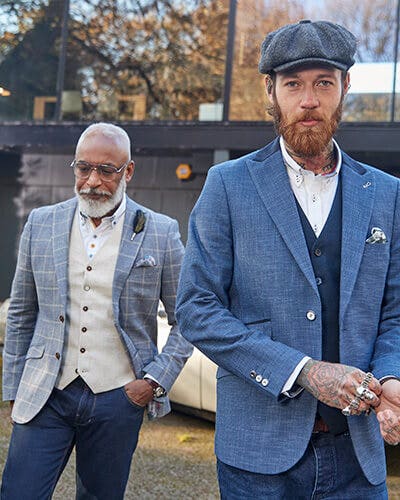 ---
The Men's Tweed Coat
---
If you're looking to create the ultimate Peaky Blinders look, you can't miss the long outer coat that Thomas Shelby wears to withstand the cold winds of Birmingham's winter. Outer coats, including our Joe Browns In the Wild Pea Coat, are a fantastic investment that will last you years and will never go out of style.
Combined with a tweed three piece suit, a simple well structured coat in brown, dark blue, grey or black will create a finished 1920s-inspired look.
---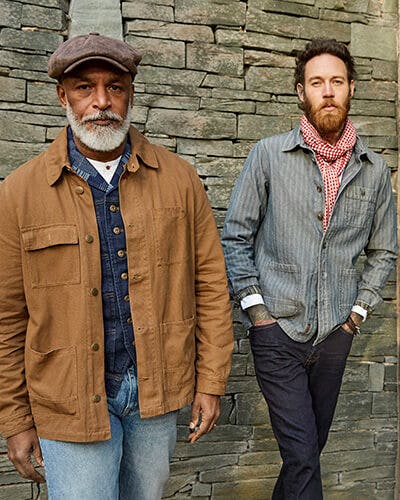 ---
The Classic Brogues
---
Peaky Blinders' fashion influences can be seen from head to toe, from baker boy hats and sharp tailored waistcoats to leather brogue boots. Brogues have been a popular style of shoe for many years, especially amongst the gentlemen in the 1920s. In the Peaky Blinders TV series there is an abundance above ankle brugue boots, whereas for spring and summer in the modern era, brogue-style trainers are a smart-casual must for finishing off your three piece suit.
---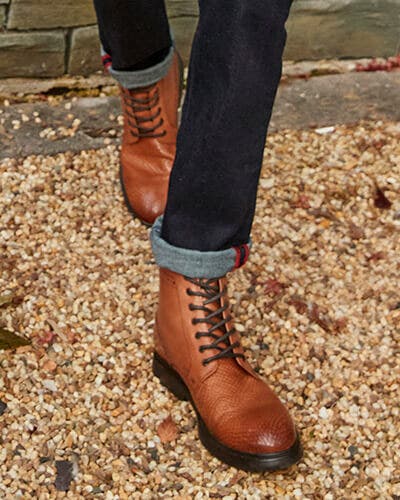 ---
Scroll to top