We caught up with the lovely Clara of @dustandbricks to find out what she thought of the latest Joe Browns homeware collection.
Here's what she had to say…
When we previewed Joe Browns AW20 homeware collection and saw the rich and wonderful colours tied in to such a diverse collection, encompassing both a decadent and lavish style; we knew we had to experiment with them. We were incredibly lucky to style some beautiful pieces in our home and it was a pleasure to be able to play around with them.
We've been renovating our dated 1930's house for 17 months now and, slowly, we've been developing our style. After renting for over a decade, we knew that we did not want one little bit of magnolia in sight!
The Bedroom Makeover...
---
To begin with, we chose the History Clash collection for our bedroom. Our bedroom has a deep green wall and, until now, we have kept the rest of the room rather neutral. However, as soon as we had seen the brilliant colours of the History Clash collection, we knew it would complement the green wall beautifully.
We were absolutely blown away by this vibrant collection. Not only is the quality of the silky soft bedsheets and the thick, luscious rug superb, but it offers a sense of pure luxury while also having a modern twist on classic prints. The Flowerful Duvet Cover Set has a beautiful floral design with a golden ochre background and pops of pretty pink. It has button fastenings and the piping shows that it is well finished. The 200 thread count only adds to its luxurious and decadent feel.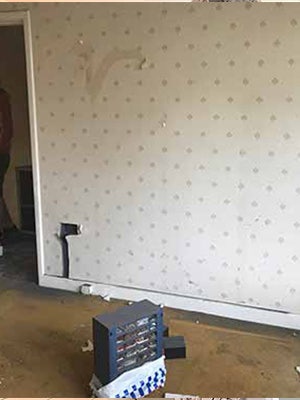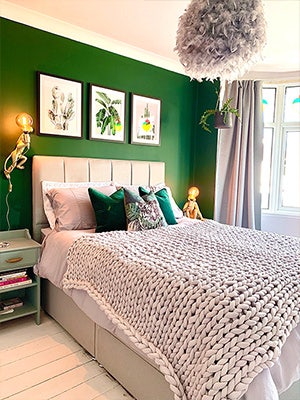 Joe Browns have designed many of their items to have a two-colourway feature. So, if you feel that you want to go darker, then the deep navy with a touch of ochre can be easily obtained by simply flipping the bedding over. Alongside this beautiful design, you have a choice of complementary cushions to give the completed look a feel of opulence. We went for the Flowerful Reversible Cushion and two Jumbo Velvet Reversible Cushion in the pink/black colourway with a wonderful golden piping. To finish the styling of the bed, we chose the Super Soft Glisten Throw in gold, which comes in two other colours. This incredibly soft fleece throw was the perfect finishing touch we needed to complete the lavish look.
Finally, we knew we needed one final item to tie this room together, so we placed the Fuchsia Historic Rug to the side of the bed. We went for the medium size (120x170cm) and it proved the perfect fit. This traditional style rug has been modernised by its wonderfully vivid colour and the clash of pattern with the bedding worked perfectly.
Overall, we were extremely impressed with this collection. It is fun and versatile, and it is ideal for anyone who wants a burst of colour while also a real feel of luxury.


The Living Room Makeover...
---
When we first got the keys to our home, we knew that the living room needed a much warmer feel to it. It was dated and quite dark. The room is north facing so we tried to take that into account when styling.
We have strived to create a sense of warmth and comfort in this room and we felt that the Escape to Africa collection would be able to enhance this feeling further. The Escape to Africa collection is a mixture of hygge and boho, which lends itself perfectly to any room (colourful or neutral). This was an easy collection to pick from; my only regret was that our room was not larger to encompass more items!
We decided to pick a selection of beautiful and autumnal coloured cushions for this seasonal re-style. A great choice of cushion is the very reasonably priced Faux Fur Trim Velvet Cushions, which come in two colours; burgundy and orange. The velvet texture of the cushions creates a sense of warmth and the faux fur trim adds to the snug feel.
Both colours work together beautifully to show the seasonal change. We paired these cushions with the oatmeal Genuine Mongolian Cushion. Its thick wool fur is super soft and sensuous, and it has a smooth faux suede on the other side to continue the luxurious feel.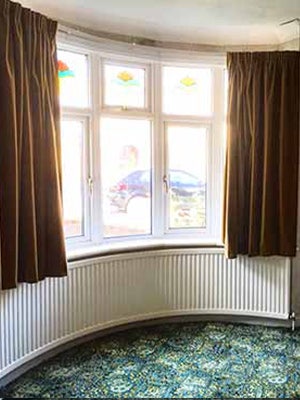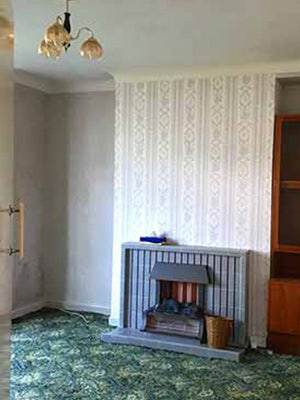 To add some more texture and patterns to this room, we added the African Floral Pom Pom Cushion and the matching throw. Both items add a bit of charm with the delightfully colourful pom poms. The incredibly soft flannel fleece texture of the throw will keep you cosy all winter long. Again, the pattern and colours work well with either an already neutral or a colourfully decorated room.
Our final two (and absolute favourite pieces!) that we used in this re-style are the Terrific Tufted Wool Rug and the Wicker Side Table. Both pieces added to the hygge and boho feel.
The rustic wicker side table is a great size for any room and would fit in with any colour scheme. This side table, coupled with the wool rug, is the perfect pairing. The rug is handwoven with a wool blend and it feels soft and hearty underfoot. The beautiful, soft, and pretty neutral tones are delightful. To finish it off, the rug has a thick tassel edging, which creates a gorgeous appearance.
We absolutely loved restyling our rooms in the History Clash and Escape To Africa themes. We hope you can take some inspiration from our ideas and add a little Joe Browns twist to your home. To see more of our room transformations and follow our renovation and home styling journey head over to our Instagram page.


Have you done a room makeover? If so, we'd love to hear all about it! Why not let us know by joining in the conversation on Facebook or Instagram?
Scroll to top