Dress to Destress with Sloe Joes
From the top...
---
Prepare to say Ohm-my-goodness when you feast your eyes on our printed Yoga Top. With a dazzling array of details from the under-bust seam, fitted design and statement cross-back straps that work together to make a flattering and comfortable fit for any exercise (well, maybe apart from swimming!). With a delicate printed pink floral design on a cream background and shades of pastel blue sprinkled in, this yoga top is a total knockout.
---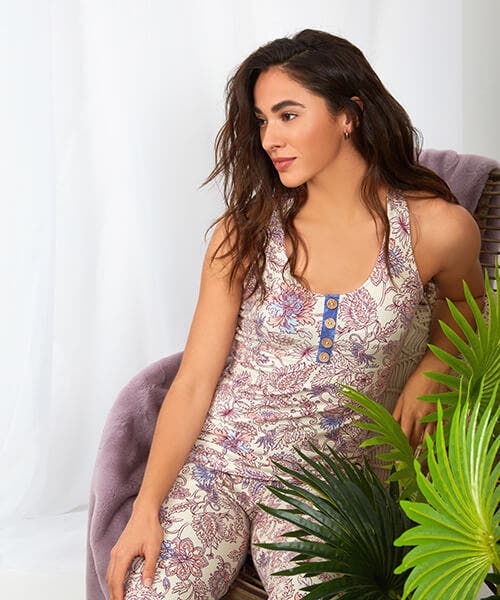 ---
… To the Crop
---
Yet another piece of yogawear that we've stamped our mark on, our Crop Yoga Top has a wonderful floral print in remarkable shades of contrasting blue with mock buttons and crossed-back detail to really show off your style while you work out. With a flattering cropped fit and elasticated waistband, this style is the perfect exercise partner to carry out your exercise regimen.
---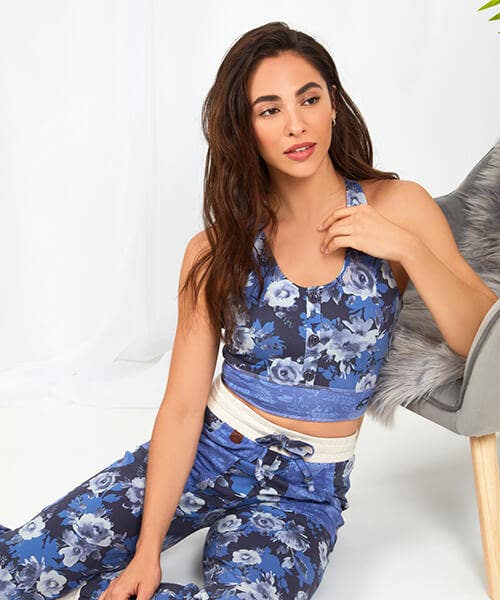 ---
Fabulous Flares
---
All is flare in love and war... and you'll LOVE these printed flares! Showing that you can work out, lounge and be super stylish at the same time. Made from soft jersey with the statement floral print, they're perfect to bring a retro 'flare' to your workout attire. The contrasting waistband in a shade of blue gives unlimited mix-and-match possibilities with each colourway of the Sloe Joes range this season. If you prefer to keep things matchy-matchy, we also have a high waisted blue colourway too!
---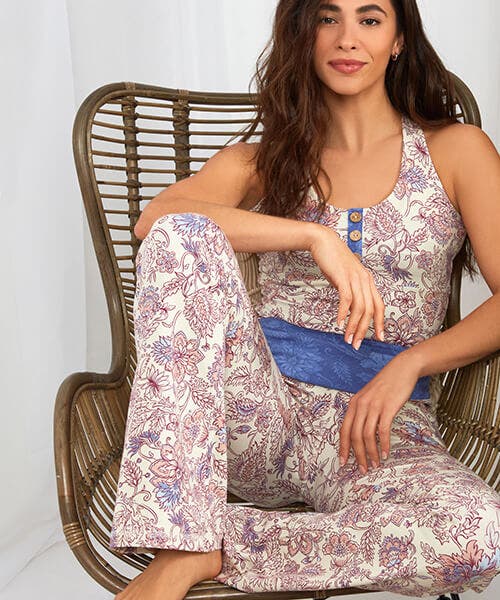 ---
Loosen Up
---
If you prefer a loose trouser for your workouts, then check out our Plain Wide Leg Trousers in a beautiful shade of sky blue and antique white. But don't let the name fool you – these are anything but plain! This number features statement wide legs with hem splits, a stylish, loose and relaxed fit, deep pockets and an elasticated high waist with a drawstring. These must-have trousers are not only perfect for a yoga flow workout, but also to flop on the couch afterwards as you enjoy the endorphins and inner peace.
---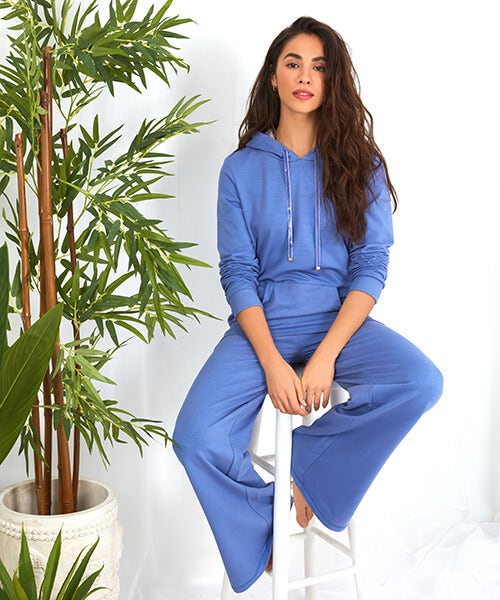 ---
Leg It
---
For those who prefer a skin tight legging feel, the Blue Floral Leggings have a flattering, skinny-fit design with a contrasting waistband and cuffed ankle detail. Team these with your top of choice and a hoodie or jumper to create the ultimate 'I just finished working out' loungewear look! Made from a soft jersey material, we guarantee you'll be pulling these out of the drawer even on your rest days!
---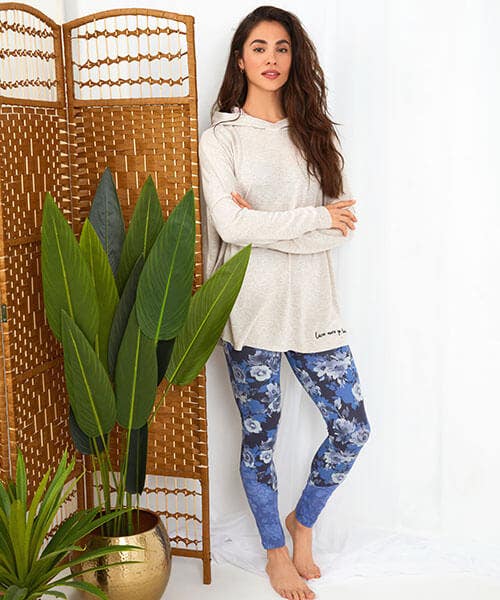 ---
Jog On
---
If running is more your thing, run away from the housework with our Blue Patch Print Joggers while looking cute and feeling fab. This eye-catching number features a high elasticated waistband with a drawstring, stunning blue floral print with contrasting, pretty patchwork style pockets and cosy cuffed legs. We guarantee this is a style you'll wear day in and out, and the cotton material ensures these will last for years to come! After all, who said comfort can't look fabulous?
---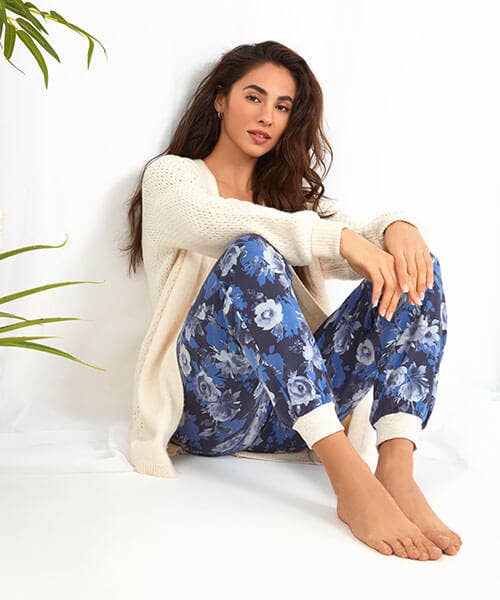 ---
I Would if I Hood
---
For those chilly days or if you're feeling the post-workout chill, then opt for our Knitted Hoody or Cosy Hoody. In shades of antique white and blue, you can choose the colourway to match your entire collection. The Knitted Hoody features a statement back panel with gorgeous lining in the hood, and a subtle, embroidered Sloe Joes motif. Not only is it packed with detail, the soft knit fabric paired with the cosy long sleeves and stylish, loose fit ensures ultimate comfort. Our Cosy Hoody features a handy drawstring, kangaroo –style front pocket and a leather look detail tab on the top of the hood for style without compromising on comfort.
---
---
From Cross-Fit to Cross-Back
---
After enjoying a light workout, why not throw on a cross-back knitted jumper to snuggle up with a brew? In both colourways, choose the colour that matches the rest of your workout gear best and create a stylish, off-the-shoulder look as you go about your day! Featuring a chic slouched fit, puffed sleeves with cuffs and a wide V-neck, this knit is perfect for a post-workout layer. You can even look fabulous while taking the dog for a spring walk on a sunny day! This remarkable knit ticks all the boxes for post-workout style and snug-ness.
---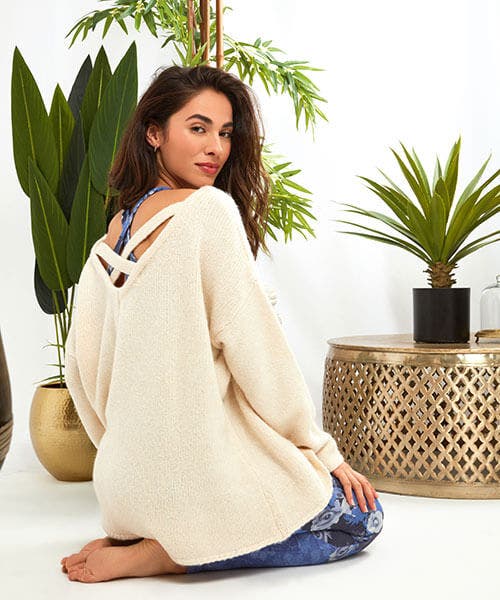 ---
We are absolutely loving this stretchy range of Sloe Joes this season – and we hope you love it just as much! There's nothing that gets us quite as excited to exercise than a remarkable new piece of workout wear. Gear up for a jump-start in your exercise regimen, or simply stay stylish and align your chic-ras as well as your chakras with Sloe Joes!
Scroll to top