---
Come Behind the Scenes of Our Spring/Summer 2023 Photoshoot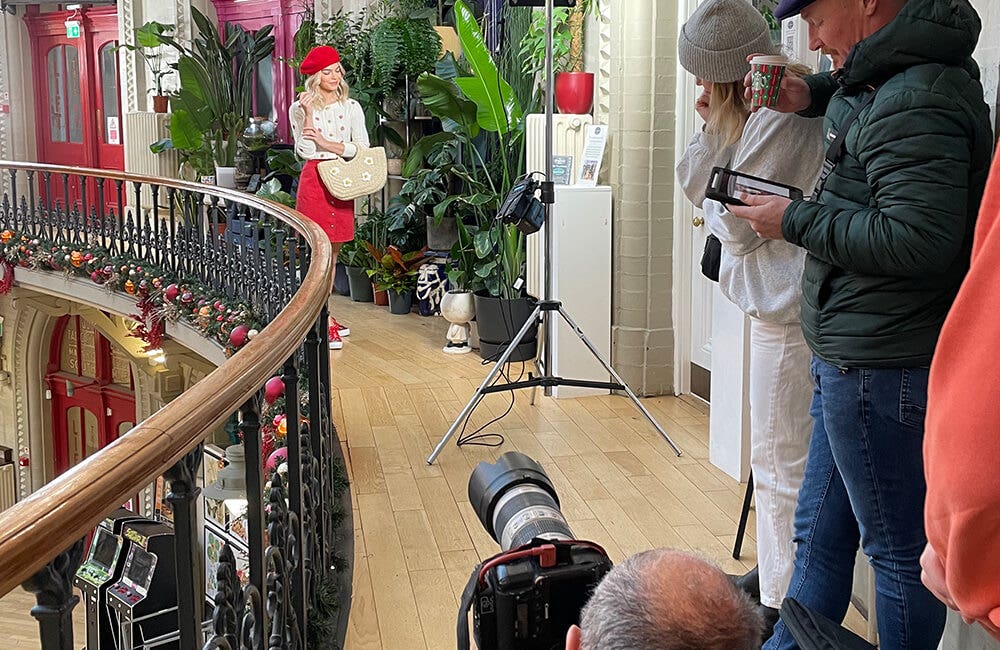 ---
It's that time again! Our Spring Summer collection is right around the corner! We shot our spring campaign in Leeds City Centre on a cold week in November. Come along and see what we got up to.
The theme of our Spring/Summer 2023 collection is ESCAPOLOGY. So, for the campaign shoot it was only right that our team made their great escape from the Joe Browns HQ... to about 20 minutes down the road! Yes, you read that right! Though camera trickery may have had you fooled, our latest campaign shoot actually took place in our own backyard as we aimed to make the streets of Leeds look like something out of The White Lotus!
Shooting a Spring/Summer shoot at the end of November in England is no easy feat and we'd like to say a huge thank you to our models who were so up for the challenge and had us convinced that they were in the Bahamas. With puffer coats and hot water bottles in between takes, and a million coffee runs later we all managed to make our mission possible!
---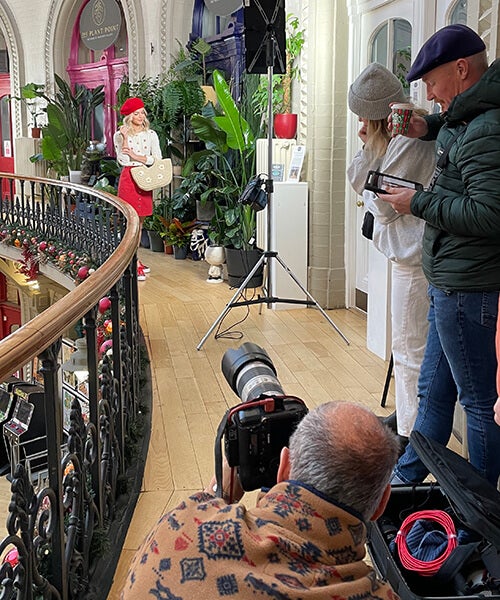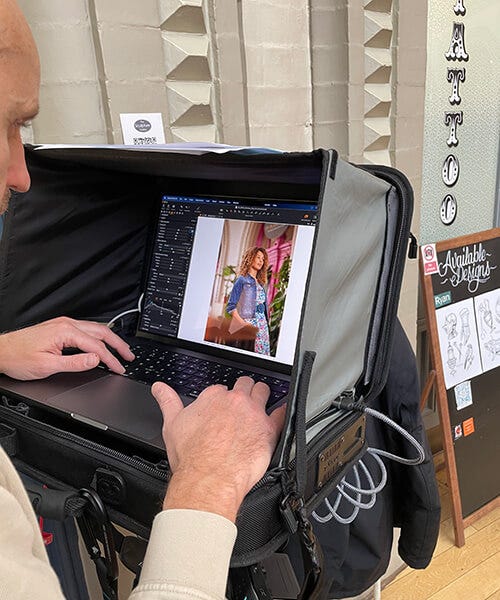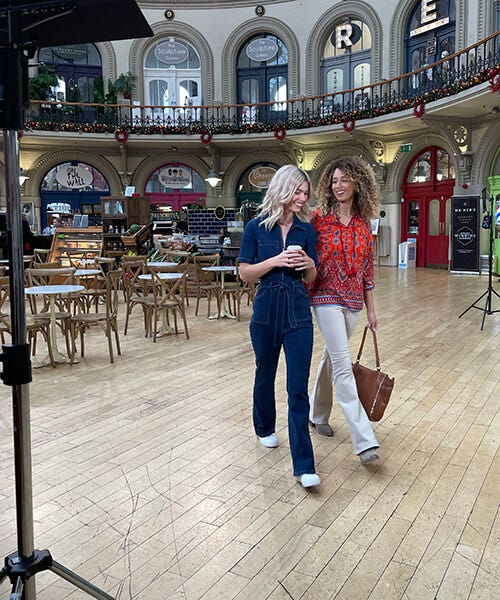 ---
We kicked off our shoot at the Corn Exhange, a Grade I listed Victorian building completed in 1863. It was decked out from floor to ceiling in the most extravagant Christmas decorations you've ever seen. Not ideal when you're trying to shoot spring clothes!
If you've ever visited the Corn Exchange, you'll know that it's the hub for local independents. Not just shopkeepers, but creatives, collectors, cooks and craftspeople. This home to a collection of vendors who do things their own way was an obvious choice for us at Joe Browns! Starting at The Plant Point for a gorgeous green sanctuary setting, we worked our way round to Red Tattoo and Piercing to convey that old school rocker look. Shout out to our very talented ex graphic designer, Ben, who switched his digital skills to become a tattoo artist at this very studio. Thank you for opening up early purely so we could get some really cool shots!
---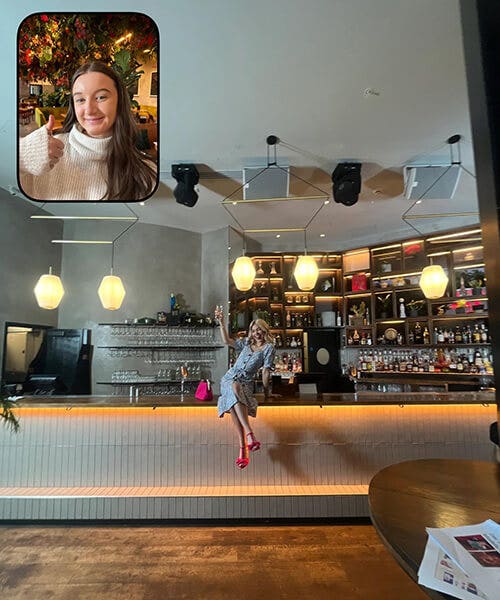 ---
Thumbs up from social media content coordinator on set. Can you spot the model sat on the bar?
The rain continued into the afternoon but that didn't stop up from frolicking up and down Call Lane, umbrellas in hand. This called for a perfect photo opportunity, and they came out incredible! Eagle-eyed Joe Browns fans will spot Cuckoo bar in the background of some shots. This is where we shot our Project Fun campaign back in September!
---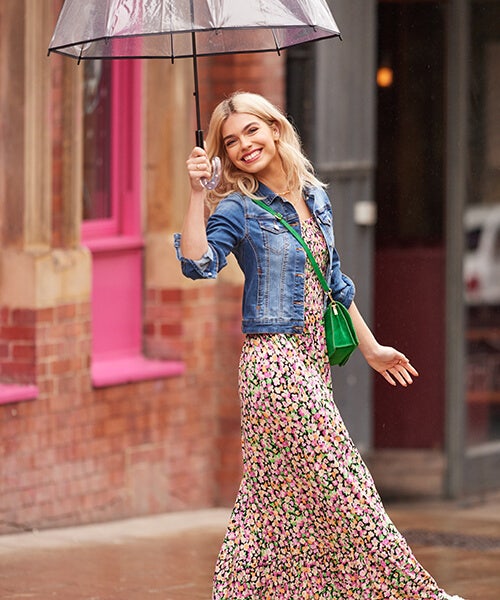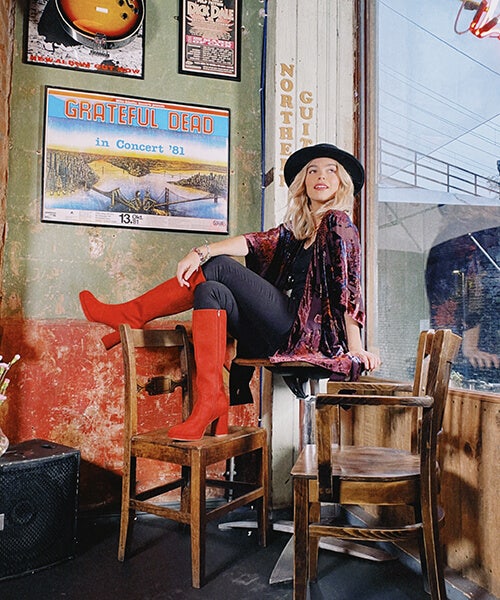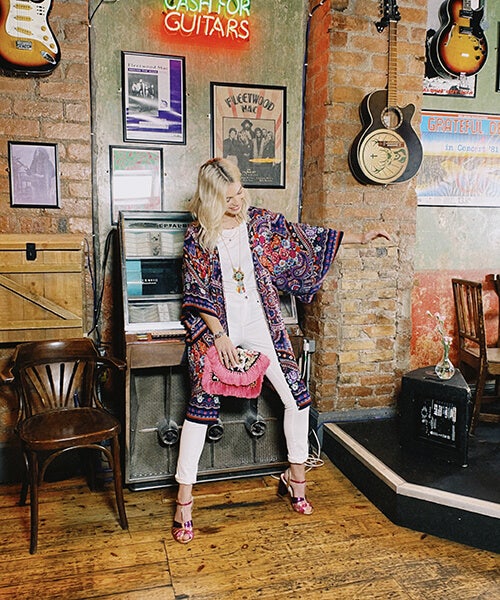 ---
We did eventually end up retreating to Northern Guitars Cafe Bar down Call Lane for our final location of the day. A total hidden gem trading pre-loved and collector's guitars since '89! It was the ideal setting for a laid back, 70s vibe with an old western twist. The staff there were amazing and made sure we never went short of hot drinks and filled water bottles.
---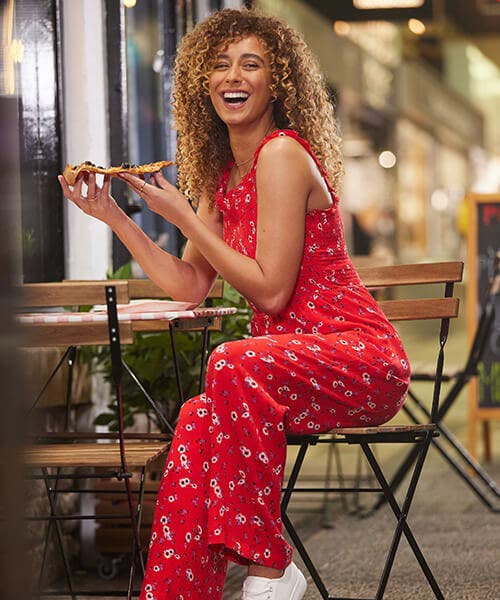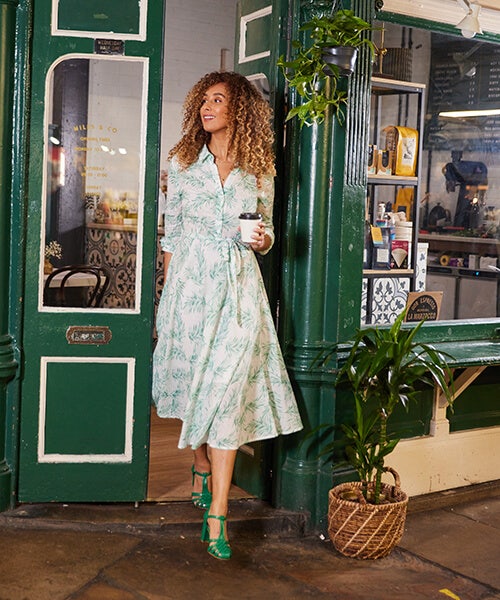 ---
The day the heavens opened and we can tell you... it did Not. Stop. Raining. We shot for most of the day in one of the largest indoor markets in Europe; Kirkgate Market. But it's not just its size that sets it apart as a truly unique shopping experience. It was designed by the celebrated architect Joseph Paxton who was responsible for the iconic Crystal Palace in Hyde Park, London. Not to mention it also being the birthplace of Marks and Spencer in 1884 when Michael Marks secured a stall at Kirkgate Market. Later he took on a partner, Tom Spencer and rest is history.
---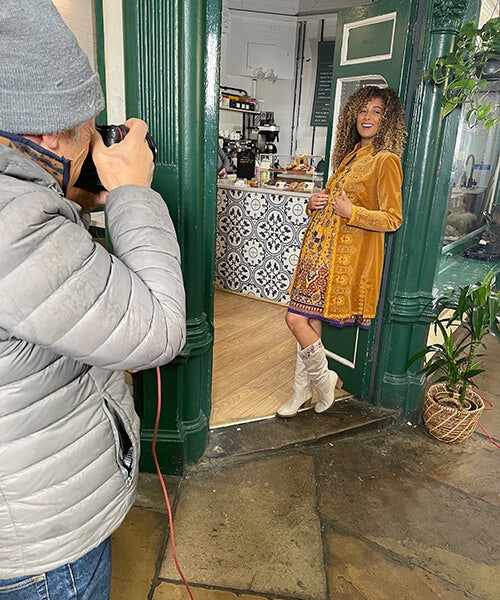 We made good use of the stalls, hopping from eating pizza at an Italian shop, posing outside the florist and shooting in the doorway of a café with a coffee in hand.
---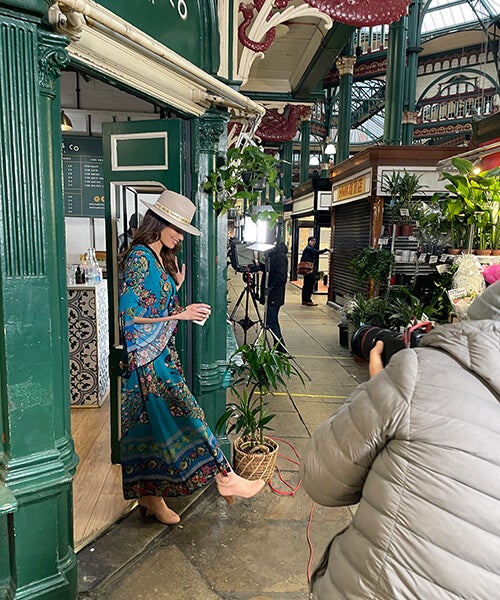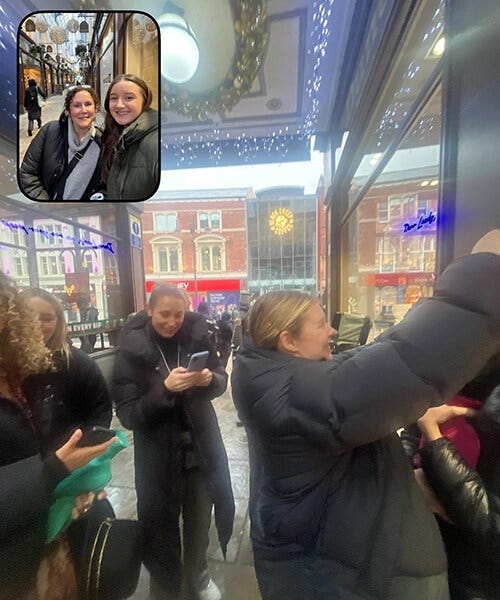 A behind the scenes snapshot. How many longline puffer jackets can you spot?
---
---
We also popped across the street to Thornton's arcade to capture some more street style pieces. Built by Charles Thornton in 1873, many of the original design features and detail of this arcade remain to this day! The most noticeable of these features is the mechanical clock, where figures of Richard Coeur-de-Lion, Friar Tuck, Robin Hood, and Gurth the Swineherd have struck the bell on the hours and quarters for over a century!
---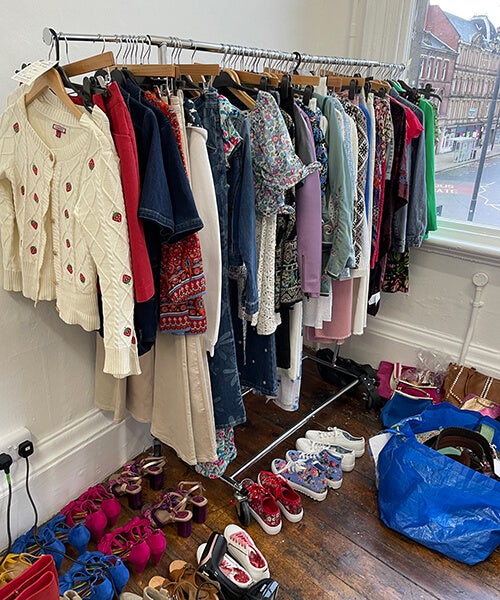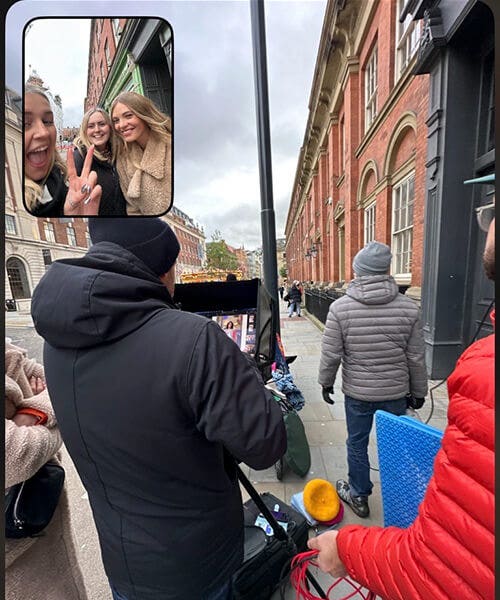 ---
Say cheese! Our social media exec, senior marketing exec and model hard at work!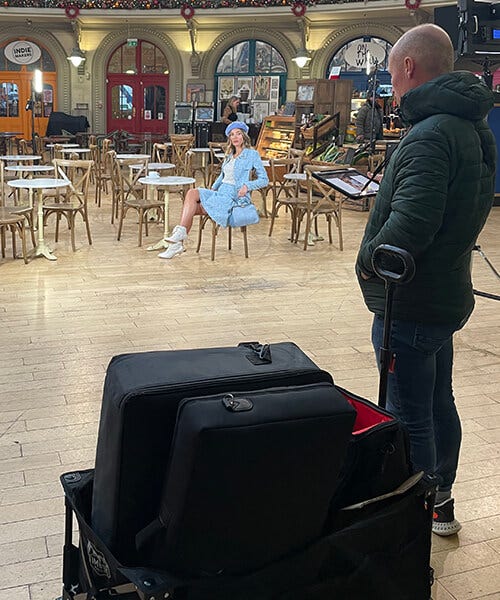 ---
Hallelujah! On our third and final day of shooting our womenswear collection, the heaven's finally closed! On the last day of shooting we had no rain for the majority of the day – our sunshine dances had been answered and we could crack on with some outdoor shots.
Day 3 started back in Leeds Corn Exchange. The domed roof of Leeds Corn Exchange was based on the Bourse de Commerce of Paris, so it seemed only fitting that we asked our native Parisian model Karen to pretend she was at a café on the streets of La Ville Lumiere for our first shot of the day!
Our second location was Revolution Bar in the Electric Press building adjacent to Leeds Civic Hall. For the history buffs, The Electric Press is a Grade II listed building that dates back to 1890, and was originally a printing works for the Chorley and Pickersgill firms. Nowadays the building hosts a number of bars and restaurants, as well as The Carriage Works Theatre. Revolution served as a welcome spot where our team set up base for the rest of that day, dashing out to get shots of Millennium Square when the sun broke through the clouds!
---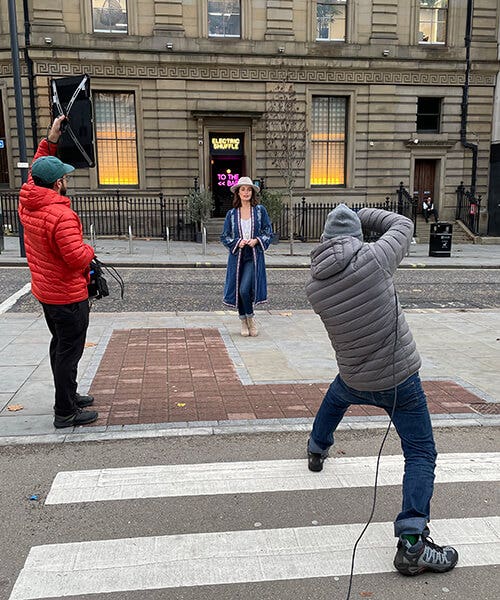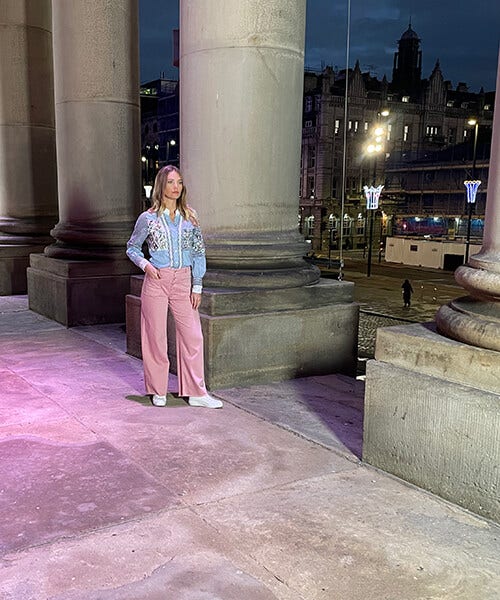 ---
Streetstyle shots were the name of the game as we took to the busy streets of Leeds City centre. On shoots like this the number of photographers, digi's, techs, stylists, and assistants outweigh the number of models tenfold – but today this came in handy as we worked as lollipop ladies; ushering and stopping people walking through the city centre to make sure they didn't make cameos in our campaign imagery - a job that was easier said than done!
Our last spot of the day were the steps of Leeds Town Hall. This building is steeped in history – built in the 1850s and designed by world-famous architect Cuthbert Broderick, the Town Hall was Leeds's tallest building for 108 years until it lost its title to Park Plaza hotel in 1966. The steps of this beautiful building served as a gorgeous backdrop as we got the last of the light and the sun set over busy Leeds. A small showering of rain couldn't stop us; as our team retreated up these famous steps to take shelter, we came across the ornate black and gold doors to the building which served as a perfect backdrop to get the last shot of the day!
---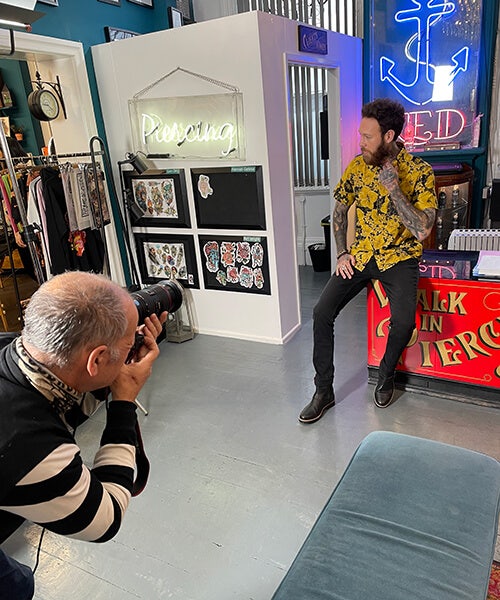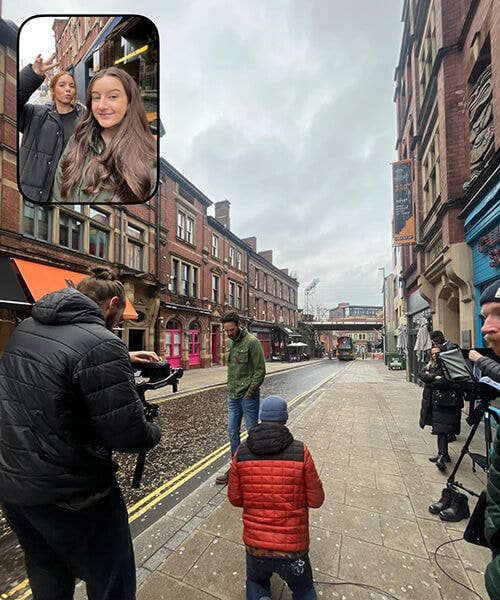 ---
---
The following week, we came back well rested and ready to smash another shoot day, this time capturing menswear! Just like our first day shooting womenswear, we kicked off the day in the Corn Exchange and back in our favourite tattoo parlour for a vintage yet casual feel. Temperatures might not have been above 10 degrees, but we were lucky enough to have no rain! Our New York- based model, Rasheed, posed for us outside the Corn Exchange to bring a bit of Brooklyn swagger to the streets of Leeds.
---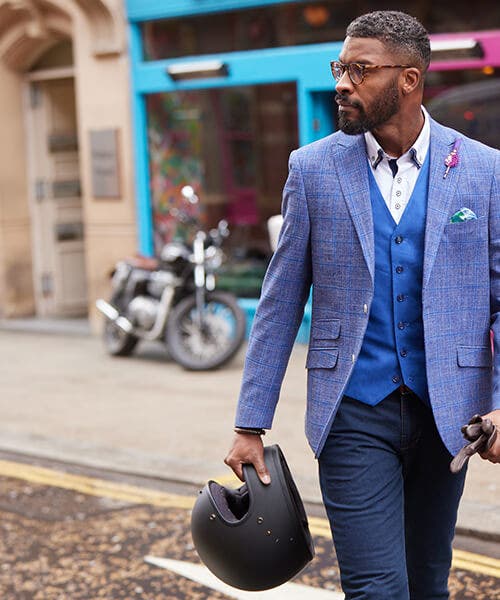 And of course, it wouldn't be a Joe Browns shoot without a motorbike! We managed to manoeuvre it to Call Lane to be used alongside our leather jackets and biker styles. It was a challenge to dodge the busy street, but our daredevil photographer, Kev, was adamant to get the shot in the middle of the road. The risk paid off with these amazing shots!
---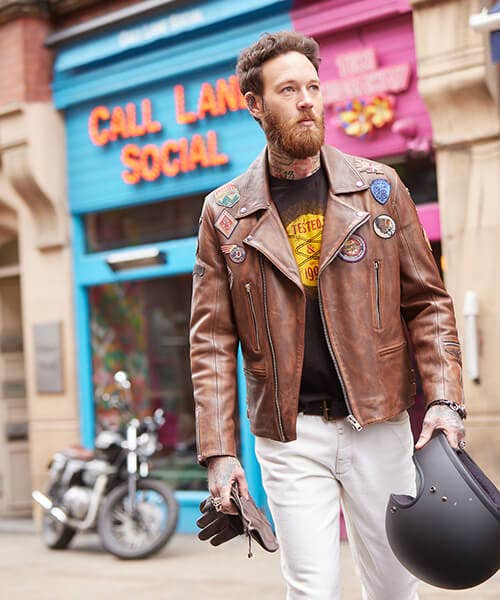 ---
We ended the day with our good friends at Northern Guitars Cafe Bar, where we'd shot womenswear just a week ago. We even ventured into their beer garden for our final few shots, even if the light had gone by 4pm! We ordered a Sol for the model to pose with to try and trick our minds into thinking we were at some sort of beach bar. We can only dream...
It sure was a challenge to shoot spring/summer in the north of England in November but as always, the whole crew threw themselves in the deep end to create that Joe Browns summer vibe!
---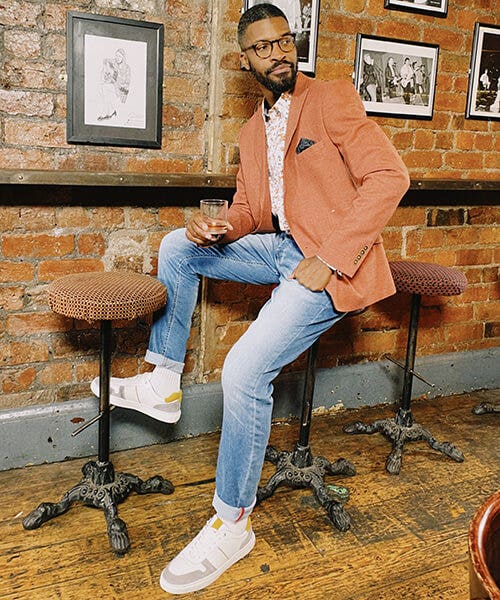 ---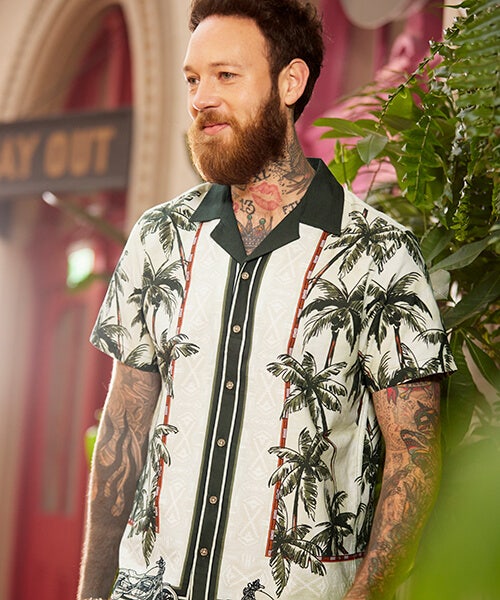 We hope you enjoyed seeing what we got up to and the magic behind capturing the perfect shots. Where will we head to next? It could be a town near you!
Peace out!
---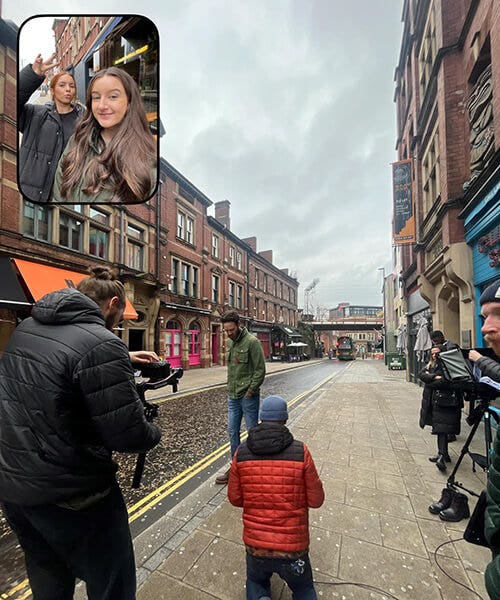 Scroll to top