Frock That, It's Christmas!
Our Ultimate Guide to Christmas 2020
---
What does Christmas look like to you? Is it belting out your favourite festive tunes? Christmas movie marathons with far too many mince pies? Or is it all about spending time with your nearest and dearest?
While Christmas might be a little different this year, that doesn't mean it should be any less enjoyable. That's why we've put together the ultimate guide to an alternative Christmas, so you can make sure this year is as fabulously festive as ever!
To help create the guide, we surveyed 1,000 UK adults (The Leadership Factor, November 2020) to find out how they will be celebrating Christmas 2020. The questions included how they feel about family and new traditions; missing out on their Christmas party (and of course, the sparkly outfits!); the King of Sunday roasts, the delicious Christmas dinner; and how they will be gifting this season.
The team at Joe Browns have come up with the ultimate guide to navigating Christmas 2020. With almost two thirds of us happy to escape the festive work party and one in three spending less this season, here's how you can still feel festive and celebrate in style!
The Party Season Hasn't Stopped
---
For many of us, the Christmas work party is an annual tradition, so you may be surprised to find out that 64% of people have admitted they won't miss this year's parties (or the funny and often embarrassing stories that come with them.) With so many of us happy to miss this annual event, maybe it's time to shake it up and add a little pizazz to the Christmas festivities!
But should the lack of a Christmas party put you off the sparkles? We say "Frock that!" – there are still plenty of reasons to get dressed up and have fun. From Zoom calls at the breakfast BAR to dressing up for the dining room DISCO, it's surprising how much rocking around the living room in your favourite party outfit can lift your mood.
To help keep you in the party spirit and introduce a twist on the traditional office do, we've come up with 11 fabulous alternative Christmas party ideas. These have all been ranked best to worst by the British public, based on how many people said they think it is a "good" or "brilliant" idea!
From virtual quizzes and murder mystery games, to gin tasting and cocktail making, there's some new ways to spend time with your colleagues this seasnon!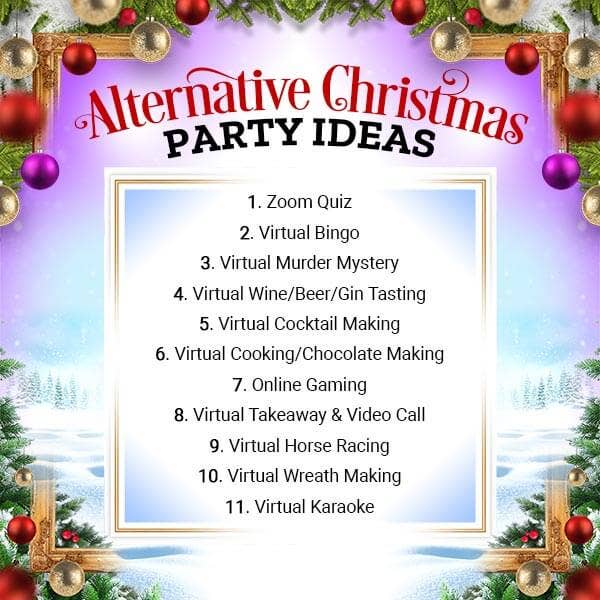 What To Wear This Season
---
With Christmas of course comes those fabulous Christmas party outfits. With a lack of festive parties this year, 38% of people said they were likely to spend less on Christmas party outfits. This means just a couple of quality pieces could be enough to see you through the festive period.
Almost 1 in 5 people said their Christmas Day outfit would be casual with a touch of festive glam. So, it's time to shop for those sparkles… — it's Christmas after all!
When planning your Christmas day and party outfit, we recommend choosing something that you can style into your ensemble time and time again. While a sequined top is a Christmas classic, it also works perfectly when paired with distressed denim and heels for a cocktail evening out with the girls! Alternatively, velvet is an all year round favorite, from Sunday lunch with the family to an evening dinner date — we think this velvet dress is the perfect option.
While there may be no official Christmas party, Christmas jumper day is a great way to inject some festive cheer. Whether you're working from home and partaking in virtual meetings, or still heading into the office, a novelty jumper is a great way to lift spirits. Take a look at a few of our novelty Christmas outfits for inspiration:
How To Gift This Christmas Season
---
When it comes to Christmas gifts, we believe this year is the perfect opportunity to start thinking about quality over quantity and it seems that as a nation, we've had the same idea. In fact, almost one third of us plan on more thoughtful gifting — making homemade presents, cards and gift wrapping.
Choosing something that will match their personality is equally as important and quirky christmas gifting seems to be a popular trend this year. From fun to practical women's and men's gift options, our Joe Browns gifts offer a fabulous range of presents for any budget and personality. Choose a unique gift for the homelovers or remarkably stylish clothing for the fashionistas. If you're on the hunt for stocking fillers, from jewellery to loungewear, there's something for everyone!
Secret santa is another festive tradition for many yet it can be difficult to get it right — some Brits reported receiving embarrassing presents, from some rather risque gifts, to joke presents and even used socks! So, what secret santa gifts should you avoid purchasing? Our top tip is to ensure you know the person you're gifting well if you're going to attempt joke presents like these. If you don't think a silly gift will go down well, go for Christmas novelty socks (we'd highly recommend they were new!) or even a novelty mug.
Create New Family Traditions
---
Christmas is all about spending time with our loved ones, and with the three household restrictions this year, 77% of people are understandably worried about not being able to see friends and family. Although this Christmas may be very different for many, with a little creativity, you won't miss out on the festivities with your family on the 25th of December!
Why not unwrap your presents on a family zoom call or pause the no-phones-at-the-table rule for the day and set a place for a video call with family members during your Christmas dinner?
It's also important to connect with your friends and family in the run up to Christmas. That's why we've come up with a few suggestions to keep your loved ones in touch this season;
Pull on your boots and a warm coat for a crisp (and socially distanced) winter's day walk

Get your Baileys hot chocolate at the ready for virtual family gatherings

Join private photo sharing apps so you won't miss out on any of the Christmas pictures — there are many on the market but

Family Album

is a great option

Choose your family's favorite cookie recipe, virtually bake it together, then sit down with your finished goods and a cup of tea

Get creative with homemade cards and putting more thought into the little things is sure to make your loved one's smile
It's All About The Christmas Dinner
---
The showstopper of the day has to be the Christmas dinner. We all know how important that feast is, so you may be surprised to learn that 32% of people said they will be spending less on Christmas food and drinks this year! However, with more of us having intimate gatherings, it makes sense that Christmas 2020 dinner will be cheaper, costing £146 on average.
With fewer mouths to feed, you can afford to include a few festive treats for yourself this season. Although we're sure that after indulging on the Christmas dinner, we'll still be feeling overly full by dessert — the way it should be!
Here are our top tips to spend less (but enjoy more) on your Christmas dinner this year;
Shop smart, create a list, and try not to buy any extras you don't need. Not only will this avoid food going to waste, but it'll allow you to buy those decadent chocolates. Luxury truffle, anyone?

Watch out for special offers as while they might be tempting, if you're only wanting one Christmas pudding, 3 for 2 will just mean you'll be eating it for weeks!

Prioritise where you spend — a free range turkey is a great option but do you really need the finest sprouts or could you choose a more budget-friendly own-brand version?

Be quick to book an online delivery slot if you rely on shopping being delivered — they're likely to book up extremely quickly!

Use your leftovers — turkey and stuffing sandwiches are always a hit, or get creative and make a turkey curry for Boxing Day.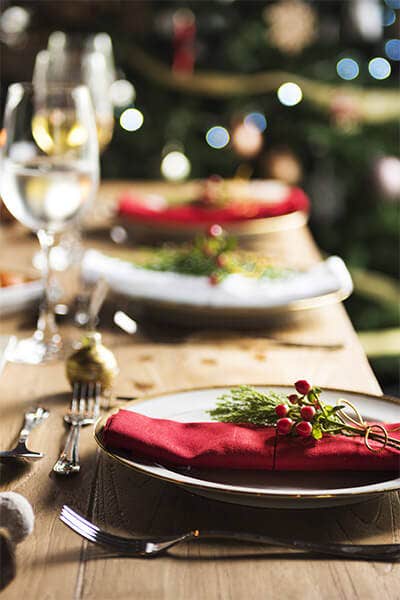 Christmas Decorations
---
Nothing says festivities quite like putting the Christmas tree up and seeing those twinkling lights, so it's no surprise the iconic Christmas light switch on will be greatly missed by 1 in 3 people. Additionally, more than half of Brits will miss going to the Christmas markets and we understand why — who doesn't love a bratwurst or mulled wine from the markets!
As a result, it seems we're putting a little more effort into our home decorations, with over a quarter of us spending time making homemade baubles for Christmas. We think saying goodbye to 2020 is the perfect excuse to make our homes even more festive than usual — think sparkling fairy lights and tinsel galore!
Not only is making homemade decorations great fun for adults, but they are also the perfect way to keep your kids or grandkids entertained during the Christmas holidays. Even better, they make great presents and we're sure your friends and family would love a decoration that's handmade. This is a great way to show that you're still thinking about them, even if they can't be with you.
If you would like to make your own, we've found some top homemade decoration ideas for all ages;
Scroll to top