The Wedding Dress for the Wedding Guest
For the Ladies
While the blushing bride may be the head turner of the day, the lovely ladies certainly won't be ignored in a Joe Browns dress!
The Boho Dress
---
For our free-spirited souls, go boho with the Funky Festival Dress for a bold design with a flowing skirt that's perfect for dancing. A true Joe Browns classic dress, we've stamped our signature all over this stunning piece with a cracking clashing floral and geometric print, tie-neck with tassel trims and back waist ties for the perfect fit to leave you feeling confident.
For a touch less flowing, yet still fancy and flattering the Laura Prairie Jersey Dress is a wonderful summery choice. The shirred bodice ensures a wonderful fit (especially if you're conscious of your tummy) while the tiered skirt flatters and flows. The super soft jersey fabric ensures you'll feel sensational and comfortable from day to night.
---
---
The Vintage Dress
---
Feel vivacious with vintage or ravishing in retro with a vintage style Joe Browns dress. The Dixie Halterneck Dress is a simple yet effective choice in an exquisite, classic gingham print that compliments a matching shoe and bag in any colour of your choice. With waist pockets (yes! Pockets!) and crossover straps, this piece beautifully suits a classic cardigan if the weather is a little on the cooler side.
In classic vintage style The Mariette Dress is a true sixties silhouette with a skirt that's simply made for twirling. With a sensational V-neck and wide shoulder styling, a coordinating belt and sensational all-over floral print, this remarkable number looks exceptionally impactful with a pashmina or bolero cardigan. Vintage and versatile, accessorise this dress to suit your own unique, remarkable style.
---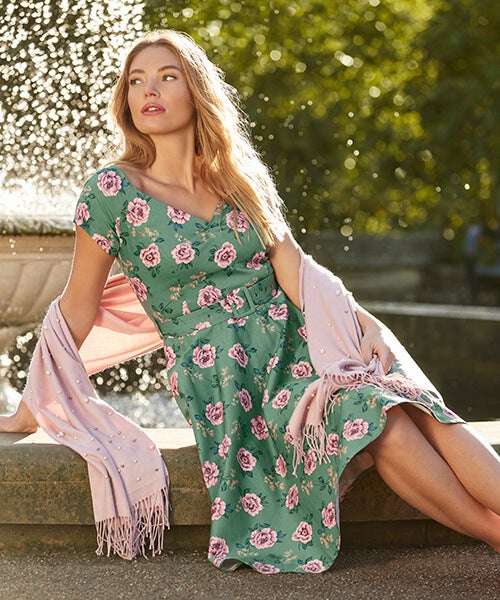 ---
The Floral Dress
---
Floral is the biggest trend of the season – which simply has to be considered when choosing your perfect occasion dress. Sashay to the soiree with class in The Maybelle Shirt Dress or Joni Daisy Shirt Dress. These stunning dresses are wonderful for any age and bring a dreamy floral element to the party to mingle with the sophistication of the collar and overall silhouette.
Incorporating a rich colour palette and captivating floral pattern for a remarkable stand-out look is the Boho Babe Dress. The rich wine colour and bohemian vibes are loud enough to command attention while the silhouette and wide sleeves still remains demure and classy in the most effortless way. For an outdoor wedding, team this with a wide-brimmed hat and long boots that'll allow you to dance the night away.
---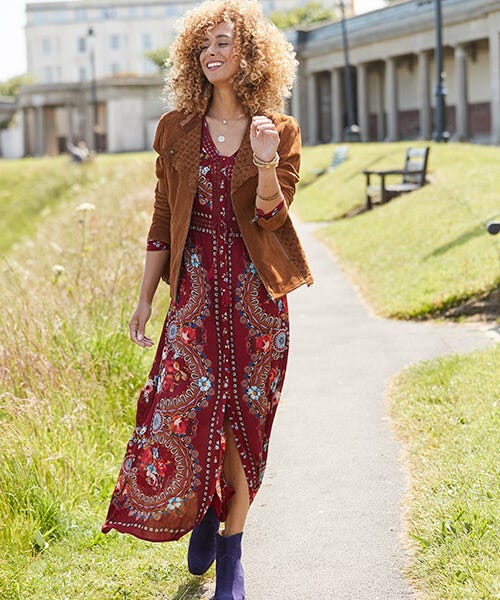 ---
The Tea Dress
---
If you're all about looking understated – you're in the wrong place. But Iif you're looking for a simple, comfortable silhouette with a Joe Browns twist is more your style, then we've definitely got something for you. The tea dress is an easy wearing treat that's both divine and modest, with a little pinch of Joe Browns pizzazz. Try the Pretty Butterfly Tea Dress for a perfectly pink outfit with short sleeves, button through fastening in a midi length style that perfectly complements a pair of strappy sandals.
Another beautiful alternative – especially for warmer weather – is our Francesca Frill Dress. This dress is truly captivating from head to toe with its all-over ditsy floral print, short, floaty sleeves and frilled hemline. As a major bonus, the wrap style ensures this number hugs in all the right places for a fantastically flattering fit that'll leave you feeling and looking incredible.
---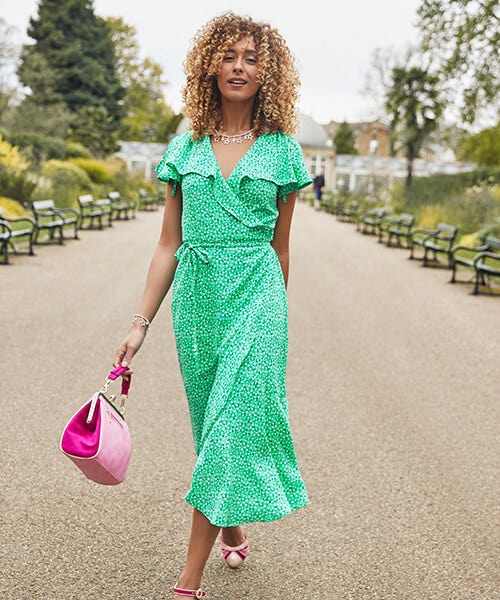 ---
For the Men
There's nothing like a blazer and waistcoat combo to unleash your #Mojoe for a wedding. Prepare to strut your stuff on the dancefloor in remarkable Joe Browns menswear to be the life of the party!
Plain Shirts
---
Keeping it classic? Stay classy with the Cut Above Collar Shirt or the Delightful Double Collar Shirt. Each one in plain white with a smart, button-down collar, there's a sprinkle of your usual Joe Browns pizzazz from its funky buttoning to the contrast trims and statement cut-and-sew panel detail to the collar and cuffs. Either shirt when worn adds a thoughtful detail to any outfit for a smart occasion.
To make the look a bit more casual, lose the collar with the Calm and Cool Grandad Shirt that brings together all the hip vibes of the henley with a smart, button-down shirt and cuffs. This is the ultimate easy wearing smart-casual shirt that pairs well with a blazer for an occasion or a waistcoat for a chilled out look that brings out your cooler side.
---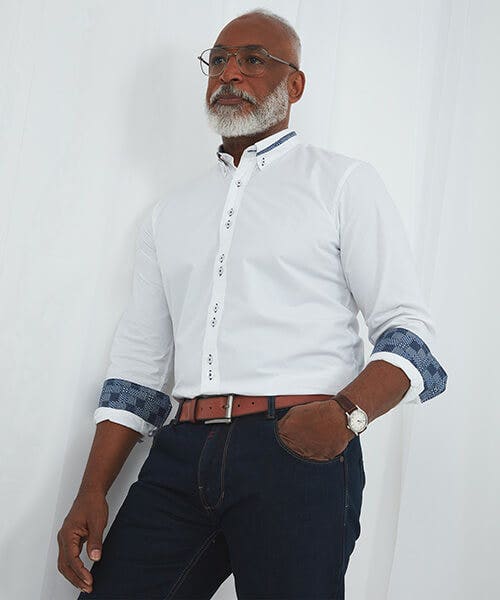 ---
Funky Shirts
---
Be bold and live life to the full in a funky Joe Browns shirt. Any patterned shirt is a statement piece that screams personality and is sure to turn heads as you tear up the dancefloor, whether worn with a waistcoat and blazer or on its own. Party in paisley with the Pop of Colour Paisley Shirt that's vibrant yet bang on trend, designed with some of our favourite paisley prints from over the years.
Steal yourself some major style points with the Day to Night Shirt in a classic navy blue hue with a white flower print throughout. Made from a lightweight fabric - when paired with white jeans, this shirt is perfect for a summer wedding under the sun that'll have you dancing from day to night.
---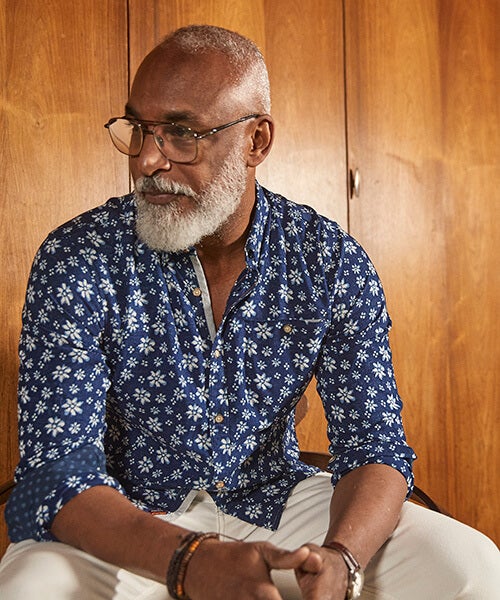 ---
Waistcoats
---
A waistcoat is a staple to any man's wardrobe, yet a Joe Browns waistcoat always has a little extra impact to give. Look an absolute icon in the smart Cracking Combination Waistcoat made using three different, striking fabrics offering an exceptional look that's truly unique. Finished with mix and match buttons, and a bold, contrast back panel with red roses, this look is one that can't be missed for the life of the party.
Alternatively, opt for something more on the casual side, our Work It Waistcoat is a denim dream with striking details throughout. Bring out your rocker side or the 'cool guy' edge in this stunning piece that's stand out on its own over a white shirt to let the waistcoat do all the talking.
---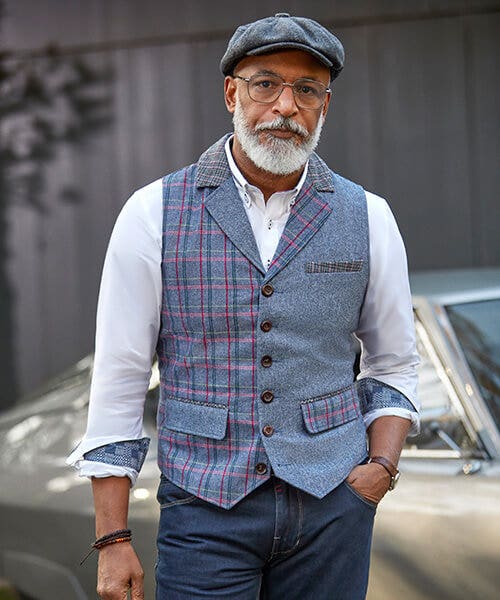 ---
Blazers
---
A blazer is essential, and why not treat yourself for such a special occasion? A Joe Browns blazer is made to be worn while being super versatile. Wear with a plain white or a funky shirt, either with or without a waistcoat or even over a tee to smarten up a casual edge. For true summer style, opt for the Summer Style Blazer or the Smarten Up Summer Blazer. Each made from a fabulous linen blend, these blazers keep you cool in more ways than one. In hues of cream and navy respectively, these pieces are perfect to wear with any shirt of your choice.
---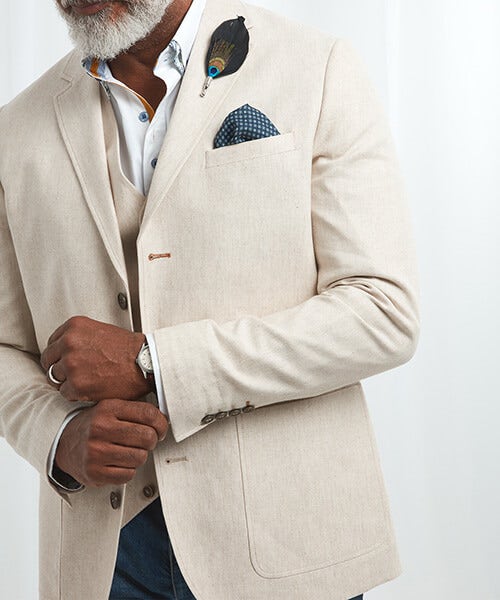 ---
The Three-Piece Suit
---
If you're going all-out for an occasion, look no further than the Sensational Stripe Blazer and matching waistcoat and trousers. Made from a fabulous linen blend, this suit is smart, sleek and sophisticated but still jam-packed with unique Joe Browns twists. You can expect statement, contrast buttons on the cuffs, a bold, contrast floral lining with inside piping, a welt check pocket with printed lining that can be used as a pocket square and contrast buttons for fastening.
Investing in a three-piece suit ensures you're ready for any smart occasion, whether you're off to the races or going to a wedding and every formal event in between. As a bonus, the classic pinstripe never goes out of style, so you can rock this classic three-piece suit for years to come.
---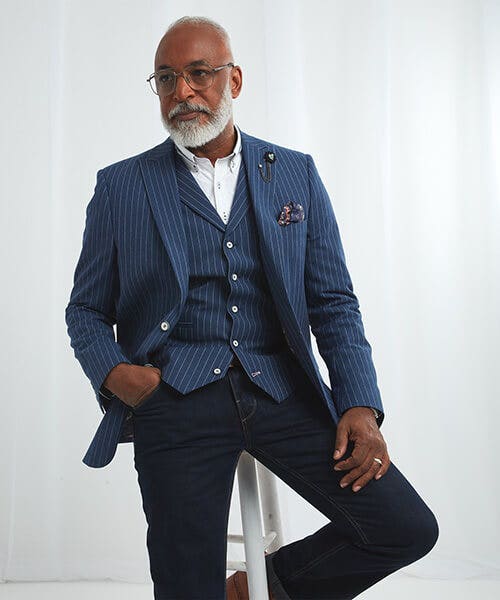 ---
With spring fast approaching, spring clean your style with our range of remarkable jackets guaranteed to give your #Mojoe a boost as you debut your new wardrobe this year.
Keep checking out our Inspiration page to keep up to date with fresh new lines from Joe Browns and be the first to be in-the-know on the latest styling tips from Joe!
Scroll to top