Women's Winter Layering Guide
---
The chill is in the air and winter is well on its way. When the temperature dips, there's one styling trick every woman should have up her sleeve: Layering!

It can be a tricky skill to navigate - but have no fear! The team at Joe Browns have put together a guide on how to layer all of your lovely clothes this winter - so you can stay snug as a bug, even in sub-zero temperatures.

We assume you're all fashionistas in your own right, so instead of recommending outfits - we'll teach you how to layer your outfits with items you already have in your wardrobe!

---
Change Up Your Lengths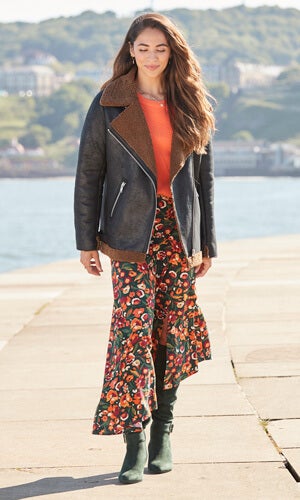 So you want to wear that short jacket - but the temperature outside is making you reach for the bulky winter coat? Show off each layer of your outfit by pairing it up with a midi or maxi skirt, an oversized jumper or cardigan and that lovely short jacket to show off each layer of your ensemble. As a big bonus, it'll also lengthen your frame, making you appear taller!
Revamp Your Summer Wardrobe
There's no need to vacuum-pack your summer outfits away - rewear them for winter in incredible ways! Why not rock a pair of trousers underneath a tunic or button front maxi dress? Combine a strappy summer dress or cami with a turtleneck long-sleeve jumper underneath. Add a big coat, your favourite winter boots and a hat, and you're all set!

See what great ensembles you can make with items you'd never dream of pairing together - that's where the real magic of fashion happens!
Sharing is Caring
Summer brings out the ultra femenine in us ladies, whereas in winter, we just want to opt for cosy. (Forgive us, husbands and boyfriends, for we are about to sin!) So why not take your favourite skirt and those cute shoes you love, and pair it with an oversized jumper? If you don't have an oversize jumper - simply raid the other half's wardrobe! Dress it down even further with a pair of trainers or chunky boots, or dress it up with tights and a cute heel. Top it all off with a long coat and you'll look an absolute dream.
Consider the Unexpected
If you've bulked up your layers enough to know a coat will only hinder you and restrict your movement, try something completely different with a poncho, wrap or a cape! The Cool Winds Paisley Wrap is perfect for those crisp winter days where you still want to look eye-catching. The Friday Feeling Boho Poncho is a wonderful topper to your outfit for drinks with the girls, or go all out snug with the Breezing By Faux Fur Cape.
Monochromatic Layering
An often overlooked element of layering is colours. If you're unsure of what colours to wear, keep it monochrome! The easiest colours to do with the items in your wardrobe is black, white and grey, or blue hues. Throw on a cute collared blouse underneath a jumper of the same colour, throw on your favourite pair of jeans, skirt or trousers and you're ready to go!

A favourite ensemble of ours has to be Joe's Must Have Blouse paired with either the Retro Knitted Vest Top or Joe's Cosy Cable Sweater and a pair of blue jeans. Top (or bottom) it all off with your favourite white shoes and you're ready to dash out the door.
The Basic Plain Tee
Mountains can be moved with a plain white tee. A collection of these babies in basic colours are the ultimate foundation to any layering outfit. Even if they won't be seen, they can still act as a fantastic extra layer to protect against the chill. Try pairing this under a dress with spaghetti straps and a chunky knit cardigan for a beautiful 'butter wouldn't melt' look.
The White Blouse
A classic item that should be owned by every woman, the white blouse is the perfect basis for a drop-dead outfit. Additionally, it's an incredibly versatile item that can be styled up or down depending on the occasion. Pair it under sweaters (bonus if it has a collar!) vest jumpers, sleeveless cardigans, or wear open over a cami.
The Vest Jumper
The ultimate nod to the 70s era, a vest jumper is an absolute essential to layering magic this year - and for many more years to come! Available in various patterns and styles, you can find one to suit your own personal taste. Pair this over a simple blouse, t-shirt, oversized tees or a turtleneck for a timeless look. Additionally, a sweater vest is a key item to repurpose your summer wardrobe for the winter seasons.
The Turtle Neck
A total classic, this can be paired under almost anything. For the best range of options, keep a chunky one and a thin one in basic colours such as black, white or grey. As well as layering fabulously, they're amazing for keeping you toasty, and give off the most wonderful autumnal or wintery silhouette to your outfit. To stay on trend, tuck the front panel into a high-waisted jean or skirt and leave the back to hang out for a look fresh off the runway.
The Chunky Jumper
A chunky cable knit is a must-have to just keep warm, but it can be wonderfully styled in so many ways, you wouldn't believe it! Pair this with a collared shirt and leave the shirt tucked out for a peekaboo hem underneath the waistband of the jumper. If you become too hot, take it off and wrap around your shoulders for a wonderful, upscale look with a Wimbledon edge or wrap it around your waist for a nod to the 90's era.
Scroll to top