---
Women's Styling Tips for Autumn Occasions
---
Autumn is the ultimate transitional season. As the leaves change colours and the air gets crisper, this signifies the perfect time to update our wardrobes with warm, spicy tones and stylish ensembles.
However, the changing season doesn't mean it's time to say goodbye to our beloved summer dresses. With a little creativity and some strategic layering, you can effortlessly bring your favourite pieces through to the new season.
In this blog, we'll explore how to embrace chic autumn styling for a range of occasions with a few key capsule wardrobe pieces.
---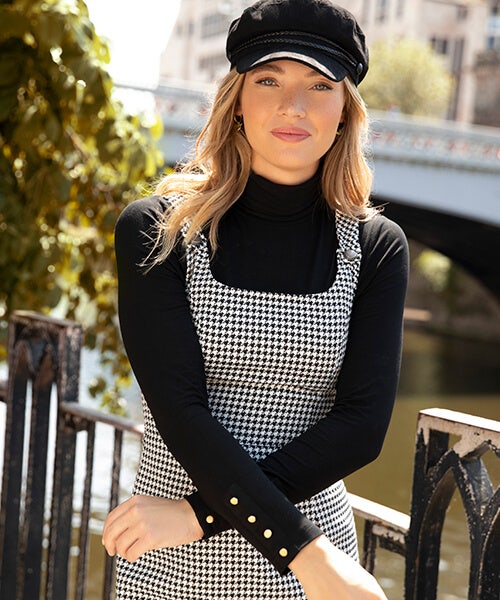 ---
When it comes to channelling that wistful 'end of summer' style, it's all about introducing warmer tones and textures, while still holding on to staple prints and shapes that are reminiscent of summer.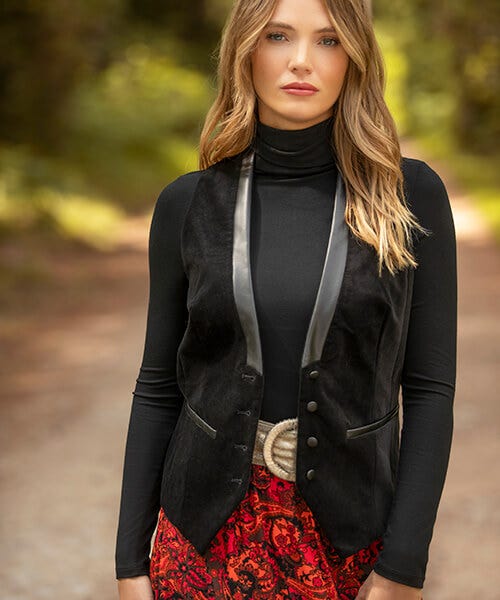 ---
That's where the art of layering comes into play. By simply pairing a few essential autumn/winter pieces with your favourite summer dresses, you can instantly unlock new outfits which are perfect for post-summer styling.
---
Stay Chic in Knee-High Boots
---
---
A timeless favourite at Joe Browns, knee-high boots are the ultimate autumn staple, elevating any outfit with a touch of sophistication. To transition your summer dresses, opt for pairing them with knee-high boots for an instantly chic and cosy look.
---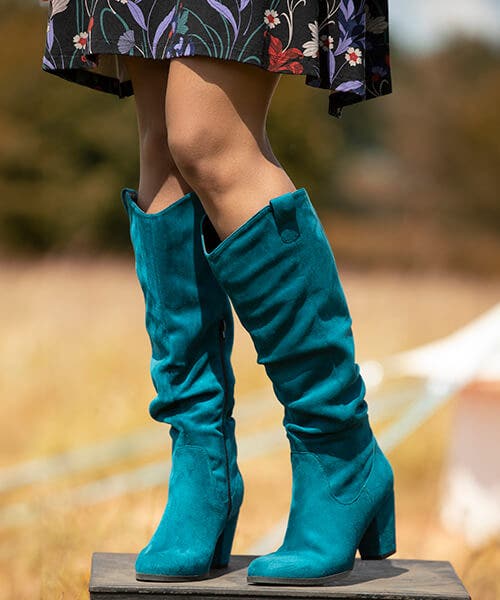 ---
For instance, a flowy floral dress that once exuded summer vibes can be given a fresh bohemian twist when worn with tall suede boots. And the combination of a feminine dress paired with boots creates a beautiful contrast that is perfect for autumn outings.
---
---
Keep it Cosy in Knitwear
---
The Francesca Frill Dress is a classic midi dress that belongs in every woman's wardrobe. Flattering, floaty and feminine, there are two gorgeous colourways to choose from. The pink colourway has a bolder floral pattern, while the other has more of a ditsy floral print throughout.
Featuring a stunning wrap design, an adjustable sleeve tie and short, floaty split sleeves, this dress is not only figure-hugging but also adjustable to different shapes, with details that'll have your bridesmaids feeling confident and elegant. Easily worn again for the races, a garden party or afternoon tea, it'll quickly become a favourite in any bridesmaid's wardrobe.
---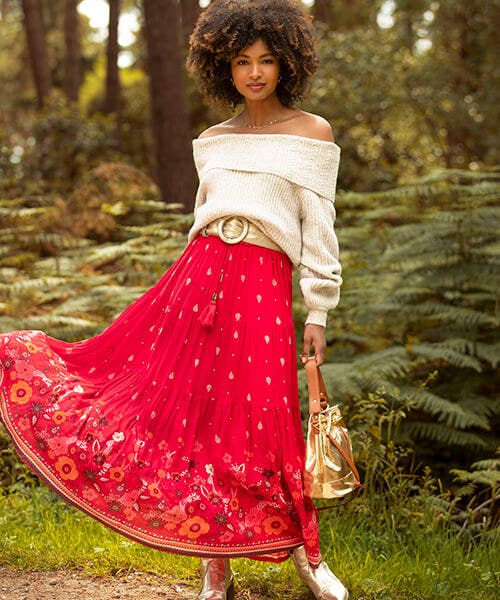 ---
Knitwear is synonymous with autumn fashion, so incorporating it into your summer dress outfits is a seamless way to stay warm and stylish.
---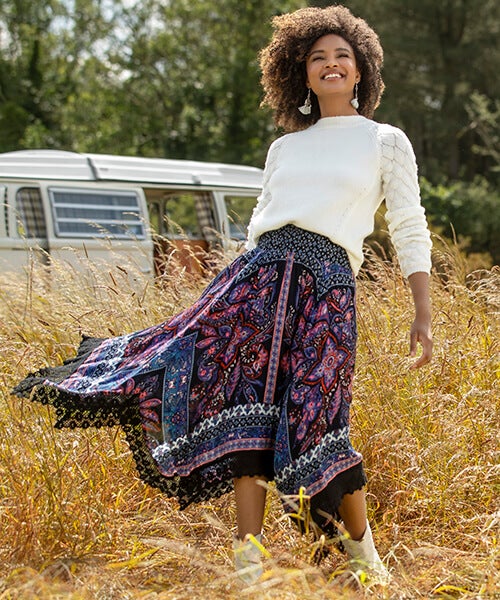 ---
---
---
Embrace Preppy Style with Classic Shirts
---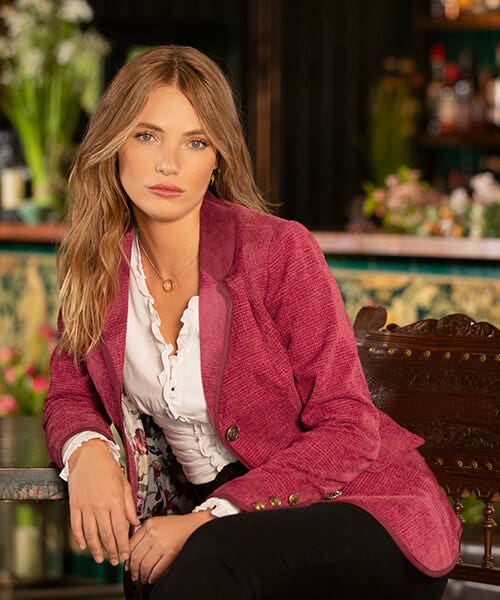 ---
Layering your summer dresses with shirts can instantly add a preppy touch to elevate your outfit. For office-chic vibes, layer a classic white button-down shirt with your favourite little black dress to embrace those monochrome tones. If you're looking for a bolder ensemble, opt for a contrasting colour or patterned shirt with a plain, block-coloured dress.
---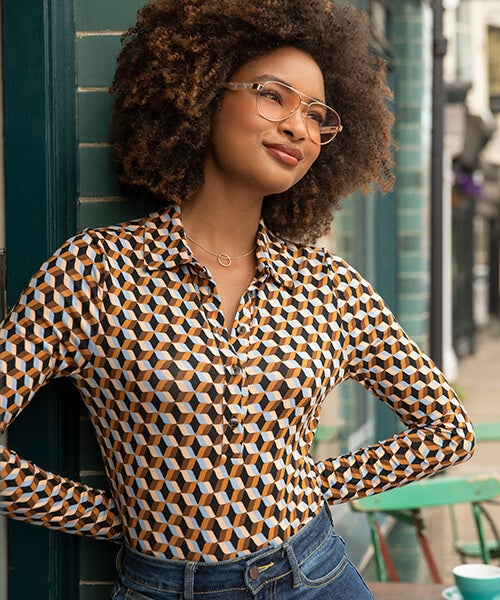 ---
Alternatively, throw your favourite shirt over a summer dress to use it as a lightweight jacket or tie the bottom ends of the shirt for a playful look that hugs your figure in all the right places. Complete the outfit with ankle boots or white trainers and create a perfect blend of summer and autumn styles.
---
---
How to Dress for Different Autumn Occasions
---
Now that we've covered some of the key pieces to style your favourite summer staples with, it's time to consider styling them for different autumn occasions.
---
---
What to Wear to an Autumn Wedding
---
Autumn weddings are enchanting affairs with picturesque backdrops of rusty-coloured falling leaves. So, when styling your look, it's essential to choose an outfit that combines elegance with warm tones.
Opt for darker, rich hues like crimson, burnt orange, deep green, or dark navy to reflect the season's colours. A summer dress with a longer length and a flattering silhouette, such as a maxi or midi dress, is the perfect choice for a sophisticated occasion such as a wedding.
Layer with a tailored blazer for a classic look, or opt for a statement kimono for a more free-spirited, bohemian style. Top off your look with statement jewellery to complete your autumn wedding ensemble.
---
---
What to Wear to Work in Autumn
---
Transitioning summer dresses into work-appropriate outfits for autumn can be effortlessly achieved with a few key elements.
Start with a midi or knee-length dress and layer with a structured blazer or a tailored jacket to complement its shape. This not only adds a polished touch to your ensemble but also keeps you warm during your morning commute or when running lunchtime errands.
Complete the outfit with a pair of closed-toe heels or heeled boots for a professional finish. Tights can also be a great addition to add warmth with skirts while still looking stylish and sophisticated.
---
---
What to Wear to an Autumn Dinner Date
---
For a romantic dinner date in the crisp autumn weather, you'll want an outfit that balances style and allure.
A dress with a touch of lace, satin, or delicate embroidery will give it that romantic finish. Style it with a sleek leather jacket and ankle boots for an edgy yet chic look. Top off your date-night ensemble with your choice of jewellery and a clutch or stylish handbag to tie your finished look together.
---
Discover More Occasion Style Tips from Joe Browns
---
If you're looking for further styling advice across the coming seasons, head to the Joe Browns Inspiration page where you can discover plenty of tips and tricks on how to style fabulous outfits this autumn.
---
Scroll to top