Mix and Match Your Summer Style
Mix and match your wardrobe this summer and get ready to feel incredible as well as maximising your spending at the same time! Follow our top tips to create an amazing capsule wardrobe that you can wear season after season.
Here are our top summer styles that you can easily wear in lots of different ways...
---
Set your summer on fire by investing in our Lovely Mustard Tunic! Injecting some colour into your wardrobe is always a good idea and our beautiful mustard tunic will certainly help to get sunshine on your mind. The simple and easy to wear silhouette and bold block colour make it a versatile piece that can be worn in many different ways, depending on the weather and what your plans are.
For warmer days why not change the rules and wear it as a dress? It looks fabulous worn with our Roman Holiday Suede Sandals and you can keep shaded in style by accessorising with our Monaco Scarf Trim Hat and funky pair of sunnies. For look number 2 team with our Easy Wearing Capris and bold accessories for a stylish day time look. For chillier days simply layer our Quirky Crochet Longline Cardigan to create yet another unique outfit.
---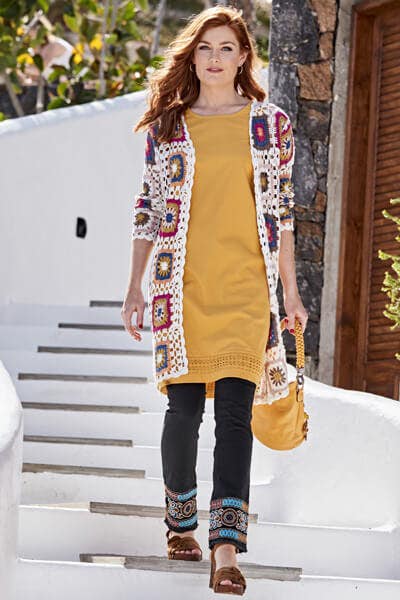 The Dress That Does It All
If you're looking for an eye-catching summer dress, that's super flattering and versatile, then look no further than our Flattering Floral Dress. Designed to make you look incredible and feel amazing, the vibrant style with a beautiful floral design is the dress that does it all!
Make a statement with our first look and really mix things up! We're wearing the buttons open this summer and layering it over a white tee with our Embroidered Flowers Jeans. Of course, we'll still be wearing it as a 'normal' dress too and accessorising in style with our Indian Temple Print Bag for a smarter summer look.
Scroll to top