The Peggy Polka Dot Dress
---
Sweet and feminine with a vintage edge; we're absolutely dotty for this dress! The Peggy Polka Dot Dress perfectly suits an alfresco dinner even in the warmer seasons, meaning you can wear this dress for summer occasions, too! With a classy, less-is-more vibe, we've detailed this dress with a pleated bodice, capped sleeves and a V-neck to complete the vintage silhouette. With a faux wrap over style at the waist, this dress is perfect for a twirl on the dancefloor and a date night to remember.
Pair this dress wonderfully with our Head Turner T-Bar Shoes and matching Head Turner Bag in red to complete this outfit. For a touch of jewellery, we adore the fair trade Star Gazer Silver Plate Necklace that compliments the neckline of the dress to add a touch of personality for a date night under the stars.
---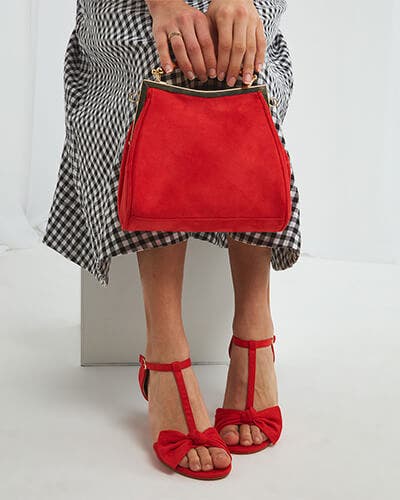 ---
The Maybelle Shirt Dress
---
For a sophisticated, demure style, the Maybelle Shirt Dress is probably our best shirt dress yet! In a pretty pastel blue with an all-over daisy print with three-quarter sleeves this floral frock is a truly classy number. The tie waist sets it off, ensuring this dress hugs in all the right places for a flattering fit that will spark your #Mojoe on the most romantic night of the year.
Carry on the pastel vibe with our Everyway Sensational Shoes to add an extra touch of bling on an otherwise traditional shoe and our Last to Leave Occasion Bag to carry through the floral element. For an added layer for warmth, the Delicate Lace Collar Cardigan beautifully compliments the entire outfit, with balloon sleeves and lace collar detail to create a stunning silhouette.
---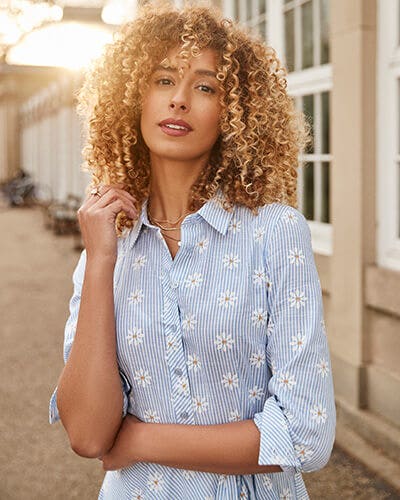 ---
Beautiful Batik Boho Dress
---
There's little we love more than a bold boho dress to make a splash on Valentine's Day. The Beautiful Batik Boho Dress is a striking number, with a batik pattern that's unique to us! The scoop neckline, cap sleeves and an elasticated waist will flatter any body shape while creating a stunning, free-spirited look with the right amount of class for date night.
Wear some traditional shoes and a small clutch bag to complete this outfit, or rock it up totally with Southern Slouch Boots, the Acapulco Pompom Bag and a leather jacket. Top it all off with the Lockwood 70's Fedora to create an enviable boho style to turn heads throughout the day.
---
---
The Erin Shirt Dress
---
With an iconic red polka dot print, this midi shirt dress is perfect for a Valentine's Day out-and-about date. With three-quarter cuffed sleeves, full skirt and belted button through style, The Erin Shirt Dress is pretty and practical, meaning you can stay stylish and stay comfortable from day to night. Whether you're out on the town, enjoying a romantic picnic or simply taking it easy, this dress is the ultimate go-to for spontaneous day, so you can dress for the unexpected!
You can't go wrong with our Got to Have It Pumps and our Joe's Essential Denim Jacket for a day-time date with a smart-casual vibe. Look good and do good with a give-back fair trade style by opting for the Glorious Gingham Bag, and add the finishing details with a fair trade Sweet Escape Spiral Bracelet to complete the ensemble!
---
---
Sant Josep Dress
---
Last, but certainly not least, is the Sant Josep Dress. This vibrant, glorious number is truly unique, with stunning borders and trim, long split sleeves and button through fastening. With such an array of wonderful details, this can be styled however you like to truly stand out from the crowd.
Our favourite way to style this is with our Day In Barcelona boots and Ponte Vecchio Suede Bag. Add a sprinkle of a rocker vibe with the Classic Leather Jacket or feel the boho vibes with the fair trade Carved Fan Tassel Earrings and matching necklace. Whichever way you choose to style it, this outfit is sure to pop among the sea of date night outfits!
---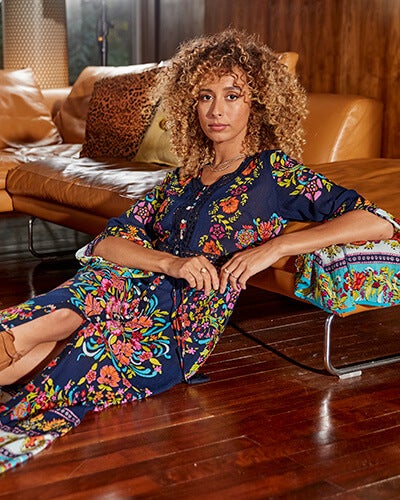 ---
Savannah Boho Dress
---
---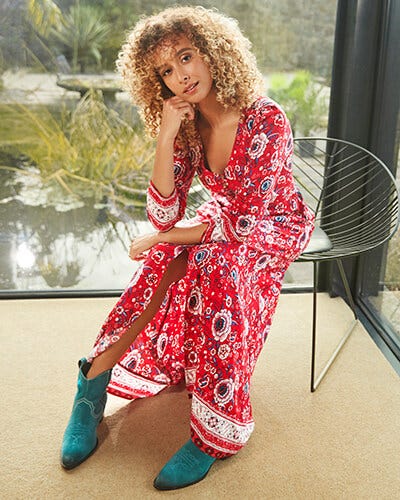 ---
With Valentine's Day less right around the corner, we hope this guide has inspired your choice of outfit to dress for the most romantic day of the year. Whether you have your Valentine or Galentine, the most beautiful thing you can wear is your #Mojoe, and these dresses are sure to bring that out in full force!
Scroll to top