How to Style A Blazer for Any Occasion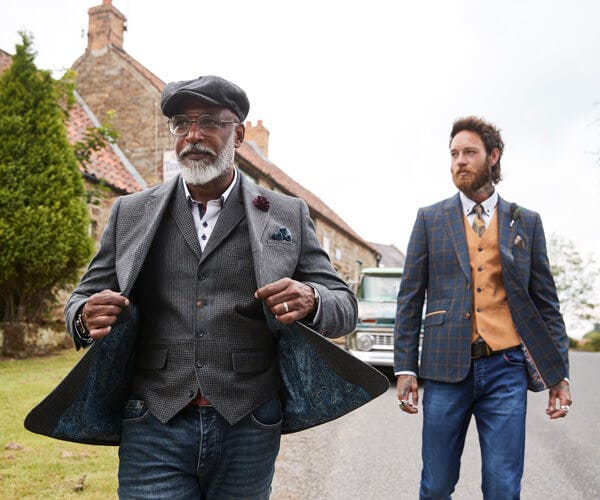 Blazers aren't only reserved for business, weddings and smart occasions, they can also be a day-to-day wardrobe staple. From superb stripes to charismatic checks, a magnificent mixture of patterns to terrific textures, our Joe Browns blazers are a show-stopping item iconic to the very fabric of us as a brand. Such a remarkable piece deserves to be seen time and time again, so get ready to break that bad boy out for your next outing!

Read on to get to grips with how to style a men's blazer for any occasion, and get the most out of your favourite statement staple.
---
Keep it Casual, Keep it Cool
For a casual, sunny day out, whether on an ale trail with friends or a couple's day hitting the shops, opt for your favourite blazer and pair with a bold logo tee, your comfiest jeans or linen shorts and smart shoes for a put-together look without looking overdressed.

A perfect blazer for this is our Joe Browns Charming In Check Blazer. The elastane allows for a comfortable fit and gives a terrifically tailored look, while the pattern complements the bold logo and block colour of your tee.

If a tee seems a little too casual but you still want to stay casual then check out a best selling henley, such as a Joe Browns Versatile Henley. The block neutral colour fits in stunningly with the rest of the ensemble while the absence of a collar keeps it nice and casual. If you're an accessory advocate - reach for the Noah Scarf to create a lovely layering moment when paired with a Packed with Personality Waistcoat.
Putting the 'Ice' in 'Nicely Dressed'
Don't let the chilly weather put you off a statement outfit. While in winter you may be tempted to prioritise dressing for practicality, it's not to say you can't look great while doing so!

Love life even in the drizzly months with our Loving Life Blazer. The wool and acrylic blend will chase off the chill while adding a touch of class to your look. For optimal comfort and warmth, throw on our comfy Tide Funnel Knit underneath. In the darkest of winter when a little more is required, up your accessory game in our Gentleman's Premium Silk Scarf. The rich burgundy colour accentuates the little burgundy details woven into the blazer for a first-class pairing of colours. All of these elements worn with a smart pair of jeans and boots gives a daring edge to the ensemble.

If that's not enough, assemble a devilishly handsome day-to-night look in our Loving Life Waistcoat paired with The Devil is in the Detail shirt. A match made in heaven, promising a palpably perfect look to take you through the day, whatever the weather!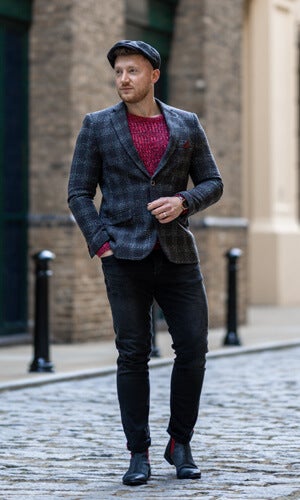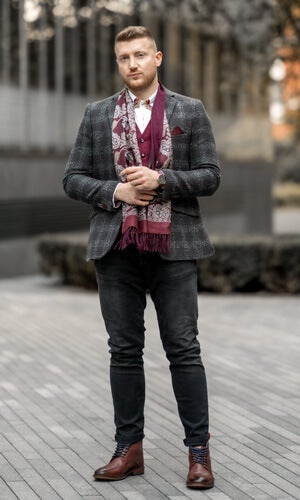 Funk Everything Up!
Colour your life - the Joe Browns way! If your wardrobe is feeling a little stale or you've found yourself in a bit of a fashion funk, we've got just the ensemble for you. Our Full of Character Blazer makes for a wonderful canvas to highlight all of your unique quirks.

Add a splash of colour with the Perfect Paisley Shirt and turn up the sleeves of both the blazer and the shirt to reveal the majestically matched colours between the cuffs and the accents on the blazer.

If you'd prefer something more subtle - another cracking combination would be to throw on our Terrific Triple Collar Shirt. Don't be fooled by a plain white shirt, turn up the cuffs to reveal a subtle design encompassing the Joe Browns flair you know and love. To dress it up, pair with our Full of Charm Waistcoat to complement the brown accents in your blazer. Alternatively, dress it down by opting for a Loved and Lived in Denim Shirt instead. The distressed denim is the perfect juxtaposition to the structure of the blazer that'll keep all eyes on you, whatever the occasion.
Coolest Cat in the 'Hood
The noughties are officially back! Shake up your style and hoodwink your family and friends by turning up in a groundbreaking 'fit. Don a hoodie under your blazer for the ultimate relaxed look. Perfect for a gentle winter walk or an outdoor celebration in chilly weather, this pairing performs in both practicality and versatility.

Take our Crombie-inspired Check Me Out Overcoat and pair it with our Style It Out Hood as the backdrop for your outfit. Add the daring duo Thermal Thick Ribbed Beanie and Ramble On Crinkle Scarf for a splash of colour and your best biker boots for that little extra edge.

For a last-minute look to throw together, look no further than a Distinctive Denim Jacket. Style it down with a henley or your favourite tee, or style it up with a wonderfully whimsical Cut to Perfection Waistcoat and Delightful Double Collar Shirt. Both choices coupled with our overcoat are sure to turn heads!
---
The Outfit Assembly Bible
If you've made it this far, you probably have a clearer idea on how to revive your tailoring to suit any occasion. So we'll leave you with our top tips on styling tailoring to ensure you continue to live your most ostentatious life.
1. Button It!
---
If you have more than one button on your blazer, follow the "Sometimes, Always, Never" rule. If your blazer has three buttons, sometimes button the top one, always button the middle, and never button the bottom.

If you have a two-buttoned blazer, always button the top one, but never the bottom.
2. Accessories - It's not only for the women!
---
For those who have come to know and love the quirky Joe Browns accessories we provide, you know it's not only for the ladies. Capture the essence of a Joe Browns look with a lapel pin, cufflinks, or hats and scarves to really make that all-important impact on anyone setting their eyes on your outfit ensemble. If you're opting for shorts on a warmer day, elevate your outfit with a pair of Joe Browns socks!

Take a look at our men's accessories and see if there's any you can incorporate into an outfit!
3. From Head…
---
Whatever the weather, we have a hat that will compliment your outfit. With tailoring so fabulous, it would be a shame not to cap it off with a Joe Browns hat. Give a nod to Shutter Island into your outfit with a fedora or an element of Peaky Blinders with a Shelby Peaky Hat. To give yourself a more casual look, opt for a beanie.
4. … To Toes
---
Aside from accessories, shoes are another ball game entirely! If you opt for linen or denim shorts, you can't go wrong with a statement pair of Ryder Suede Trainers. If you're aiming for a more casual day look, add some edge with our selection of Joe Browns boots or style it up and add a touch of class with brogues or derby shoes.
Scroll to top