Menswear: New Year, New You, NEW SALE!
Happy new year!
---
As we enter into 2022, if we've learned anything from the last few years, we need to live every day to its fullest – and that starts with dressing tip-top to feel your best to carry out life's adventures.

The new year brings the perfect time to breathe some life into your wardrobe without tugging on the purse strings, and there's plenty more of that chilly weather to endure, so why not invest in some staple winter pieces at remarkable prices? If that's not enough, a lot of Joe Browns menswear is transitional – so you can wear our styles season after season, looking and feeling absolutely cracking, all year round.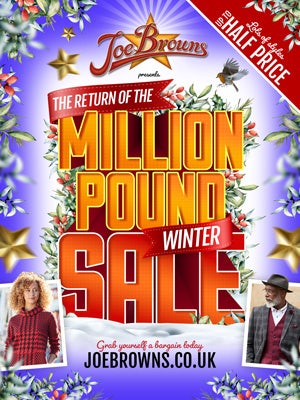 Fabulous Flock Shirt
---
For you men who want a dapper style to boogie into the New Year with, look no further than the Fabulous Flock Shirt! This subtle yet jazzy style is super adaptable to any outfit... Simply tuck into a sturdy pair of jeans for a classic look or go for that elegant chic with a pair of tailored trousers. At the amazing price of just £20, this one's an absolute steal!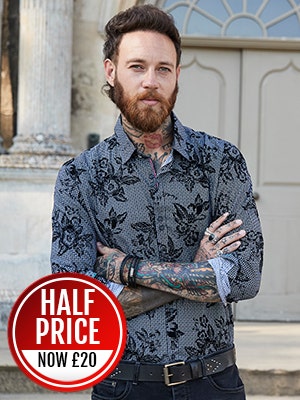 Style It Up Jacket
---
Christmas may be over, but we're not quite ready to say goodbye to that winter breeze! The Style It Up Jacket is the perfect transitional piece for those days where you need a few more layers without compromising on style. The colour block design and playful buttons puts a funky spin on your everyday style and certainly isn't one to miss at the amazing price of £39 - that's over 50% off!
Confident and Cool Straight Jeans
---
Dressing comfortable has never looked so good! The perfect pair of blue jeans to throw on can be yours for only £17 in Joe's winter sale – we can't believe it! Providing a fantastic, straight fit with more classic charisma than you can shake a stick at, the Confident and Cool Straight Jeans are an absolute essential to every man's wardrobe. At an absolute steal with over 50% off, it'd be rude not to!
Into The Wild Cardigan
---
Knitwear is all the rage for the transitional months and an absolute layering staple to inject some texture and colour into your outfit ensembles. The Into The Wild Cardigan is an absolute fave from this season. The traditional Ikat textile and patterns boast vibrancy that's sure to turn heads to the new you for 2022. With over 30% off at £47, this is the perfect way to inject colour into your style.
Snap Out Of It Oiled Boots
---
If all that's missing from the new you is a solid pair of boots to take you through life's little adventures, then look no further than our Snap Out of It Oiled Boots. Made from real leather, they're an absolute steal sitting at £39, get yourself 40% off these stompers that'll match any pair of trousers in your wardrobe. Dress them up with an edge with a slim or skinny fit jean, t-shirt and jacket or dress them down with a straight-leg, t-shirt and a hoody. The options are endless!
Has anything else caught your eye? Shop the entire sale to find styles to suit the new you or take a deep dive into our Inspiration Section to get to grips with styling your outfits to turn heads for all occasions.
Scroll to top