Swim Sustainably with our NEW Swimwear Collection!
Sustainable Swimwear
---
It's not long now until we spend days at the sea, lounge by the poolside and have picnics on the beach. It's days like these that are ones creating memories and make us feel lucky to be among such wonderful surroundings. If you're keen on preserving pristine beaches and maintaining crystal clear waters, then my, oh my, do we have something for you!

This season, you can look fabulous and do your bit to help the planet with not one but TWO new lines of swimwear – each item containing recycled polyester made from recycled plastic bottles! Each item's outer lining is made up of 84% recycled polyester, so you can shop consciously and still rock a Joe Browns swimsuit.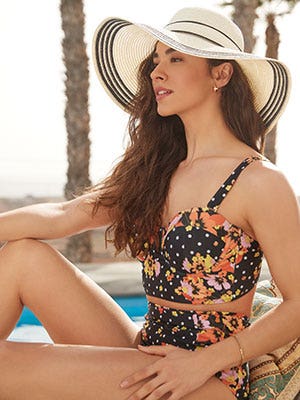 Retro
---
We love nothing more than a retro throwback – and Joe's time machine has taken us back to the 70's! In a tasteful clash of prints with flowers and polka dots, we have some fantastic mix-and-match pieces to suit any body shape so you can look great, feel great and be diving into in the water faster than you can say "Groovy, baby!"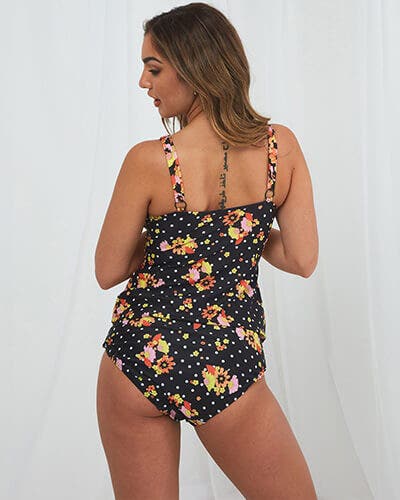 ---
The One-Piece
---
This classic cozzie can't be beaten! The Retro Belted Swimsuit's clashing print comes in two colourways, with the contrasting side panels highlighting the hourglass shape of the waist. The belt adds dimension and detail to the costume as a whole, allowing you to wear the costume, not the other way around. Let your #Mojoe shine bright for all the world to see!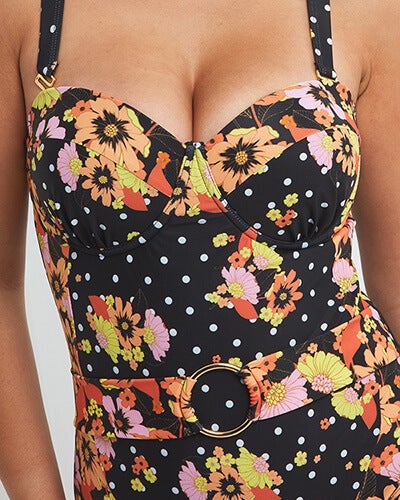 ---
The Tankini Top
---
For those who want all the benefits of a bikini bottom, but would feel comfortable covering up a bit more on top, the Retro Reflections Tankini top is a great option! (And also acts as an emergency tank top when on holiday or – let's face it – laundry day!) Whatever makes you feel best is what you'll pull off, as confidence is key. Be confident in a tankini, and confident you've done your bit for the environment.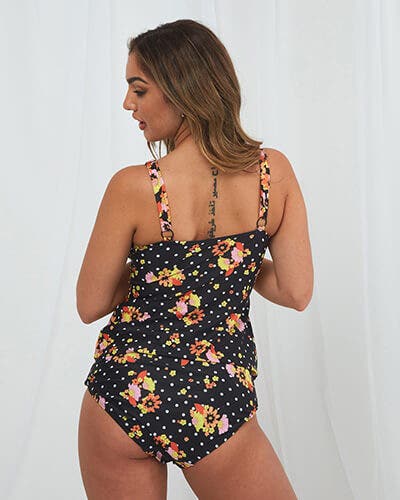 ---
The Swim Skirt
---
In yet another two fabulous colourways, the swim skirt is for those who like to cover up a little more on the bottom. The Retro Reflections Swim Skirt is a perfect combination with either a bikini, tankini or one-piece, and adds a super-cute femininity to an otherwise traditional look of swimwear.
---
---
The Bikini Top
---
With more structure and a longer length than a traditional bikini top, the Retro Longline Bustier offers support without compromising on comfort, as it resembles a half-way between a crop top and a bikini top. The thick strap over the back is sturdy, keeping everything where it should be, so you're free to frolick in the fresh sea breeze as much as you like! Aside from the immaculate structure of the piece – it also looks astonishing. If you're daring enough, it can even be worn with a pair of high waisted flares for a retro 70's festival look!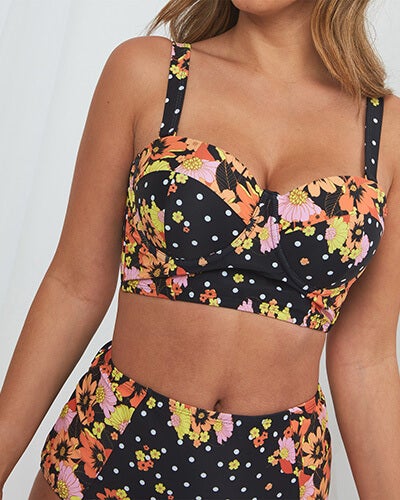 ---
The Brief
---
Panelled, high waisted, floral and feminine; the demure Retro Panelled Brief style is to die for! In true retro style, when worn with the bustier, this set offers more support, with more surface area covered than a modern bikini. The retro vibes give off glamour and sass so you can feel completely confident in your sustainable swimwear. Alternatively, wearing a tankini ensures a cover from shoulder to hips, and a swim skirt pairs wonderfully with this, too!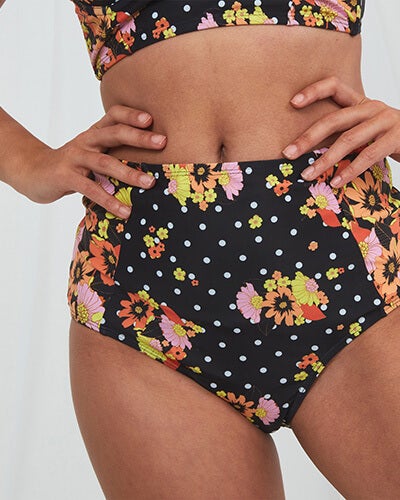 ---
Boheme
---
For the free-spirited, the Boheme look is the one for you! With beautiful boho vibes, terrific tassels and pretty paisley, we've got boho completely covered in this wonderful, sustainable range. The outer fabric of each item is made from 84% recycled polyester, so you can look good as you do good!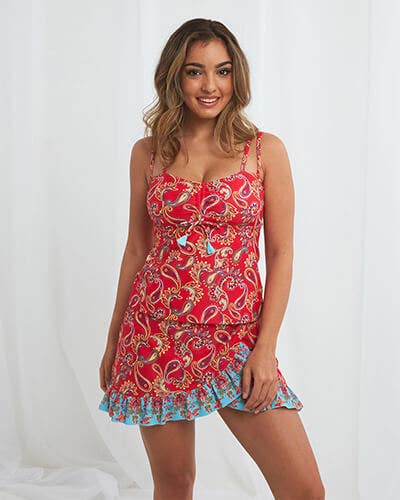 ---
The One-Piece
---
This Boheme Tassel Swimsuit looks luscious, with a contrasting ruffle over one shoulder and rouching from the waist and over the hips. The detail of this one-piece is extraordinary, with the ruffle detail guiding the eye upwards and the rouching flatters and hides the stomach. This piece is perfect for those who may feel self-conscious, with the boho look looking stunning when paired with a sarong!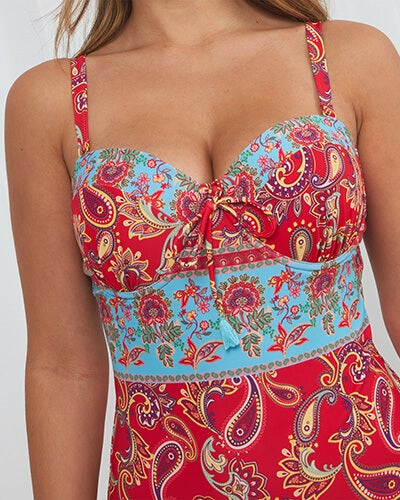 ---
The Other One-Piece!
---
That's right, there's two one-pieces in this line! (Never say we don't spoil you.) For a flirty, feminine effect, the Boheme Tassel Swimsuit is a showstopper. In a classic silhouette, from the ruching at the hips, this is sure to be a stand-out piece. The underwiring at the bust and flattering fit ensures this hugs in all the right places.
---
The Tankini
---
In that wonderful prink paisley print with ruching at the bust, this top screams sass and style. In fact, Joe's team designed the Boheme Tassel Tankini to be unique, so we know you'll be excited to show this one off! With structure that never compromises on comfort, you can feel supported while you turn heads.
---
The Swim Skirt
---
The Boheme Brief Skirt is one to try if you're wanting something a little different this summer. With an inner brief and comfortable waistband, comfort is a top priority, so you can focus on looking fabulous in the stunning boho design.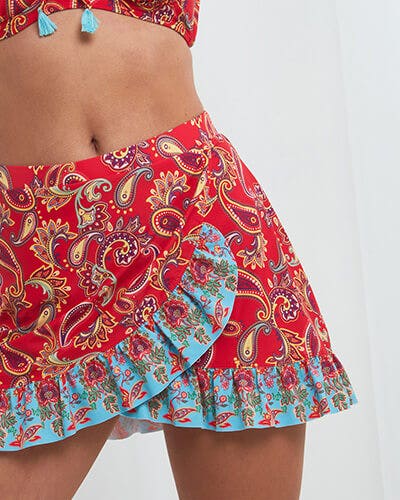 ---
The Brief
---
For those with a unique sense of style, your swimwear search is over! The Boheme Tassel Brief compromises of a high-waisted brief encapsulating the stunning pattern you've seen throughout the lin. With tassels at the ruched sides, you're in total control of how ruched you want them to be. Customise to your own liking and strut your stuff down at the poolside or by the sea.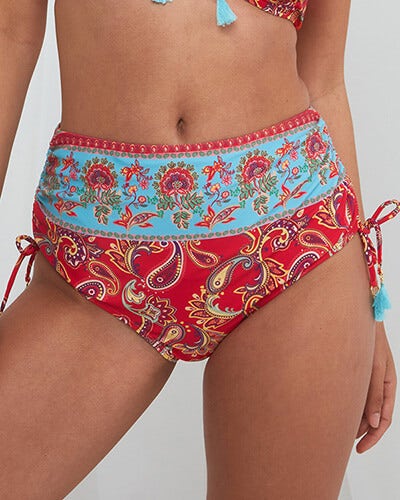 ---
The Bikini Top
---
As bold as it is beautiful, the Boheme Halter Bikini Top features a halterneck design with ties to fasten. The super-fun contrasting tassel trims dance along the top line of the bust and meet with a stunning bow at the centre. Pair with your choice of brief and prepare to look a total knockout!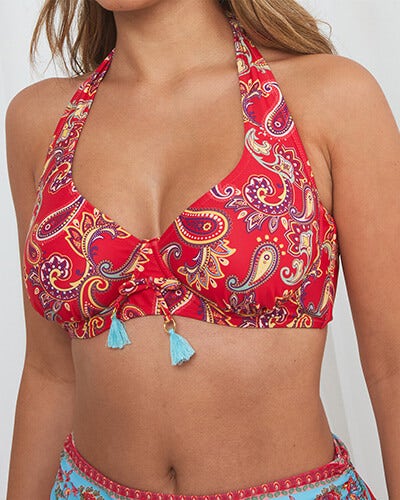 ---
Do good, look great. Donning a swimsuit and feeling amazing is just one of the things that'll really have your #mojoe springing into action. Whether you're frolicking by the sea or sunbathing at the poolside, you'll know you've done something good for our planet.
Scroll to top