Eleven 80's-Inspired Outfits to Find Your Own Sense of Strange.
---
Grab your roller skates, we're going back to the 80's! Since season 4 of the widely acclaimed Stranger Things is coming to our screens in just a couple of short weeks, we're taking you through our 80's outfits!
Step into our DeLorian for Eleven (heh) nostalgic throwback-inspired pieces.
Feel Fabulous in The Ravishingly Retro Zip Up Denim Dress
---
With an amazing 80's style and silhouette, made entirely of denim, The Ravishingly Retro Zip Up Denim Dress is a knockout for a summer full of adventures. With voluminous sleeves and a fabric belt to bring you in at the waist, this classic denim number guarantees you'll be turning heads, bringing together femininity and an edgy 80's vibe, Nancy-style.
---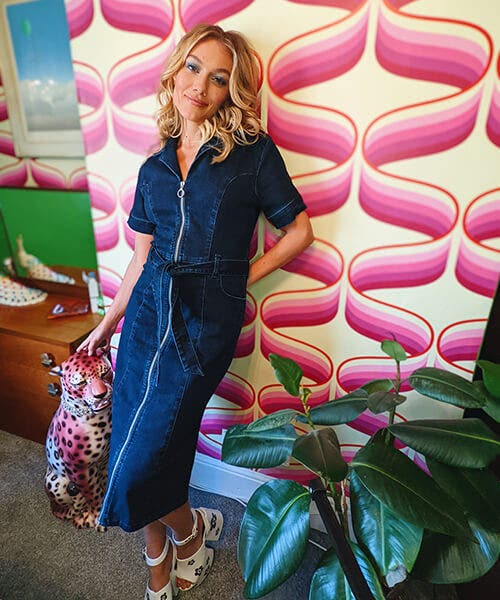 ---
Step Back to the 80's with a Ravishing Ruched Sweater
---
Stunning in sage, the Ravishing Ruched Sweater has a beautiful eyelet-knit design that fits beautifully on any figure. The cropped body remarkably compliments a pair of 80's high-waist 'mom' jeans, and the adjustable ruched front can be adjusted to just how you like it, so you can simply feel demo-gorgeous!
---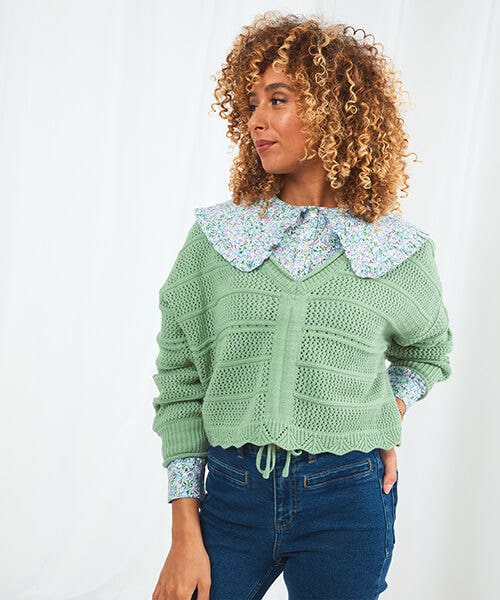 ---
Jump for Joyce with our Over Easy Dungarees
---
Come on, Eileen, is it even the 80's without a pair of denim dungarees? Our Over Easy Dungarees have a classic oversized fit for that laid back retro vibe, that'll leave you jumping for Joyce. Now made with sustainable content, you can look good and do good for the Earth – even from the Upside Down.
---
---
Our Jackie Retro Skirt: Barb's Vintage Vibes but with a Touch of Edge
---
In what would easily be Barb's favourite look; the Jackie Retro Skirt brings together beautiful boucle fabric woven with pink and purple hues, featuring pretty button detailing and a silhouette that skates the line between short and classy. Pair this with any sweater or retro tee for a simply adorable look to add a smart touch to your everyday lifestyle.
---
---
Delicate Ditsy Prints: Feel Feminine When Taking on the Upside Down
---
In two fabulous colourways, the Delicate Ditsy Boho Top features a gorgeous all-over floral print and a fabulously versatile design. With puff sleeves, dress this up or down thanks to the option of a retro off-the-shoulder look. Simply pair with jeans and heels for a date night or dress down with a pair of fun shorts and pumps for a playful everyday look.
---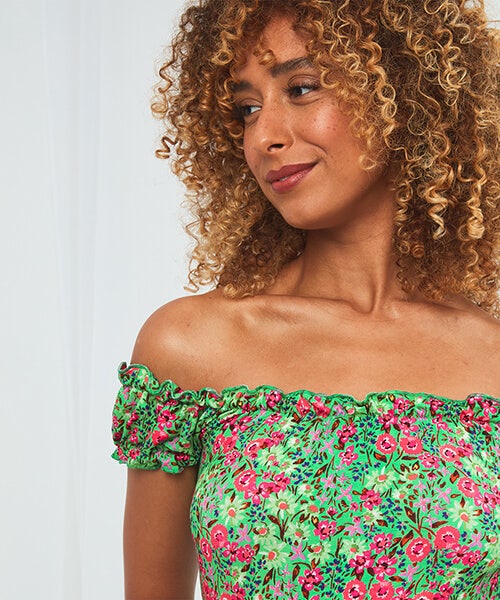 ---
Feel Demo-Gorgeous in our Retro Vibes Cardigan
---
There's nothing we love more than a good retro knit. The Retro Vibes Cardigan screams fun, making this knit the perfect throw-on item for a graphic tee and your trusty jeans to give off a super cool vibe for browsing the record stores. We can't get enough – if you want something that adds that bit of personality, this is the one, thanks to its funky chevron pattern and slouch design.
---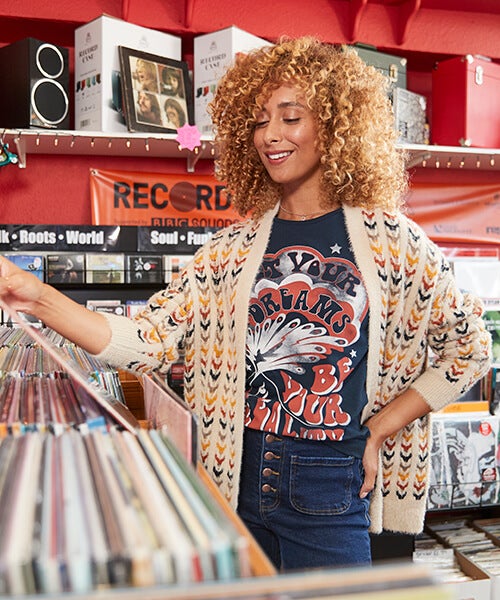 ---
It Wouldn't Be Stranger Things Without a Leather Jacket
---
Everybody who was somebody had a leather jacket in the 80's. Our Luna Lattice Leather Jacket has received only the best Joe Browns treatment. In a stand-out grey-blue colour, let the lattice detailing do all the talking. If there was one investment piece for your wardrobe, it would be this one. A good leather jacket is never gonna give you up, never gonna let you down. (Gotcha!)
---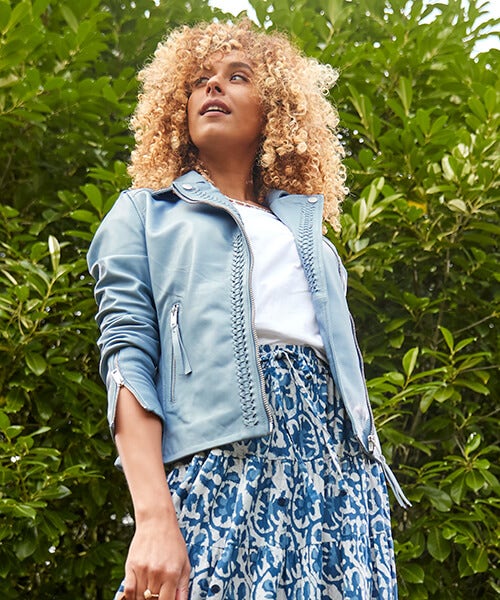 ---
Capture Jonathan's Cool Vibe in Our Retro Vibes Tee
---
For you Jonathans with an understated cool vibe, our Retro Vibes Tee is for you. With classic vibrant colours reminiscent of Dark Side of The Moon and a bold cassette graphic, you can make a statement and evoke memories of the good ol' days. If you can't decide between "Should I Stay or Should I Go" - you should go for this t-shirt!
---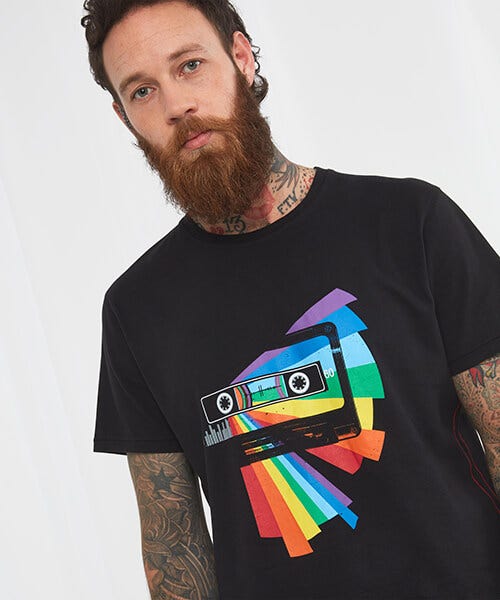 ---
Ooze 80's Nostalgia in Our Retro Style Shirt
---
Our Retro Style Shirt perfectly captures 80's nostalgia with a little dash of edge. This fun-loving shirt gives off major Hawaiian vibes with its monochrome floral print and statement revere open collar design. The 80's was all about those statement shirts, so you're sure to stand out from the crowd – for all the right reasons.
---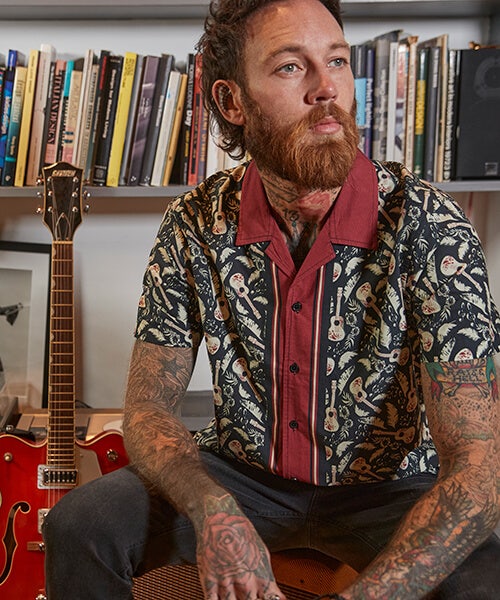 ---
Feel Fearless in our Good Times Suede Jacket
---
Look sharp and sleek in this red suede jacket inspired by true Western style. The Good Times Suede Jacket has been treated to give off a vintage feel and pintuck detailing creating a seriously suave style that'll look cracking teamed with your favourite jeans and boots.
---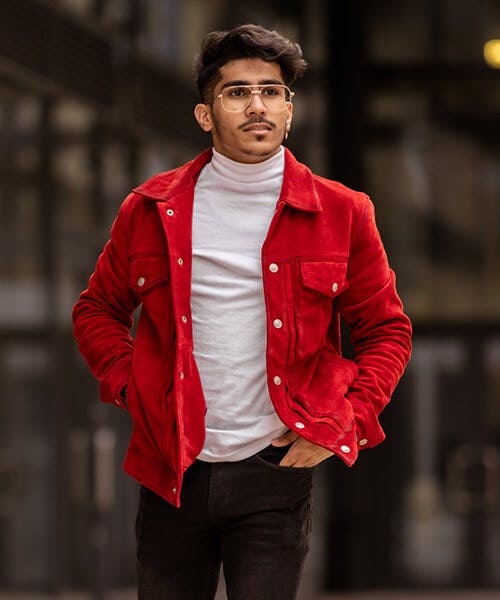 ---
Splendid Straight Fit Jeans For the Perfect 80's Vibe
---
Channel your inner Hopper with the Splendid Straight Fit Jeans. The perfect everyday go-to, roll them up at the cuff for that real 80's vibe, pair with your favourite sneakers and a graphic tee for a more casual day look. To take it up a notch, layer up with your favourite flannel and top it off with a trucker cap for that bad-boy heartthrob look.
---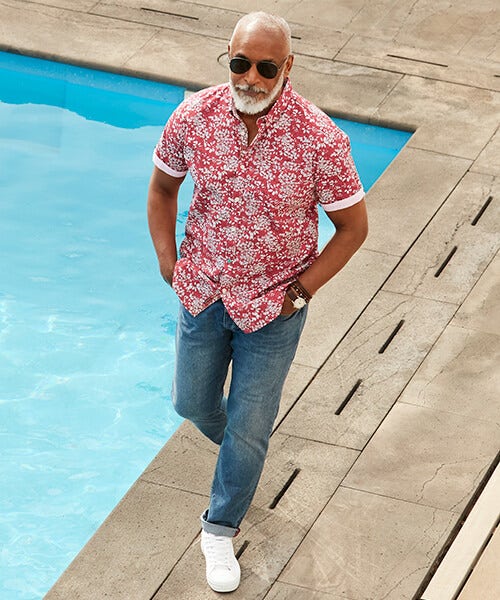 ---
There you have it! Eleven 80's inspired pieces to celebrate the release of Stranger Things Series 4. We hope we've inspired you to find your own slice of strange within these Remarkable Things.
Enjoy the new season – we know we will!