Velour, Devore and Velvet... What's The Difference And How Do I Wear Them?
---
Velour, devore and velvet… these glamorous, luxuriously soft fabrics make the perfect women's wardrobe staples. From classic velvet maxi dresses for special occasions and devore embroidered wrap tops that take your office wear to the next level, to chic velour loungewear so you can look stylish when getting cosy on the couch.
Prepare for endless compliments when you style our velvet, velour and devour pieces season after season. But first, you may be wondering what is the difference between velvet, velour and devore? And what's the best way to style them to perfection? Joe Browns share the exclusive style secrets of these sophisticated fabrics…
Velour
---
Velour is a plush women's fabric similar to velvet, used for soft furnishings, skirts, dresses, hats and more. Here at Joe Browns we love velour fabric as it really evokes the true feeling of the season. A glamorous, versatile fabric that is perfect for casual loungewear to remarkable occasion wear - velour is a flattering fabric for everyone!
How to Wear Velour?
---
Velour fabric is typically associated with winter but when styled correctly it can easily be worn all year round. Show your unique personality and elegance in velour floral printed pieces in spring or richer red shades for winter. Velour clothing is perfect for wearing to summer parties or to layer up and look fabulous at your Christmas festivities.
---
Joe's Top Velour Picks
---
Strut your stuff in our top four Joe Browns velour pieces that you can take through to every season:
Valencia Velour Dress
Our Joe Browns Valencia Velour Dress is perfect for all your festive parties. The velour fabric evokes the true feeling of Christmas, but it's the gorgeous festive red colour and remarkable flared angel sleeves that really brings the luxe factor. This velour dress is a flattering style to fill you with confidence.
Loretta Velour Dress
Step out in this stunning ladies' Loretta Velour Dress and you are bound to steal the show at every party. From the enchanting midnight blue colour to the puff sleeves, every detail on this velour block-coloured dress gives it a glamorous feel. Elegant and eye-catching, it's made to be worn with your favourite accessories to make this style your own.
Starry Night Velour Tunic
Style this stunning women's velour tunic season after season. Made with shimmering metallic embroidered stars for extra detail, this soft velour piece is perfect for any occasion. Add leggings and long boots or leather look skinny trousers for an edgy festive look this year.
Starstruck Velour Dress
This Joe Browns Starstruck Velour Dress is a classic black dress with a difference - it's the perfect Christmas party dress! Thegorgeous, studded diamantes, deep cuffs and stand-up collar brings a real luxurious touch to your wardrobe and is perfect when paired with your favourite strappy heels, belt and bag to add effortless elegance while showing off your unique style.
Velvet
---
Velvet is a remarkable type of fabric that truly embraces seasonal glamour. With a distinctive soft feel, this super smooth fabric will feel fabulous against your skin. Plus it's no wonder velvet pieces stand out as they make for the ultimate Joe Browns occasion pieces. Whether it's stylish boots or classic accessories, it's the perfect fabric for elevating any outfit!
How to Wear Velvet?
---
Velvet works well with timeless wardrobe staples, whether that's classic opaque tights, bootcut jeans or a stylish midi skirt, velvet pieces are effortlessly versatile for any occasion. Spruce up your winter walks in the park or turn heads at your next formal occasion, velvet can be worn in countless ways!
---
Joe's Top Velvet Picks
---
Get in the groove with our top four Joe Browns velvet pieces that you can take through to every season:
Celeste Velvet Dress
The Celeste Velvet Dress is one of our most popular dresses this season - and for good reason! It's the beautiful knee length style with keyhole detail that first gets the attention, but it's the voluminous golden sleeves that keeps all eyes on you. An LBD with a difference, style it your way to make an entrance.

Starlight Velvet Dress
Another LBD with stunning starlight embroidery; our Starlight Velvet Dress brings an instant touch of luxury to your wardrobe. We love how its silver embroidery really pops off the black velvet to give some sparkle with a point of difference here.

Midnight Cruched Velvet Dress
Look and feel opulent this Christmas with Joe's Midnight Crushed Velvet Dress. In a beautiful emerald green colour, we've designed this bodycon style to hug in all the right places with a dramatic pleated cowl neck for the perfect balance. All it needs is your favourite accessories to step into Christmas with style.

Starlight Velvet Trousers
Without a doubt, the Starlight Embroidered Velvet Trousers are the ultimate when it comes to style and comfort. With silver brocade embroidery and a flattering high waist and flare shape, there's no stopping the confidence these trousers will give when you wear them. pair them with your favourite blouse and let the compliments come in spades.

Devore
---
Devore is a fabulous fabric technique used on velvet to make beautiful patterns that everyone will love. This luxurious fabric effortlessly elevates any outfit. From glamour devore dresses to oh-so striking tunics that are flattering on every figure - devore is a versatile fabric that will transform your party styles or equally, make for beautiful comfy loungewear!
How to Wear Devore?
---
If you're looking to take your style to the next level, devore fabric is the choice for you.. For a casual day look, devore pieces look perfect with a classic pair of jeans. If you're heading to a formal event, opt for a devore maxi dress with opaque tights and a trendy pair of knee-high boots. Devore garments are the ultimate special occasion piece thanks to the softness of this luxurious fabric.
---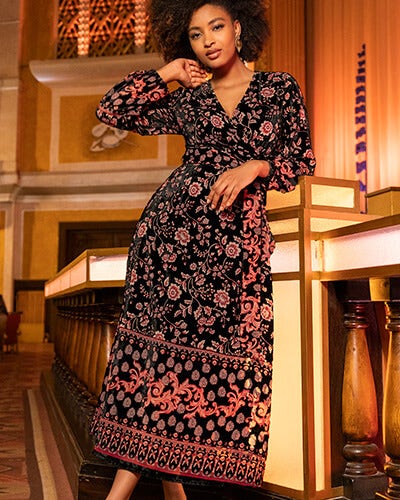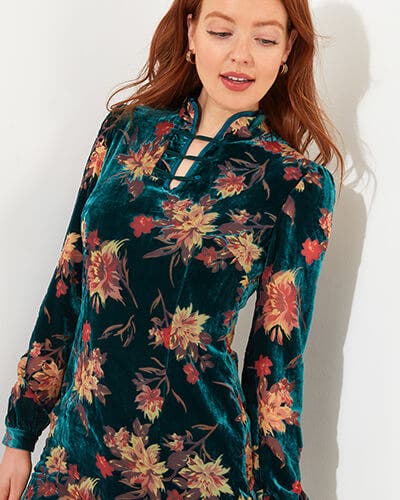 Joe's Top Devore Picks
---
Exude Joe Browns charm and elegance with our top four devore pieces that you can take through to every season:
Dramatically Different Devore Dress
Stylish and delicately detailed, this Dramatically Different Devore Dress ticks all the right boxes. With pretty shirring, this elegant wrap design is finished with a tie belt to create a stunning silhouette. With this head-turning piece, there's no question you'll step out feeling fabulous this season.

Ultimate Devore Dress
Simply showstopping, the Ultimate Devore Dress is designed to make you feel fabulous. With straps and a cowl-neck design, this fully-lined piece is made to help you feel absolutely fabulous. Rich, opulent and bang on-trend, style this your way to reflect your unique sense of style.

Joe's Favourite Devore Tunic
Elevate your festive style with this must-have devore tunic. Joe's Favourite Devore Tunic has a stunning floral print offset beautifully by the high mandarin collar. Full of feminine details, wear with dark jeans or PU leggings and your favourite boots to feel simply stunning.

​​Destiny Devore Tunic
Full of whimsical boho details, the Destiny Devore Tunic brings a splash of elegance to any festive outfit. This V-neck style boasts a luxurious golden print that perfectly complements the deep forest-green base. Perfect for whatever Christmas has in store for you, dress it down with your favourite jeans or keep it slick with some leggings and heels.

Scroll to top