5 Essential Spring Jackets for Women
The Leather Jacket
---
No woman's wardrobe is complete without a classic leather jacket, and we have three colourways just for you this season! From a pastel baby blue with lattice detailing, a gorgeous green in our classic silhouette to a raucous red with studs, you can choose the jacket that matches your wardrobe and add an instant edge to any outfit. Pair the red Marty Leather Jacket with a classic black palette with red features throughout or the Luna Lattice Leather Jacket with flowing boho skirts and boots to let your free spirit sing!
---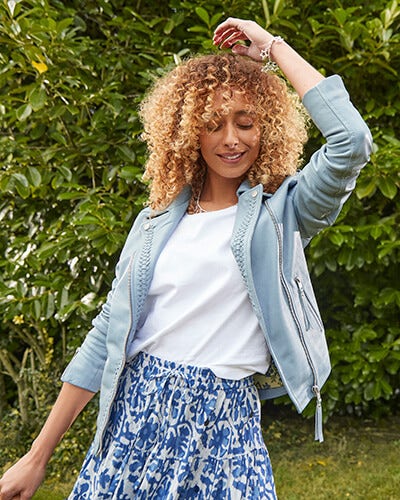 ---
The Suede Jacket
---
If suede is more your thing, feel flirty in our Soft and Sweet Suede Jacket. While the rosy-pink colour nods to your feminine side, the biker style zip fastening, and collar studs convey an enviable edge to this outfit. Wear with your favourite graphic tee, flares and your favourite boots for a stunning silhouette to turn heads all day long. This is the perfect leather jacket for a feminine outfit, with a touch of attitude.
---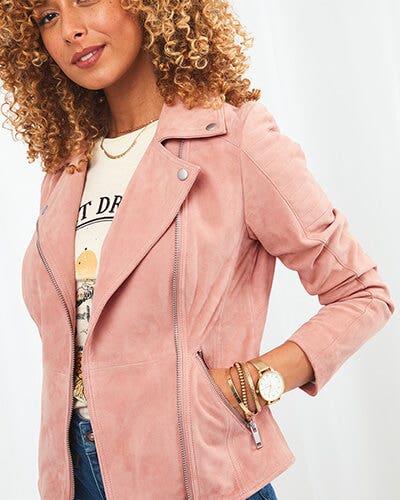 ---
The Statement Jacket
---
Straight from Joe's boutique line, The Ultimate Statement Jacket gives a subtle nod to a military-style double-breasted silhouette, complete with delicate lace trims and a rich tapestry effect throughout. This jacket looks stunning when paired with your favourite jeans and a classic white blouse to let the jacket do all the talking, and believe us – when you wear this jacket – people will be talking. (In the best possible way, that is!)
---
---
The Denim Jacket
---
Everyone needs a classic denim jacket to flaunt during spring – and all year long, for that matter! Joe's Essential Denim Jacket is a total go-to. In a classic washed denim, you'll look effortlessly stylish no matter what the day has in store for you. In a traditional Western Style, prepare to say 'howdy' to this essential jacket day after day throughout spring and summer. Pair this perfectly with a midi sundress and trainers, or even a graphic tee and skirt for a day full of possibilities!
---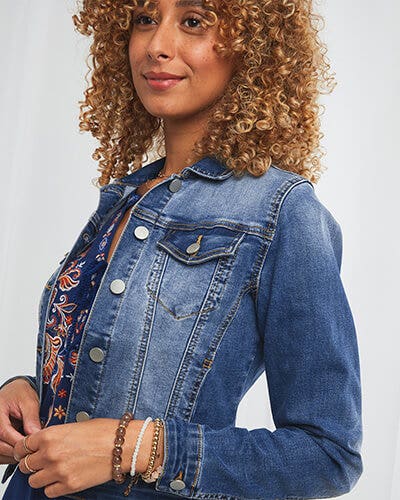 ---
The Embroidered Jacket
---
Last, but certainly not least, from Joe's boutique, our Exquisite Embroidered Jacket is a showstopping jacket jam-packed with stunning detailing to elevate any – and we mean any – outfit. With magnificent, intricate embroidery on the shoulders and back, this jacket screams Joe Browns. The popper and stud detailing couple with the buckled sides give a distinctive, daring edge that's offset with a classic structure and floral colours peppering the design. There are absolutely no limits to what you can pair this with – it rocks, plain and simple.
---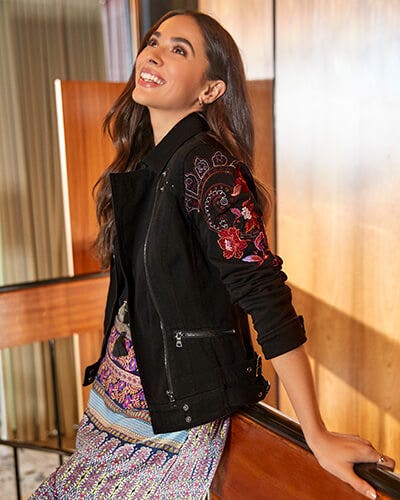 ---
If anything has made you think twice about updating your spring jacket collection, it's has to be one of these gorgeous pieces. Elevate your wardrobe this spring and debut your #Mojoe in total style. It'll be one to remember; mark our words.
Scroll to top