---
The Definitive Summer Event Styling Guide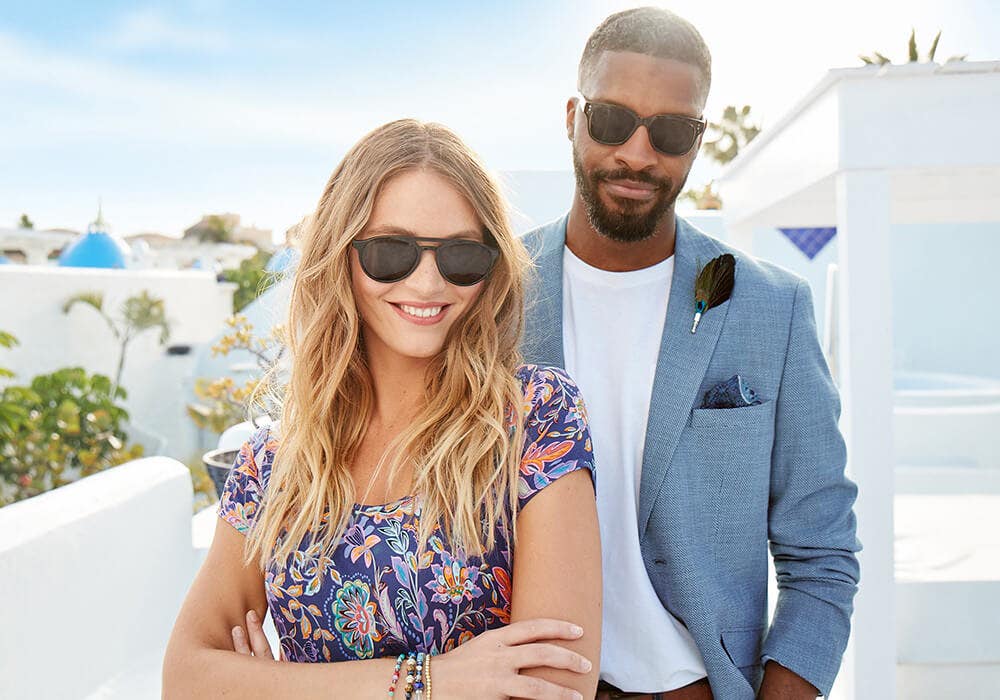 ---
The weather is slowly getting warmer and our calendars are filling up with events and parties to celebrate with friends under the beaming sun! The only question is: What do we wear?
Joe is on hand with our definitive summer styling guide to any event you may come across. From the races and flower shows to basking in the sun at glorious garden parties and BBQs, find the perfect outfit for each dress code.
Is a wedding quickly coming up in the near future? You're in luck! Check out our Bridesmaid and Beyond article for women's occasion styling and the Suited & Booted article for men's tailoring. If you are – or know of – a mother of the bride or groom, here's our styling advice for that big day!
Prepare to dress your best and let the good times roll with this summer party styling guide!
---
---
Stylish Outfits for The Races
---
Horse racing from York Races to the Grand National is a huge summer event where people frequently go all-out – fascinators included – but there are a few small tips for how to style your outfit for the races that come in handier than you think!
---
---
For women, betting on the horses or not, there's little opportunity to have a seat when you're at the races, so having a shoe that supports your foot at a height you're comfortable with is absolutely essential to last the entire day. Choosing a shoe that won't get stuck in the grass is also preferable, but not vital. If you prefer a little more height, keep the heel short and opt for a wedge or platform to stand an extra couple of inches taller.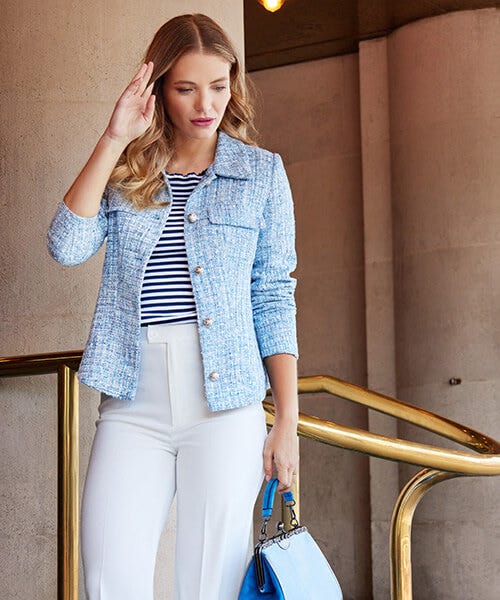 ---
When it comes to dresses, florals and frills are your best bet – so you can go all-out for this occasion. We love our aptly named Day at The Races Dress for this event, but any floral dress or occasion dress will do. If you're not wanting to wear a dress, opt for lighter coloured trousers and a blazer to still look the part. Don't forget a sun hat or fascinator to protect yourself from the heat!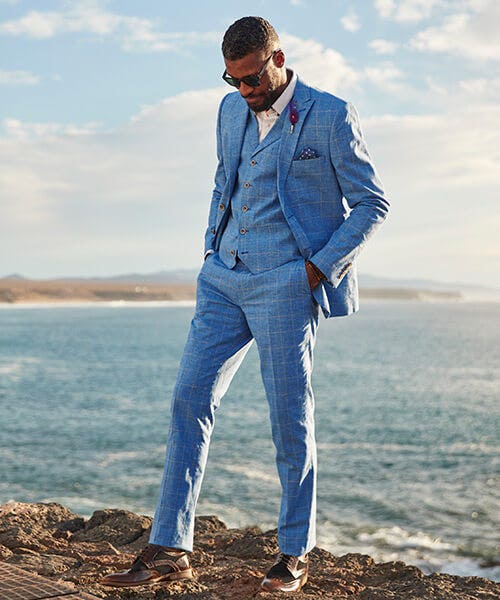 ---
When it comes to races outfits for men, a three-piece suit in summery colours or linen material is ideal but not totally essential. If you'd prefer to have as little layers and possible, we recommend sacrificing the waistcoat. If you prefer to keep your style dapper and classic, wear a crisp, plain collared shirt, or even a double-collared shirt if you're feeling funky! If you want to be more playful with your style, add a Joe Browns funky shirt or floral shirt to show your cheeky side. Be sure to pair your dress shoes with your suit to look the part from top to toe.
---
What to Wear to Flower Shows
---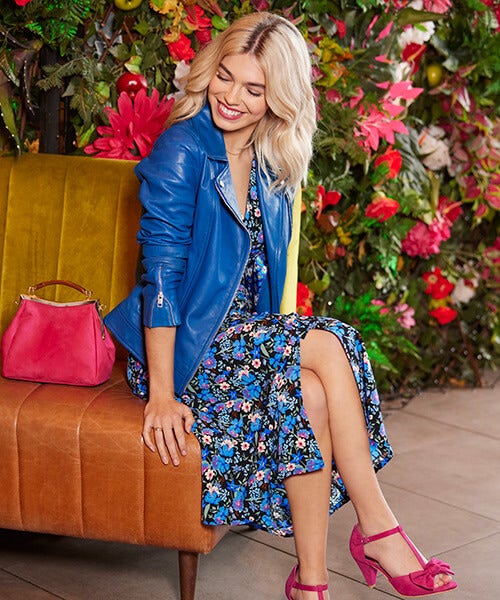 ---
It can be tricky to know what to wear to Chelsea Flower Show, Blenheim Palace Flower Show or Harrogate Flower Show, as they're all very similar, but with slightly different dress codes. Don't worry – we're on hand (and have plenty of floral styles so you can match, too!) to ensure you don't turn up over-dressed or worse... under-dressed.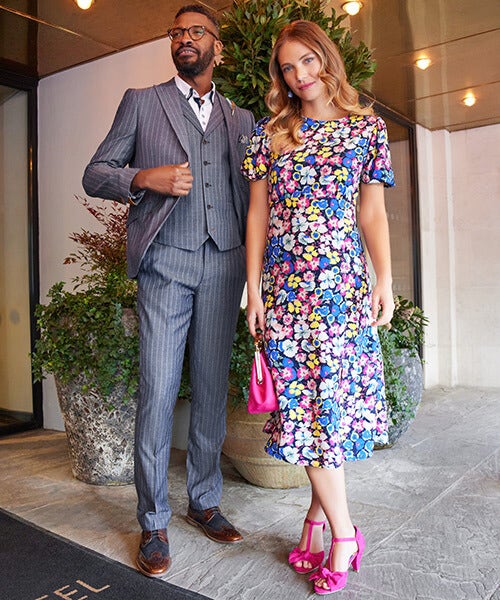 ---
Our rule of thumb is on the smarter side of casual. The trick is; the more northern, the more casual you can pull off. Some people even go all out for the Chelsea Flower show. Tea dresses, shirt dresses and vintage dresses are your best bet, as these are just the right amount of formal and fun. Floral dresses are always great for a flower show, so be sure to dress it down with a pair of cute pumps or ankle boots and a cute cardigan to enjoy the full day in stylish comfort.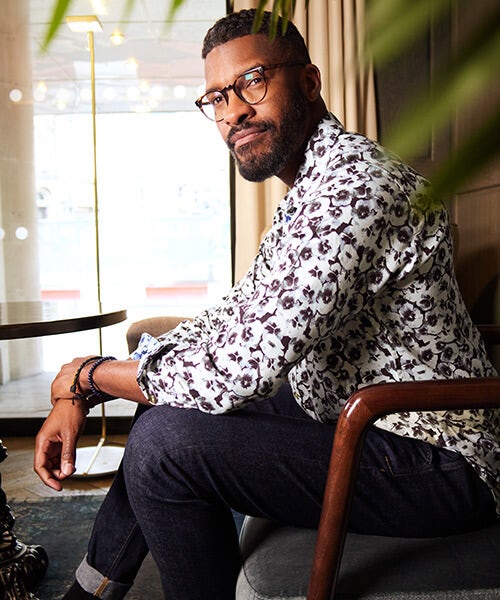 ---
For the men, we recommend a smart collared shirt and a pair of smart jeans or chinos for that classic put-together summer look. If the day is a little on the chillier side, consider a piece of knitwear which should match perfectly with a collared shirt or a tailored jacket or blazer to dress the ensemble up a little more. Just add your favourite smart shoes or brogues and you're ready for a floral adventure! Don't forget to check out our men's floral shirts, too – they're perfect for flower shows.
---
Wimbledon Outfits for Men and Women
---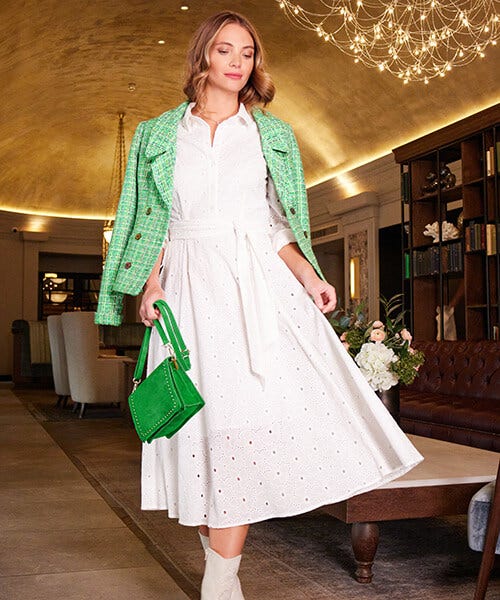 ---
If you're eagerly looking forward to Wimbledon or even fortunate enough to have a courtside ticket, here are the best outfits to wear at this exclusive summer event for men and women. Although there technically isn't a dress code enforced, here's what not to do. No ripped jeans, dirty trainers, running vest or sports shorts or anything with a large graphic or political statement on it. Now, let's get into the good stuff.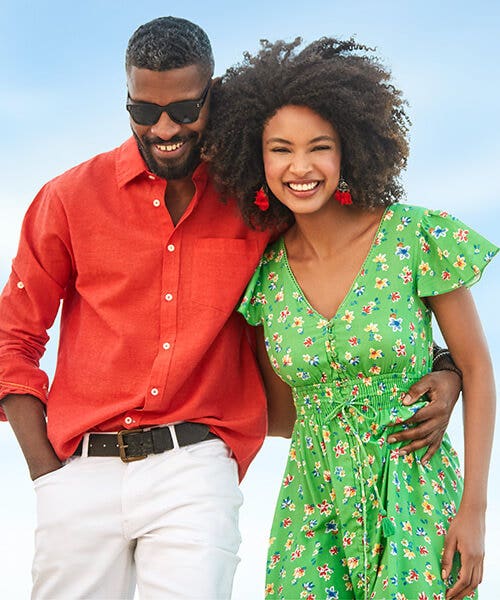 ---
For the lovely ladies, look to wedding guest attire for inspiration. It's not absolutely critical to wear white, so try some pastel colours, or even our strawberries and cream-themed dress! Usually, people tend to picnic on the iconic Murray Mound, so wearing a patterned floral dress is a sure way to avoid any pesky grass stains. Aside from occasion summer dresses, other options are a trendy jumpsuit, skirt and smart blouse or a women's two-piece suit for a tailored approach. Whichever option you choose, make sure you have some statement accessories to go with it. Sunglasses and summer scarves are a chic must-have for Wimbledon!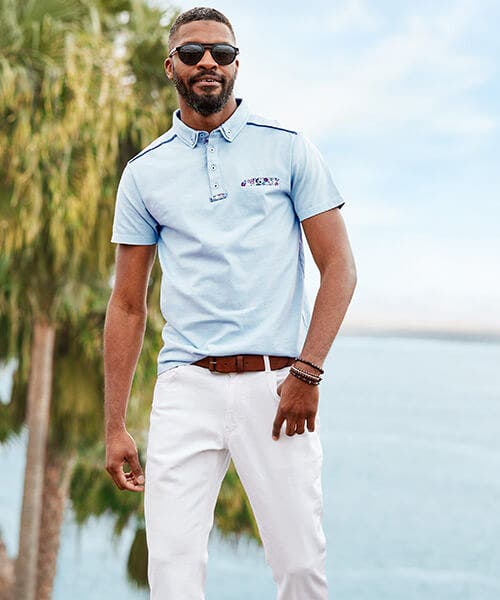 ---
For the men, if attending Wimbledon and wanting to dress dapper, a lighter suit in a neutral or blue tone, or with a classic pattern such as checks is a timeless option that'll both keep you cool under the sun and comfortable while viewing the tournament. If you want a slightly more casual option, then you can't go wrong with a button-down plain shirt and some tailored shorts that fit perfectly into the smart-casual dress code. Men's shorts did used to be frowned on and have only recently become more acceptable – so tailored shorts are a must to keep in with the crowd.
---
What to Wear to a Garden Party or BBQ
---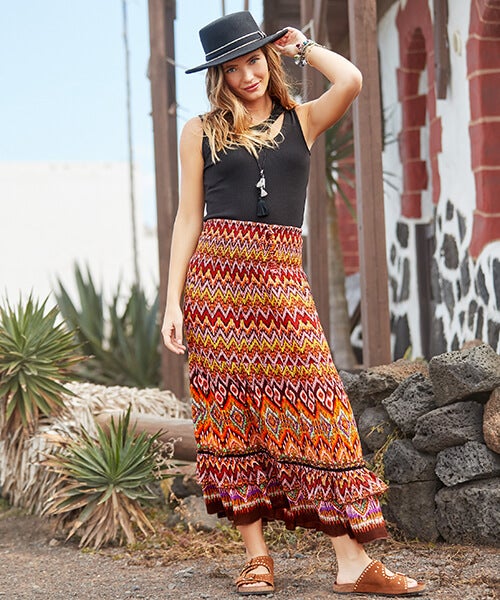 ---
Finally, garden party season is here and what better way to embrace the summer than basking in the sun with a drink in hand for a garden party?
From garden parties to BBQs, there's only a few things you need to build an outfit. The two C's - colour and comfort is the way to go.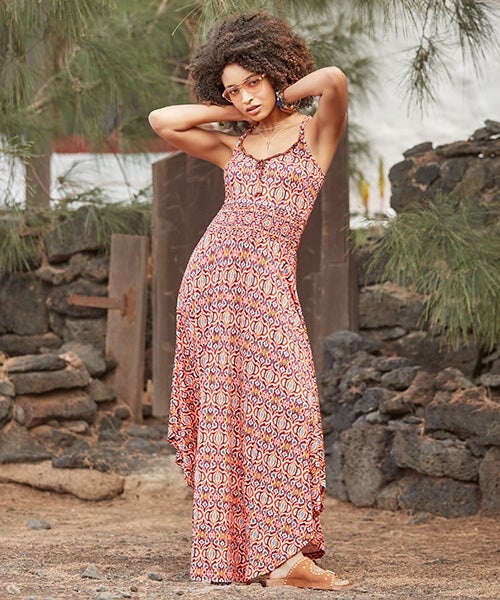 ---
Ladies, we recommend a lovely summer sundress that'll allow you to feel summery and feminine. Treading the line between smart casual and summer fun, we recommend something with ruching or an elasticated waistband to ensure comfort from day to night. From skirts to easy breezy floaty dresses, find something that captures your sense of unique style and rock it from daylight to starlight.
---
For the gents, we love a funky shirt, and garden parties and BBQs always call for some fun styling. Whether you're enjoying a cold one with the guys or showing off your grill skills, dress to impress with a Joe Browns funky shirt. To step your style up a notch, wear it open with a plain tee underneath and add some cargo shorts for the ultimate summer smart casual style.
---
Eurovision in the UK... What Should I Wear?
---
Lastly, Eurovision is almost upon us! Hosted in Liverpool this year, some of you may be lucky enough to have a ticket! For those who are attending, or simply attending a Eurovision party with friends or family (we totally recommend it!) then you may wonder; what should I wear to a Eurovision party? The answer is simple. Dress your best in the funkiest things you love.
Eurovision is known for its theatrical performances and eccentric acts, so dress accordingly with something sparkly, loud or clashing for some great photo opportunities and a night to remember. The best part is, there's absolutely no dress code, so you can let your imagination run wild! The choice is yours, so be loud and proud for Eurovision in the UK this year.
---
---
Get ready for any event with this definitive summer styling guide, and don't forget to check out other occasion styling guides below to put a spring in your step this summer. It's going to be a fun one!

Keep your eyes peeled on our inspiration page for the latest style tips for a summer of fun, and share your summer styles with us on Facebook and Instagram!
---
Scroll to top