Sandy Shores and Sandals: Your Summer Shoe Guide
Gladiator Athena Sandals
---
The perfect black sandal to match any outfit is the Athena Studded Leather Sandals; a gorgeous sandal giving just the right amount of edginess that will effortlessly pair with anything in your summer wardrobe. Packed full of detail from the gladiator style with shimmering stones on the outsides to the buckle adornment and studs on the leather, these sandals create the perfect laid-back boho look for your summer holiday.
---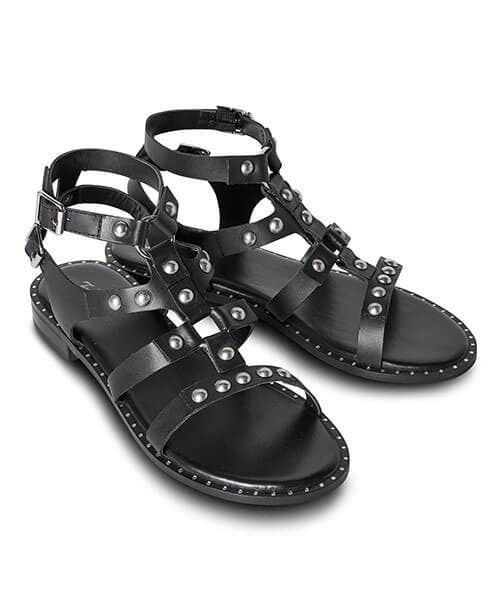 ---
Shimmering Dragonfly Sandal
---
If you're looking for something more fun and feminine than the gladiator sandal, but want all the comfort of the flat sole, opt for the Shimmering Dragonfly Sandal. With gorgeous bead decor and adorned with a bejewelled dragonfly, this pair of sandals oozes sensational glamour. Embrace the joy of summertime every day you don these fun little numbers.
---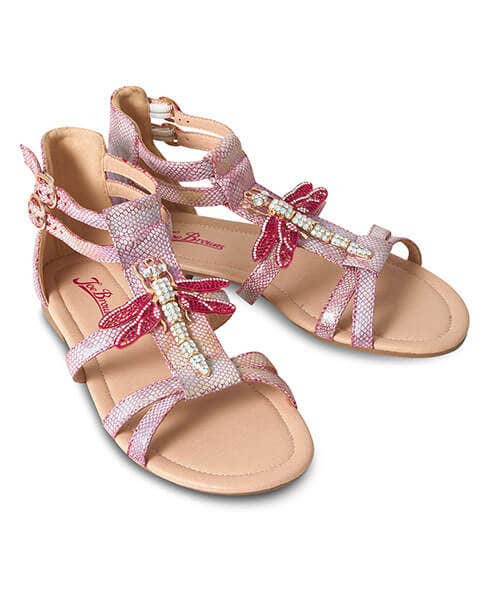 ---
Hand Beaded Seahorse Sandals
---
For a more neutral colour palette to match an array of outfits with all of the embellishment of the shimmering dragonfly sandal, the Hand Beaded Seahorse Sandals can't be missed from your holiday shopping list! The flat sole and neutral silver-grey straps ensure you can pair them with ease and comfort, while the beaded, delicate seahorse in the aqua, blue and white beads gives just the right amount of detail to let the shoe sing like a siren at sea!
---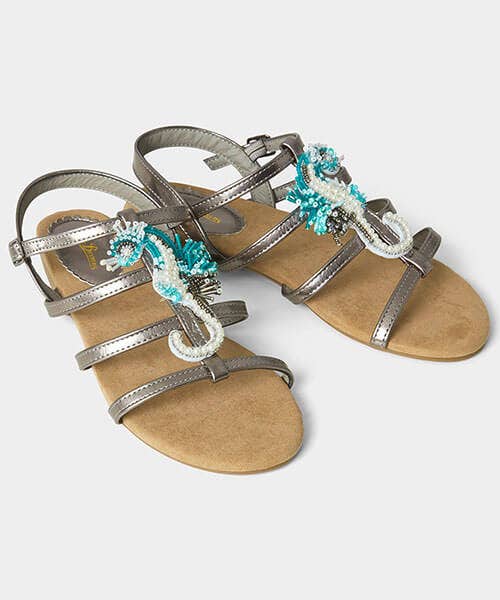 ---
Heatwave Sandals
---
If you're on the hunt for a statement pair of sandals, you've found them with the stunning Heatwave Sandal. This gorgeous woven style brings together a lush array of bold, sunny colours and Aztec styling, making this pair of shoes the perfect summer statement, whether you're paddling in the sea or lounging poolside in comfort and style.
---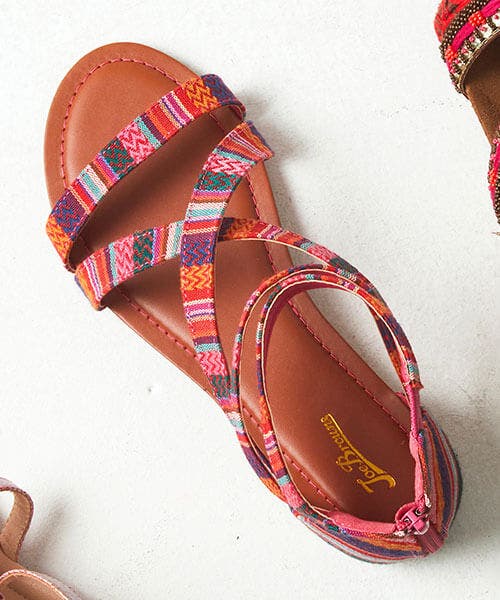 ---
Indian Summer Leather Sandals
---
For those who want to exude opulence, your go-to should be the Indian Summer Leather Sandals. Dripping in diamanté and beading detail, this is a sure winner. As a bonus, these shoes will go with almost anything in your wardrobe as the neutral colours of the sandal and dazzling detailing will let your elegant outfit shine under the summer sun. What's not to love?
---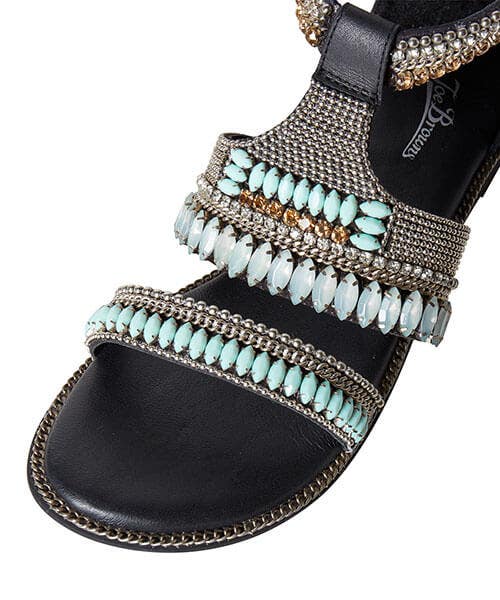 ---
Ibiza Shores Mule
---
Let's take a trip down memory lane in 90s Ibiza style with the Ibiza Shores Mules. These fun little numbers give off that carefree vibe with their joyful colour combo and fringe detailing. The mule style makes these mules easy to slip on or kick off as you go about your summer adventures, whether it's to the bar for cocktails or dining at a seaside restaurant.
---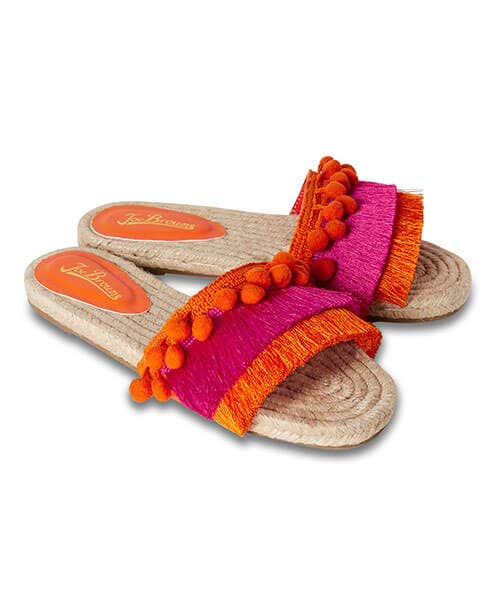 ---
Search the Sun Tassel Sandals
---
For those who want something remarkable with a little wedge added, your search is over with our Search The Sun Tassel Sandals. Made from real leather, it's the tassel detailing and woven straps that make this pair a total knockout. With a comfortable footbed sole, you're promised comfort all day long while looking chic to boot (or sandal)!
---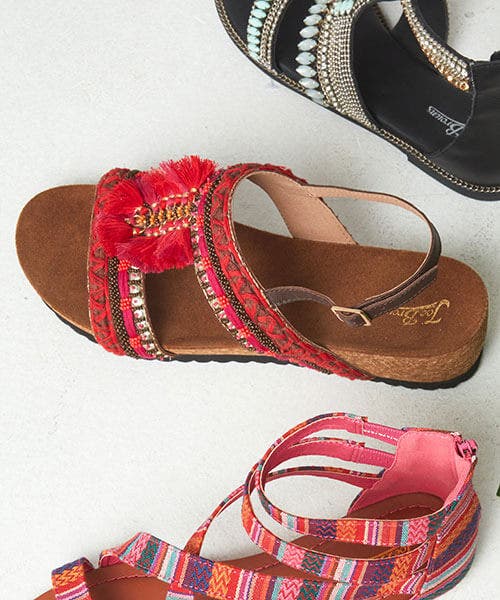 ---
Sweet Georgia Wedge Sandal
---
You didn't think we'd leave off the ultimate out-out sandal, did you? Fear not, our classic wedge sandal is back and better than ever! The Sweet Georgia Wedge Sandal adds a raucous retro look with a nod to the 70s thanks to its dramatic wedge and warm colour combo. The jacquard fabric straps are packed full of woven detail and finished off with a subtle sparkle to complete this groovy look that'll be turning heads left, right and centre.
---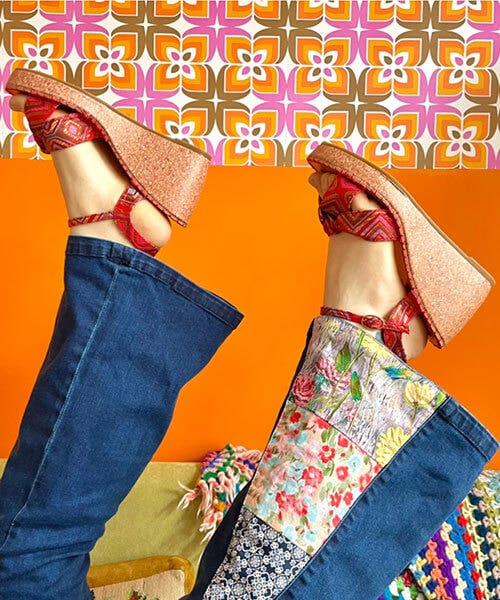 ---
If that's not enough summer inspo for you, be sure to check out our brand NEW high summer range, brimming with personality and colour to welcome the summer sunshine back into our lives.
Your summer wardrobe is out there, waiting to be discovered... what are you waiting for?
Be sure to keep in the loop with us on our Facebook and Instagram, or check out our summer styling guides on our Inspiration page!
Scroll to top