Enjoy a Sustainable Sleep with NEW Boutique Nightwear!
---
---
We feel this is the perfect time to bring you a NEW range of nightwear – not only have we brought out a gorgeous boutique collection, it's part of our sustainable range, so you can sleep in sustainable style.
With the days getting warmer and the central heating in a purgatory period of readjustment, we're wanting to switch out our woolly Christmas PJs for something a little lighter to aid a wonderful night's slumber. Take a dive into your next pair of perfect pyjamas and explore our boutique collection.
The Kimono
The centrepiece for this entire collection must come first. Our Boutique Tiger Print Kimono Robe is a total showstopper. Unleash your wild side with this truly remarkable piece. From the sustainably-sourced slinky satin style fabric to the contrast pale pink trims and everything in between, this kimono oozes elegance. Create a statement, even in your nightwear. The dynamic tiger print on the back, tie waist and exaggerated kimono-inspired sleeve will have you feeling elegantly fabulous on those lazy summer mornings.
---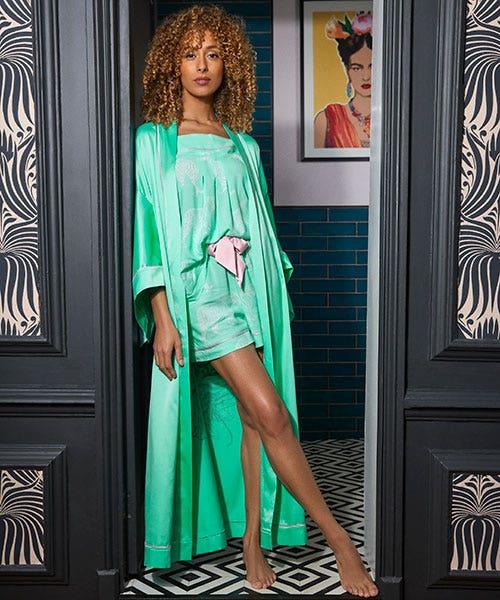 ---
The Nightie
---
Carry a touch of luxury into your nightwear collection with the Boutique Tiger Print Nightie. In a fabulous mint green colour with box pleats and contrast pink trims, the opulent tiger print brings a camisole slip design together with a classic Joe Browns twist. Fun, flirty and flattering, we guarantee you'll be looking forward to cosying up in complete comfort every night.
---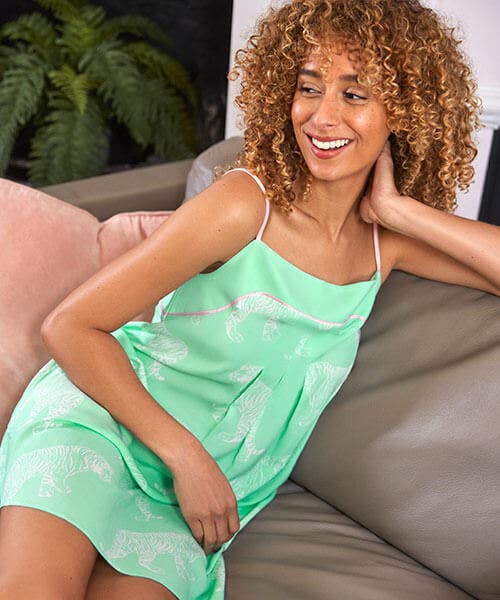 ---
The Cami
---
Feel wild in our Boutique Tiger Print PJ Cami. The aqua colour and white tiger print, offset by the pale pink piping, is packed full of Joe Browns charm. Mix and match with any short or PJ bottom and enjoy the sustainably-sourced, silky satin style fabric so you can look the part while doing your part to help the planet.
---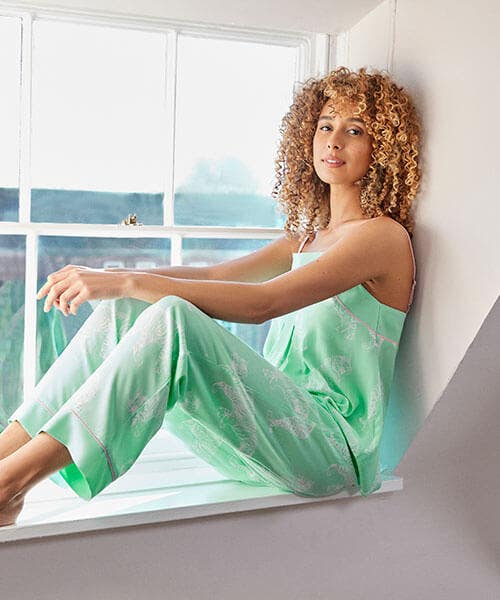 ---
The PJ Top
---
We have a variety of options for your PJ top. Each in a classic button-up style, try something different with our Boutique Tiger Print Collared PJ Top. In a pink satin style fabric with all over animal print, puffed sleeves and a stunning collar, this sweet PJ top is packed full of the usual detail you'd expect from Joe Browns that can't be found anywhere else.
In a choice of two stunning colourways, the Boutique Tiger Print PJ Shirt comes in both pink and aqua, so you can choose this traditional collared style to match your bottoms and your personality. With plain cuffed sleeves and a cosy satin style fabric made from sustainable fibres, you can expect to feel fabulous when you snuggle up for a blissful night's sleep.

---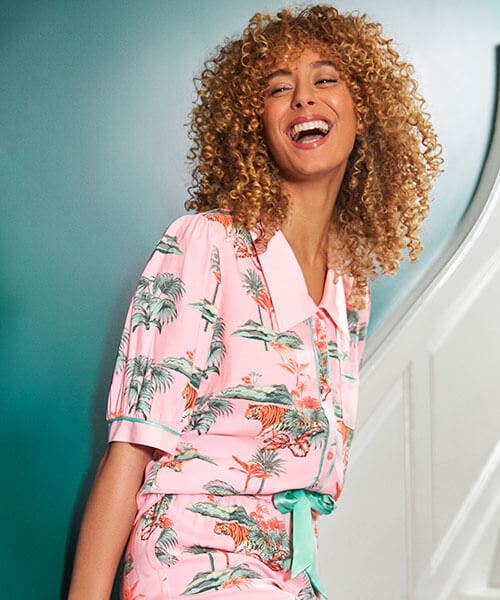 ---
The Shorts
---
Do you overheat while you sleep or hate feeling restricted by PJs? The Boutique Tiger Print PJ Shorts are your must-have. With wonderful detailing and ribbon tie waist, effortlessly elevate your nightwear with remarkable style. In both pink and aqua colourways, you can mix or match your PJs between prints, top, shirt or cami – whatever you feel most confident in!
---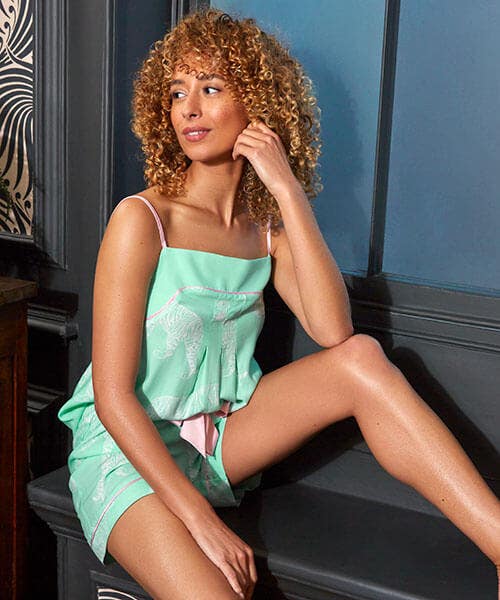 ---
The PJ Bottom
---
Bottoms up! You can't go wrong with a pair of classic pyjama bottoms. Whether you're gifting fabulous nightwear to someone (or yourself, because you deserve it too) the Boutique Tiger Print PJ Trousers will become the perfect partner to your PJ top. In both pink and aqua with gorgeous prints throughout, this wide-legged wonder ensures elegance and total comfort on hazy Sunday mornings.
---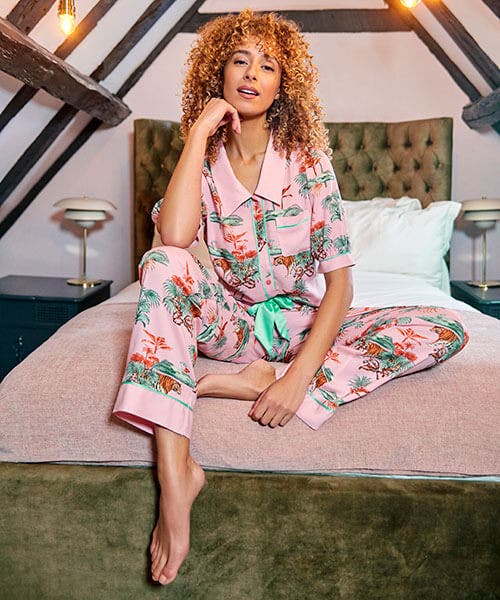 ---
Whichever pattern you choose, there are endless ways to mix and match your nightwear for a sustainable slumber. Joe Browns new boutique nightwear collection will ensure you look and feel fabulous from night to day. After all, there's nothing like feeling your best every minute of the day – even when you're sound asleep!
Don't forget to keep visiting our inspiration page for your daily dose of style guides, the hottest trends and new collections! We always enjoy having you here, so stay in touch with us on Facebook and Instagram!
Scroll to top