How to Create the Ultimate Capsule Wardrobe
Are you spending more time than you'd like rummaging through your wardrobe for an outfit? Have you found yourself often saying "I have nothing to wear"? Creating a capsule wardrobe could be just the solution you need!
Fast-fashion has meant that we can stuff our wardrobes to breaking point without breaking the bank, but alongside its negative environmental impact, we often still find ourselves searching for outfits without finding anything we feel great in!
From ladies' leather jackets to men's chunky knit jumpers, here's how to create the ultimate wardrobe capsule.
What is a Capsule Wardrobe?
---
A capsule wardrobe is a selection of clothes that is limited but can be worn together to create numerous different outfits for any occasion. It often means spending less money on high fashion pieces that go out of style quickly, and instead investing in those clothing items that will look fabulous in your wardrobe for years to come.
A smaller selection of clothes means less time stood in front of your wardrobe debating what you should wear — alongside incorporating a few seasonal pieces in order to be prepared for the unpredictable British weather!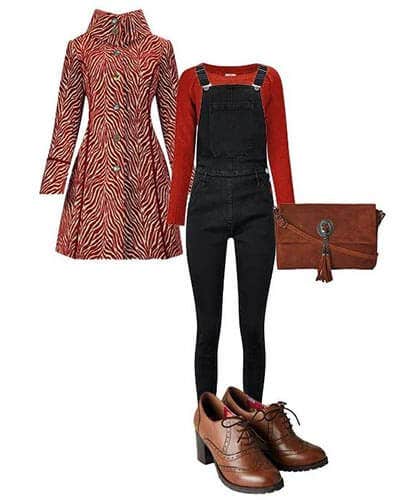 How to Create a Capsule Wardrobe?
---
Do you have a wardrobe full of items that still have the tags on? Do you only wear items of clothing a handful of times? You need to begin by reading our guides to breaking out of your style rut and finding your own unique style — these contain all the advice you need!
Start by going through your wardrobe and donating or storing away items that you haven't worn in a long period of time. Our general rule is if it's been longer than a year, you probably won't wear it again. You should then build the foundation of your wardrobe with pieces that don't go out of fashion — good quality jeans, tailored trousers and basic t-shirts are a good place to start.
Make sure your base wardrobe items fit properly and are made from the best quality materials, as this will help keep them in your wardrobe for years. For a capsule wardrobe that works all year, you'll also need to introduce a few seasonal pieces such as a warm winter coat, summer shorts and high-quality knitwear.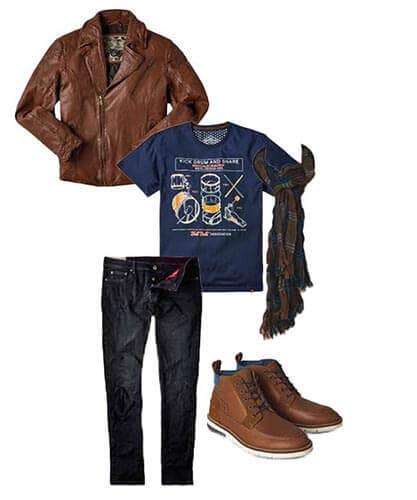 How Many Pieces Should a Capsule Wardrobe Include?
---
The amount of clothing items in a capsule wardrobe is different for each person and is ultimately up to you. Depending on your preferences, it could be as little and minimal as 10 pieces, or contain a larger number of options with up to 50 pieces.
Essentially, the amount of items isn't the most important factor. A good capsule wardrobe is more about having quality clothing items that fit well and can be styled in numerous ways, rather than a wardrobe bursting with clothes that don't match or that you don't ever want to wear!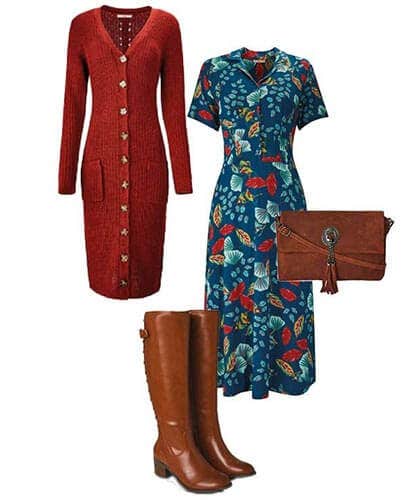 Must Have Items in Your Capsule Wardrobe
---
Detox your wardrobe and invest in some essential style pieces with staples that will make your capsule last. Whether you're a man or woman, these essential items are often very similar when you're trying to create the ultimate capsule wardrobe.
Stay Trendy with a Leather Jacket
---
Choosing a ladies leather jacket will always keep your wardrobe fresh. Dress it up and wear it with a little black dress and black heels, or combine with jeans, a white tee and trainers. This will ensure you always look on trend, without those fast fashion items clogging up your wardrobe!
For the Men, choose a timeless classic vintage style, that never goes out of fashion. Alternatively, look for a leather jacket in a simple cut, and dark tan colour, for effortless style all year round.
Choose a Cosy Chunky Knit Jumper
---
Knitwear is essential to stay cosy in those chilly winter months. Selecting a high quality women's or mens chunky knit jumper will take you through the seasons. Pick a colour that won't go out of fashion and can be coordinated with your other clothes such as a charcoal grey or navy blue.
Shirts are a Staple
---
A ladies floaty shirt is a fabulous style item that can be incorporated into various outfits; wear with leather trousers for an evening out or with jeans for a more casual option! A classic man's white shirt is also a great idea for a capsule wardrobe — dress up with a dashing blazer and trousers or down with your favourite skinny jeans and a comfortable jumper.
Dream of the Perfect Fitting Denim Jeans
---
Whether you're wanting a cool and casual ensemble with a hoodie and trainers, or a piece you can style with a beautiful blouse and some heels, there's nothing better than a pair of jeans that fit perfectly! If you purchase a high quality pair of black and blue jeans, you'll instantly have a timeless base for a whole host of outfit options.
Go Smart or Casual With a Blazer
---
Another wardrobe staple is a lovely blazer — if you love to keep up with street style, you'll be aware of how many ways a blazer can be worn! A pair of jeans and flat shoes look effortlessly classy, while throwing a chic blazer over a blouse and some trousers makes for the perfect professional office attire. It's amazing how many different looks centre around one fashion essential!
Pick a High Quality Soft T-shirt
---
It's easy to buy cheaper priced in high street shops, which while budget friendly, are rarely as soft and comfortable as the higher quality options. Choose to buy high quality black and white t-shirts that can not only be worn in summer months, but also as a layering piece underneath cardigans and jumpers.
The Key to a Capsule Wardrobe
---
When creating your capsule wardrobe, remember that it's all about classics and coordination with items that will outlive fast fashion trends. Select pieces that not only make you feel fabulous, but can be mixed and matched, so you can create outfits that look amazing for years to come!
Do you have any items of clothing that you would need in your capsule wardrobe? We'd love to hear! Let us know by joining in the conversation on Facebook or Instagram?
Scroll to top