Into the Woods: 9 Forest-Inspired Items We're Adding to the Cart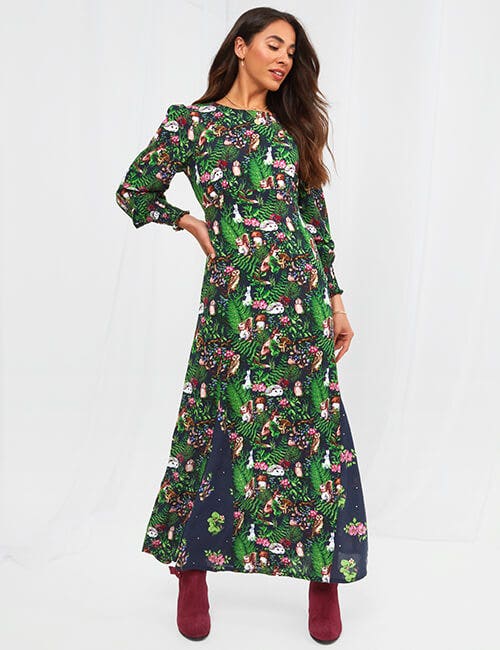 ---
Live your floral forest fantasy with the Into the Woods Dress
We're loving the boho vibes mixed with the sensational woodland print in this autumnal maxi dress. The animals are back, so watch out for the bunnies, hedgehogs, owls, squirrels and foxes peeping throughout the print. With deep shirred cuffs, waist ties and shoulder pleats, not only is the print a statement in its own right, the silhouette is too!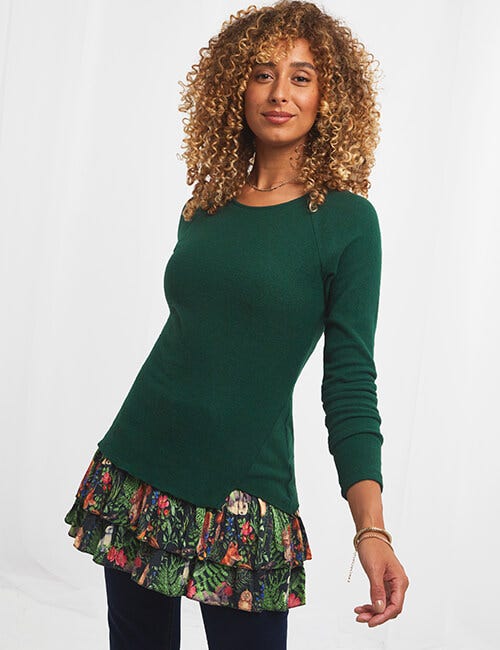 ---
The perfect partner for long autumnal walks
Pretty and practical, the Wonderful Woodland Tunic is pretty, playful and totally packed with personality. With the statement contrast frill at the hem, it's full of foresty colours that you'll love pairing with all your favourite jeans.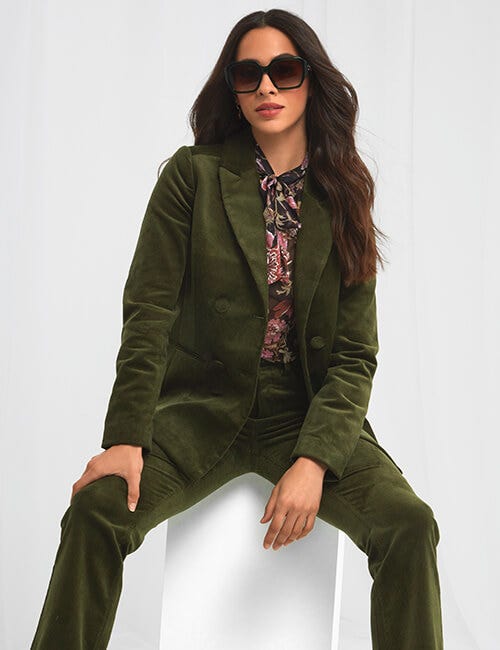 ---
Colour coordinated in a co-ord!
We're loving the co-ords this season, so what better way to inject smart-casual flair into your autumn capsule wardrobe than with our Amazing Cord Blazer and Ultimate Cord Trouser for a winning combo? This power pairing is super versatile, meaning you can wear this set with your favourite graphic tee and chunky boots or dress it up with a floral blouse and heeled ankle boot for a drop-dead gorgeous transitional outfit.
Joe's Tip: "For the ultimate chic look, pair the trousers with a flowery blouse, big sunglasses (if the weather permits) and a stylish blazer draped across your shoulder for a timeless Parisian-chic look"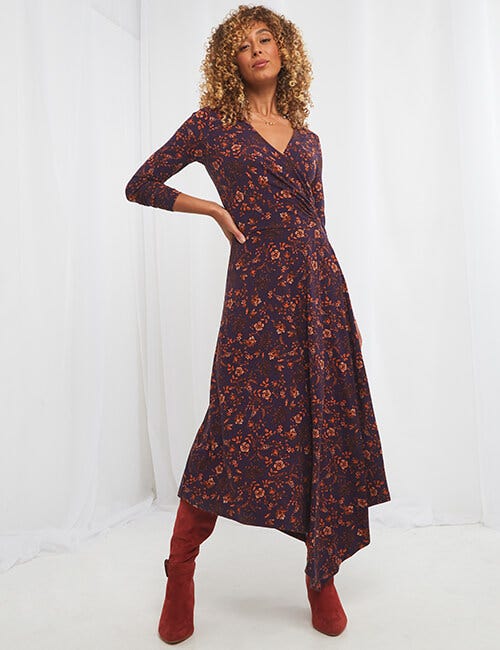 ---
Wrap up with a wrap dress
If you're in the market for a dress that hugs in all the right places, make a beeline for a wrap dress that will flatter and accentuate your natural shape. Joe's Favourite Wrap Dress is a fantastic wrap shape that's perfect for long autumnal walks and beyond. We love nothing more than a wrap dress for flirty and feminine fun, so you can really show off your best self in this autumnal colour palette.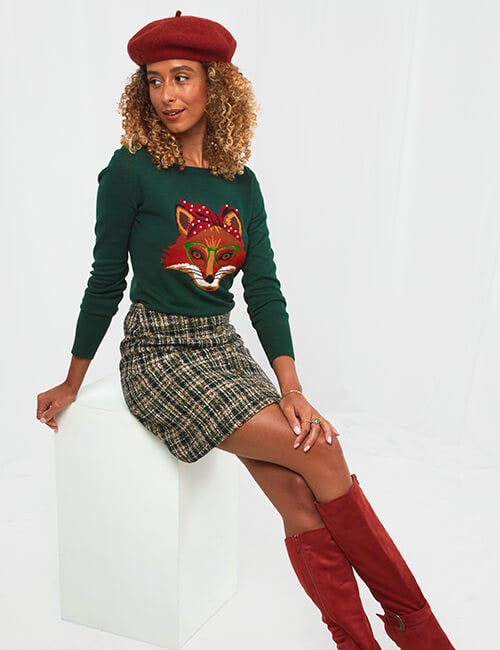 ---
Feeling foxy?
The animal prints are back in abundance this season – and so are the animal knits! Back in a gorgeous new design, the Fabulous Foxy Jumper is the perfect partner for a transitional autumn day. Its foresty-green colourway matches seamlessly with the berry-tones of our Cutest Cord Shorts. Its paper bag style has a flattering loose fit with pleats and turn-up cuffs for a playful look that's perfect for autumn and beyond.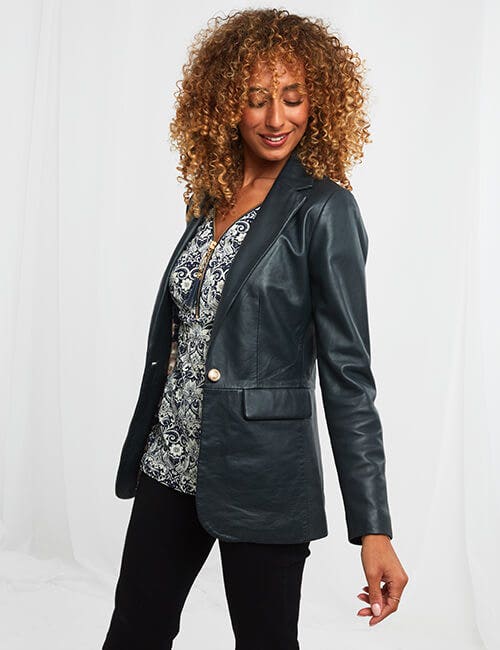 ---
Boxy blazers in lavish leather
Our midnight-blue Lavish Leather Blazer is bang on-trend this season. Mixing a classic single-button design, it strikes the perfect balance between smart and casual. It's packed full of detail, too, from the nipped-in hem to the bold floral contrast lining, so you'll have all you need to make an impactful statement this season.
Joe's Tip: "This dress pairs with a tonne of different shoe styles to dress this look up or down, though we love this dress the most when paired with long autumnal-coloured boots!"
Joe's Tip: "You can make this outfit preppy with brogues, make it edgy with chunky boots or try long boots and tights for chilly weather – you can still rock shorts even if the sun isn't out!"
Joe's Tip: "Wear this gem with flares, a pencil skirt or a bodycon dress to make the most of this silhouette. The trick is to make sure you're wearing something figure-hugging on the thighs to let this boxy blazer do all the talking."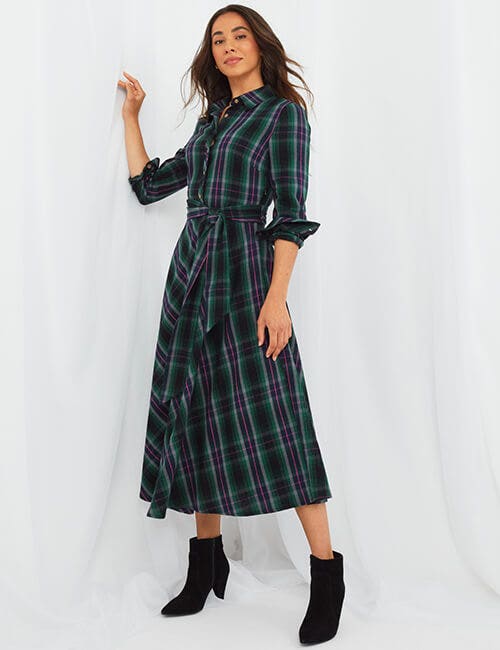 ---
Vivaciously vintage with cheeky checks
We're loving the check in this pattern! Based off a best-selling style from last year, this fabulous new colourway gives us all the foresty vibes we're hunting for! The Cheeky Check Vintage Dress is a drop-dead gorgeous vintage-inspired shirt dress with a stunning full skirt just made for an autumnal breeze.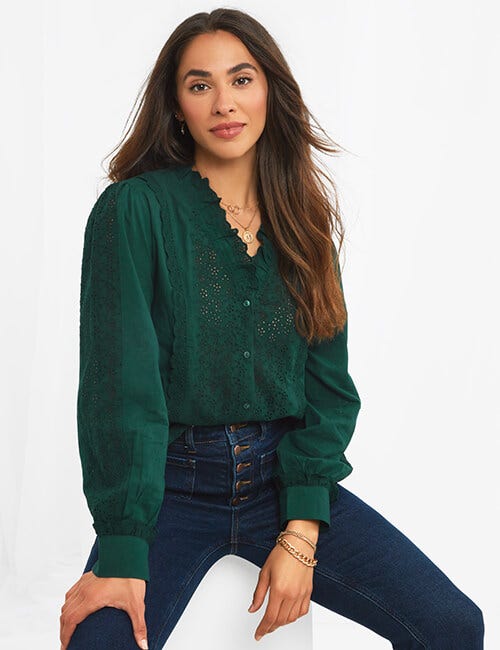 ---
Forest frills
This broderie blouse is full of va-va-voom! The Gorgeous Broderie Blouse is a statement number that's chock-full of detail from the balloon sleeve to the head-turning broderie trim to the front and sleeves. With a frilled V-neckline and smart button cuffs, your new go-to blouse is dying to meet your wardrobe.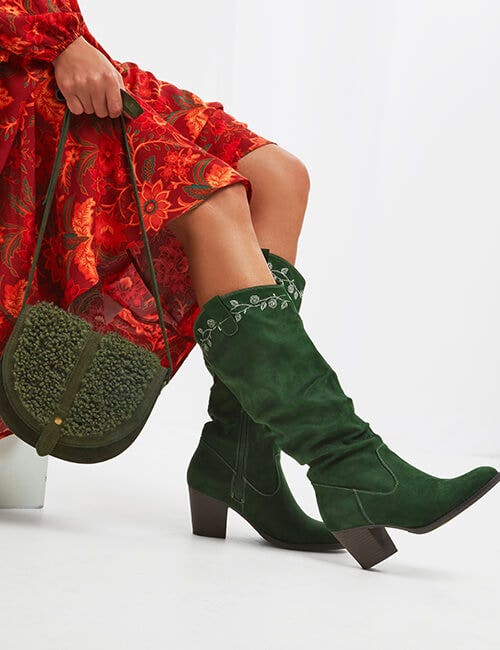 ---
Accessorise with forest greens
In the market for a statement long boot this season? Our Free Spirit Embroidered Boots are what you've been missing! Take a look at the stunning embroidery detail at the top. The microsuede material in its forest green colour will make a real statement among your shoe collection, too. Don't forget to pair these pretty boots with our gorgeously textured Bellissima Suede Boucle Bag for some serious statement style.
Joe's Tip: "There's also a stunning skirt in the same pattern! Take a look at our Check It Out Belted Skirt for an autumnal partner to your knitwear."
Joe's Tip: "Give this vintage look a retro spin by pairing your favourite flares and ankle boots for a Woodstock vibe, or simply pair with a black pencil skirt for a vintage work look."
Joe's Tip: "Green accessories are a fantastic pairing with pinks! Get that pink summer dress back out for a transitional style with sensational colour mixing!"
---
Are you geared up for autumn yet? Take a walk into the woods with our brand new autumn collection to keep your #mojoe alive through the colder months.
Don't forget to keep your eyes on our Inspiration page for the latest style advice and to be the first in-the-know about what's new. While you're at it, why not tag us in your autumnal outfits on our Facebook and Instagram? We love to see them!
---
Scroll to top