Twinning is Winning with Joe Browns Kidswear!
For the Mini Rockers
---
If you're a dad with a rocker style, chances are you're the little man's hero. Our Reflect in the Music Tee is a wonderful choice for kids and grown-ups alike featuring guitars against a rockin' red cotton.
For a look with a little added attitude, the Enjoy the Day Tee is a favourite, with a Dia De Los Muertos vibe. The bold colours of the motif work insanely well against the chalky blue, ensuring the matching look shouts about your style and confidence.
---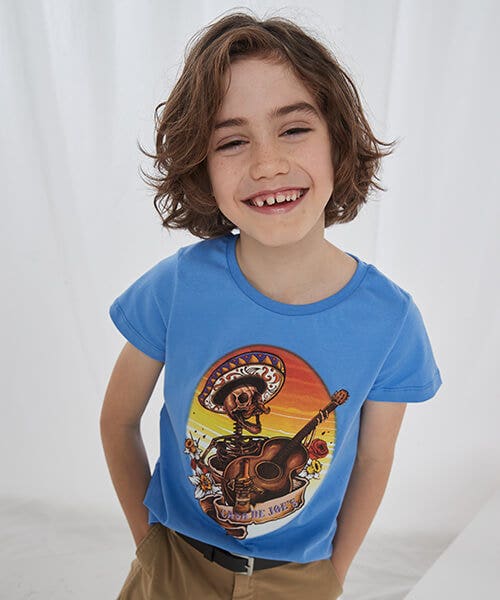 ---
For the Music-Loving Mini Dudes
---
The super-cool Pop Tee is designed to instil your little one with a sense of attitude. Taking inspiration from our love of music, the contrasting colours and impressive design is bound to up the street cred, especially when matching with Dad.
For another alternative to show off the little dudes' love of music, the Sweet Sounds Tee packs an impressive punch with a sweet vintage vibe. The record player-inspired design combines any favourite mini-rockers' two favourite things. A love of music and a huge sweet tooth. Dad's matching tee isn't bad, either!
---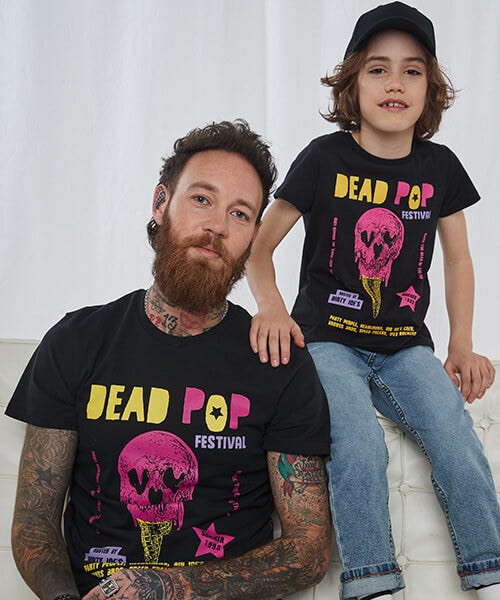 ---
For the Super Cool Mini Men
---
If your boy is set to grow into an edgy dude, start them early with the Enjoy Everything Tee. With fun colours and a statement psychedelic back design, this funky tee is set to up their attitude, especially when paired with a beanie and hi-tops. Our matching men's design comes in black, ensuring you're matching in a more subtle way.
---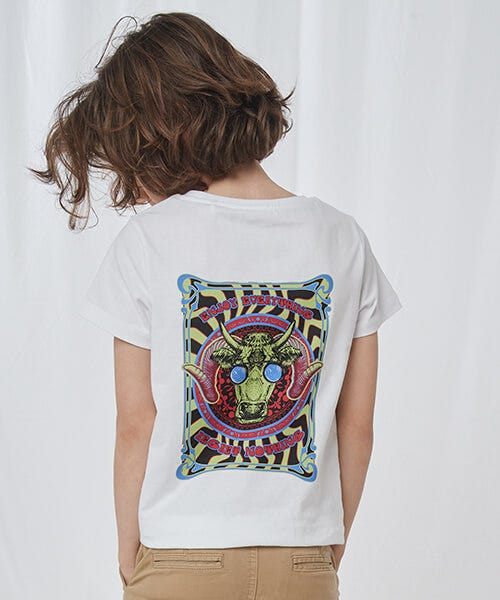 ---
For the Animal Lovers
---
Take a walk on the wild side with the Living the Life Tee. Match with Dad's version and inject some colour and fun into his wardrobe. Perfect for a day trip to the zoo, there'll be more eyes on this fun matching set than the animals!
Graphic and groovy, the Geo Wolf Tee is a great choice for the wild one in your house. With its distinctive print and bursting with personality, match up with Dad's version while you both run wild for the day.

---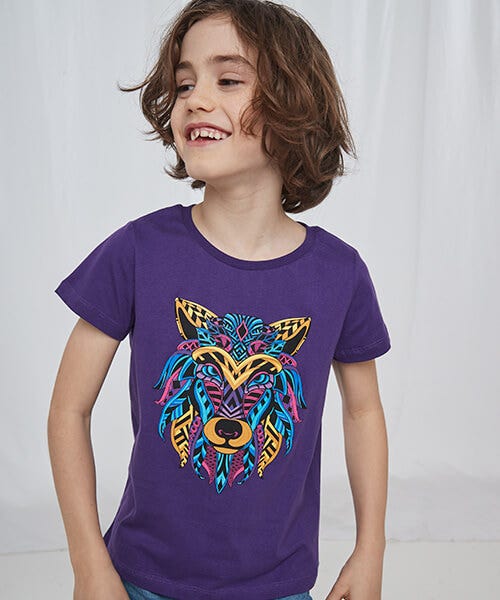 ---
For the Bikers and Trikers
---
If your tyke is forever on their bike or loving motorbike toys, the Sketchy Bike Tee is a rad option for a confidence boost. With Dad's matching tee, you can both create a super-cool look to give your kid a boost in confidence.
Shake things up a bit with our first ever Joe Browns kids' hoodie. The Vintage Rules Hood along with Dad's matching Henley creates a fresh and funky edge to your matching set, without being identical and obvious. If there's any combo that's our ultimate favourite; it's this one!
---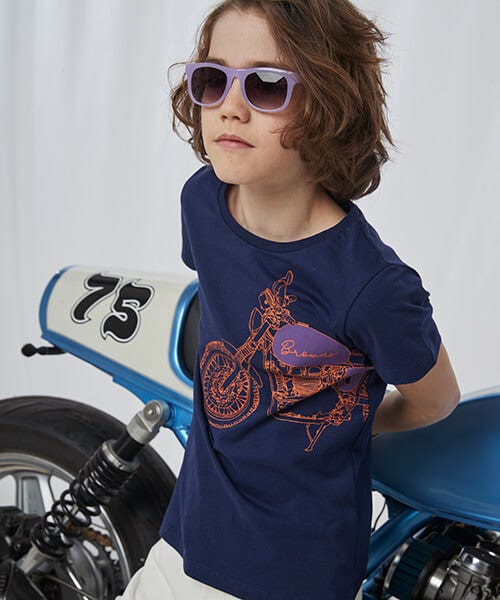 ---
All About Flower Power
---
For the little princesses who love their florals, the Enjoy the Ride Tee is a cute and feminine option, especially if they enjoy a bike outing with Mum, so why not match t-shirts to complete the wholesome vibe?
Keep up with the floral theme with the Scattered Daisy Tee. The best-selling sunflower motif is fun and fresh, while looking adorable when paired with a ra ra skirt for a cute mum-and-daughter coordinated outfit.
---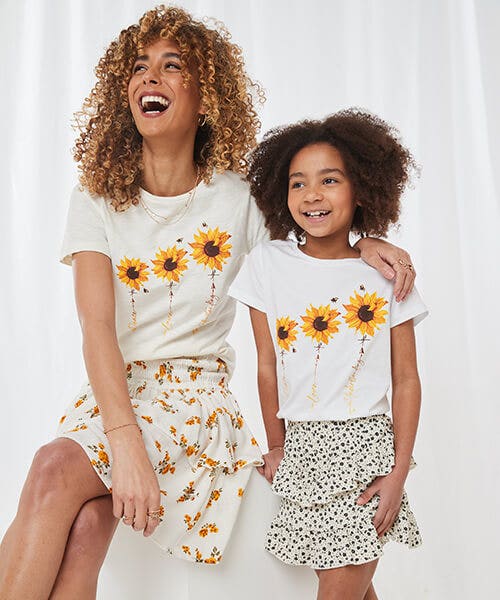 ---
For the Wild Ones
---
Stay cool with the Stay Wild Tee in a funky yellow colour that's perfect for summer. Bringing exotic vibes with floral notes together to create a fun and fierce design, simply match tops with Mum for a super-cool summer vibe.
Get groovy with our Wisdom Begins with Wonder Top for a fun and free tee. Boasting butterflies and a vintage graphic, this tee brings together the perfect blend of stylish and cute. We've adapted Mum's version with our classic ruched side design, wide neck and straps for a dash of extra edge.
---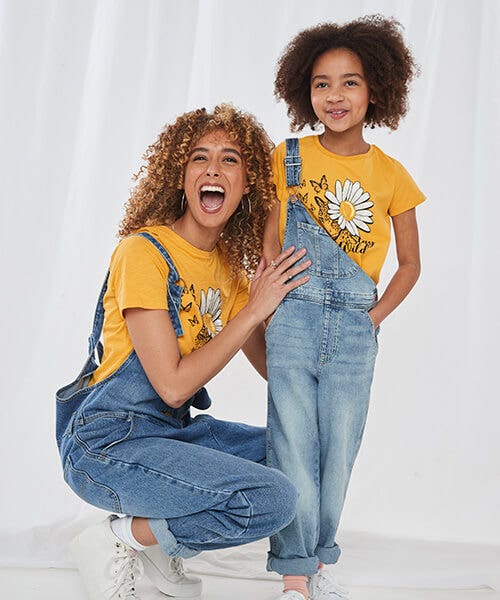 ---
Groovy Chicks
---
Stand out from the crowd with our Where Love Lives Tee, boasting vibrant print and bold colours. In a classic 70s design, match with Mum to rock a vintage look. As a bonus, all the profits of Mum's tee are donated to the ongoing Ukraine humanitarian crisis, so you can look good while doing good.
Get your wild, wild west vibes on with the Desert Dreaming Tee and match with Mum in a different hue to create a coordinating look that's a little more dynamic. Its vintage-style graphic gives off major boho vibes for the budding bohemian in your life.
---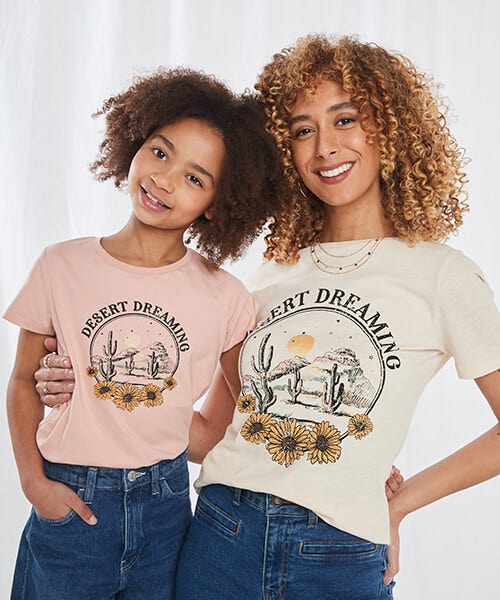 ---
The Majestic Mother-Daughter Vibe
---
Our Happy Giraffe Tee gives a major dopamine hit. With a totally adorable print, match with your mini to feel cute and fun, ready to create some double trouble!
If your little diva deserves an extra splash of magic, the Mystical Horse Tee is your ultimate go-to. Its fun and flamboyant design transcends age, so Mum can enjoy her matching tee too, for a look that'll turn heads.
---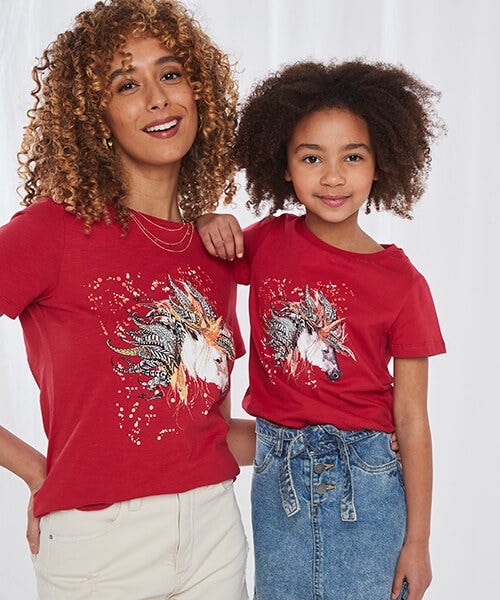 ---
Flower Children
---
For the chilly days, our Marvellous Meadows Sweatshirt is bursting with bright colours and a fun butterfly and flower design. Packed with the usual Joe Browns detail, the ultimate wardrobe essential can't be missed from the mini and the matching Mum's wardrobe this summer.
---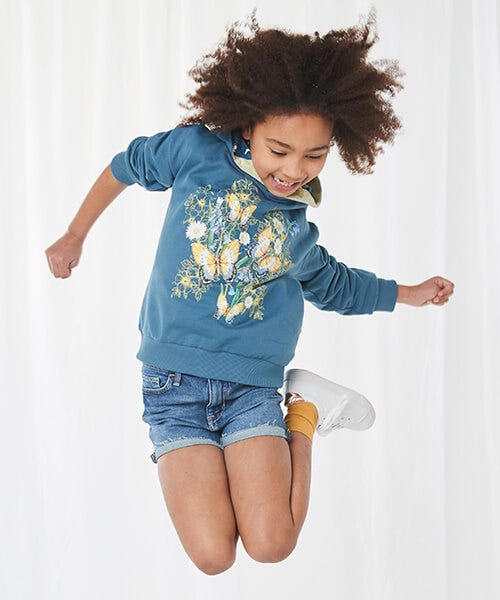 ---
If you're not matching, you're missing out! Fill your children with confidence and style this summer with our Joe Browns kidswear range. Give your kids a little slice of extraordinary that they might grow out of, but are sure to treasure forever.
Don't forget to keep visiting our inspiration page for your daily dose of style guides, the hottest trends and new collections! We always enjoy having you here, so stay in touch with us on Facebook and Instagram!
Scroll to top