---
Layers of Possibilities: 7 Ways to Layer Your Knitwear
---
Sweaters and skirts
---
Struggling to say goodbye to that springtime ra-ra skirt? Or maybe you'd like an excuse to wear that midi or maxi skirt you love so much? The answer is always a cosy sweater. We absolutely love oversized jumpers to wear a skirt with, no matter the shape. Practice your French tuck and throw on your long winter coat – that's what we call the perfect recipe for instant style.
Double-up on knits
---
Thin on the bottom, thick on top is the rule for this tip. If you've got a thin knit or Henley that's perfect for spring or summer, upgrade it to your winter wardrobe by throwing on a chunky cardigan over the top! Just be sure they don't clash in terms of prints and knit patterns, but other than that you should be good to go!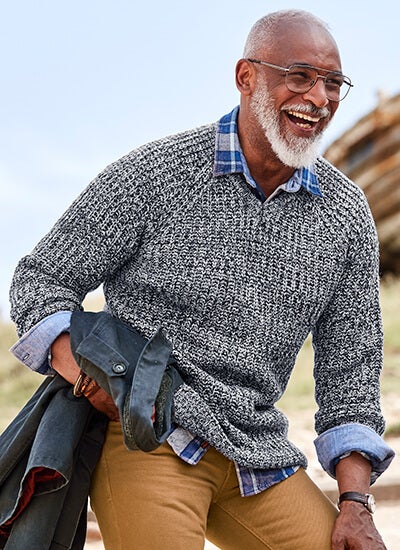 Collars under sweaters
---
Crew necks are a style saviour and can be instantly smartened up by wearing a collared blouse or shirt underneath. This is the perfect go-to outfit for a smarter take on an otherwise casual ensemble. All you need to do is slip on a pair of smart jeans with your favourite shoes and you're ready to step out the door looking sensational.
Dresses and sweater vests
---
Break out those spring dresses and wear them with a sweater vest over the top! This one can be a little tricky, as necklines come into play. Joe's rule of thumb is to make sure your choice of dress has some form of collar, such as a shirt dress or something with a pussy-bow blouse – otherwise, your sweater vest may look like an afterthought.
Swap out a longline cardigan in place of a coat
---
Longline cardigans are perfect if you're not venturing out into the cold. If you're jumping in the car to meet the ladies for lunch or going straight into the office, try a thick, longline cardigan to add a bit of razzle-dazzle and cosiness into your wardrobe. After all, nothing puts a spring in your step than a stylish piece of knitwear that makes you feel fab.
Rollnecks and ponchos
---
Ponchos are a timeless classic that will never go out of style – and they're perfect for showing your free-spirited side as you wrap up warm. Hands down, the best thing to wear with a poncho in the winter weather has to be a roll-neck jumper. With plenty of styles to choose from, a jersey jumper is our personal favourite material, as it's as soft as it is comfortable. Available in a variety of colours, this is the perfect piece to show yoff our layers in the most stylish way possible.
Knitted accessories
---
Still struggling with layering? Hats, scarves and gloves are here to save the day. Try a scarf over your favourite go-to knit or even a woolly beanie with your poncho and roll-neck combo. Accessories are the perfect way to try something new with your outfits, so if you're just dipping your toes into winter layering, here if the best place to start!
By now you should know what to do and what not to do with knitwear layering. If you're on the hunt for more style tips, keep scouring our Inspiration page for the latest style guides and top-secret tips on styling your Joe Browns wardrobe.
Happy layering!
Scroll to top