Men's Autumn Top Picks: Photographer's Faves
---
Our new autumn collection has landed, and it can be difficult to know where to start from the throngs of new styles. Have no fear, though, Nisha's on hand.
Our in-house photographer has seen these styles hands-on. From hanger to mannequin to model, Nisha knows what to look for in a quality piece of men's clothing, so we've challenged them to pick their favourites from the season, so you've got a good foundation to work from.
Catch Every Eye with the Adventure Funnel
---
Striking Aztec prints combined with contrast trims makes for a truly eye-catching piece, while the snuggly fleece material promises to keep out the chill. Nisha's loving the Adventure Funnel this season, as it makes the ultimate layering piece to team with your fave jeans and Henley. Before you know it, you're ready to hit the road.
Love = Cheeky Checks
---
We love, love, LOVE a timeless check shirt. Nisha's top pick is the Ultimate Indigo Check Shirt and we can totally see why. Designed with black and indigo woven checks, this shirt will go with anything from your trusty graphic tee to denim jeans. Check shirts make for an amazing layering piece, no matter what you pair it with. Plus, if you're caught out on a day of glorious sunshine, wrap it around your waist and evoke the grunge style of the nineties. Kurt who?
Go Wild for Graphic Tees
---
Show your rocker side with this funky graphic tee. The Wild Rock Tee encapsulates a real personality from the front chest motif to the enigmatic back panel. Nisha says it's a great starting point for the men (or women!) who have drawers full of tees from concerts. If you love a bit of band merch, you're going to fall in love with this tee.
Work Hard, Play Hard in Workwear
---
We're loving the workwear this season, and the Work Hard Trousers from Joe Brown are one of Nisha's top picks for a very good reason. According to Nisha, it's all about the corduroy this autumn, and the straight fit gives it a cool yet comfortable vibe that'll keep the autumnal chill away. It's perfect for a smart or casual style, with the opportunity for great colour combinations. Cherry is one of the easiest colours to play with – so experiment!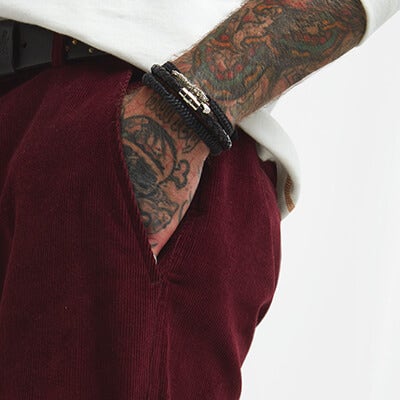 ---
"It's all about the corduroy this autumn, and the straight fit gives them a cool yet comfortable vibe"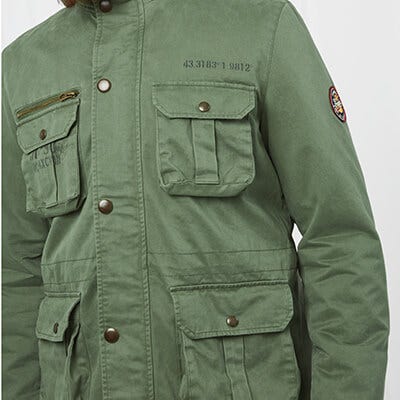 ---
"Vintage-inspired, cargo flap pockets, contrast lining, faux fur in the hood = Practical and stylish"
The Ultimate Autumnal Adventure Jacket
---
Vintage-inspired, cargo flap pockets, contrast lining, faux fur in the hood, all of these elements brought together makes for the amazingly practical and stylish Ready For Adventure Jacket. Nisha's loving the laundered fabric, adding an authentic vintage feel, while the badge detail on the sleeve adds a bit of character to make the jacket pop in just the right way.
Suited and Booted
---
Nisha loves photographing a tailored look, so it's obviously a huge area of expertise for them. Their top pick of Blazer and Waistcoat combo is the Rustic Waistcoat and its counterpart, the Handsome Herringbone Blazer. Nisha is loving the rust colour of the waistcoat when complemented by the warm grey/brown tones in the blazer. As for the trousers? Nisha recommends a black, brown or dark indigo jean. Suit trousers are out!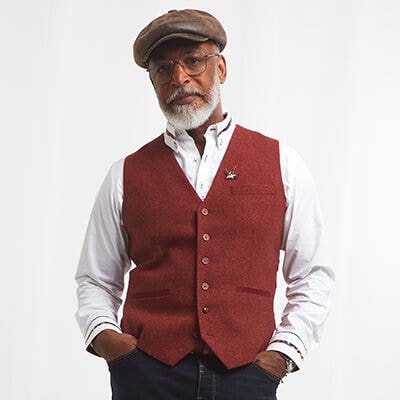 ---
"I'm loving the rust colour of the waistcoat when complemented by the warm grey/brown tones in the blazer"
The Good, The Bad and the Handsome – A Classic Western
---
Nisha describes Joe's On The Road Shirt as the unsung hero of the men's shirts. A classic black overshirt will take you far, especially one with extra pizzazz, thanks to its contrast trim to the cuff and sleeves and the Western-style chest pockets. It's the heavy wash for that vintage feel that Nisha loves the most, giving it a lived-in look with plenty of personality. The secret to the vintage wash – Nisha says – is the promise that it just gets better with age.
These Bootcuts are Made for Walkin'
---
Bootcuts are back! Since the 70s has made its way back onto the highstreets, more shag haircuts and mullets have been spotted on the young adults and Kate Bush is hitting the charts - we find ourselves going back in time once again. Nisha recommends the Sustainable and Stylish Bootcut Jeans if you want to start dipping your toes in styles of the past. They're slightly understated compared to the loud bootcut worn by men back in the day. This time around, they're also sustainable!
Bust a Move in the Buster Henley
---
Nisha's top tip to insert some extra style into an everyday outfit is to choose a Henley. Her favourite this season is the Buster Henley in the colour cherry. Cherry is a fantastic colour with multitudes of pairing options, plus its added detail brings the look bang on trend. Full of tiny details such as mix and match buttons, contrast stitching, a chest pocket and elbow patches, you've got an upscale go-to shirt to dress up or down.
Suede for a Style Statement
---
Our Ready For Anything Suede Jacket is a true testament to all things Joe Browns. Nisha's favourite things about this style are the super soft suede feel and stand-out colour. They're also loving how the army jacket inspiration pulls through in the cargo-style pockets and has all the finishing details to keep this jacket getting better with age. (Plus, we've seen a certain someone rocking this in the Joe Browns Head Office!)

If you've enjoyed exploring Nisha's top picks, then check out our main men's range to live your life in full colour. Our remarkable styles are some of our best yet, so be sure you don't miss out on some awesome autumn staples.
Be sure to stay in the loop with new styles and tips on our Inspiration page and head over to our Facebook and Instagram for your daily dose of Joe. Happy shopping!
Scroll to top