Stories Behind 6 Key Products with Designers George and Lucy
Stories Behind 6 Key Garments with Designers George and Lucy
---
As well as catwalk trends in Fashion Week influencing how the high street interprets their seasonal designs, we also look to designers to translate their own unique experiences and muses into our collections to truly make a new season clothing line our own.
This week, we spent some time with two of our top designers, George and Lucy, who dished all the gossip on their influences and inspirations behind some key garments from the range.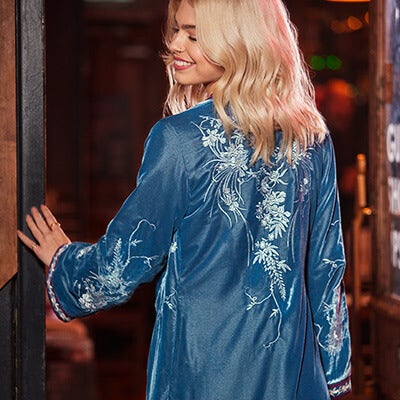 ---
"The perfect blend of originality and traditional design, I knew we had to make something inspired by it."
1. Vintage Inspired Boutique Kimono
---
First up is our boutique kimono, inspired by an exhibition held at the LACMA museum. Boasting over 6,000 years of global artistic expression, this is the largest museum in the western United States.
The design was based on a traditional Japanese kimono, made in Japan for the Western market from the late 19th – early 20th century. This traditional gown and sash were made from a plain silk weave and were intricately detailed throughout with silk hand embroidery.
"The artisanship was amazing; it was this perfect blend of originality and traditional design. I knew we had to make something inspired by it. We really wanted to push the boho feel of the piece, keeping the colour and embroidery details but giving it a 'Second Summer of Love' twist. I wanted this to give off a historical "found" piece that you would happen upon in a vintage shop. I think we really hit the mark there, the end result was totally remarkable and is a real key piece in the collection."
2. Georgie's Favourite Coat
---
Creating a jacket inspired by one worn by Simon Brown's daughter was definitely a challenge we wanted to conquer. Enter Georgie's Favourite Coat! In a traditional rain mac design, we kept this classic shape and put our own unique twist on it.
We kept the traditional features, such as the peplum-style skirt, collar and tie waist. By adding a fun floral lining, we could already see this jacket come to life. The perfect embellishment for the bottom was adding some elegant buttercups throughout the skirt, to mimic the nostalgic childhood memory of when Georgie would hold buttercups under Simon's chin to see if he liked butter.
"This rain mac is one that has just the right amount of structure and classic design that encapsulates a precious memory. We're really pleased with how this turned out, especially seeing as it's so practical. This is what we're all about; creating stunning yet functional key pieces, and putting that same effort into a go-to jacket that's just as easily thrown on over a jean-and-tee combo."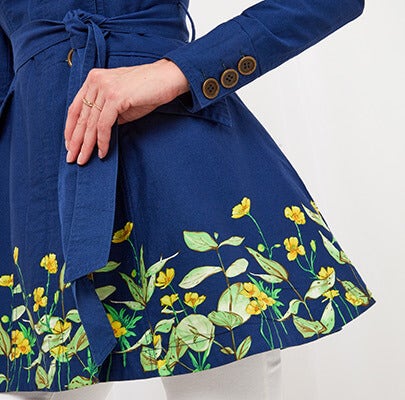 ---
"This rain mac has just the right amount of structure and classic design encapsulating a precious memory"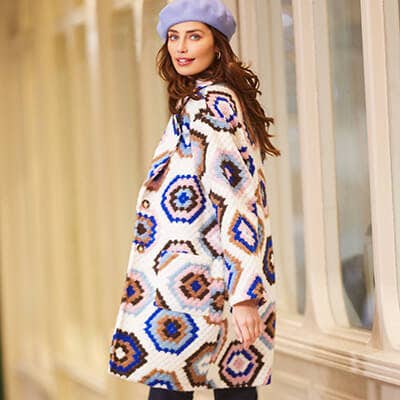 ---
"We wanted to give this jacket a healthy dose of Joe Browns character, and its design came out brilliantly"
3. Crochet Vibes Coat
---
When it came to designing this coat, it was our brand mission to create something with a crochet look and feel that cuts down on labourous hours due to hand-crafting. It's really important that crochet is accessible to all; thus, the Crochet Vibes Coat came to be.
Made for cool spring and summer evenings, we packed it with pretty details from the soft, distinct colour palette to the eye-catching print. We wanted to give this jacket a healthy dose of Joe Browns character, and its design came out brilliantly.
"We scoured our manufacturing capabilities and came up with a knit pattern that looks just like crochet. Because knit is easier to produce, we could drastically cut down on the time it would take to make and bring something unique and full of character to the market. We kept it without a lining to really let the product breathe and we're so happy with how this turned out. It's the perfect transitional item that the customer will love to wear for years to come."
4. Vibrant Vintage-Inspired Boutique Jacket
---
Bringing in the big guns, our Vintage-inspired Boutique Jacket is a vivid, glorious piece that we absolutely adore. Thinking about our entire range and their messages, we wanted to bring the cultural element in with our 'Second Summer of Love' trend that you can see through our entire collection – and pack it with detail from there.
We inspired this jacket from traditional Indian dresswear. These fabulous events are full of colour, luxuries and happiness – so it's no surprise that this became the basis for our inspiration. We added a Sergeant Pepper style to it to bring in a retro feel that complemented the original perfectly. From there, we added cut-out buttons, embroidery detail and textured the fabric.
"We took inspiration from old carving blocks from traditional Indian printing and added this mandala effect in the embroidery throughout the piece. As the idea started to come to life, we finally decided on the colour gold – honing in on that opulent, antique feel that brings together the magnificence of traditional Indian celebration and treated the fabric to being a rich, luxuriant feel to the entire piece. It's an absolute staple piece this season."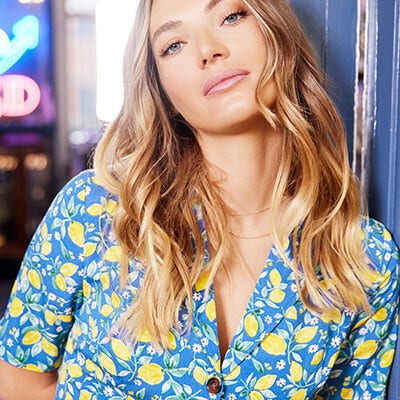 ---
"I really wanted to bring the essence of these retro patterns to life, and the Lily Dress does just that."
5. Lily Print Dress
---
We're bringing back all the vintage vibes with the Lily Print Dress! Fruits and flowers are all the rage this season, and we're here for these retro patterns that are frivolous and don't take themselves too seriously.
This collared V-neck piece has a button-through design opening up so many ways to wear, from a traditional styling with a cute handbag and heels to unbuttoned over your favourite jeans and tee, there's many ways to style a vintage piece that will bring your ensemble right up to date.
"This dress reminds me of going to see my grandma on Sundays – she was always wearing one of her funky dresses or aprons while cooking up a storm. One thing that really inspired this dress was her kitchen tiles, with a ton of different designs among fruits, flowers, filigree and paisley... it was a total retro dream. I really wanted to bring the essence of these retro patterns to life, and the Lily Dress does just that."
6. Betsy Boho Dress
---
Taking inspiration from a previous best-selling design, we wanted to bring the Betsy Boho Dress forward into a new season and challenge our designer, Lucy, to give it a new lease on life with a brand new, in-house designed print. This season, we've also manufactured the dress as part of our petite collection to be enjoyed by as many people as possible.
This maxi dress is sweet, charming and a staple piece for any wardrobe. With classic button-through fastening, stylish short sleeves, elasticated waist in a maxi style, it's known for its comfort and elegant timelessness. We also added ladder lace detailing to the clavicle for that added feminine feel. All that was left was the design. Enter Lucy!
"I really wanted to put a different spin on this pattern to create something vivid and noticeable while staying true to Joe Browns. Starting with a white and blue colour palette for that summer vibe, I was suddenly reminded of a bone china tea set I inherited from my great aunt. Digging it out, I saw these pheasant-like birds in the pattern and knew that was what I wanted as the basis of the design. I really wanted to push the bird design further, into more of a fantastical realm, eventually adding the florals from the original tea set. I couldn't be happier with how it came out!"
So what do you think? The true inspiration and talent that our design team have at Joe Browns reflects in the styles we release every season.
Be sure to stick around on our Inspiration page for the latest collection's news and styling advice, and share your outfits with us on Facebook and Instagram!
Scroll to top