7 Easter Ideas With a Twist: Grown-Ups Only!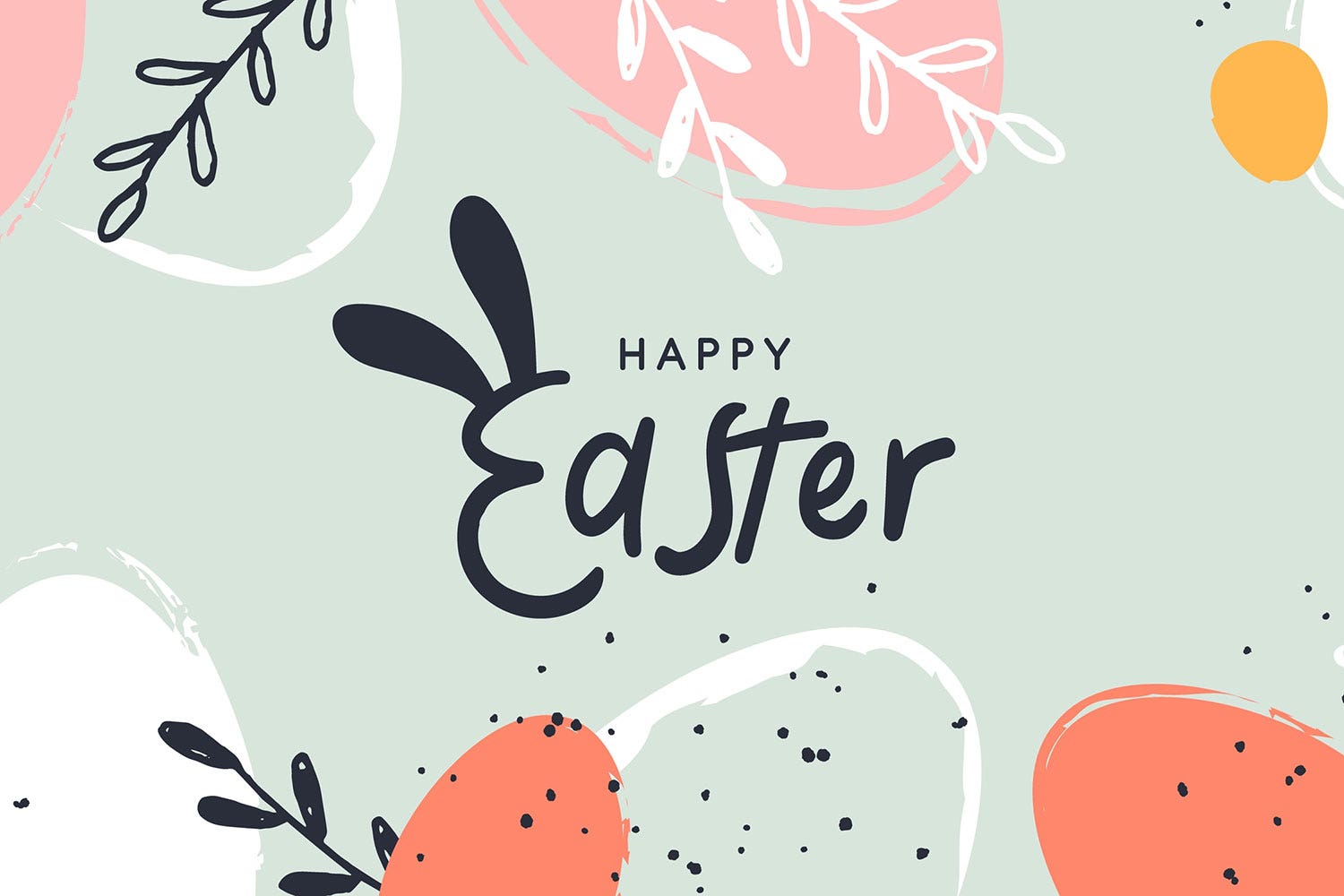 Growing up sucks sometimes – especially around kid-centred holidays like Easter. While we get the extra days off work, those without kids or you fun-loving parents with older kids may find yourselves not even celebrating the holiday outside of Easter egg gifting.
Fear not – celebrate Easter in Joe Browns style, with a twist! Read our top ideas to party away this holiday and create raucous memories to last a lifetime.
Boozy Easter brunch (Super Sunday)
Is there any better day than a super Sunday to throw a big, boozy brunch? Cook your favourite foods, or hold an egg-themed brunch with frittata, Spanish omelette, egg mayonnaise sandwiches and make a buffet spread.
If dessert is on the menu, make it chocolatey! There's no better season to indulge in a chocolate feast. Try chocolate ice cream, chocolate cake or just tuck into a giant easter egg while sipping on mimosas. If the party turns wild, add to the Easter theme and take your shots in egg cups.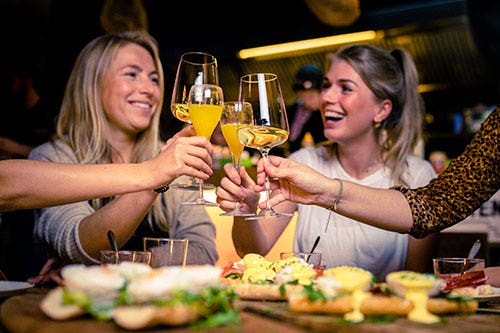 Easter egg hunt (bath bombs, raffle tickets, jelly shots)
Why should kids get all the fun with an egg hunt? Plastic eggs are relatively cheap to buy, so why not hide little prizes such as lipsticks and nail polishes for the girls, mini bottles of whiskey and vodka, jelly shots, or fill them with fun-sized choccies or sweeties for everyone to enjoy.
The possibilities are endless! If alcohol isn't your thing, why not fill the eggs with scratch cards and place them around your house? You never know – if someone wins big, they might share the love!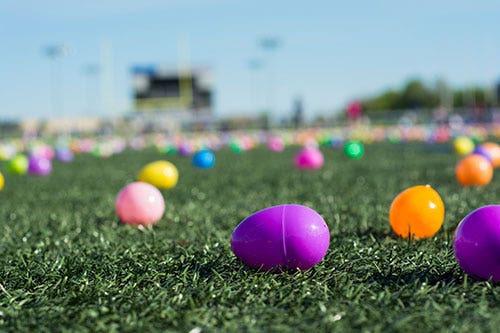 Get crafty!
A task that doesn't require drinking (but is certainly more fun when you do!) is gathering the girls to create bath bombs. This way, you can create something unique and fun, and the guests can make their own party favours!
Use the aforementioned plastic eggs or grab some egg moulds (or alternatives below) and get creative! Here's the recipe that yields around eight bath bombs.
Recipe
200g Bicarbonate of soda
100g Citric Acid
50g Cornflour
50g Epsom salt
4 tbsp oil (our favourite is coconut oil, but sunflower or olive oil is just as good!)
½ tsp essential oils (grab a classic selection so your guests can choose their favourite)
Several drops of liquid food colouring
Flower petals, orange peels or lavender to decorate.
You Will Need
A mould (you can also use silicone ice cube trays, yoghurt pots, cupcake cases or plastic biscuit cutters on a tray!)
Mixing Bowl
Whisk
Creativity
Method
Add your bicarb, citric acid, corn flour and Epsom salt into a bowl and thoroughly combine

Pour in your base oil, essential oil and food colouring into a smaller bowl. Mix well and combine the ingredients together as much as possible.

Add the wet to the dry ingredients as slowly as you can and thoroughly mix. Add a few drops of water (but make sure to keep mixing, as it'll start to fizz!) until the mixture is slightly clumping together when pressed in your hand – ensure it's not too wet.

Grab your mould and add your decorations. Add clumps of the mixture and pack it in tightly.

Leave the bath bomb to dry for 2 – 4 hours and continue the party while you wait!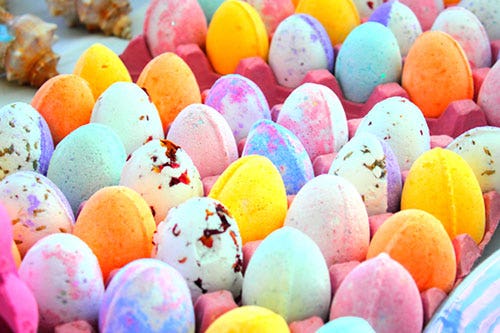 Easter egg truth or dare
If you're up for some fun, grab two big eggs and fill them with slips of paper – one for truth, and one for dare. Either way, this is sure to create some raucous laughter and make memories for years to come.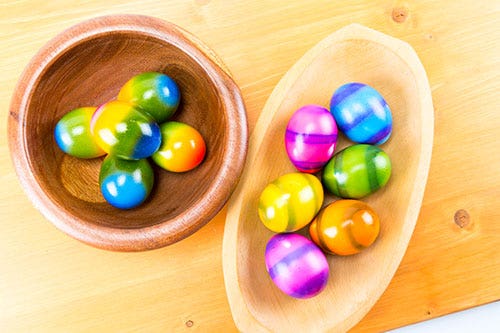 Egg Decorating
Why not try your hand at egg decorating? It's not only for kids, after all. To get extra creative, grab some paper-mâché or clay and see who's the most creative. Bonus points for the rudest one – because there's always that one friend! You know who you are.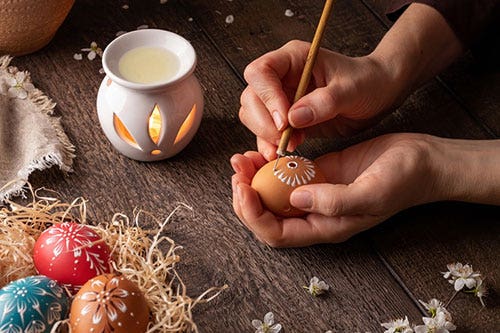 Egg and spoon race with forfeits
A good old egg and spoon race can't be missed. After the alcohol has set in, why not split into teams and have a relay? There are plenty of ways you can shake it up. Why not spin your friends ten times before they set off, blindfold them, or create an obstacle course? There's always fun to be had – but make sure there's a forfeit if the egg is dropped! (Our favourite forfeit is a tequila slammer – arrrriba!)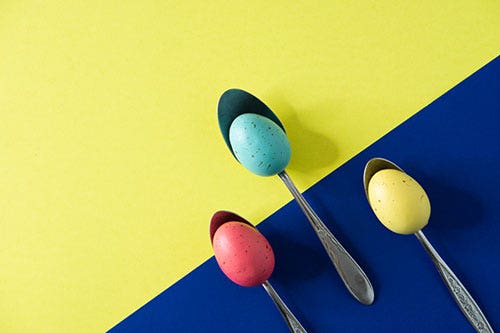 Boozy jelly beans
Boozy jelly beans are a super simple recipe you can make a couple of days before your adult Easter party. Simply take a jar and some jelly beans, and fill the jar with your favourite tipple.
Vodka is typically the go-to, as the jelly bean flavours mingle with the spirit, but you can also use tequila, whiskey or even brandy if that's your thing! Either separate the jelly bean flavours or mix them up and add to the jar.
After the flavours have infused, you not only have boozy jelly beans, but you also have flavoured vodka, too! Add to the easter vibe by placing your jelly beans in egg cups or egg cases and dot them around the house for a surprise snack while mingling!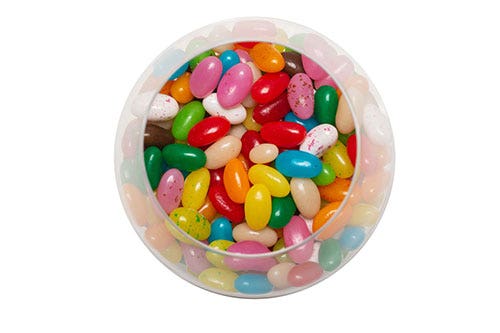 If you love these ideas, and have any more, leave them in the comments. We love to hear new ideas to get the party started! Let us know if you try any of these and have a wonderful Easter.
Joe.
Scroll to top