Come Behind the Scenes of Our Winter 2023 Shoot!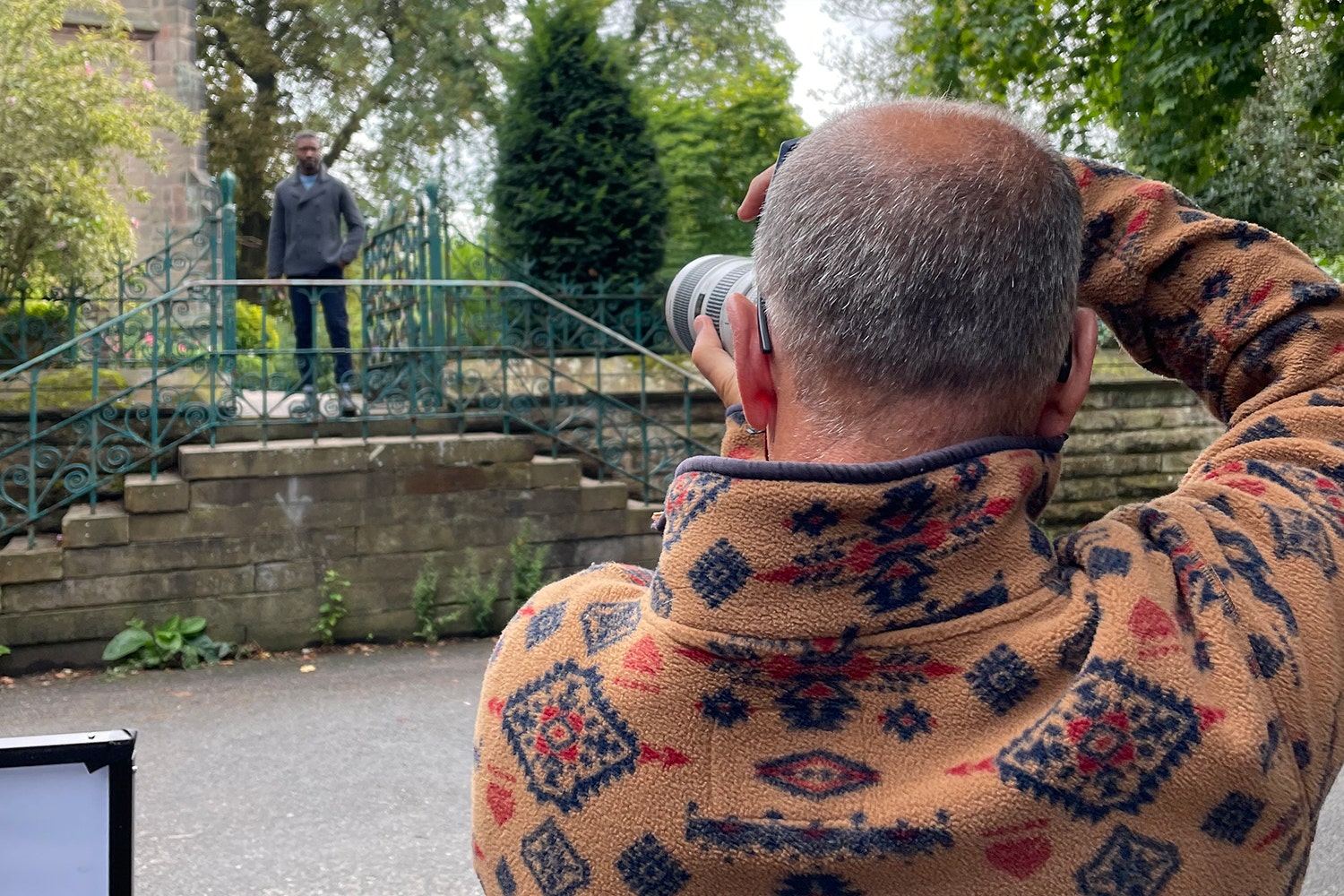 This year we took things up a notch and embarked on our biggest Joe Browns Christmas shoot yet. With the spirit of Christmas on our mind, we gathered our dream team crew at the end of August and spent four fabulous days shooting Joe's winter collections, at five different locations in and around Manchester.
Our shoots are always a whirlwind of creativity, and this one was no exception with 12 collections to shoot - and bringing each collection's story to life - we had a busy week ahead. Each shoot location had been carefully picked to suit each selection, from vibrant and eclectic to cosy and nostalgic, every story in our winter range takes you on a journey…
…Despite the summery weather outside, we fully immersed ourselves in the festive cheer during the shoot. (Yes, we were absolutely wearing Santa hats and singing carols in between takes!) After all, when it comes to Joe Browns, we're always up for adding a touch of playfulness and joy to every occasion.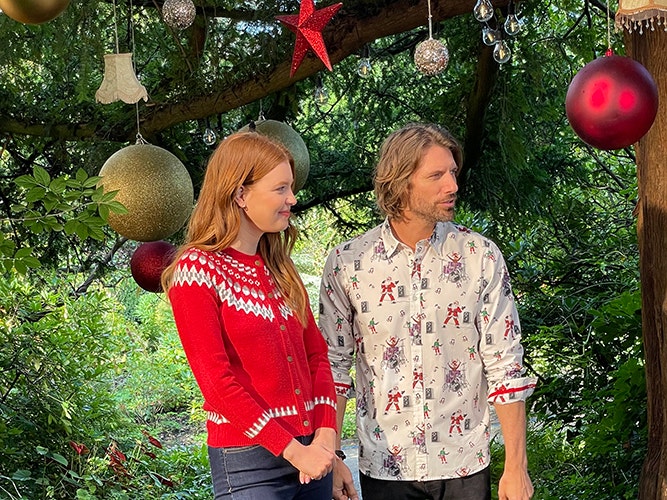 Day 1
AM location: Manahatta Deansgate.
Our first location was none other than the infamous bar Manahatta on Deansgate, a place you may be familiar with. At 7am, we were greeted by the beats of 90's cheesy hits and a spinning disco ball, setting the perfect vibe for two festive party collections in our menswear range: Heritage Found and Late Night Lights. Our talented models James and Rashid added their own touch of comedy to the shoot. Our dream team got all the pieces shot in the morning, which was then followed by a scrumptious lunch before heading to our next location.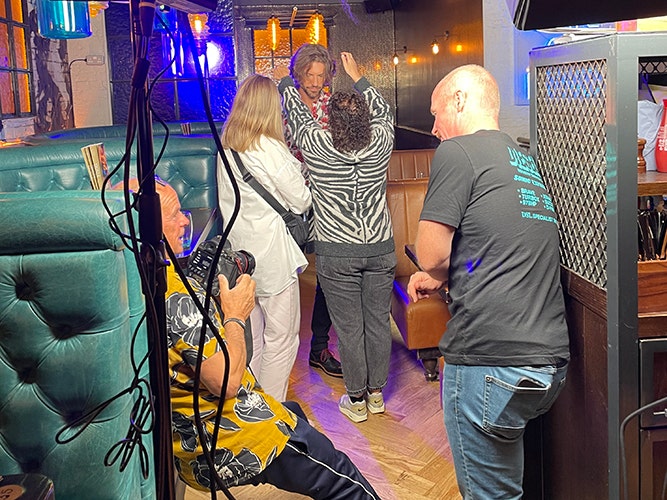 PM location: The Didsbury Parsonage
The afternoon took us to the picturesque location of Didsbury Parsonage (a great find by our Senior Marketing Executive, Lizzy!). To start off, we transformed one of the rooms in the parsonage into a makeup and wardrobe station for the models. Then we shot in the stunning wooded grounds. Rich, our head of creative found a beautiful tree to shoot under and this created an ideal setting for the Road to Freedom menswear collection. Kev, our exceptionally talented photographer, captured the essence of Christmas outdoors. As the day came to an end, the team packed up and headed for a well-deserved good night's rest, eager to see what the rest of the shoot has in store.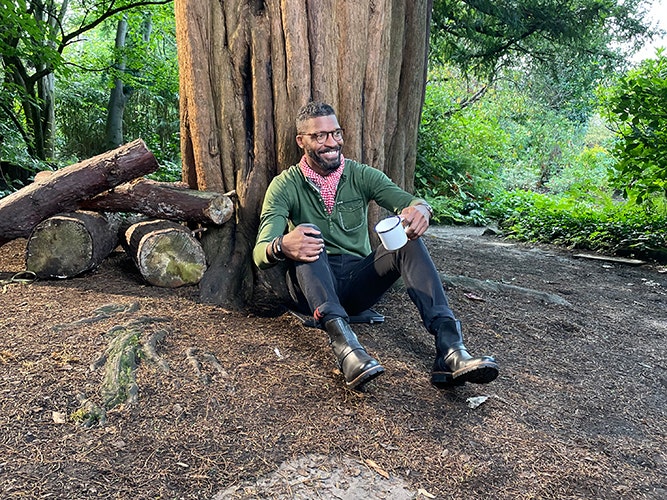 Day 2



AM location: The Didsbury Parsonage
Bright and early on the second day of shoot back at Didsbury Parsonage, we had 17 crew members on set and 4 fabulous models; Aline, James, Rashid, and Anna – who had flown all the way from Amsterdam! We were ready to rock the morning shooting both women's and men's doubles shots. To crank up the Christmas spirit (because why not?), we had those Christmas tunes blaring, making sure our models were in the jolliest of moods. The nearby pub was a legitimate hidden gem, serving up lunch to fuel us for the rest of the day.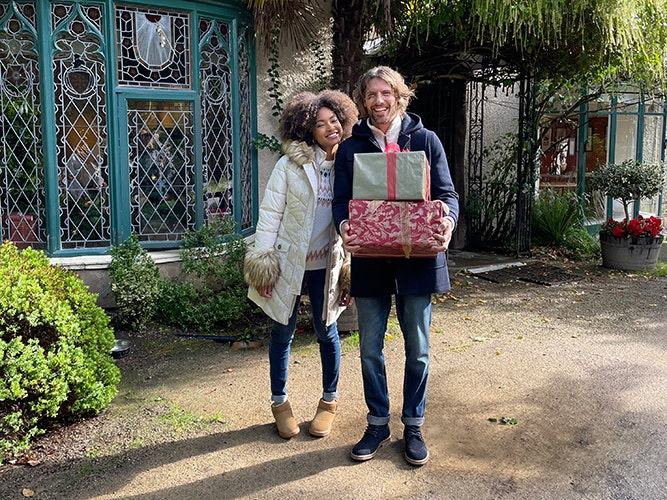 PM location: Stockport Plaza
We all drove over to the nearby Stockport Plaza to shoot our first new Womenswear collection, Hollywood Glamour – featuring our models Aline and Anna. Let me tell you, the Stockport Plaza had all the vintage glamour we could ever ask for. It turned out to be an incredible spot for capturing some of our most stunning shots. The theatre bug was infectious as we laughed and danced through shooting, this is what Joe Browns shoots are all about!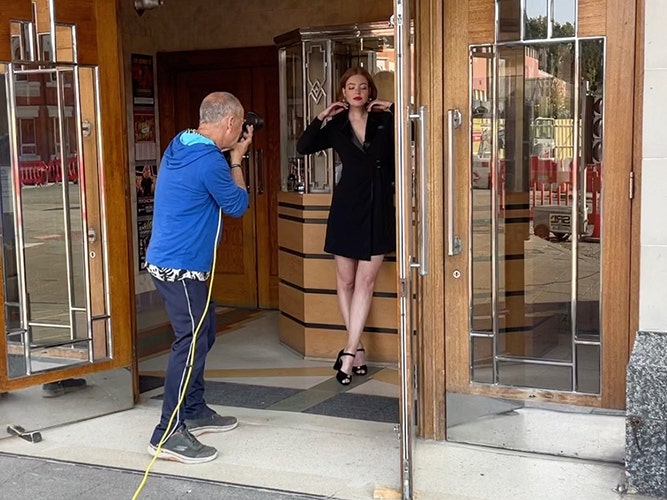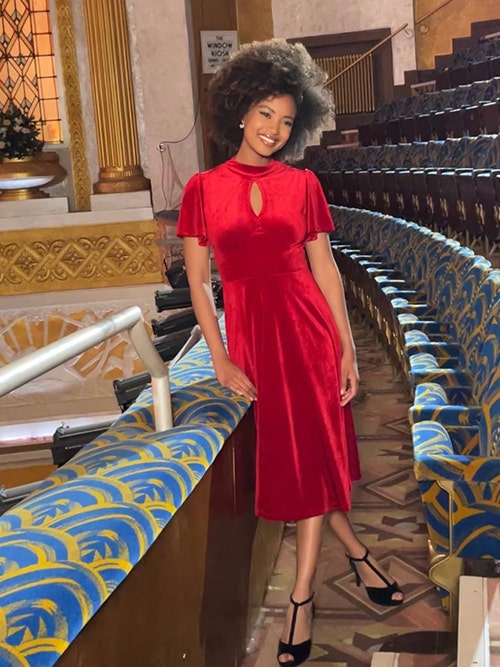 Day 3

AM location: Manahatta Deansgate
Woohoo, it's day three. The crew met early back at Manahatta Deansgate again to shoot Spirit of Manhattan with our superstar models Aline and Anna. Unfortunately, there were no 90's cheesy hits playing this time, but that didn't stop us from having a great time. James and Rashid finished their collections the day before, and we were ready to rock with our talented girl models for the rest of the week. Aline and Anna nailed it and we got some truly amazing shots for this collection. We then took a break for lunch provided by Manahatta, before heading up the road to the iconic Midland Hotel in Manchester.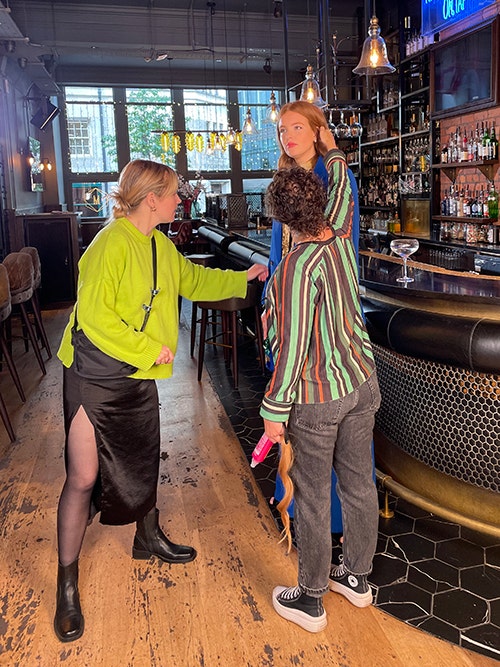 PM location: Mount Street Dining Room and St Peter's Square, Manchester
We used the Midland Hotel as a base for this shoot and promptly took to the streets to capture the essence of the next collection - Bohemian Winter. Mother Nature was not on our side as we had some cold and wet rainy weather, leaving the crew absolutely drenched. That's when our hero Lizzy, saved the day with a Café Nero run. Amidst the hustle and bustle of rush hour, we found ourselves doing a bit of unintentional crowd control- It turns out the collection was captivating the attention of passersby, and they couldn't resist stopping to peek. As per usual, Kev worked his photography magic, and we ended the day with some stunning shots.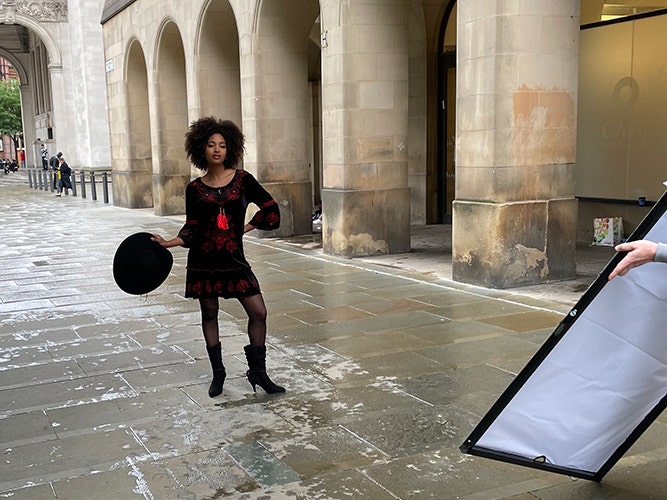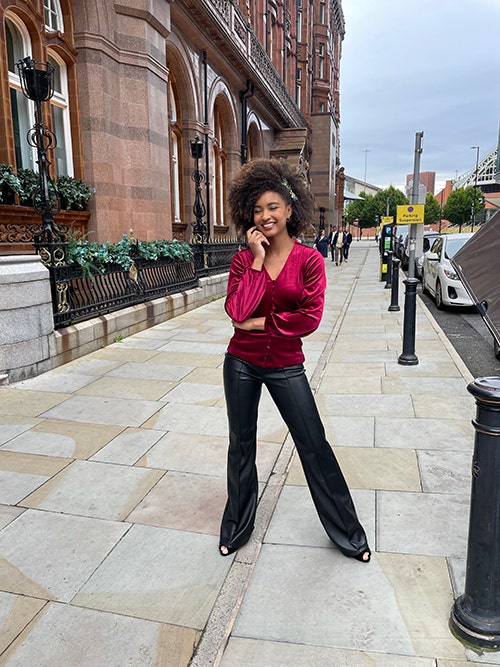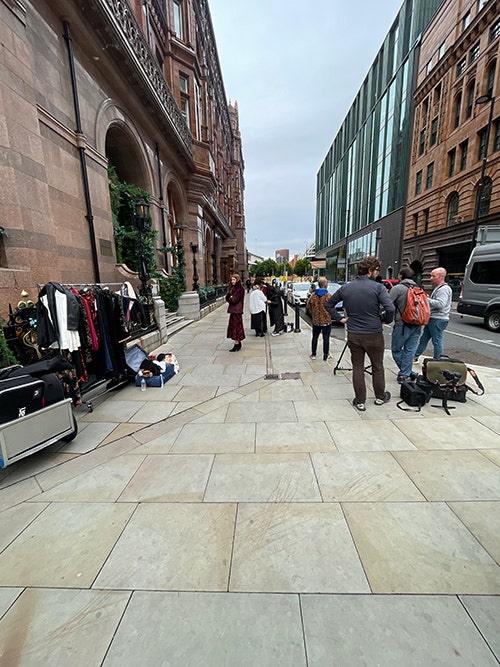 Day 4

AM location: The Didsbury Parsonage
We embarked on the final leg of our shoot with a sprinkle of Déjà vu, visiting our old friend the Didsbury Parsonage once again to shoot the Forgotten Dreams collection with our incredible model Anna. With a smaller crew, we were all hyped up to have a great last day of shooting. Anna, our star of the day, held the fort like a pro, gracefully showcasing each piece from the collection.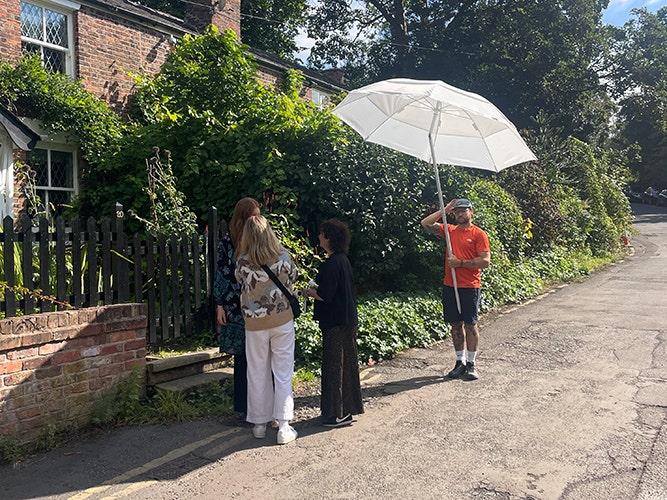 PM location: Mala Manchester and Northern Quarter
We then headed to the heart of Manchester's Northern Quarter to shoot our last two collections; Après Alpine and London Rebel. Our final shots had an extra dash of punky urban chic and festive spirit, all thanks to the cool vibes of Mala, a funky bar that had a real Christmas market feel. The fabulous Anna – of course - dazzled in cosy knits, hats, and glove sets. Of course, a shoot without a hiccup or two is no real shoot, and we encountered a small blip with the shoot location but after some problem-solving and a cup of tea for inspiration, we were able to continue shooting. After wrapping up there, Kev and Rich went on a scouting mission to find the perfect spot for London Rebel, our edgy collection inspired by the classic Joe Browns customer who loves rock 'n' roll. The city streets served as our backdrop once again, and we couldn't help but attract the curiosity of some passersby who were eager to see what we were up to.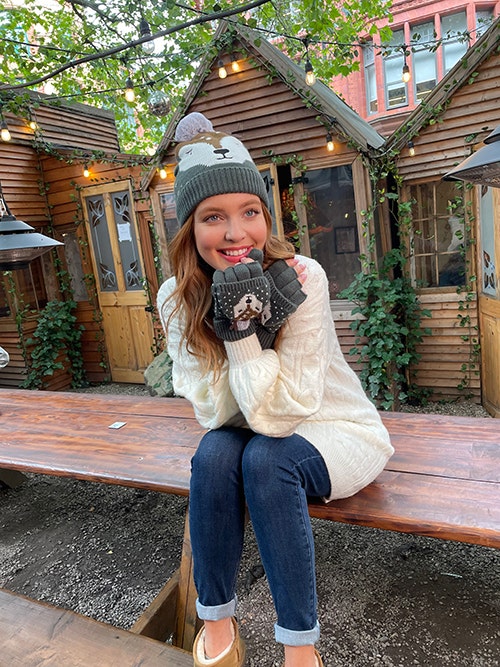 So, after shooting 12 collections, 13 meals apiece, hundreds of cups of tea and countless snacks, we were over the moon with how the Joe Browns Winter 2023 shoots turned out, even though a lot of us couldn't feel our legs anymore!
That's a wrap! Manchester: you have truly been a great canvas for our shoot. Four days of pure awesomeness, our biggest Christmas shoot to date. A huge shout out to our amazing models James, Rashid, Anna, and Aline for all their hard work - you guys rocked it! And let's not forget our amazing photography dream team, Kev, Karl, and Scott for doing their thing. Big love to Gemma and Ona for making everyone look runway-ready, and of course, our wonderful Leanne for hair and makeup. We couldn't have done it without you.
Scroll to top