Come Behind the Scenes of Our TV Advert!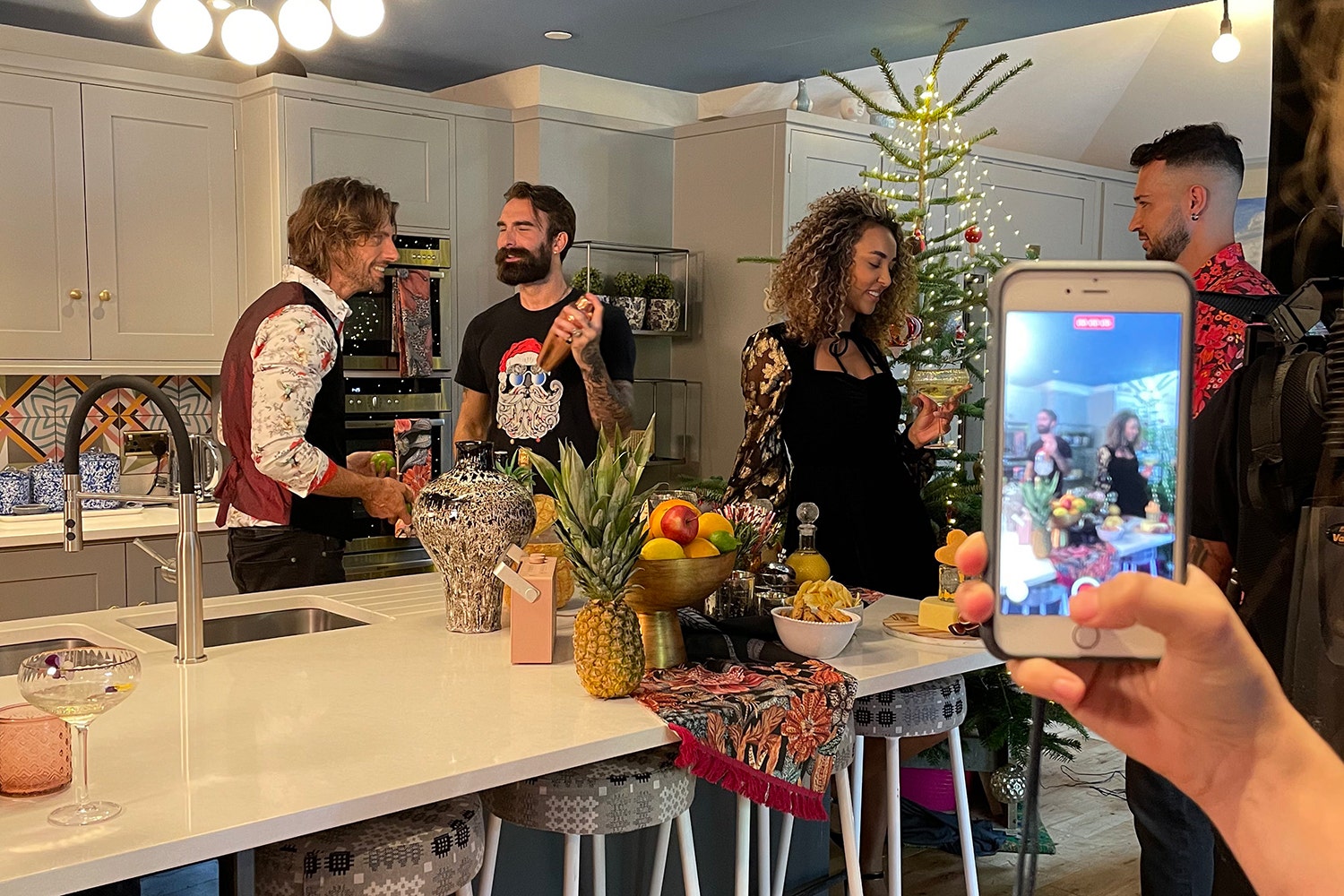 We've finally made it to the silver screen! Yes, Joe Browns has recently embarked on a new adventure in TV Adverts. It was a first for most of us, and we didn't really know what to expect. So let us take you along on our TV Advert shoot!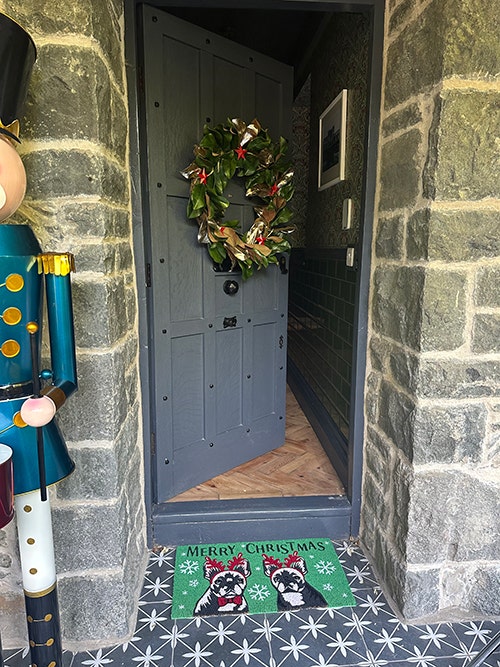 Wales has always held a special place in the history of Joe Browns. Our founder, Simon Brown, struck inspiration for a new clothing business back in 1998 whilst he was sat in the Ty Coch Inn, looking out across Morfa Nefyn Bay.
It was only right that we go back to Wales to film our first-ever TV Ad, going back to our roots. Filming took place in Llandudno – a gorgeous village in Wales. We packed up everything we could possibly need the day before and made our way over the border, of course, all pointing out the sea and the castle where they do 'I'm a celeb' on the way!
We took the 'more is more' approach when packing and brought our iconic JB van with just about everything you could think of. We're talking 3 spares of each outfit, bespoke napkins and - of course - one of our custom-made motorbikes!
The JB crew, models, hair, makeup artists and stylists – along with the wonderful crew at Liquid Agency were all staying at the same hotel in Llandudno so there was a real sense of excitement when we all met in the hotel lobby the morning of the shoot – total school trip vibes!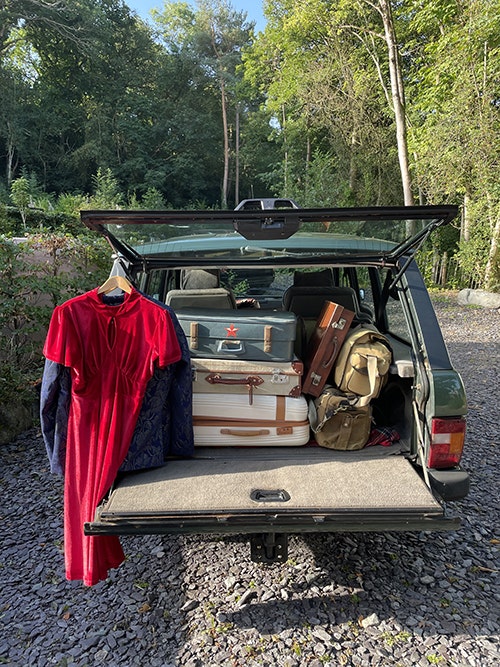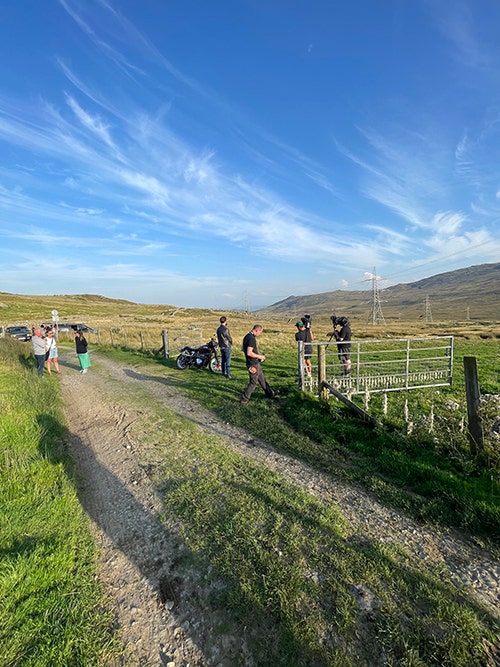 It was an early start with a call time of 6 am, so we all bundled ourselves into cars and made our way to the location. We were shooting the main scenes of the advert in a decadent house in the village of Rowen. At Joe Browns we like to think we're known for our maximalism - so we needed a house to match. After seeing the site we can honestly say a more perfect one could not have been found!
It was an absolutely glorious location; every room had a different print on wallpaper or curtains, with gorgeous metro tiling in the hallway, beautiful nods to Wales in the neon sheep statues, and the most amazing art on the walls – including a duck Mona Lisa! This house was perfectly Joe Browns; the art deco-themed lounge even had original William Morris stain-glassed windows. Any Joe Browns fan knows Morris is a top favourite among our buying team and designers.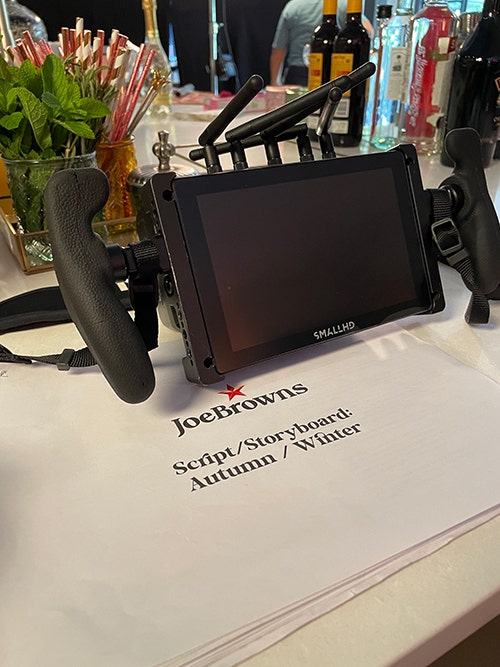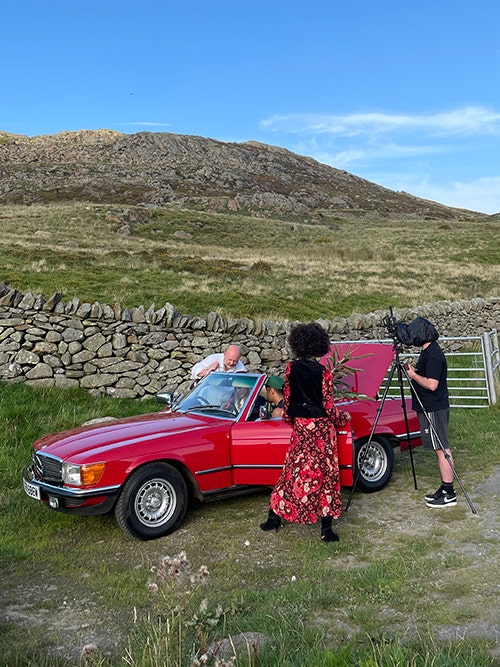 Once we were at the house we began to unpack all of our equipment. Most of us had never been on a TV shoot before, so we were super excited to see all of the cameras and equipment Liquid the filming agency had brought. Once we had unloaded all of the JB products out of the van, we had a quick coffee and a pastry (because priorities), while catching up with the models, and then the work began!
It really does take a village on shoots like these! A huge thank you to our amazing stylists Rosie Farnworth, Gordon Webber and our hair and makeup gurus Leanne Shaw and Llio Fflur who all did an amazing job. The stylists began steaming clothes, models went into hair & make-up, lighting was tested and cameras assembled – the JB team used this time to place our amazing new homeware throughout the house. We can all add "set dressers" to our repertoire now!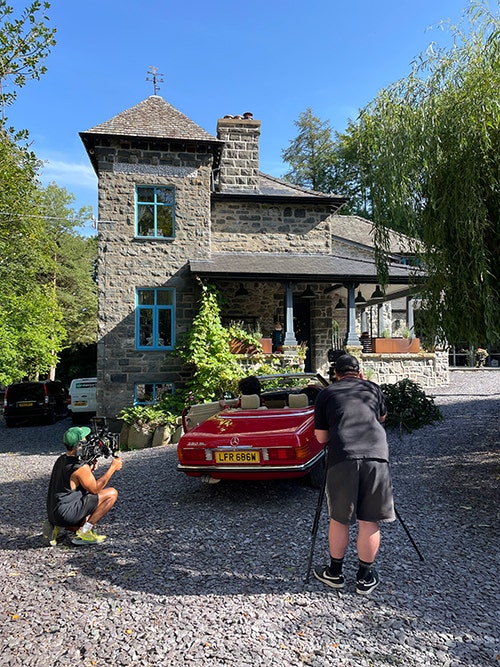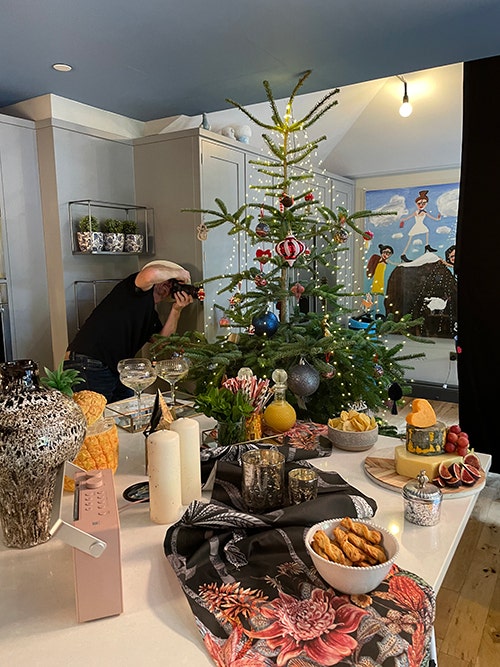 Our first shot of the day was the first of our two adverts (oh, did we mention we have two adverts?). The scene starts off with James, Flo, and Abigail coming out of their house with their luggage – and a great Joe Browns outfit – to join Ricardio and Portia in their Jeep for a road trip to remember. The Jeep was a Range Rover Vogue SE from the 80s that belonged to a student who had driven it over from Bristol. We shot this scene in the front garden of a cottage just up the road from the main house. There were some nerves at first, but – ever the professional – our male model James was a total natural!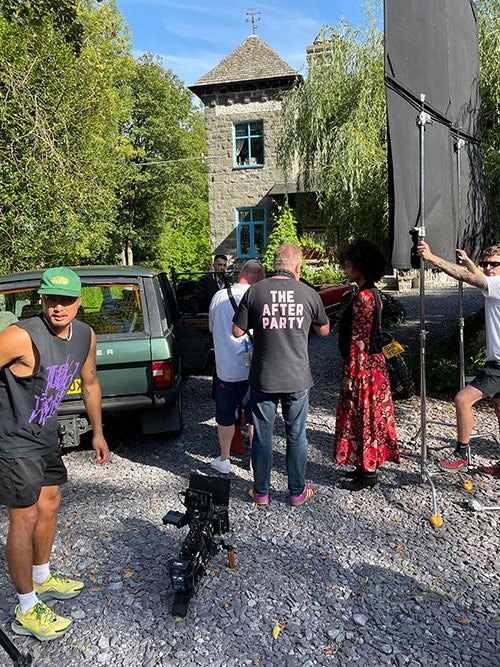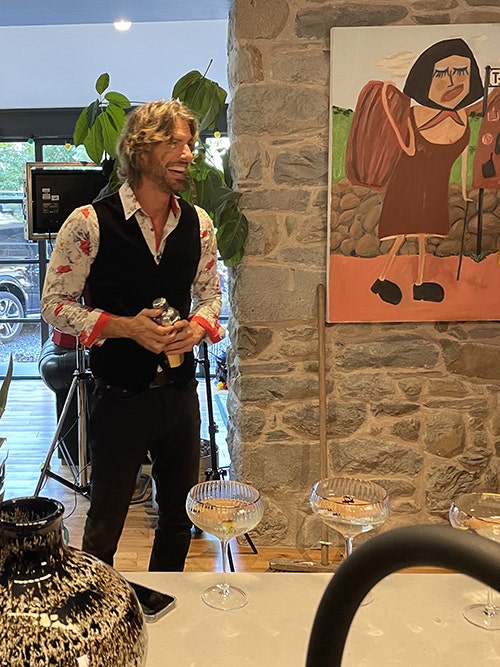 Next up, we headed back to the main house so our models could change into festive party styles. On this shoot, we were filming both adverts on the same day, which meant quite a lot of outfit changes and switching between the stories for adverts 1 and 2. In typical Joe Browns style, we were shooting our Autumn/Winter collection in the sunshine. The day of the shoot was one of the hottest days in August; our models were absolute troopers getting into the party spirit while wearing knitwear and winter coats! The next scene was our models pulling up to the main house in the Jeep and making their way into the house, this is where we filmed the ending shot of the first advert; with the Christmas wreath adorned with custom-made Joe Browns stars.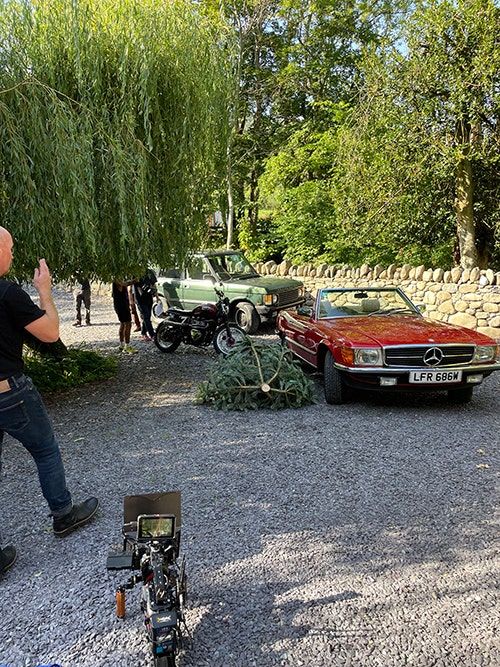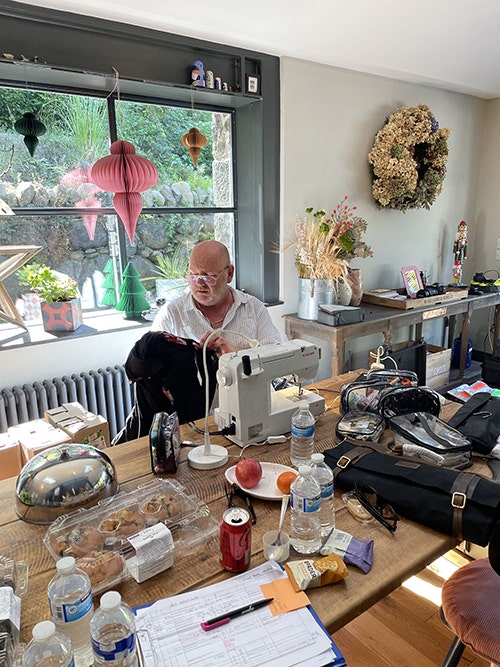 We then headed into the gorgeous living room in the house to film our Christmas party scene where our models were sharing laughs (cue lots of fake laughter from the crew to get the models going) over drinks, and exchanging Christmas presents. In this scene, our model Jack was handed his present badly wrapped in tin foil! Special shoutout to our Senior Marketing Executive Lizzy who mastered the art of wrapping presents in tin foil for this shot.
In the Christmas advert, we had scenes that included our models cocktail-making in the kitchen with a glamorous spread in front of them, as well as a luxurious Christmas Dinner scene. For this, we had Food Tech expert Victoria Copley come in and handle all things food and the setting up of the kitchen scenes. Victoria arrived at the house with enough food to feed an army to create her magical Christmas dinner. It was so interesting to watch this process (much more fun to watch someone else make a Christmas dinner than doing it yourself!) and the finished result looked absolutely incredible. Victoria was hard at work in the background whilst the TV crew were filming some product shots and close-ups, she even got stuck in creating the mound of Brussels sprouts that James had to eat in a later scene.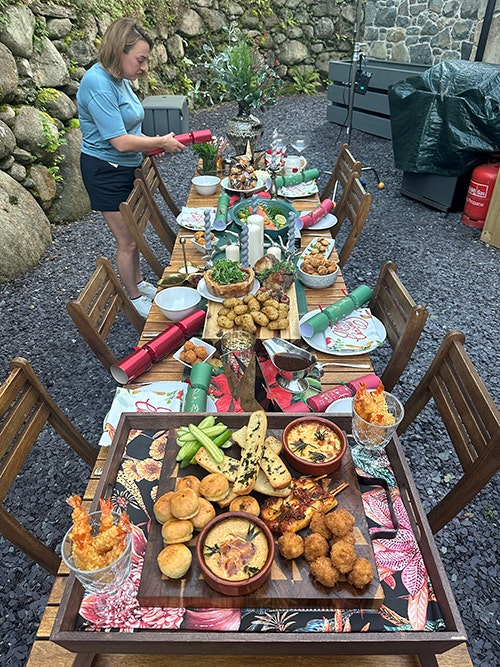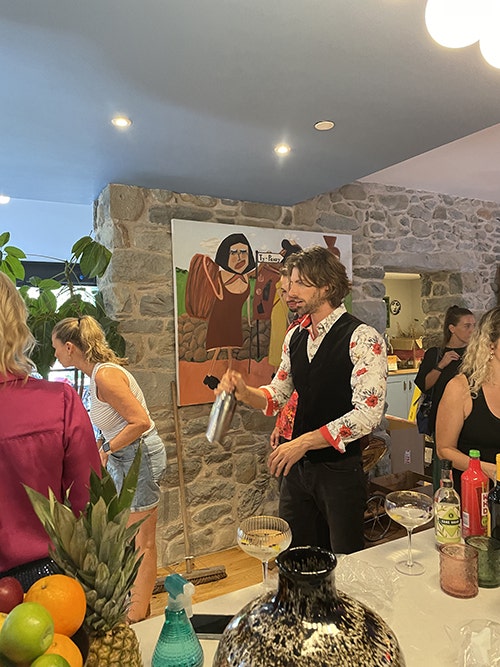 Once the kitchen had been set up with an amazing spread using Joe Browns dining range, cocktail ingredients, nibbles, and a cheeseboard that featured heart-shaped cheese, we filmed the cocktail-making scene. Our model James, impressed us yet again with his juggling skills – juggling 3 limes and accidentally hitting only one other model (well done, James)! Once that scene was wrapped it was time for lunch. We had our lunch ordered in from a pub down the road, and since the weather was so nice we ate lunch outside in the garden and soaked up the sun.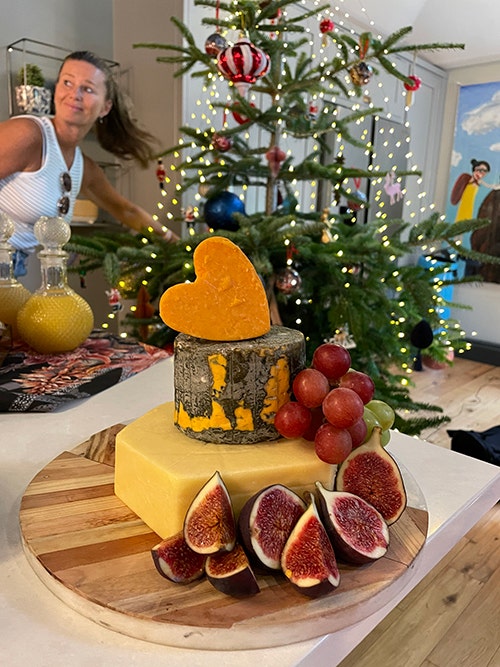 After a few touch-ups, and yet another wardrobe change, we began to film the scenes where Aline and Izzy pull up to the house in their classic car and pull the Christmas tree from their boot up to the house. For all the classic car fans, we hired a gorgeous red convertible Mercedes Benz 420 SL. Although that may sound like a simple scene to shoot – it was a lot harder than it sounds! I think we ended up doing about 7 takes, a real arm workout for the girls. We then filmed the next scene where model Jack turns up to the house on the Joe Browns motorbike to join the girls. Finally, we filmed the scene where the guys in the jeep pulled up, showing Aline and Abigail realizing they were wearing the same Joe Browns dress – in two different ways!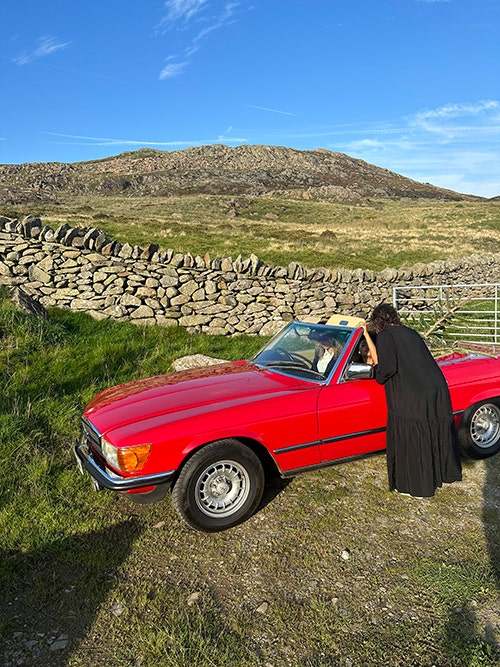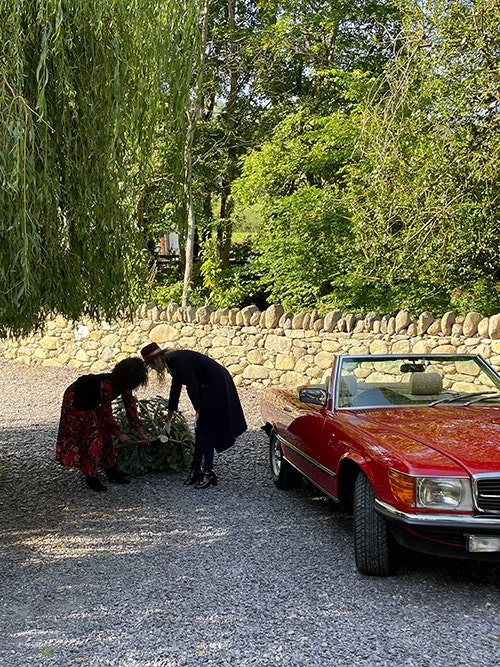 Next, we were on to a different location! We all drove up to a nearby walking route in the countryside. Here we shot the opening scenes of Advert 1 with Aline and Izzy looking at the coordinates and the map in the car. And another scene where the models in the Jeep pass Jack who has gotten off his motorbike to film the amazing scenery. It was whilst we were at this location, that our Drone Operator Joe Bambra shot some beautiful scenes of the vintage car driving through the gorgeous Welsh countryside. Whilst we were up on the scenic walking route, we had some Welsh ramblers very interested in what we were filming, luckily make-up artist Llio was on hand to explain to them what exactly we were doing in the native tongue.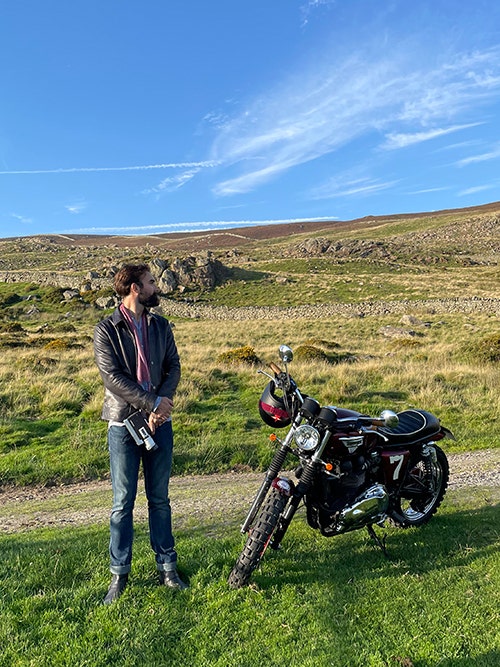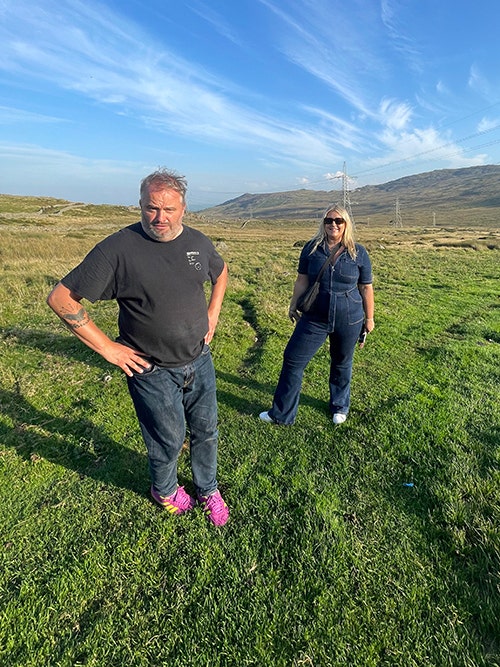 When we returned back to base it was time for dinner. We had the most amazing spread of party food for dinner – which was very well received it was now 7 pm and we were starving. We of course all kept the energy high, helped by seeing the setting where we would be filming the next scene. Whilst we had been at the other location, Victoria had turned the outdoor patio area into a Christmas wonderland, with the most amazing-looking Christmas dinner spread on the table with Joe Browns Christmas homeware. The sun was beginning to set and by the time the models had their hair and make-up touched up, and had their JB party outfits back on, it was getting darker which made the outdoor Christmas party setting look even more magical.
At the Christmas party table, we were filming party scenes with our models all sitting around the table having fun. We filmed some detail shots of Aline, Izzy, and Portia looking gorgeous in their Christmas party outfits. As well as our final rock, paper, scissors scene of the day where James loses to Flo (yet again!) and has to eat the towering pile of sprouts as his forfeit. No stunt actors were used in the filming of this scene, James did actually eat 7 raw Brussels sprouts – ever the method actor!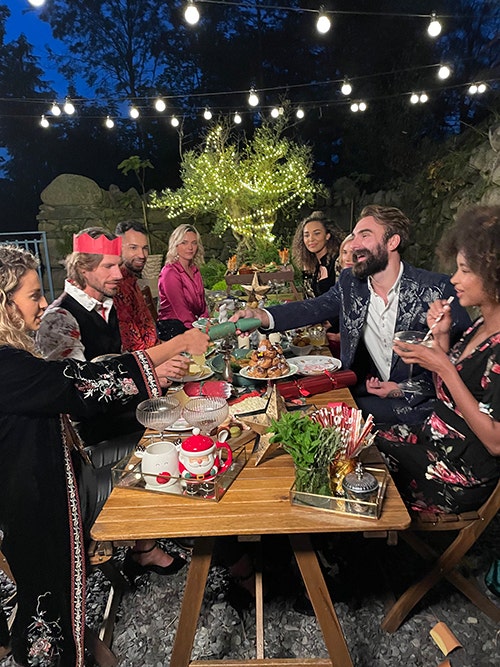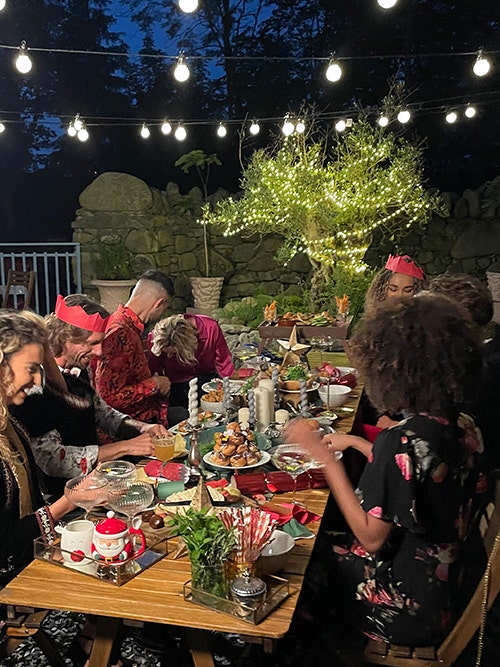 For the final scene of the day, the models sat around the fire pit wrapped up in coats and blankets and sharing a laugh and a drink! Whilst this shot was being set up the JB team were running around like headless chickens packing up all the homeware and clothing back into the van. By the time we were filming this last scene, it was around 10 pm and fatigue was beginning to set in, so it was very easy for our models and crew to master the fake laughter as we were all going a bit delirious! After a few takes and some close-ups, Creative Director Steve McGauley was the one to shout 'that's a wrap!' – met with much celebration. After a lot of hugs, goodbyes and packing up the van we were on our way back to Leeds – job well done!
With that, our TV adverts were filmed and we all had an amazing day learning a lot on our first TV shoot experience. Of course, none of this could be done without the amazing crew at Liquid Agency who helped bring this magical advert to life. Special thanks to Steve, Lisa, Flo, Louie, Thomas, Richard, Joe, Jack, and Elizabeth. We'd also like to thank our amazing models for giving their all, as always, and managing to keep the Christmas party spirit going throughout a very long (August) day. We hope you enjoy our NEW TV Advert as we are so proud of all the hard work (and fun) that has gone into it!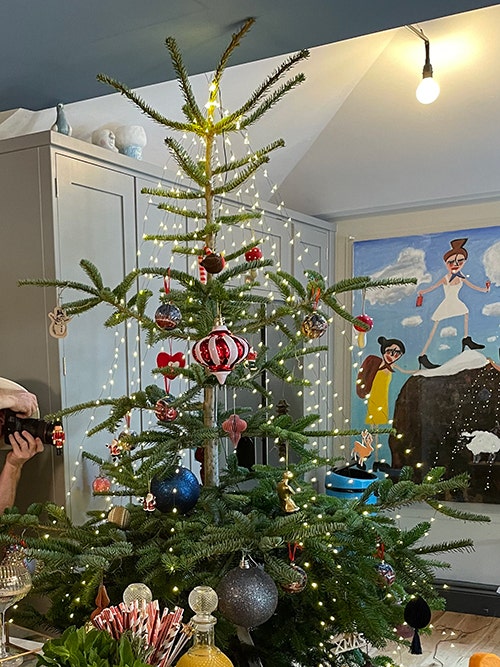 Scroll to top