Let's get crafty this Christmas - Part 2!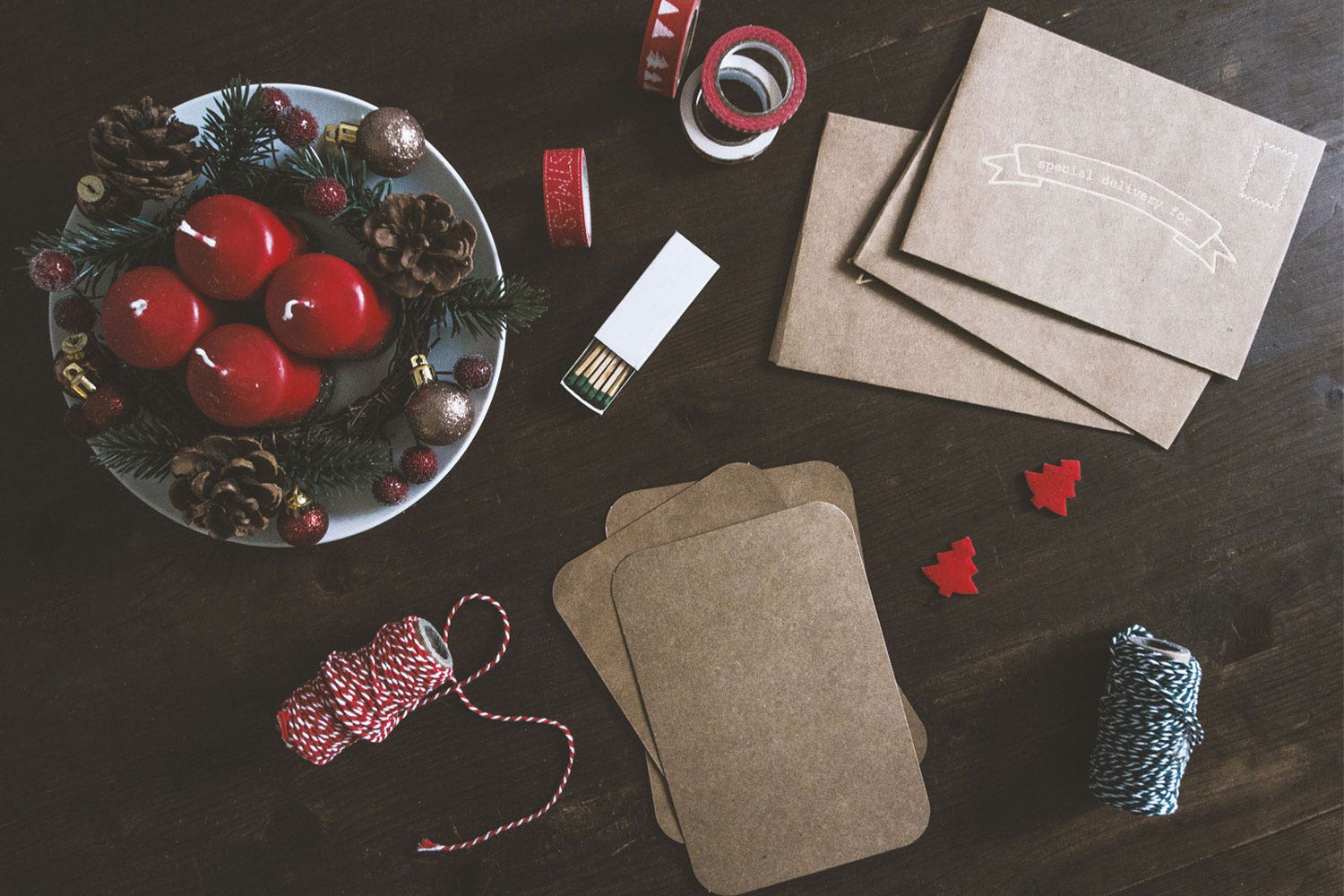 It's officially 20 days until the big day…
If you're struggling with what to get your loved ones this Christmas, then we've got just the ticket!
We don't about you, but we think a handmade present can mean just that little bit more to the person receiving it plus they can be really fun to make!
So, why not release your inner craft King/Queen and check out these easy peasy handmade ideas that you can gift to the people you love this Christmas.
O Christmas… Tea!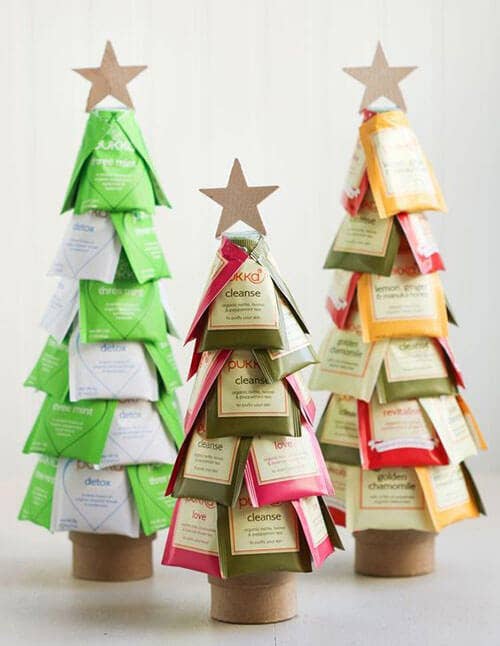 *Image sourced from Pinterest.
Got a brew lover in the family? If so, we're sure they'll love this 'tea tree'!
What you'll need:
Styrofoam cone or a sturdy cardboard cone (available at craft stores).
Individually wrapped tea bags.
Superglue or a glue gun if you have one.
Your chosen tree topper – wooden star, ribbon etc.
How To Make:
Step 1:
Grab an individually wrapped tea bag and squeeze a line of glue near the top and the back of it. Once done, press the tea bag firmly onto the cone, starting at the bottom.
Step 2:
Stagger the tea bags as you glue them on, layering them in rows until you've worked your way to the top of the cone.
Step 3:
Glue your chosen tree topper to the top of your 'tea tree' and give yourself a high five - your 'Christmas tea tree' is complete!
Rudolph The Red Nosed… Gift Card Holder!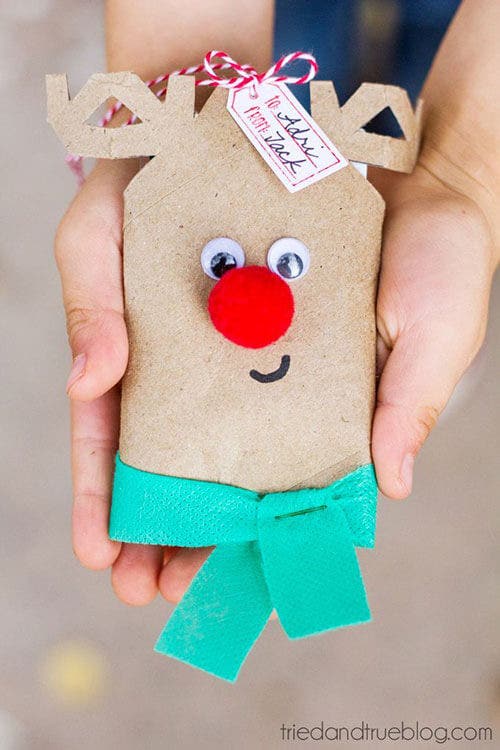 *Image sourced from triedandtrueblog.com
This one is perfect for the kids (big kids included!).
What you'll need:
Toilet paper tube.
A red pom pom.
Green ribbon (or a different colour of your choice).
Googly eyes.
Mini stapler.
Red and white baker's twine.
1/16 hole punch.
Superglue.
Scissors.
Black marker.
Gift tag.
How To Make:
Step 1:
Sketch out two antler shapes with a pencil at the top of the tube and then cut around the antler shapes.
Step 2:
Cut a small strip of green ribbon and wrap it around the base of the tube to act as the reindeer's scarf. Next, staple the "scarf" in place.
Step 3:
Glue the nose and googly eyes in place. Draw a mouth using a black marker and cut the back of the antlers so that they fold out at the sides.
Step 4:
Grab the hole puncher and punch a small hole at the top, centre of the tube in between the antlers. Next, thread the twine through the hole and add a gift tag, fastening with a small bow. Lastly, insert the gift card into the tube - it should fit nicely.
Hey presto – the gift card is ready to be loaded onto the sleigh!
D.I.Y Mason Jar Cocktails!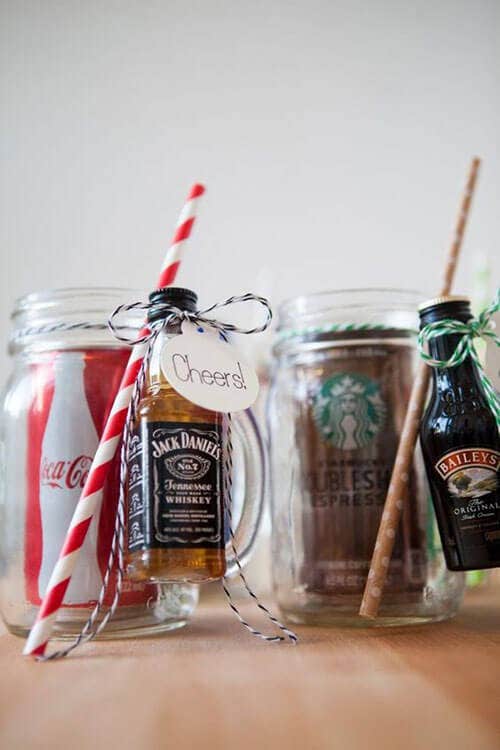 *Image sourced from Something Turquoise Blog.
For the ones who love a little tipple...
What you'll need:
Small mason jar (16oz - mouth must be at least 6.3cm wide).
Mini can of mixer (213 ml/7.5oz).
Mini bottle of alcohol.
A funky straw.
Twine and a gift tag.
Scissors.
How To Make:
Step 1:
Grab two pieces of twine and wrap them around the neck of the jar. Tie them in a double knot to fix them in place.
Step 2:
Next, make another knot but don't pull it tight, instead insert your straw through it and then tighten the twine around it.
Step 3:
Do this again but this time add your alcohol bottle and finish with a double knot to secure.
Step 4:
Write a message of your choice on the gift tag then, using 2 pieces of the twine, add your handwritten tag to the neck of the miniature alcohol bottle. Tie a bow with all four strands of twine and cut to finish.
Step 5:
Pop the can of mixer into the mason jar and your mini cocktail jar is good to gift!
We hope you feel a little inspired by our selection of handmade gift ideas. You can check out more unique gift ideas here.