Meadowhall Store Favourites: Key Autumn Styles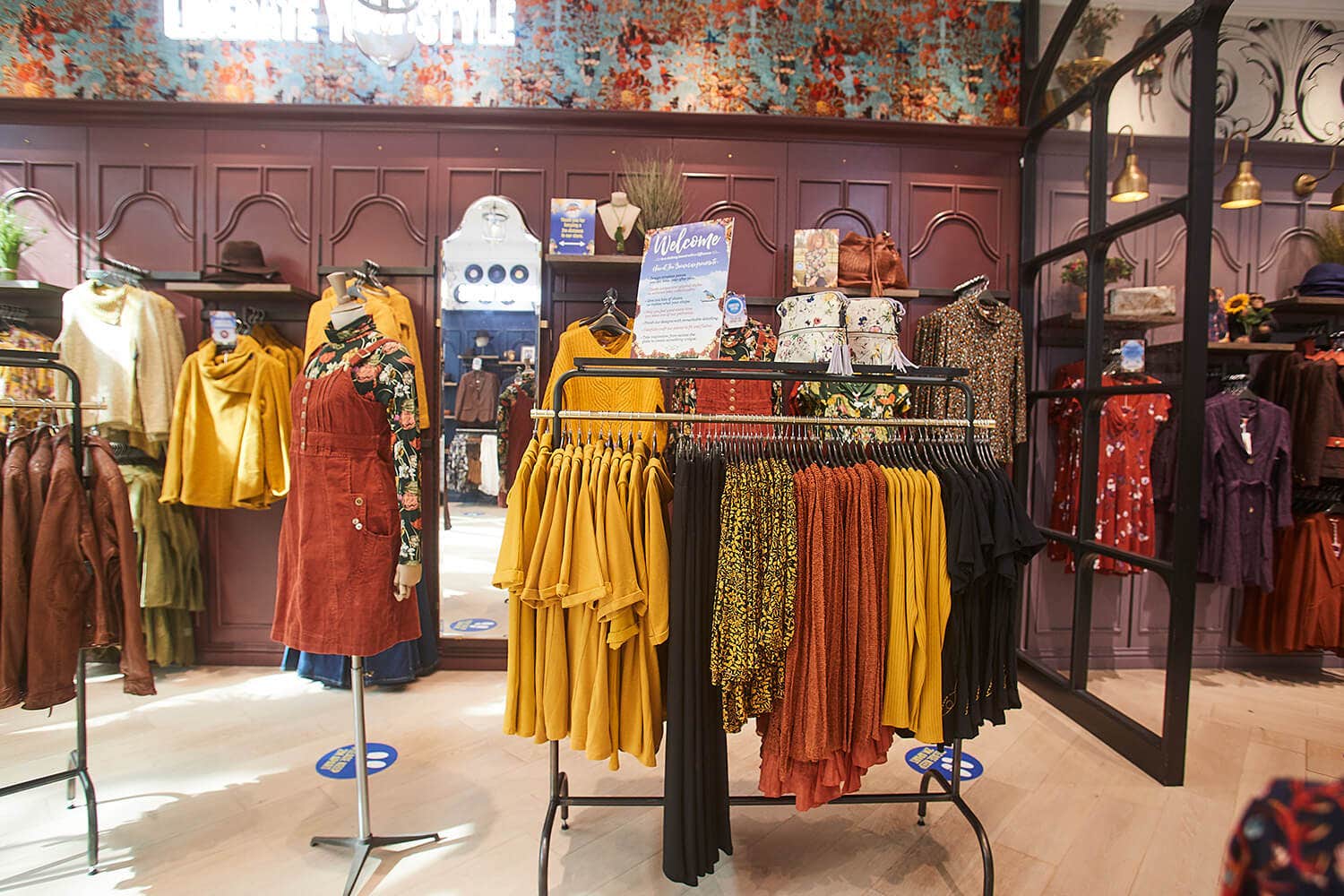 We'd love to introduce you to our Meadowhall Store Style Ambassadors. They're an incredible bunch who love wearing our collections in their own way​ and if you need any tips or styling advise while you're shopping with us, they certainly know their stuff! What a wonderful job they have, wearing Joe Browns everyday!​
​
We caught up with them this week to find out what autumn key styles they are loving this season. Let's meet the team…​
Debby, Deputy Manager​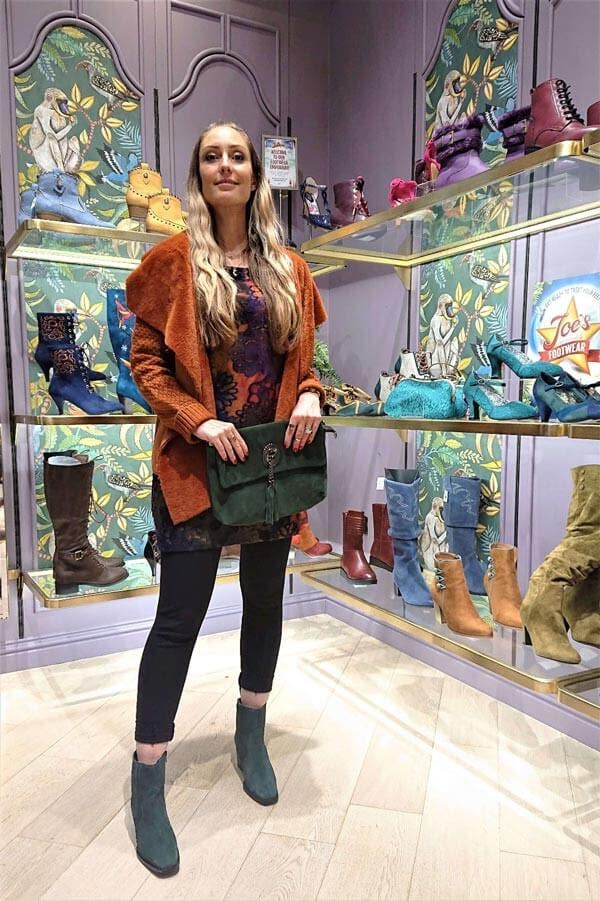 Debby is wearing: Fun Loving Tunic £40, Mix It Up Knit £45, High Society Suede Boots £69, Florence At Dusk Suede Bag £49.​
My favourite wardrobe key piece is…​
It has to be the Mix It Up Knit that I'm wearing today. What a beautiful cardigan this is! The burnt orange colour and mix of luxe fur and knitted sleeves make it a perfect autumn piece that will go with just about everything. ​
​
How I styled my outfit… ​
As I'm taller the tunics look great worn with jeans and a pair of ankle boots – the High Society Suede Boots are so gorgeous, I love the dark green colour. The matching suede bag also looks amazing with this outfit, it really finishes the look ​off and then, of course, I've added my favourite orange knit!​
​​
What I love about Autumn…​
Autumn is my favourite season! I absolutely love wrapping up in cosy knitwear, so this knit is perfect – it's so soft and warm and the colour is gorgeous.​​
Rosie, Floor Store Manager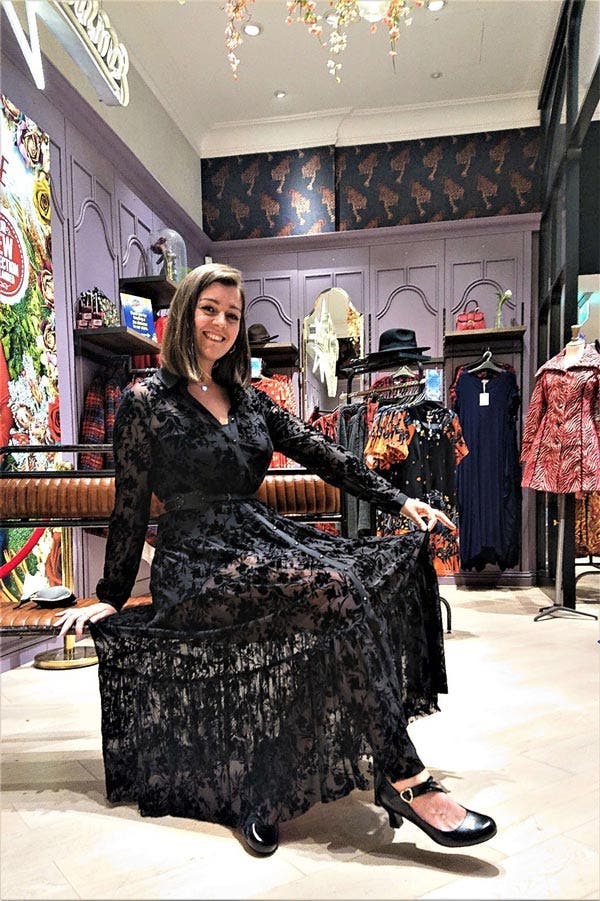 Rosie is wearing: Tiered Shirt Dress £70, Game Changer Leather Belt £38, Sweetheart Vintage Style Shoes £40.​
My favourite wardrobe key piece is…​
The Tiered Shirt Dress and wow what a dress! I feel fabulous in it! The textured fabric and sheer skirt look amazing and it also comes with an inner cami. I'm quite tall but the longer length fits me perfectly – I'll be wearing it all season. ​
​
How I styled my outfit…​
I've added a leather belt to pull me in at the waist, so it looks even more flattering and​ teamed it with these vintage style shoes – the love heart buckle detail is so lovely. You can also wear this dress open with a pair of jeans and boots underneath for a different option. ​
​​
What I love about Autumn…​
I love cosy nights in, getting all snuggled up on the sofa watching films… oh and don't forget the snacks!
Andy, Store Manager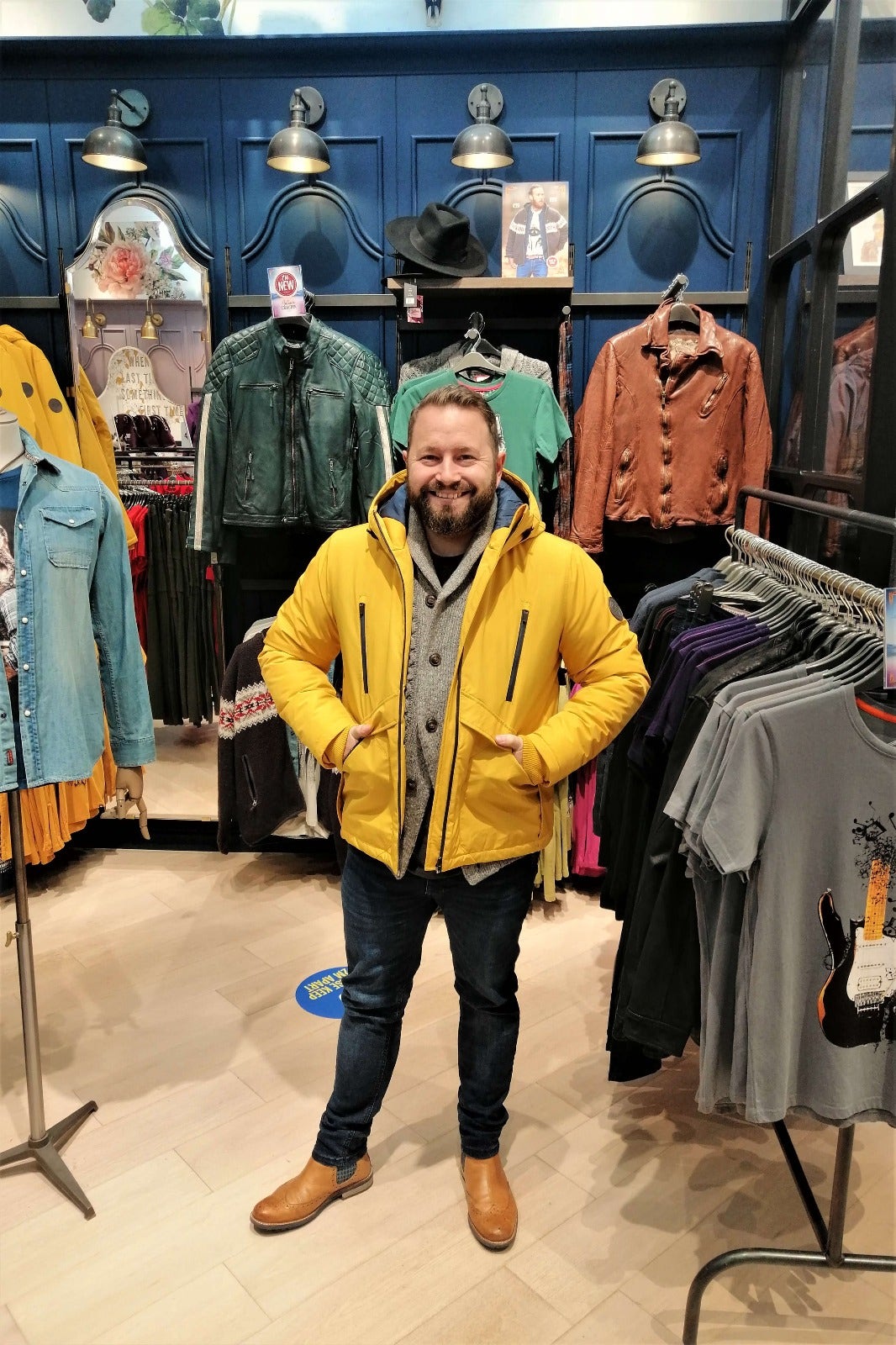 I'm wearing: Get Out There Coat £75, Hickory Cardigan £60, Superb Fit Jeans £30, Austin Leather Chelsea Boots £70.
My favourite wardrobe key piece is…​
The Get Out There Coat – I love the bold colour, it will certainly brighten up a dull day! It's ideal as the weather is dropping cold now, so it keeps me warm. It has more pockets than I know what to do with and fits amazingly - it doesn't feel restrictive or limiting at all. I can run around after my kids all day in this."​
​
How I styled my outfit…​
Layering is key for autumn and this outfit was so easy to style. A classic pair of jeans and a go-to chunky cardigan layered over an awesome graphic tee is perfect for me. If the weather gets too warm you take off the layers, if it gets chilly you add them – it's that simple. ​
​​
What I love about Autumn…​
At the minute the easiest thing to do is get out for the day and have a bit of an adventure – get wrapped up and go for a refreshing autumn walk.
Fran, Style Ambassador​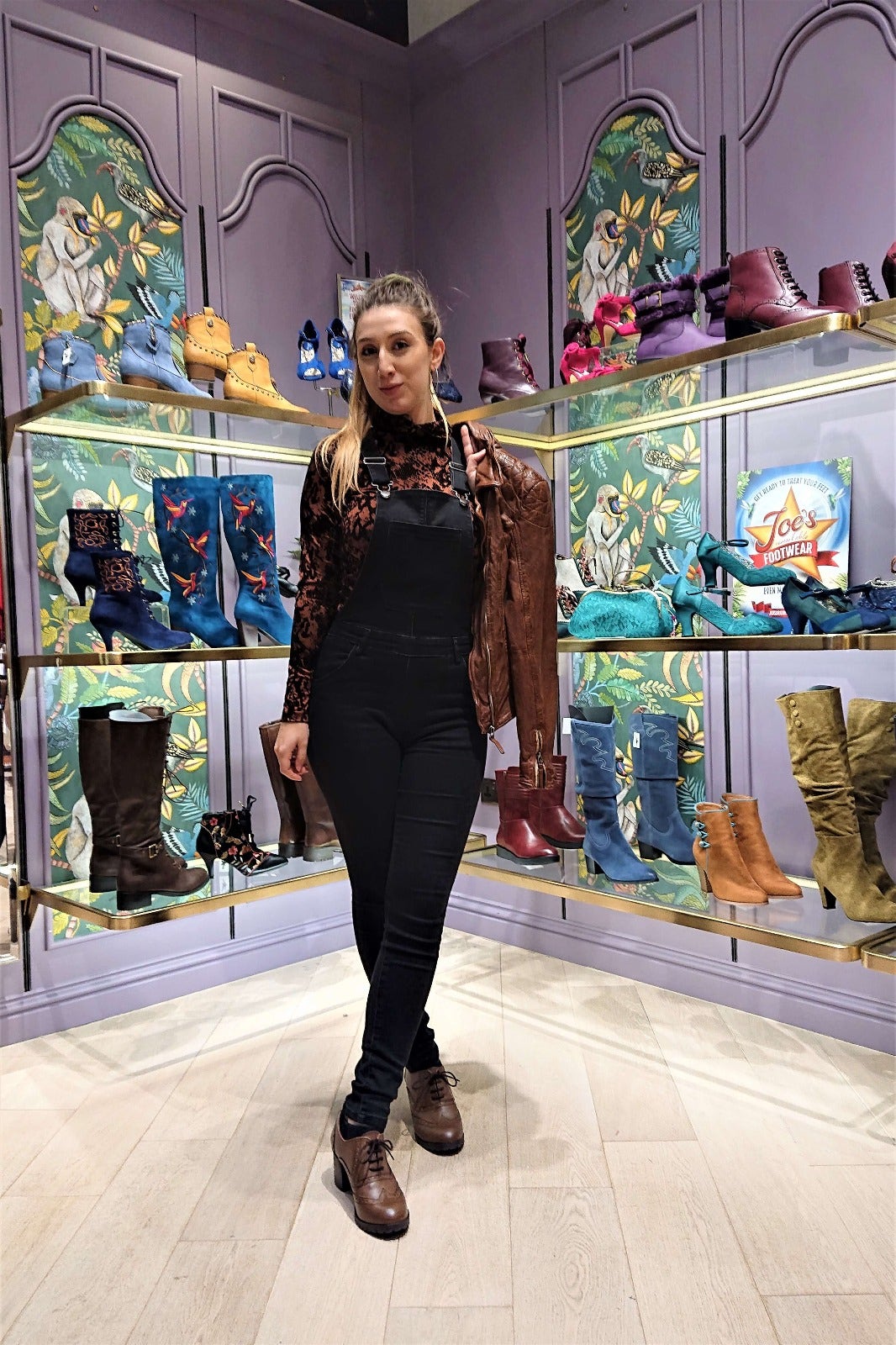 I'm wearing: Denim Dungarees £50, Flocked Animal Roll Neck Top £32, Joe's Signature Leather Jacket £220, Elinor Leather Brogue Shoes £55.
My favourite wardrobe key piece is…​
The Flocked Animal Roll Neck Top is my favourite piece for autumn, it's a key staple style that's going to be worn a lot this season. I love a bit of animal print!​
​
How I styled my outfit…​
I'm wearing the animal print top with these awesome Denim Dungarees, they're so easy to wear and I think they look flattering on me. I've added the tan leather jacket and the leather brogue shoes to finish off the look – simple yet stylish. ​​
​
What I love about Autumn…​
The colours! There's nothing more gorgeous than autumnal colours and I love being able to wear them.
Georgia, Style Ambassador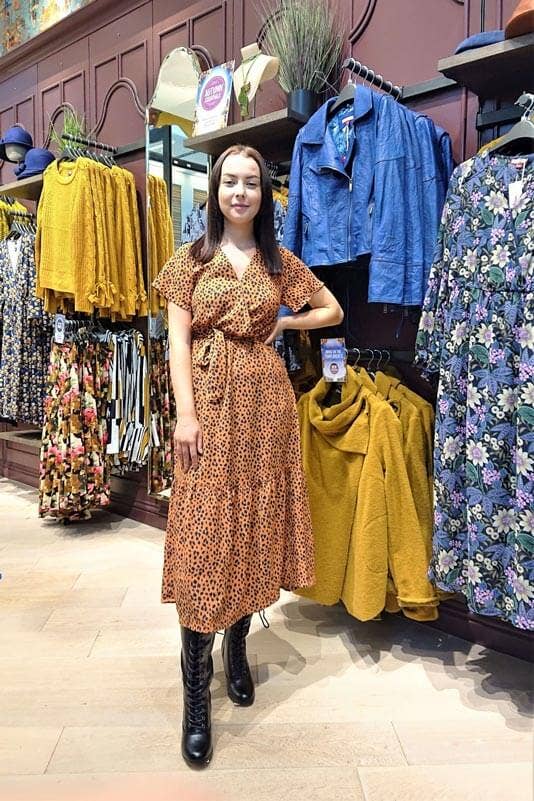 I'm wearing: Sensational Spotty Dress £45, Move On Tall Lace Up Boots £65.​
My favourite wardrobe key piece is…​
The Move On Tall Lace Up Boots, how incredible are they? Not only are they stylish but they are really comfy too. The statement lace-ups and chunky heels are really easy to wear. ​
​
How I styled my outfit…​
These boots will go with almost anything but today I'm wearing them with the Sensational Spotty Dress. The wrap style is very flattering and I love the rich orange shade – this outfit makes me feel very confident. ​
​​
What I love about Autumn…​
It has to be long autumn walks! I love an adventure and when the weather is sunny and crisp, you can wrap up cosy and get lots of fresh air.
We hope you've enjoyed getting to know our Style Ambassadors and seeing how they have styled their favourite key autumn pieces.​
You can shop all these remarkable styles in-store now…
​