The Greedy Gringo Lomo Saltado Recipe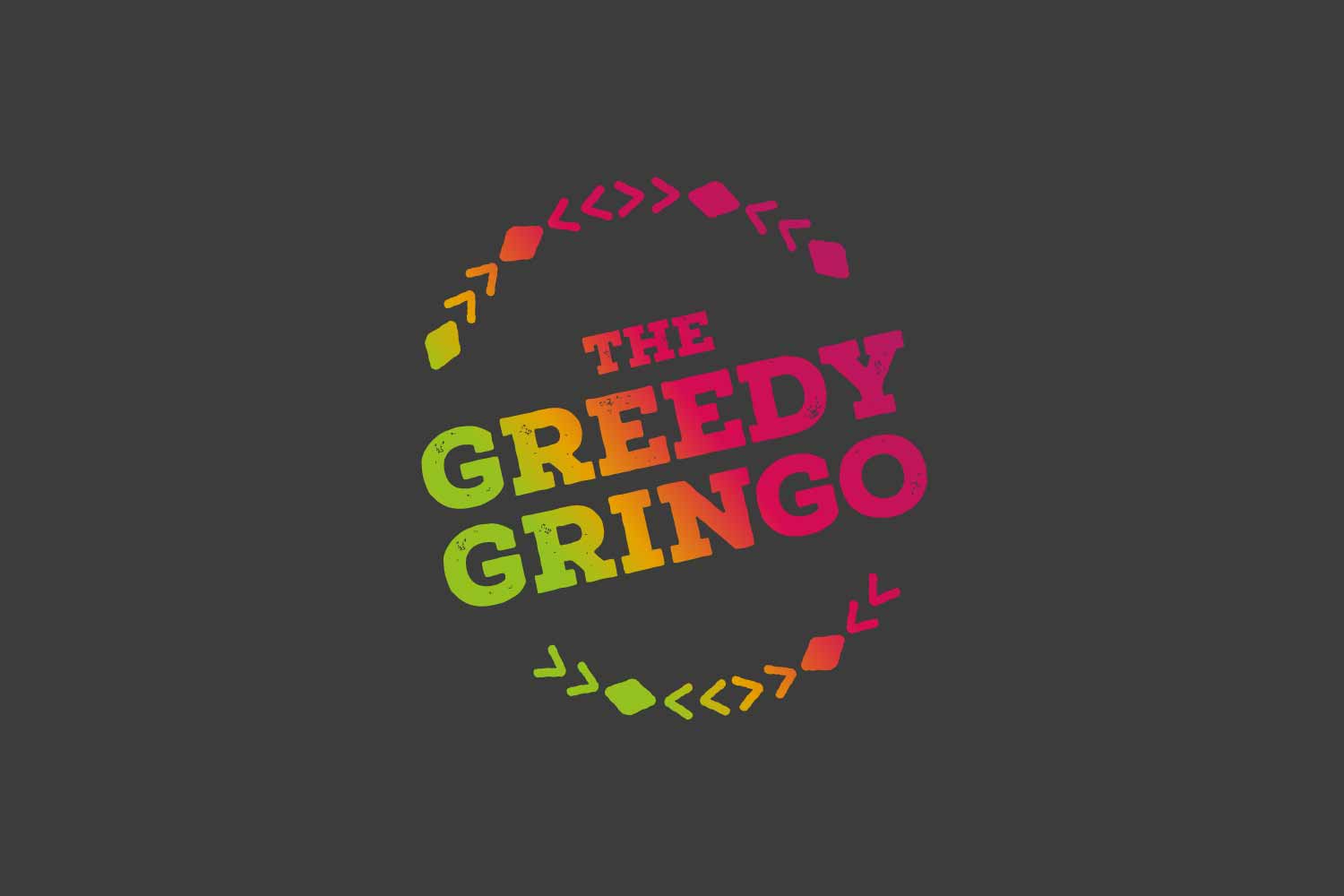 Introducing Kyle... AKA "The Greedy Gringo".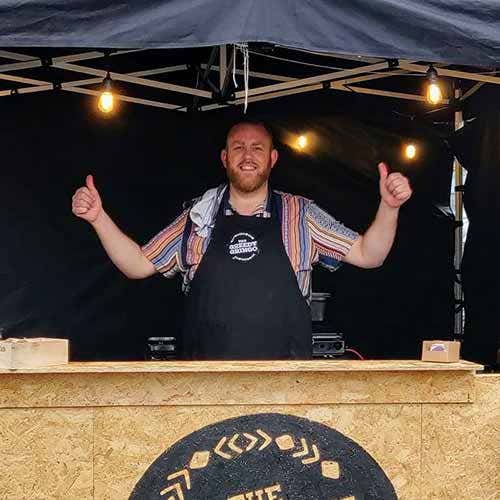 The Greedy Gringo is a street food business serving up a real taste of South America. Here, The Greedy Gringo tell us a little bit about how he got started before indulging us in one of his delicious recipes…
"After spending 18 months living, working & travelling South America I returned to the UK with a desire to share the food and the flavours I'd discovered while exploring the vibrant continent.
"I've always had a passion for food, but before starting this venture I was an accountant by trade – so going from spreadsheets to street food is quite a switch! Now, rather than having a 9-to-5 with my head stuck in sums, you'll usually find me pitching up at street food events around the North West of England. Although street food events are on hold at the moment, by sharing one of my recipes with you guys my dream of sharing my food lives on!

"Here's one of the simpler dishes in my repertoire that will allow you to use up some store cupboard staples and that steak at the bottom of your freezer, whilst bringing the taste of South America to your table… and we can all learn a little Español along the way!
"Lomo Saltado (Stir-fried Steak) is a Peruvian staple found all over the country. It's easy, muy delicioso  (very delicious) and is a great example of the Asian/European/Peruvian fusion cuisine found in Peru and the wider continent… and yes, it's meant to have chips in it, and yes they use a lot of Worcestershire Sauce in South American cooking - who knew!?
"Vamos! (Let's go)"
INGREDIENTS (ingredientes)
2 portions (dos porciones)
For the Marinade (para marinar)
2 garlic cloves, chopped
75ml soy sauce(dark or light)
3tsp wine vinegar(red or white...or cider)
5 tsp Worcestershire sauce (Vegans/Veggies - Biona make a great vegan Worcestershire sauce)
½ tsp dried oregano(or mixed dry herbs)
½ tsp ground cumin
pinch sea salt
pinch black pepper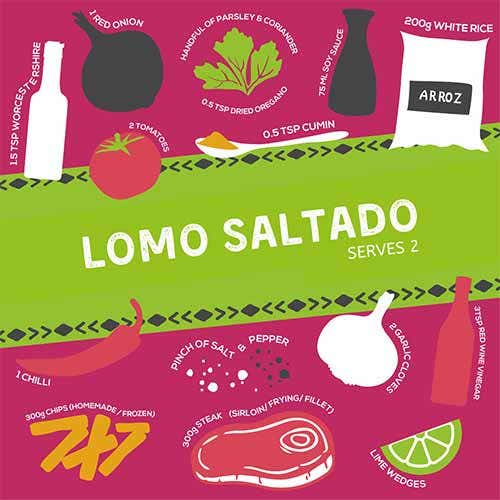 For the main event (para el evento principal)
300g steak(lomo) sliced. Sirloin, fillet or frying will be great (Vegans/Veggies - replace the steak with mushrooms or tofu slices)
vegetable oil, for frying
1 red onion, cut into thick wedges (like Terry's Chocolate Orange segments)
2 tomatoes, halved, seeds removed and cut into eighths (again, like a Terry's Chocolate Orange)
1 red chilli sliced
25g fresh coriander, finely chopped
10g fresh flat-leaf parsley, finely chopped
300g chipping potatoes, peeled, cut into chips (or oven chips/fries from the freezer)
sunflower/vegetable oil, for deep frying (if you're making "real" chips)
To Serve:
200g White rice (traditional Peruvian style) OR serve it Greedy Gringo style with Quinoa (a popular Peruvian ingredient) using 150g Quinoa, 1 tin of coconut milk, 2 limes, Hot water
1 lime cut into wedges
Sliced chilli
Coriander & parsley to sprinkle
Spring onions (thinly sliced - optional)
METHOD (el metodo)
1) Make your chips! (Haz las patatas fritas!)
If you're using oven chips, follow the instructions on the packet and then set them to one side (it doesn't matter if they go cold).
If you're making homemade chips, slice the potatoes as thick/thin as you like, get the sunflower oil in a pan heated up a bit and fry those babies off (be careful with hot oil...use a bigger pan and only enough oil to cover the chips). Set them to one side.
2) Throw all your marinade ingredients into one jug/bowl and set to the side.
3) Cook your Rice/ Quinoa (Cocina el Arroz/Quinoa).
Rice: as per the packet instructions.
Quinoa: as per the packet instructions, but replace the water with the coconut milk (topping up with water to make up any shortfall). Squeeze in the lime juice and grate the zest of 1 of the limes.
4) Get a big frying pan/wok and heat up the vegetable oil. Fry the steak (or mushrooms/tofu) until cooked through and set to one side (DON'T wash the pan).
5) Using the same pan (sartén), fry off the onions for 3 minutes on high heat until slightly cooked but still crunchy. Add the tomatoes, sliced chilli, coriander & parsley. Fry for 2 minutes.
6) Re-add the steak to the pan.
7) Add your marinade (agregue el adobo) and get everything sizzling away for a few minutes (do not exceed 5 minutes) to cook off the garlic and let the flavours infuse.
8) Add your pre-cooked chips to the mix and simply toss them around the pan for 1-2mins to get some heat back into the chips and coat them in flavour.
9) Serve with the quinoa/rice. Sprinkle with Coriander & Parsley and add a wedge of lime to the side. You have the option here of also adding chilli slices and spring onions if you fancy.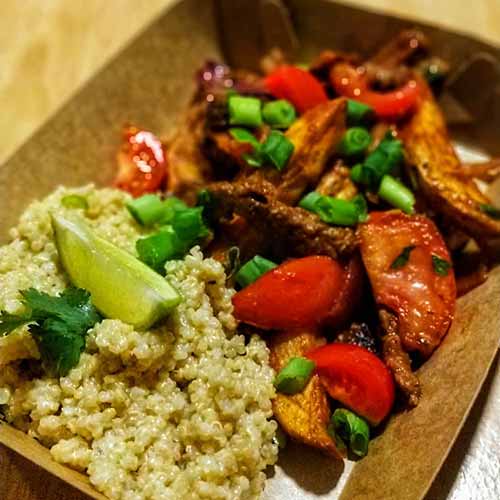 All that's left to do now is enjoy!

Buen provecho! - Bon appetite!
Disfrutalo! - Enjoy it!
Que rico! - How delicious!
If you have a go at this recipe I'd love to see your photos!
Find the Greedy Gringo on Facebook & Instagram @thegreedygringo.