Cook Authentic Mexican Food At Home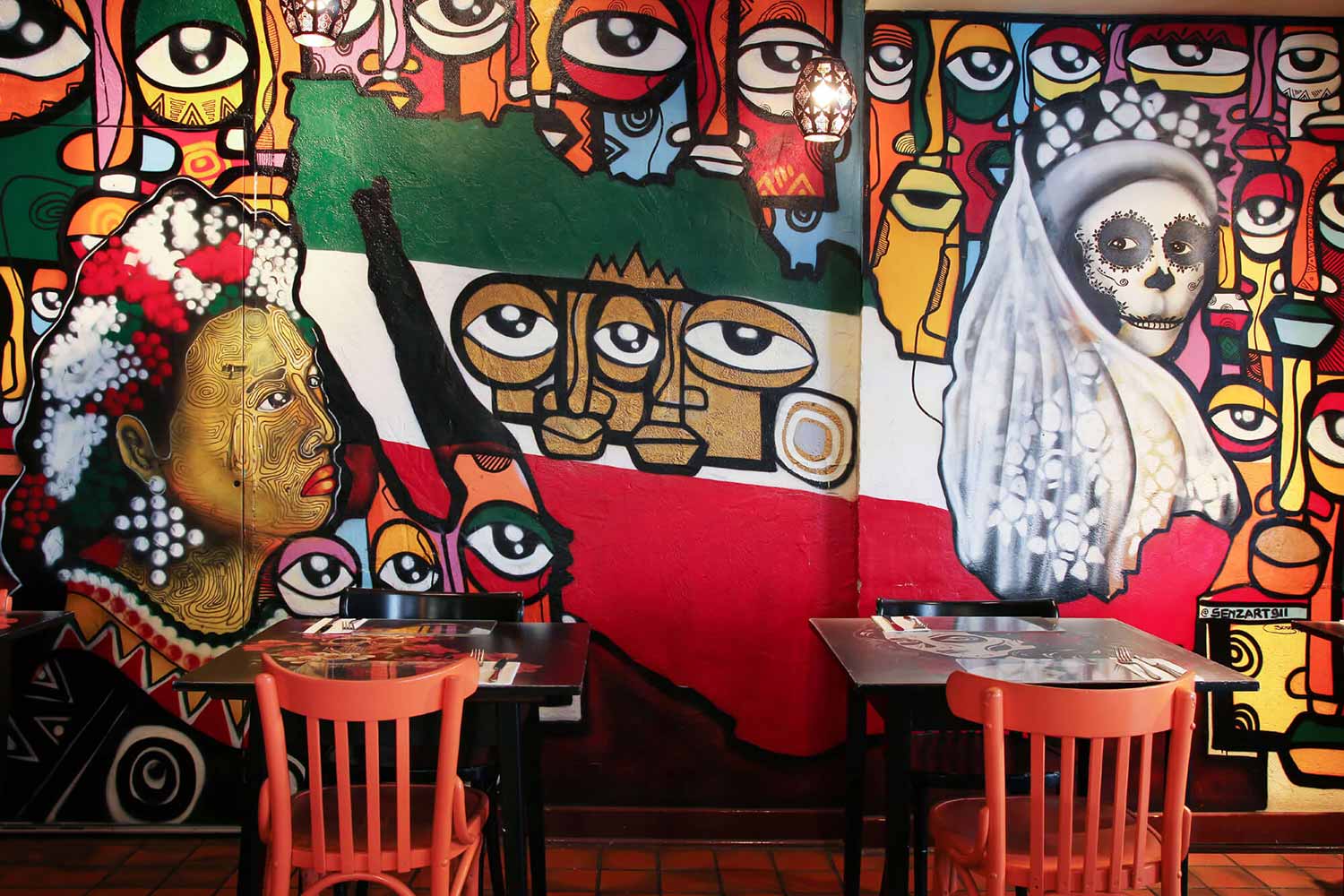 When looking for the most authentic Mexican recipes who better to turn to than the oldest Mexican restaurant in the UK?!


Café Pacifico, based in Covent Garden, introduced Mexican Food (and tequila!) to the UK back in 1982. With many years on the London restaurant scene under its belt, the restaurant remains one of the leaders in producing what people expect of Mexican cuisine.

Here their Head Chef, Pedro, kindly lets us in on some of his delicious recipes for Mexican classics that we can try at home…


"To all fans of Mexican food, as Head Chef of Café Pacifico, I would like to share with you all some recipes from our restaurant to help you stay positive and bring the Mexican fiesta to your home.

"A meal in Mexico is more than just eating food – it's about bringing people together. Constant, animated conversation continues from the very first moment to the end. We hope in these difficult times, even if you cannot join your friends and loved ones physically, you can share these recipes and bring the spirit and passion of Mexico to your home and theirs, wherever they may be."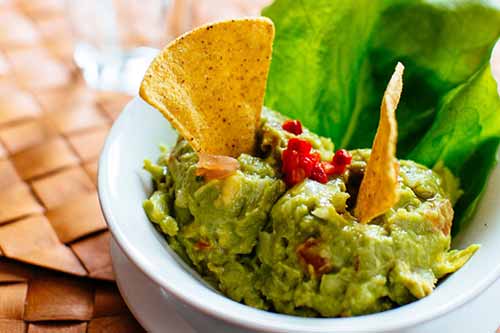 Guacamole
Serves 4
INGREDIENTS
2-3 avocados, ripe
½ small onion, finely diced
2 tomatoes, diced
1-2 garlic cloves, minced
1 lime or ¼-½ tsp of lemon juice
¼-½ tsp of salt to taste
½ tsp of ground black pepper
INSTRUCTIONS
Slice the avocados in half, remove the pit and skin and place in a mixing bowl.
Mash the avocado with a fork and make it as chunky or smooth as you'd like.
Add the remaining ingredients and stir together.
Pedro's Tips:
Use fresh lemon or limes rather than lime juice in a bottle. The flavour difference is worth it.
You can keep left over guacamole green and fresh in the fridge and store in sealed container for up to 8 hours.
You can top the guacamole with pomegranate seeds to add a sweet and sour taste and crunchy texture into the recipe.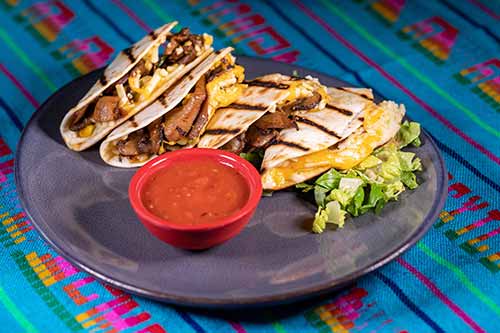 Chicken Quesadillas
Serves 4
INGREDIENTS
2 pounds of skinless chicken breasts
8 x 6" flour tortillas
2 ½ cups of grated cheddar cheese (Monterey Jack is best)
1 tsp of ground black pepper
2-3 garlic cloves, minced
1 tbsp of smoked paprika
½-1 tsp of chilli powder
Sour cream to garnish
1 bunch of chopped coriander to garnish
Salt to taste
Oil for frying
INSTRUCTIONS
Cut the chicken breast into thin strips (the size of little finger) and set aside.
In the bowl mix together smoked paprika, chilli powder, black pepper, minced garlic, and salt. Add 1-2 tbsp of oil to create a creamy marinade.
Coat the chicken well with this marinade.
Heat oil in a skillet over high heat. Add the chicken to the skillet and sauté over medium-high heat until done, about 4 minute per side.
Remove from the skillet. Set aside.
For the quesadillas, lay the tortillas out on a flat surface. Spread half of each tortilla with cheese then top with chicken. Fold each tortilla over the filling and press down gently.
Heat oil in a frying pan over a medium heat and add one of the quesadillas to the pan. Fry for 2-3 minutes on each side or until the tortilla is crisp, the cheese melted and the chicken heated through thoroughly. Keep warm whilst you cook the remaining quesadillas.
To serve, cut the quesadillas into quarters and arrange on plates. Spoon a little soured cream on top, garnish with coriander and serve with salsa and guacamole on the side.
Pedro's Tips:
To intensify the chicken flavour you can marinate it for 20 minutes.
Instead of chicken you can use another pre-cooked meat with the same marinade.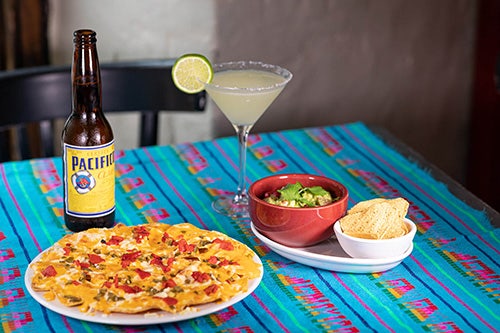 Nachos
Serves 4
INGREDIENTS
200g tortilla chips
100g grated cheddar cheese
1 roasted red pepper (bell peppers or other peppers of your choice)
30g of pickled jalapenos, diced
¼ bunch of chopped coriander
Sour cream
INSTRUCTIONS
To Roast the Red Pepper:
Preheat the oven to 180 degrees Celsius (350 degrees Fahrenheit).
Cut peppers in half and remove the stems, seeds and membranes.
Lay peppers on a foil-lined baking tray, the cut side down. Roast the red peppers for 15-20 minutes or until the skins are very dark and have collapsed. (There is no need to rotate or turn the peppers.)
Once the skins are blackened remove the peppers from the oven.
A few minutes later, when comfortable enough to handle, peel the skins off and discard them.
Dice the pepper and set aside.
To Arrange the Nachos:
Line the base and sides of a 20cm cake tin with baking paper.
Spread out your chips so they cover the majority of the cake tin.
On top of the chips spread the cheese, roasted pepper and pickled jalapenos.
Place in a preheated oven for 5 to 6 minutes, or until your cheese is melted.
Remove from the oven and top with chopped coriander and sour cream to serve.
Pedro's Tip:
You can top the nachos with precooked meat of your choice, chopped tomatoes and strips of courgette and then bake it.


We can't wait to try these delicious Mexican classics at home!

If you do have a go at any of Pedro's recipes he would love to see your photos. Tag @officialcafepacifico on Instagram.