Celebrate Easter in style - egg-cellent activities for the Easter weekend!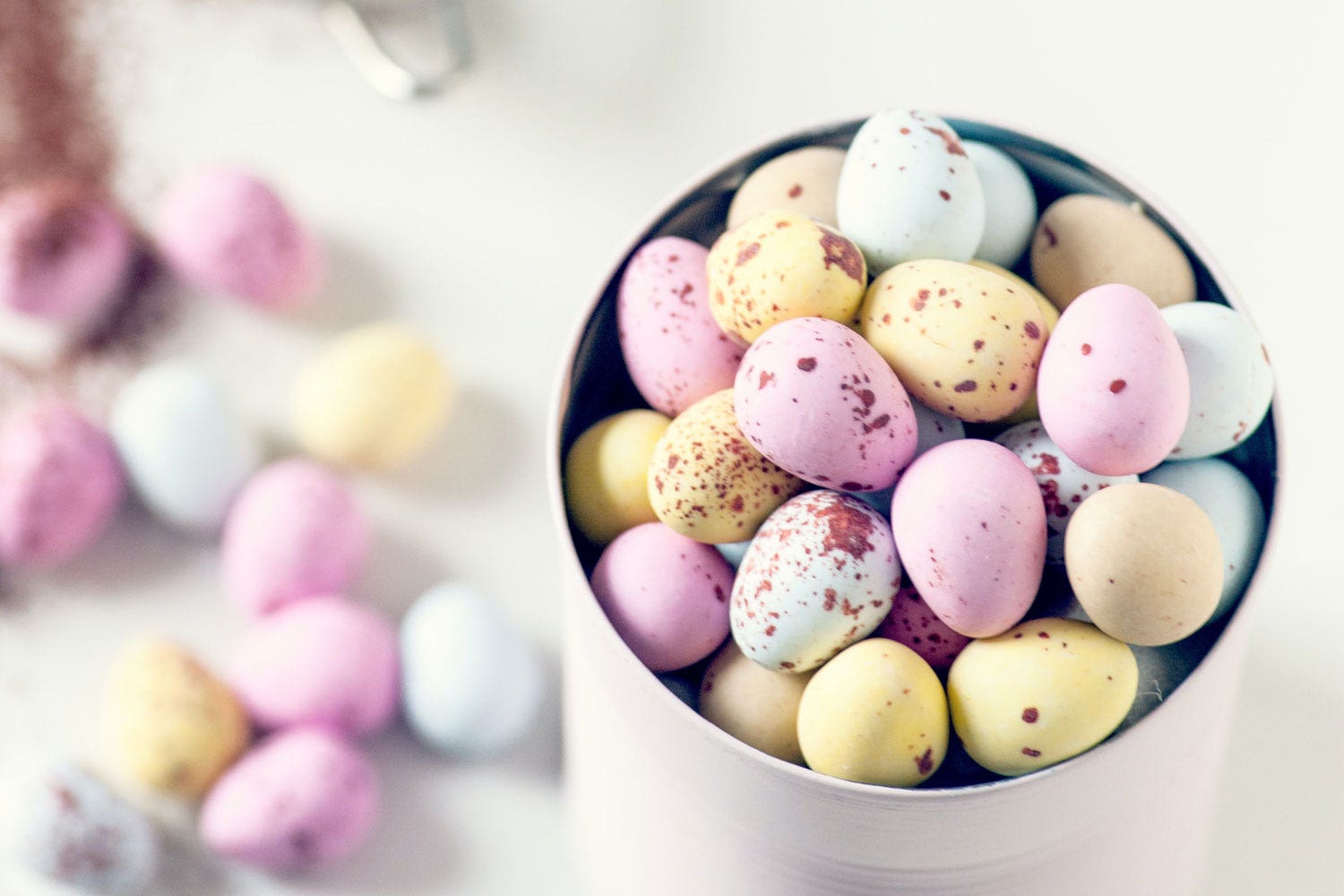 Struggling for things to do on the upcoming Easter weekend? If so, look no further! From tasty boozy treats you can make at home, to family friendly crafts and games, we've pulled together a mix of indoor and outdoor activities that will be sure to inject plenty of fun into the bank holiday weekend. Check them out below!
Tasty Treats:
For the adults: Mini Egg Martinis!
Transform your Easter chocolate stash into a terrifically tasty, boozy treat!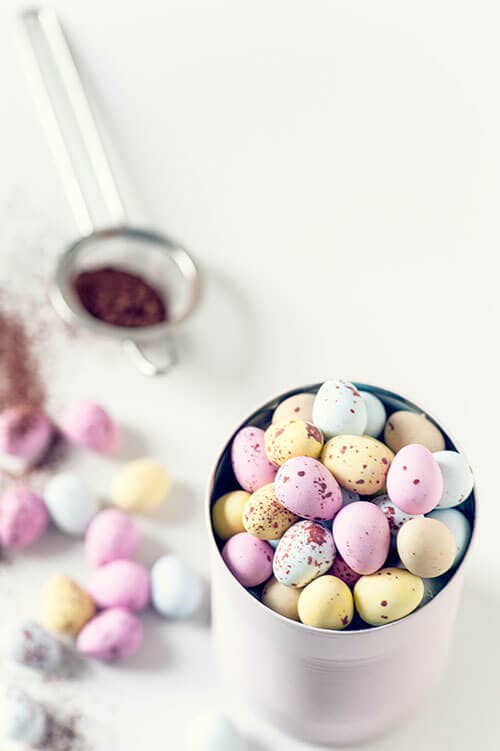 Ingredients:
25g mini eggs
1 tsp honey
25ml crème de cacao
25ml Baileys
50ml vodka
Plastic sandwich bag
Rolling pin
Ice
Method:
Crush the mini eggs into tiny bits and then tip onto a small dish. We recommend doing this by popping them into a small plastic bag, sealing it and then giving them a little bash with a rolling pin.

Next, brush the rim of a martini glass (or glass of your choice) with a little honey using a pastry brush or your finger if you don't have one. Once done, dip the top of the glass into the crushed mini eggs to stick them on. Pop the glass in the fridge until you need it.

Pour the crème de cacao, vodka and Baileys into a cocktail shaker (or alternatively a travel mug with a lid) with a handful of ice and shake until the outside of it feels really cold. Strain the liquid into your prepared glass and drink up!
For the family: Get the kid's involved and make an Easter brunch together!
What's better than pastry? Chocolate pastry of course!
Check out this delicious home recipe for 'Chocolate Hazelnut Swirls' using Guylian chocolates here - they're perfect for a decadent breakfast in bed or a tasty doorstep delivery this Easter weekend…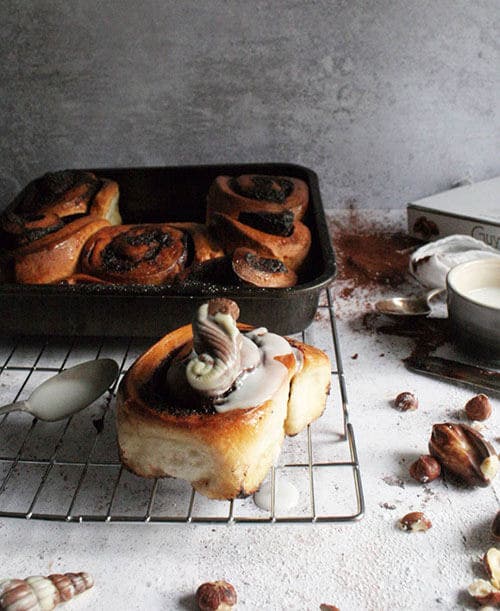 Easter games you can do at home:
Easter Egg Bowling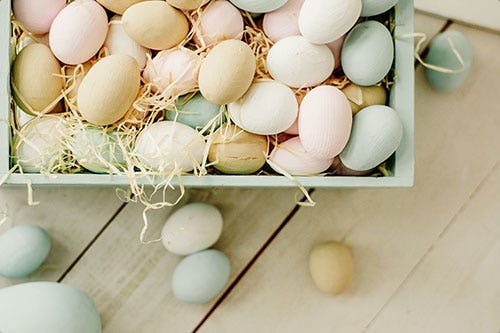 What you'll need:
2-6 players
1 white boiled egg
Boiled eggs in a variety of colours – we recommend 2 packs of 12 so you've got plenty! If there are 6 players, each player will have 4 eggs to bowl and if there are 4 players, each player will have 6 eggs to bowl and so on.
A smooth playing surface of at least 10 feet long (grass that's been cut short works well or the kitchen floor if you're really brave…).
How to play:
Group the eggs together that are similar in shade, so each player has a nominated colour. If you struggle to find different coloured eggs, try painting or numbering them. This will make it easier to determine which eggs belong to each player once they have been bowled.

Place the white boiled egg at least 10 feet away from the bowlers on your chosen 'playing field'.

One at a time, each player should roll their egg carefully towards the white egg – trying to get as close to it as possible. *If the white egg is broken by a bowler that player is disqualified so roll carefully…

After all the eggs have been rolled, the player with the egg closest to the white egg at the end of the round wins!
*In the event of a tie break, make sure you have a tape measure handy…
An Easter Egg Hunt with a twist…
Do it a little different this year and plan your Easter egg hunt after sunset for a little twist on the tried and tested tradition.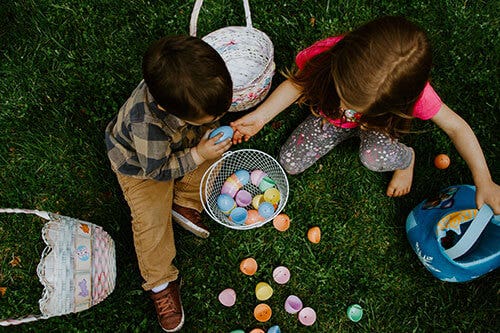 Before dark, hide some boiled eggs in the garden. For even more fun, why not try a 'glow-in-the-dark egg hunt'. To do this, simply fill some plastic eggs with lit glow sticks (you can pick these up online) and easter treats (optional. Then tape the eggs shut and hide them.
After sunset, grab some torches (or alternatively use your phone) and send out the players...
May the best hunter win!
Get crafty:
DIY Bunny Ear Headbands!
Look the part with the perfect Easter fashion accessory – some fabulous floral bunny ears!
Image and instructions adapted from: https://thesweetescape.ca/2017/04/diy-easter-floral-bunny-ears.html
What you'll need:
Thin headbands in any colour
White flower tape
White flower wire or regular wire works too
Faux flowers
Paper shopping bag (you'll need the handles).
Glue gun or super glue
How to make:
First, take the handles off your paper shopping bag. These will become the bunny ears.

Grab the pre-cut flower wire or cut a piece of wire so it is 2 inches longer than the length of the bag handles on each side.

Using the flower tape, place the wire and paper handle together. Wrap them with 2-3 layers of tape until the handle is completely covered. Make sure you have 2 inches of wire hanging out on both sides of each 'bunny ear'.

Repeat and wrap 2-3 layers of tape around the headband until it's completely white.

Secure the wire ends that you previously left unwrapped around the top of the headband to attach the ears.

Pull off some buds and leaves from your faux flowers and stick them between and in front of the ears on the headband using super glue or a glue gun and hey presto - you'll be looking ear-resistible!
We hope we've given you some food for thought and provided some inspiration for your Easter weekend. If you've got any more ideas, feel free to share them with us in the comments below!