Meadowhall Store: Debby's Summer Sale Favourites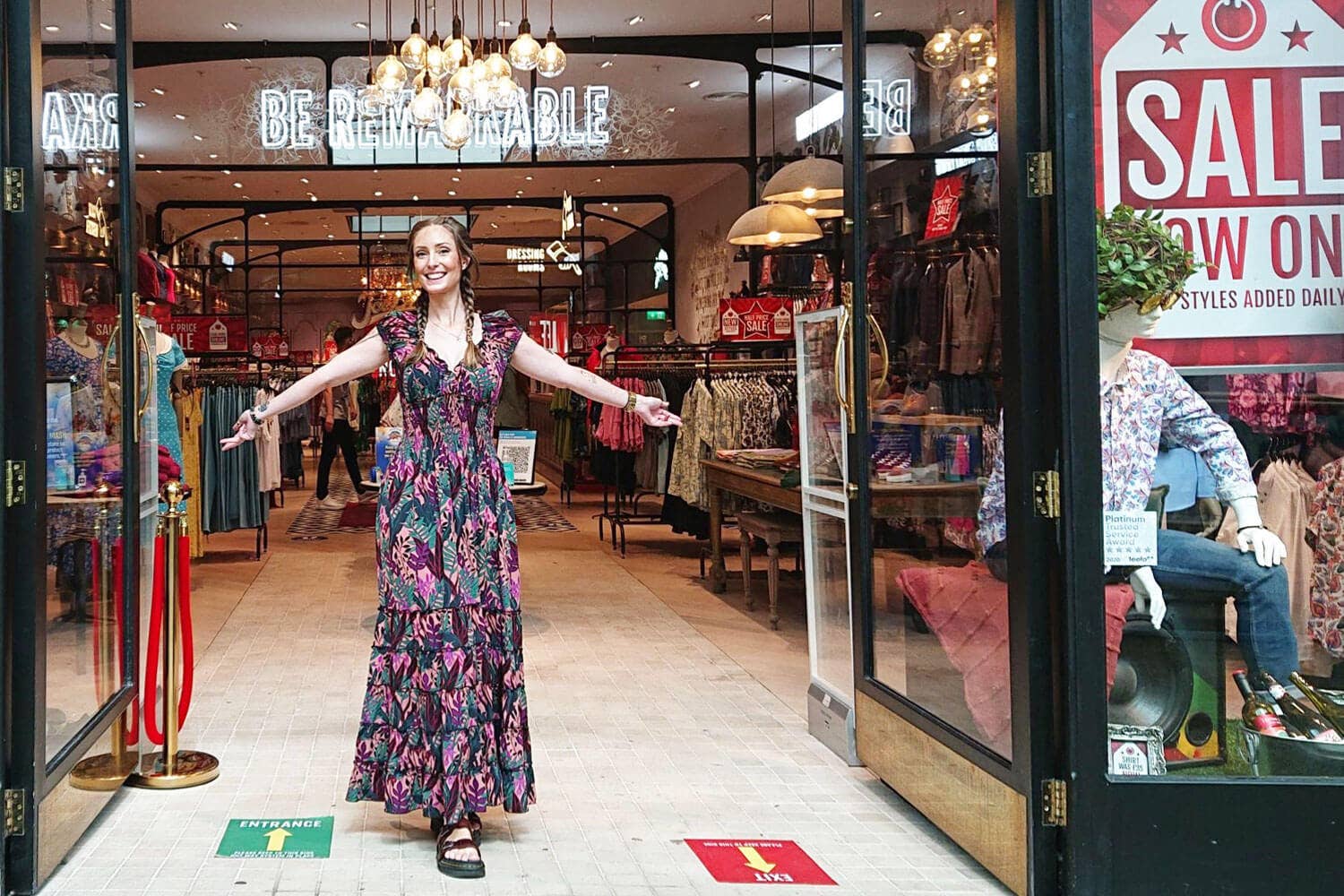 Have you got an exciting adventure planned this summer? If you're planning to head on a summer holiday, then why not visit us in-store and get kitted out in style - you'll find lots of remarkable offers in our up to 70% off sale!
We caught up with Manager, Debby to find out what she's loving in-store at the moment. Keep reading to discover her favourite picks for an upcoming ​staycation in Scotland...
"In September, me and my husband are heading to the Scottish Highlands to soak up some incredible scenery, eat some wonderful food and get some much-needed fresh air to blow away the cobwebs. We'll be driving up and it's a fair old drive from sunny Sheffield, so I'll definitely need some comfy travelling clothes. Once we're there, we will be going on hikes up mountains and taking some serene strolls around the lochs - we're even going to drive across to Loch Ness to see if we can spot the infamous Nessie!​
After a peaceful week, we're going to spend the weekend in a luxury suite in Edinburgh! We will be walking the Royal Mile, sight-seeing, and eating out in some fancy restaurants. I do enjoy a little luxury, so this is the perfect way to round off the trip".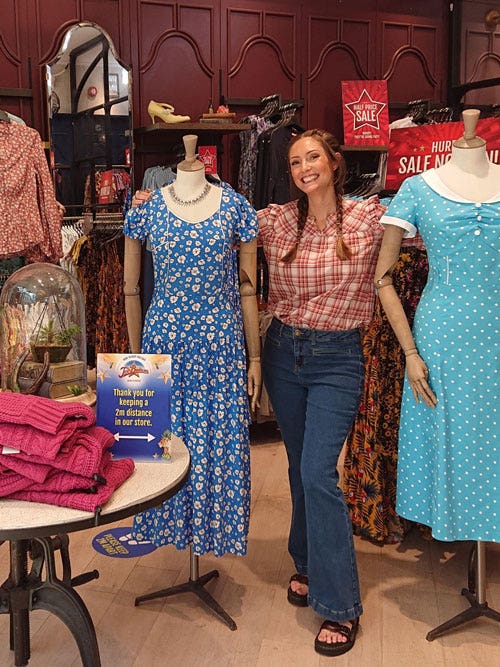 "My absolute favourite top in our sale is the Prairie Top (NOW £17)! I adore the shoulder ruffle detail and I find it very flattering worn with flared jeans as it balances out my shape. I like to pack light when travelling and really plan my outfits before I go, choosing key suitcase staples ​that I can wear in lots of different ways. The Vintage Flared Jeans (£40) are really versatile and easy to dress up or down – they're really comfortable too, which is great for a staycation".
"The Summer Check Dress (NOW £30) will certainly make a statement and the gorgeous warm colours and flattering shape make it perfect for a summers evening. The delicate front bow detail is beautiful too - I love how all our pieces have unique finishing touches! I'm going to wear it with a pair of fabulous sandals and then rock it up with ankle boots and a leather jacket when we head to Edinburgh".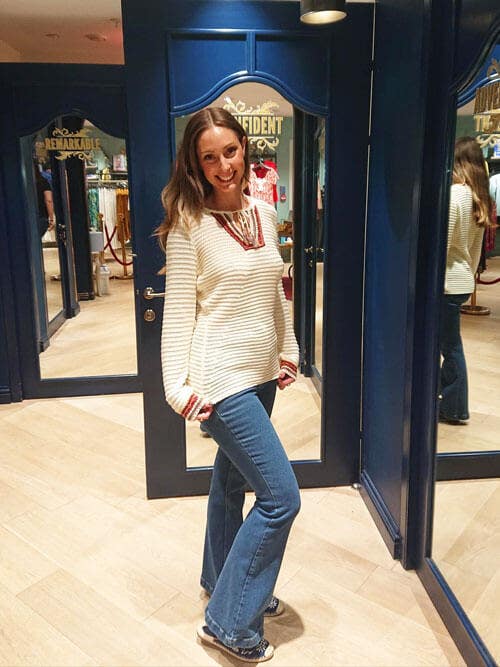 "Here I'm wearing the Boho Knit (NOW £27) with my favourite Vintage Flared Jeans – I told you they were really versatile. This look is perfect for travelling and evening strolls when the weather is a little chilly. The knit is super soft and lightweight (perfect for packing in your suitcase) and I love the bohemian inspired detail on the neck and cuffs."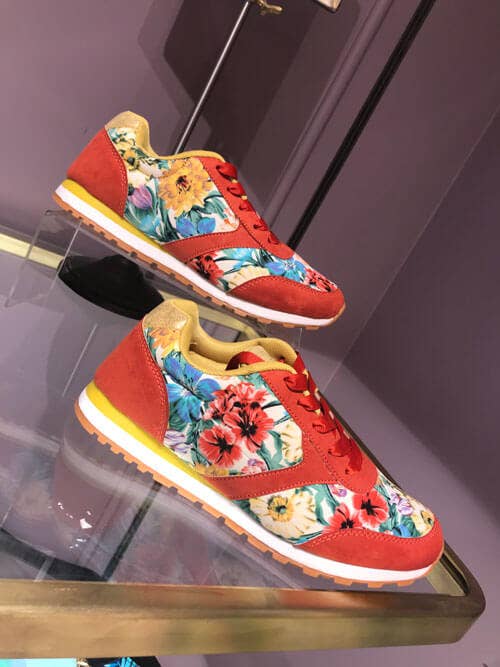 "Exploring new places calls for some new footwear. I'll be packing the Sensational Trainers (NOW £30) as they're practical, comfortable and have a really funky design. The floral print is amazing for summer and they will add a pop of colour to any outfit".
"My top travelling tip is to pack a handbag you'll be able to wear with lots of different outfits, so you don't have to fill your suitcase with loads of different ones. The Florence At Dusk Suede Bag (NOW £29) is my favourite accessory we've ever sold at Joe Browns - this luxurious genuine suede bag is a steal! It comes in two of my favourite colours, which means i'll have to treat myself to both!"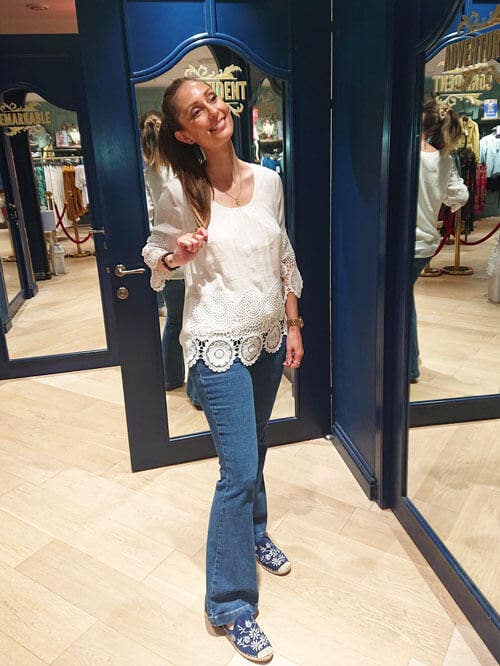 "Here, I'm wearing the Lovely Lace Top (NOW £26) with the No Plans Embroidered Mules (NOW £20).​ The detailing on this white top is stunning and the whole look is perfect look for lunch in the sun".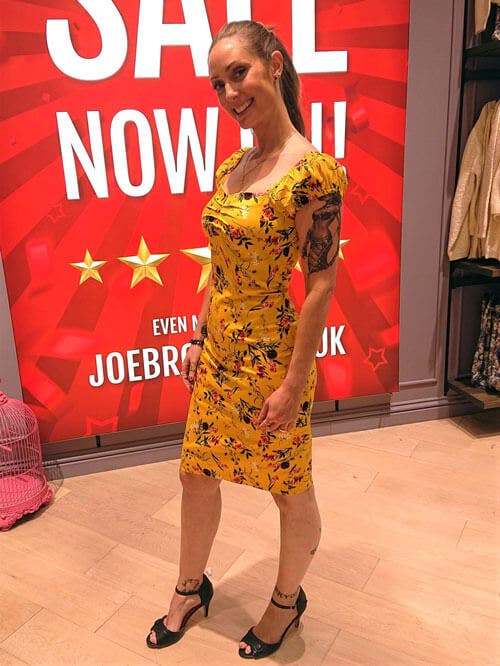 "Last but certainly not least is the Flattering Vintage Style Dress (NOW £30) worn with the Twice As Nice Heeled Sandals (NOW £24). I love how bright and cheery this fabulous floral dress is! I love getting glammed up on holiday, so I can't wait to wear it to a fancy restaurant and sip a few cocktails".
We hope you've enjoyed getting to see some of Debby's favourites from the summer sale. Wherever you're heading this summer, make sure you stop by and treat yourself to something new – we look forward to seeing you in-store soon.
Scroll to top