Store Gift Guide: Andy's Father's Day Favourites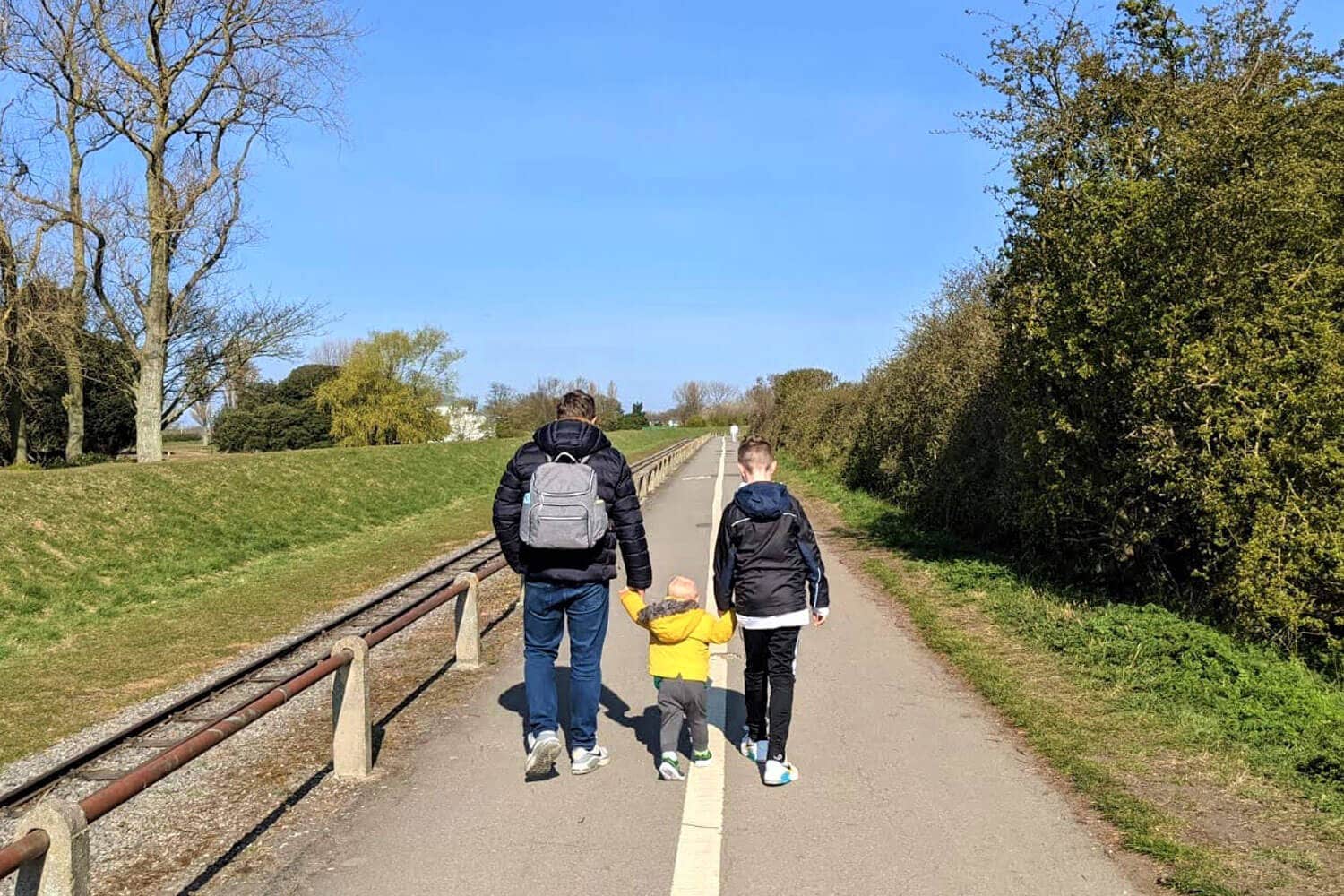 Father's Day is right around the corner (20th June to be exact) and if you're wanting to treat the special guy in your life to something remarkable, then we have everything you need in our Meadowhall, Sheffield store! Whether you're treating your dad, grandad, brother, uncle or best mate, we've got something for everyone.
We caught up with super dad and Store Manager, Andy and asked him to pick out his favourites - check out his ultimate Father's Day gift guide below…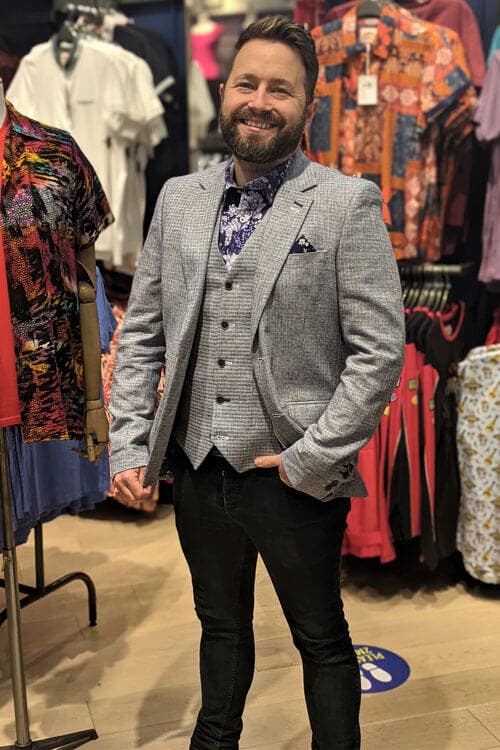 "Our menswear collection in-store is bursting with lots of awesome summer styles. One of a kind shirts, unique graphic t-shirts, super smart tailored styles, comfortable and stylish footwear, plus remarkable accessories – we've got so much choice when it comes to finding the perfect gift. Whether he likes plain or printed, casual or dapper - no matter what his personality or style, there really is something for everyone.
I'm really looking forward to Father's Day this year now we have our freedom back! My own dad has been such a positive influence for me growing up and now I'm a dad too, it's nice for us all to celebrate it together. It's a great time to stop, reflect and enjoy some quality time with some of the most important parts of my life - my two sons. I'm also looking forward to being spoilt for the day – it doesn't happen often!"
Remarkable Shirts
"Let's start with some of our remarkable shirts – you really can't go wrong! Our vibrant prints are perfect for the summer months and if he's got a big personality then these shirts will match!"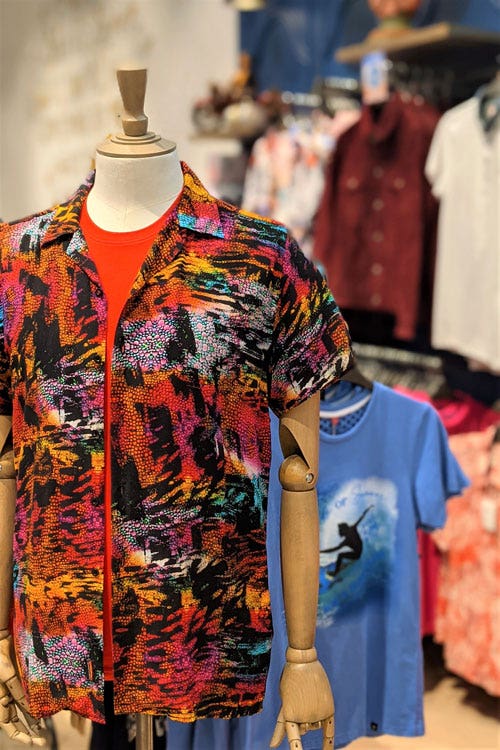 "Our Wild Side Shirt is bursting personality and comes in a comfy lightweight cotton, making it perfect for hot days in the garden and a trip to the pub. Another amazing choice is the Luscious Leaf Shirt that I'm wearing - I hope you enjoy my modelling skills! It's really easy to wear and looks great worn open with a plain tee underneath and black skinny jeans."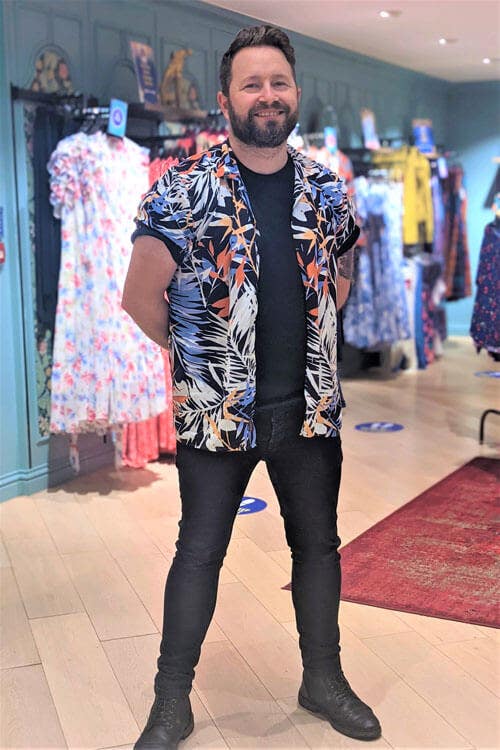 Unique Graphic Tees
"What I love most about our graphic tees, is that the awesome designs are exclusive to us, and you won't find them anywhere else. From abstract animals, music, to summer surfing, there's so many different designs and colours to choose from and they are all super soft, lightweight and comfortable to wear. Grab one of our t-shirts in-store and treat him to something unique – it's way better than the usual box of chocolates and deodorant!"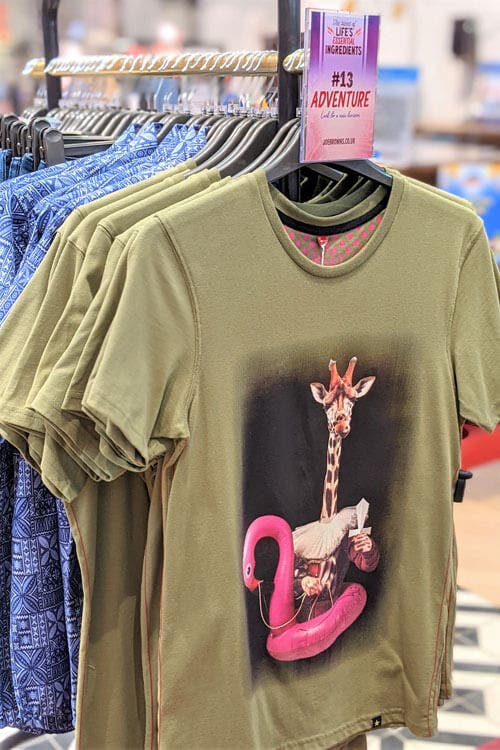 "If he's the life and soul of the party and doesn't like to take himself too seriously, then go for the Giraffe Splash Tee with its one of a kind design".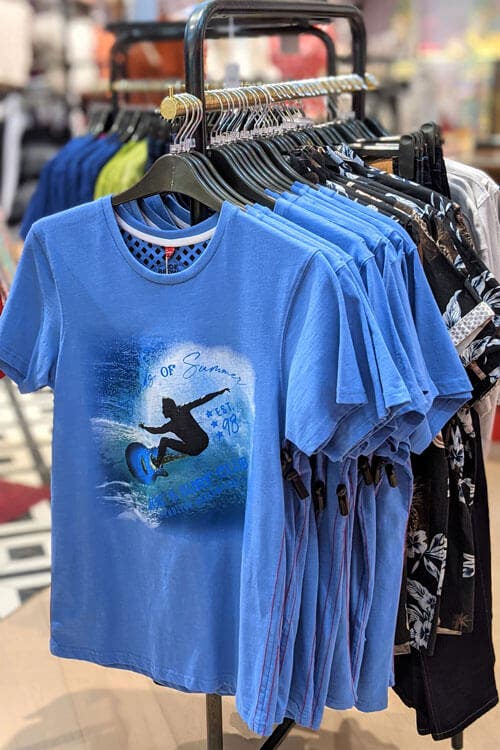 "If he's the adventurous type or just loves an awesome summer tee, then the Summer Sounds Tee is the perfect choice and at under 20 quid, you really can't go wrong."
Timeless Jackets
"If you have a bit more cash to spend, then why not go for something completely different and spoil him with a new jacket? Our jackets are versatile, easy to wear and timeless too – so it will be in his wardrobe for years to come. Our real leather jackets are fantastic too, if you really want to splash the cash!"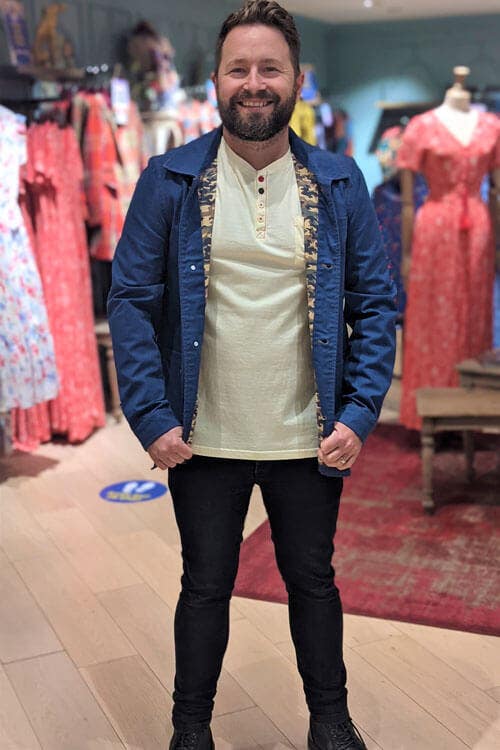 "One of my favourite outfit combos is the Wonderful Workwear Jacket with the Easy Henley Top. It's a great casual outfit for the weekend and looks good with jeans and boots. Our Henley's are perfect for the dad's with a more laid back, subtle style".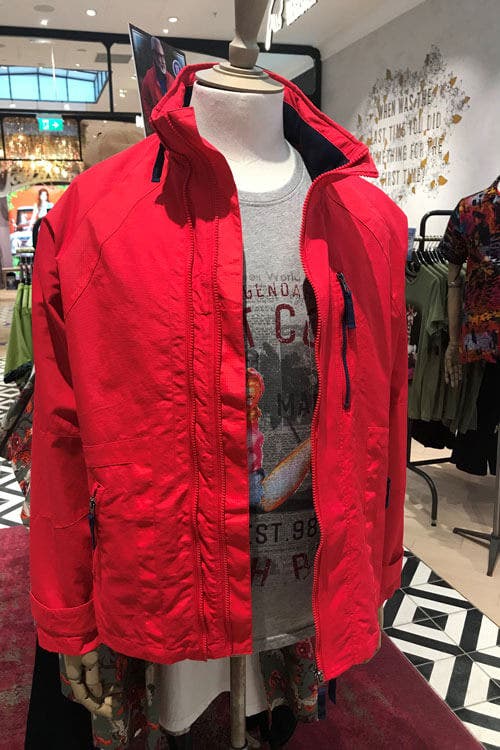 The Take It All In Jacket is a colourful and practical option for the dad's who love an adventure – it's really lightweight and comes with a detachable hood."
Awesome Accessories
"If you don't fancy going for clothing, then we have plenty of remarkable accessories in-store that make fantastic Father's Day gifts. Dotted around the tables you'll find statement hats and scarves, bracelets, footwear, books and much more!"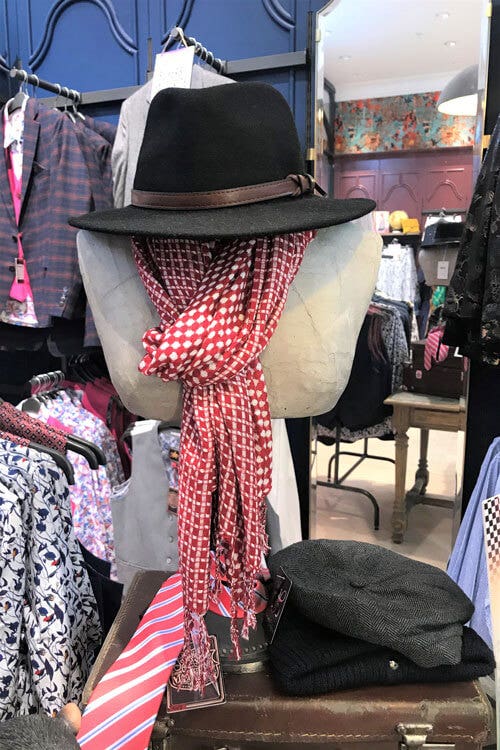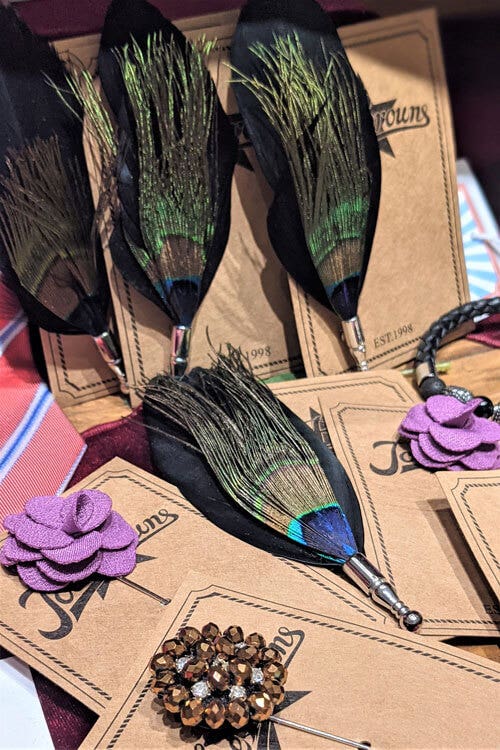 "I'd recommend one our lapel pins for the dapper chaps out there. The Luxury Peacock Feather Pin is a really unique gift for under £10!"
We hope you've enjoyed seeing Andy's favourite gift ideas for Father's Day and hope it's given you lots of inspiration. Visit our Meadowhall, Sheffield store to see all these styles up close and personal or head online. And if you fancy finding a bargain or two, visit us in our York Designer Outlet store.