A Joe Browns Guide to Men's Accessories
Do you wonder whether men's accessories are really necessary? Or even how to wear a watch? Joe Browns has got you covered with our guide to men's accessories.
You may believe men's style accessories are just a luxury but we know they are an essential for styling up any man's wardrobe. Never underestimate the power of the accessory - paying attention to these finer details can ultimately make or break an outfit!
A great start can be to center your outfit around a fine watch and pair it with more understated accessories. Too many high-end pieces and bling-bling might overdo it, so focus on a key piece with every outing. Consider if you have any hidden family heirlooms or items passed down, such as mens jewellery and leather accessories. These vintage pieces can offer a unique and sentimental twist that new-bought accessories on the highstreet can't.
---
Accessories That Match Your Personal Style
---
Accessories are small add-ons to an outfit that can create a statement that truly reflects your style. A great way to match accessories to your style is to begin by looking at the colour. If you usually wear black, white or neutral colours, any colour accessory will match your outfit - adding a pop of colour will instantly create a whole new look. However if you prefer a brighter ensemble, ensure the colours of the accessories don't clash.
To help you out, check out the colour wheel below. Complimentary colours are colours that face each other exactly diagonally. We might recommend Red and Green be reserved for more seasonal tidings!
If you prefer a more classic style, choose accessories like a watch and belt. Alternatively if you like to switch your style up more often, choose to accessorize with mens jewellery such as bracelets and chains.
---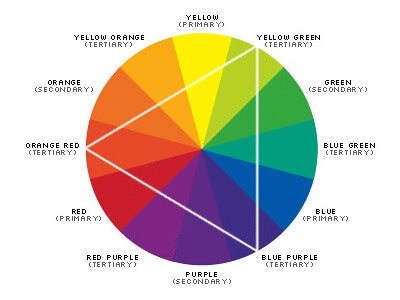 ---
Must Have Men's Accessories
---
Everything that is paired with your usual jeans and t-shirt or shirt and trouser combo is classed as accessorising.
We have come up with a fabulous foolproof list of accessories that will go with every outfit and never go out of style. Every man should have these accessories in their wardrobe!
---
Watch
---
The time is now easily accessible on your mobile phone leaving men wondering if it is necessary to know how to style a watch. Yet, a good watch is a timeless must have for every man, they are often eye catching and can even be a great conversation starter.
For a versatile watch, choose stainless steel or gold with a leather or metal strap. A great general tip is to match your watch with your dress shoes. Alternatively add a splash of colour with a vibrant watch strap to create an aspect of fun.
If you opt for a metal watch, getting them sized can often be a pain. Whilst you can usually take it to your local locksmiths (Timpsons etc), there are really great little kits you can buy online, very inexpensively and do it yourself. You'll be surprised how easy it can be, just take care if it's a particularly expensive or sentimental watch.
---
---
Belt
---
Every man needs a good quality belt in his wardrobe! But rather than reaching for the same style time after time when you get dressed, give yourself a variety to choose from. With different colours, textures and buckles come different looks.
Style up your blue jeans and white t-shirt with a black studded belt and pair with some black leather boots to completely finish off your outfit. Alternatively choose a brown leather belt to pair with a pair of dapper brown leather shoes for a less formal event; remembering the old formal-wear adage "never brown in town".
---
---
Sunglasses
---
It goes without saying that sunglasses are an essential part of accessorising, especially in those sunny months and early-morning drives. Not only are they extremely practical, they also look great and can complete any outfit!
If you're looking for a classic style pair of sunglasses, ready for any occasion then choose a simple frame. Your face shape can determine the perfect type of sunglasses to suit your face specifically, for example, for a rounded face shape , rectangle and geometric styles are recommended to balance your features. Take a quick look at this video to find out the ideal sunglasses shape to suit your face.

Our stainless steel temple sunglasses incorporate a cool matt black frame and stunning cool grey lenses that will perfectly compliment your jeans and white shirt no matter what the occasion.
---
---
Wallet
---
Whether you're wanting to store everything in one place with a bifold wallet for your cards and cash, or you're looking for a more slimline option with a card holder, a wallet is still a must have even in this often cashless time of contactless card and mobile phone payments.
A simple wallet in a block colour is the most versatile for everyday use as well as formal events. Choose to invest in a leather wallet that will be pulled out of your pocket for years and age well with it or perhaps look at a more affordable alternative that you can swap out when you fancy changing it up. Remember to consider the size, with slimline wallets and card holders being easier to put in your pocket and create a smoother, more put together look.
It is also worth considering that there is a range of wallets available that can help protect you against digital theft. Known as RFID-blocking wallets, they are just as stylish as other wallets but also prevent thieves reading information from your cards with scanners. Stay safe while still being in style!
---
---
Hats
---
Hats are more wearable than you may believe and even though they may seem like a daunting risk.

Investigate different styles for different seasons, reaching for a beanie style hat in the winter months will not only create a cool and casual outfit but also help to keep you warm. Alternatively go for a smarter option with a baker boy hat, and pair with one of our fabulous textured blazer style jackets to really achieve that Thomas Shelby style .
---
---
Scarves
---
From a quirky extra to keeping you warm in the winter, a scarf is a must-have accessory. Whether you're dressing up a t-shirt, giving an edge to a blazer or wrapping up for a walk, a scarf is an easy way to add a little something extra to your outfit.

Tartan and check are classic prints that look stylish season after season, whether you're pairing a check scarf with an all black outfit or introducing a playful edge to a more formal ensemble. Our top tip: Just be wary of too many clashing patterns. For example, if you have a quirky patterned coat or printed shirt, we recommend opting for a neutral-toned scarf.
---
---
Ties & Pocket Squares
---
Whether for a work event or the office, a summer wedding or the festive party season, a brightly coloured tie will spice up your white shirt all year round. They're also the perfect way to add a little colour or breathe new life into an old outfit!

To make sure your tie always looks fabulous, choose a design that's at least one shade darker than your shirt. Alternatively, if you're wearing a suit, select a tie in a complementary colour tone. Or if you want to take your suit to the next level, simply match a pocket square with your tie for the ultimate wow-factor.
---
---
Bracelets
---
A bracelet is a simple yet effective way to elevate your whole look and the trick here is to choose a bracelet that reflects the overall feel of your outfit. If you tend to sport a cool-casual look, a leather or beaded bracelet will form the perfect accessory option. While for a more dressed up approach, a sleek metal design such as a silver or gold cuff will accentuate your whole look.
For a traditionally stylish finish, we recommend matching the metal of your bracelet with your watch. Alternatively, go quirky by mixing it up a little and choosing a contrasting colour.
---
---
What men's style accessories do you use to elevate your ensemble? We'd love to hear! Why not let us know on Facebook or Instagram?
---
Scroll to top