Eating Al Fresco - Grape, Goats Cheese and Rocket Pizza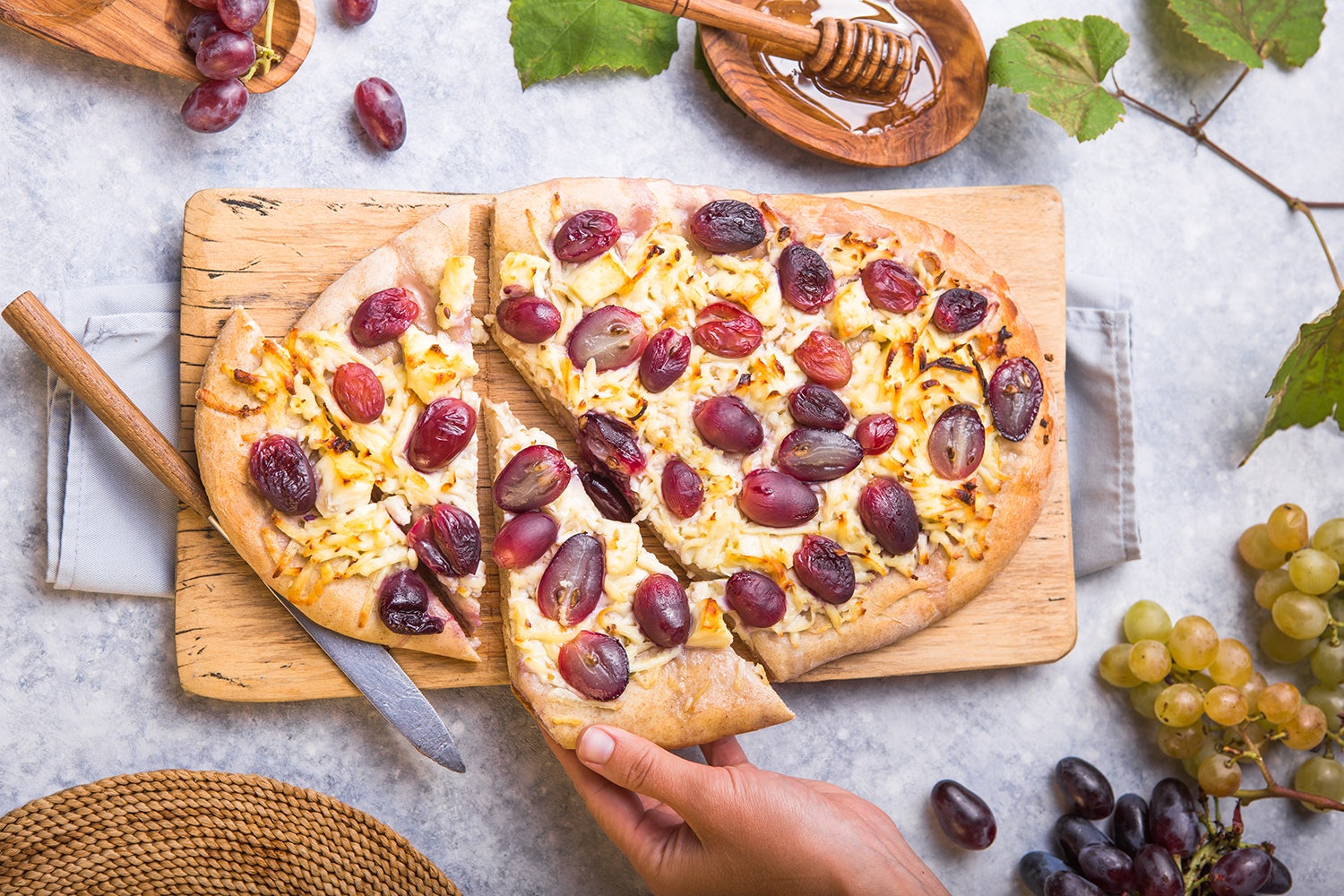 Entertaining in the garden? This week we're bringing you a mouth-watering recipe to try that's ideal for al fresco dining with family and friends… or 'al desko' if you're fancying a midweek treat while you work!
Simple, easy, and totally tasty, this Grape, Goats Cheese and Rocket Pizza is the perfect meal to enjoy outdoors. We know the weather is pretty unpredictable at the moment, but pizza tastes just as good cold as it does when it's warm – you can't lose!
We've popped the step-by-step recipe below…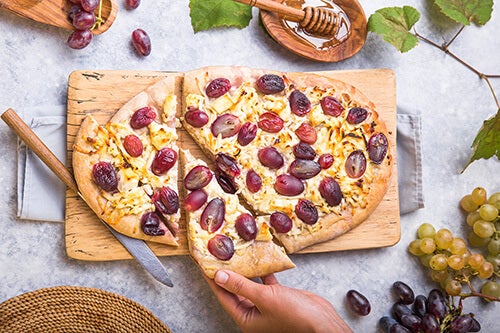 Prep time: 30 minutes

Cooking time: 10 minutes

Serves: 4 people
What you'll need…
Ingredients
Toppings:
150g Goats Cheese
100g Red Grapes
Fresh Rosemary Sprigs (4 or 5)
1 tbsp. Olive Oil
Dough:
350g Plain Flour
7g Sachet Yeast
1 tbsp Olive Oil
1 tsp Salt
1 tsp Sugar
250ml Warm Water
To serve:
1 tbsp Extra Virgin Olive Oil
50g Rocket
Method:
Pop the olive oil, sugar and yeast into the warm water and stir.

Grab the flour and salt and tip into a large bowl. Slowly add the yeast and water concoction until you have a dough like mixture.

Prepare a floured work surface and place the dough on top. Knead for 5-10 minutes until you have a smooth and stretchy dough.

Pop the dough into a readily oiled bowl then cover with clingfilm or a damp tea towel and leave in a warm, dry place for 1-2 hours to rise.

Keep an eye on the dough. When it has doubled in size (or thereabouts) preheat the oven 240C/220C fan/gas 8.

Knead the dough for a few more minutes. Next, cut the dough in half and shape both pieces into pizza bases.

Brush the pizza bases with a little olive oil.

Next, grab the goat's cheese and crumble it over the two bases.

Top the pizzas with the grapes (halving the grapes helps stop them rolling around!) and then add the rosemary. Once your pizza is topped, bake for 10-12 minutes or until the dough appears golden. Tip: be careful not to overcook – nobody likes a burnt pizza!

Serve with the rocket and a drizzle of extra virgin olive oil on top.
Hey presto, you have your finished Grape, Goats Cheese and Rocket Pizza!
*Recipe adapted from Aldi.co.uk
We hope this recipe has teased your tastebuds and got you eager to give it a go! Keep posted on the blog and our social channels for more al fresco recipes coming up soon…
In the meantime, check out our 3 lip-smackingly good cocktail recipes that you can shake up easily at home here, or turn up the heat and indulge in some Mexican cuisine with our collection of recipes from the Head Chef at Cafe Pacifico here.