Get your #mojoe back in our Meadowhall Store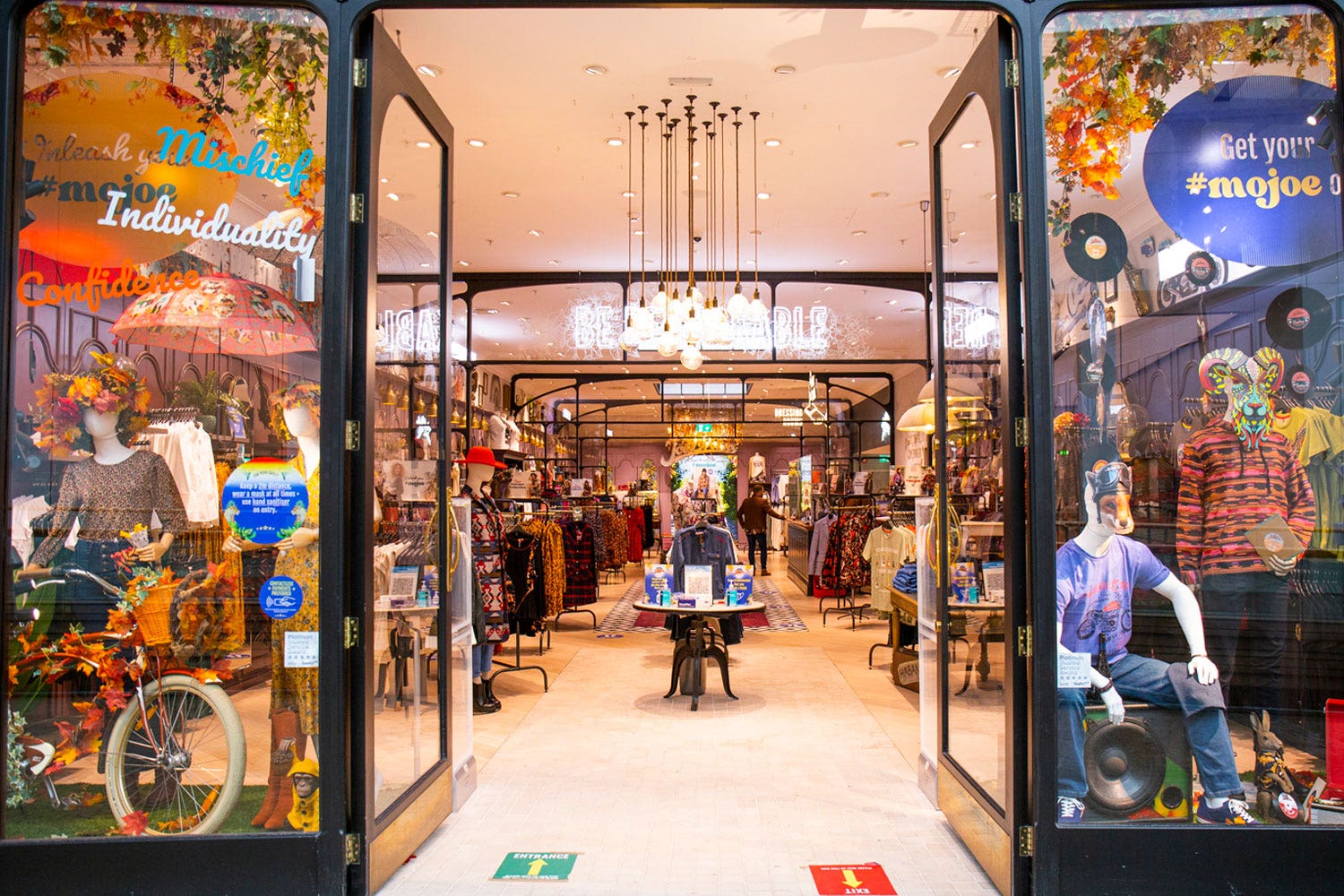 Introducing our brand new autumn collection…
Visit us in-store to discover a collection of feel- good styles, designed to lift your spirits and have you smiling from the inside out.
Feeling in need of a boost? Our remarkable pieces will help you get your #mojoe back, just in time for the new season. You'll find mood enhancing outfits, uplifting colours and plenty of unique detail in-store, plus our wonderful #mojoemakers will be on hand with any styling advise you may need – it's their mission to make you feel-good!
Fancy winning an awesome prize? For your chance to win a shopping spree, plus a spa day and overnight stay for 2 at Ye Olde Bell Spa in Retford, simply click here.
So, get ready to unleash your #mojoe with us this season and check out some of our favourites…
Womenswear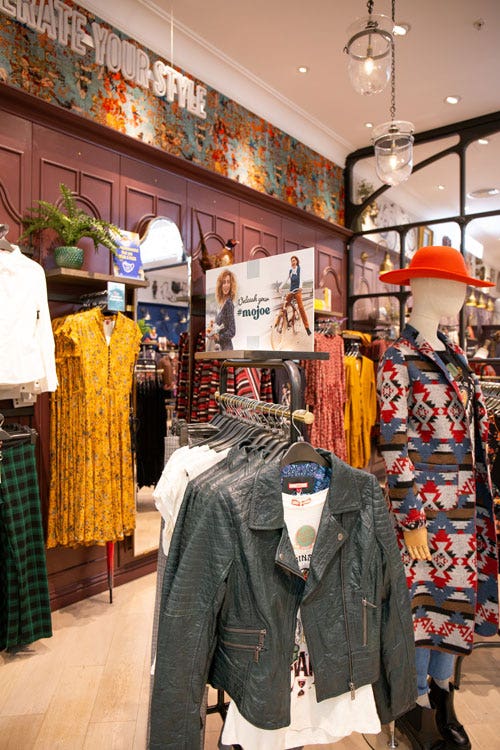 Our new collection is bursting with refreshing colours, fabulous prints and flattering shapes that will fill you with confidence.
With positivity on the horizon and more freedom to do things we have been missing, there's plenty of reasons to fill your wardrobe with joy. Whether you've got an occasion coming up or simply want to treat yourself, there's lots of outfits to choose from. Try on as many pieces as you like and discover our remarkable detail up close… we want you to leave our store feeling amazing!
It's all in the detail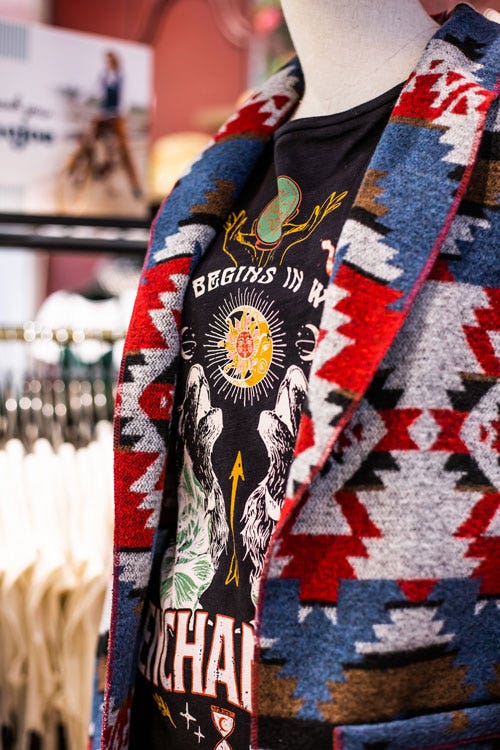 (Enchanted Graphic Tee £25 and Joe's Must Have Lightweight Coat £75)
We hope you'll be blown away when you see our styles up close and personal. At Joe Browns we put our heart and soul into our pieces, adding extra remarkable detail to make them unique – it's what we do best.
From exclusive graphic t-shirts designed in house and beautiful embroidery to original button details and funky zip fastenings on our leather jackets, each piece is designed and created with passion.
Autumn florals
(Enchanting Autumn Dress £49)
If you love florals for autumn then there's lots to choose from. Whether you're a fan of the ditsy floral or big and beautiful blooms, our prints come in gorgeous patterns and tones this season.
The Enchanting Autumn Dress is one of our favourites and is a key look for your autumn wardrobe. The structure and shape of this dress makes it truly remarkable and the delicate ruffle details and stunning autumn floral make it easy to fall in love with.
Beautiful Boho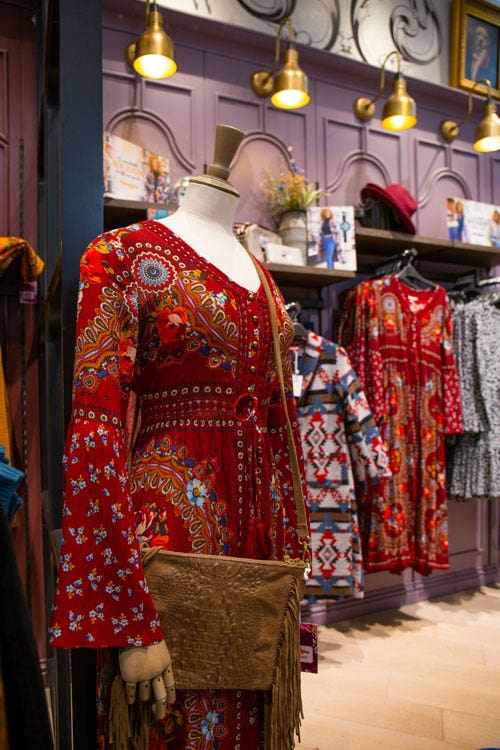 The boho trend is going to be big this autumn and we've got plenty of bohemian inspired styles in the new collection. You'll find beautiful long sleeves, maxi lengths, intricate detail and stunning prints in-store.
A real showstopper is the Boho Babe Dress with its rich colours and captivating print. The flowing skirt and statement sleeves create an effortless style that's so easy to wear. Team with our long boots, tassel bag and wide brim hat to create an outfit you'll want to wear again and again.
Accessories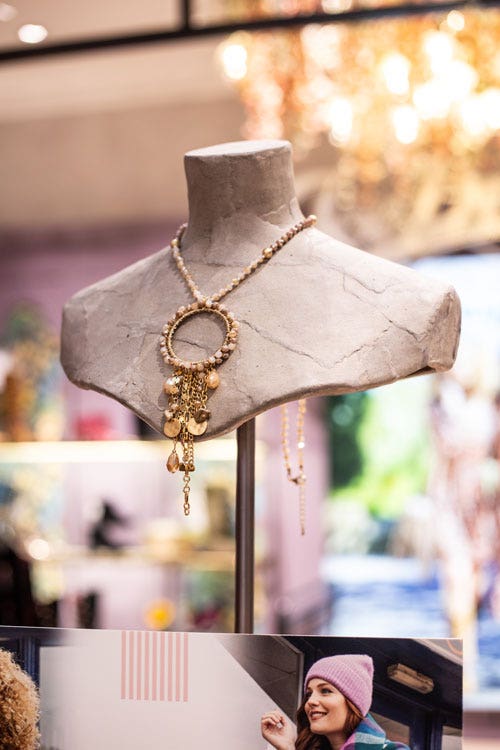 (Crystal Dreams Necklace £21)
Accessories are an important part to finishing an outfit off and our pieces will help you add a remarkable touch.
You can easily change up your look by using different accessories too and our unique bags, jewellery, hats, scarves and collars will help you do just that. If you're popping in to see us then why not treat yourself to something new to instantly boost your mood!
Footwear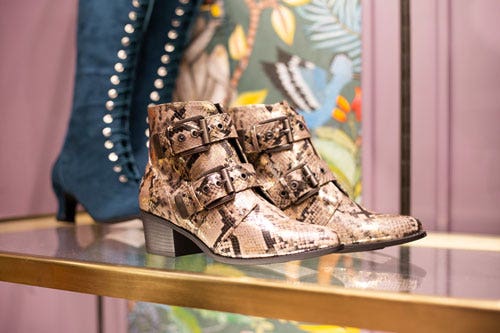 Discover our fantastic new footwear range, filled with ankle boots, long boots, funky pumps and statement heels – if they don't get your mojo going we don't know what will!
No matter what the occasion, you'll find a special pair to add to your collection. Our favourites are the Glory Days Ankle Boots, a perfect mix of glamour and attitude. Pair them with our skirts and maxi dresses to create a statement look.
#mojoe makers
This season our store staff have transformed into #mojoemakers… they're here to help boost your mojo and make your shopping experience extra special. Whether you're looking for style advise or simply want to speak to a friendly face, they will help brighten up your day.
Here's Debby and Fran looking fabulous in their favourites from the new collection. We asked Debby why she went for the Boho Babe Dress…
"I'm absolutely loving the new season styles. Autumn is my favourite, it's just so magical and so is the new collection!! This boho dress is amazing, I feel incredible in it, however I style it!"
Menswear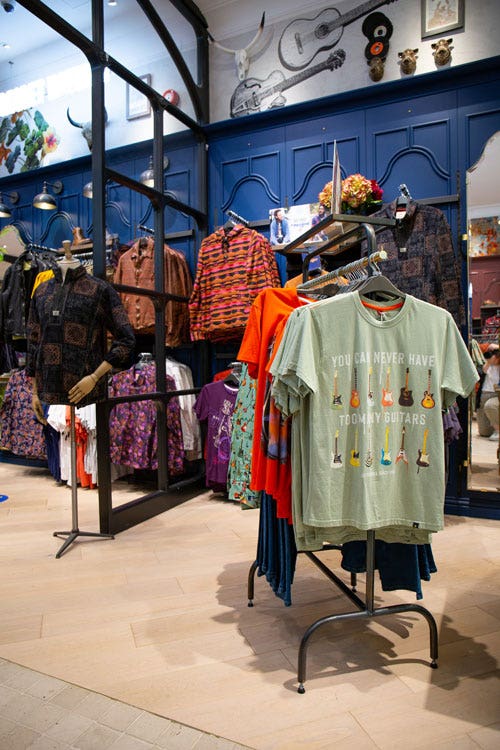 Get your #mojoe on this autumn by freshening up your wardrobe and giving it the uplift it needs. It's going to be the season of new adventures, which means you'll need to get kitted out in our remarkable menswear.
Visit us in-store to find awesome graphic tees, funky shirts, plus lots more original pieces that are easy to layer. We've made shopping simple by giving you versatile pieces you can mix and match to create different looks.
All our styles have been designed to help you feel good and boost your mojo – so what are you waiting for, check out some of our favourites!
Layering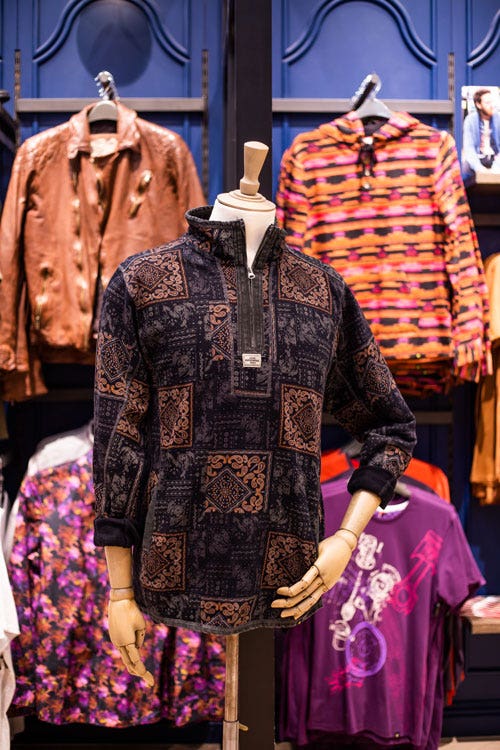 Layering is key for autumn as you never know what the weather will do. Our knitwear collection is loaded with colour, prints and soft yarns.
One of our favourites is the On The Road Funnel which comes in a cool bandana print and has contrast trims and zip detail – it's the perfect layering option for when you're on the open road.
Leather jackets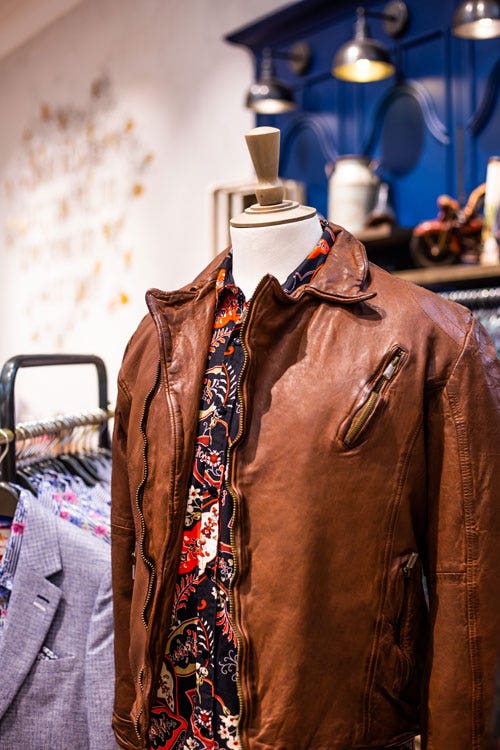 (Paisley Western Shirt £38 and Burner Leather Jacket £199)
Did you know our jackets are made from 100% real leather? They're a real investment piece that will only get better with age and have a super soft, lived in feel. Autumn is the perfect time to splash out on an original jacket that will stand the test of time. They look great teamed with our printed shirts or graphic tees and can easily be layered with our knitwear. Dress them up or down, it's up to you.
Want more tips on how to wear a leather jacket? Click here to head over to our inspiration page.
Funky shirts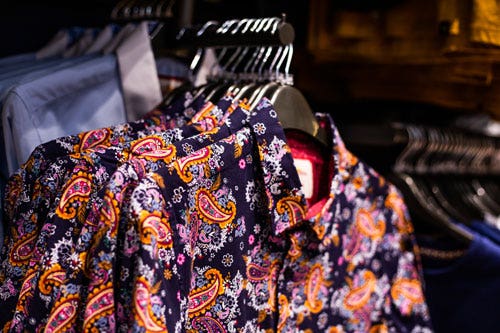 We're known for creating unique shirts, you won't find anywhere else and this season we've got some cracking new styles for you. From fabulous florals and statement paisley, to checks and music inspired patterns, we've got a shirts to suit everyone – no matter what your taste.
We hope you've enjoyed seeing some of our favourites from the new autumn collection. Visit us in-store to see all of these styles in person and discover lots more uplifting styles.
Scroll to top